Recently on Cyclingnews.com
An interview with Robbie McEwen, May 8, 2006
Where he wants to be
After an injury setback sidelined him throughout March and April, Davitamon-Lotto's Robbie McEwen bounced back with a win at the Tour de Romandie and now the Giro, proving that he's well and truly back where he wants to be - on top of the podium. Cyclingnews' Les Clarke was at the post-race press conference in Charleroi where McEwen notched up yet another Giro victory.
Robbie McEwen speaks
Photo ©: Les Clarke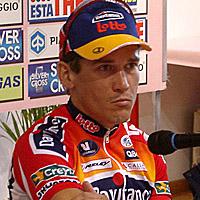 "Any sprint you win is perfect," said McEwen following his seventh win of the season. "When Alessandro swung around and saw me on his wheel I think that made him a little uncertain that he wanted to ride a more tactical sprint instead of just blasting off like he often does from 200 [metres]." McEwen knew Petacchi may have problems dealing with the Australian's wily race craft, and the Italian's fears were soon realised - as McEwen explained with a satisfied tone in his voice. "I could just go through between him Ongarato and Brown because Ongarato went from the front, away to the right and I was able to get through a very small gap and open my sprint for real."
It was vintage McEwen, and Davitamon-Lotto's fast man put the win in his book of experience, something he told the gathered press is his biggest asset when it comes to notching up wins. "Having always been a sprinter and sprinting in that way, all that experience keeps building; when I'm in a position like I was today, eight times out of ten I can make the right decision," he said. "But to be a good decision maker you also have to have good legs."
Considering he spent a fair amount of time sidelined from racing at the highest level after a crash in March involving CSC's Matti Breschel, having the legs to facilitate those good sprinter's decisions is a mark of McEwen's determination to always be on song for the big occasions. This is something Petacchi is well aware of. "I think I'm maybe the only rider who can force Alessandro to make small mistakes and try and change his tactics," said McEwen, who was quick to speak of his respect for AleJet. "I know that Alessandro is one of the strongest and always hard to beat. Of course I do fear him and his train when it comes to just the sprint itself, but I focus on my own tactics and look at him like any of the others," he said.
He wouldn't be drawn into saying who was the better sprinter - Tom Boonen or Petacchi - and remained a diplomat when asked who he rated as the stronger. "Each rider has their stronger points," he began. "If you look at the classics, the harder races where there's only a smaller group at the finish, Boonen is the strongest, without a doubt. But for something that's a little hilly and tough, or very high speed sprints and long sprints, then I think Alessandro's the best." Always the opportunist, McEwen added, "If anything else is left then I'm always there to take a few wins of my own!"
A very important aspect of McEwen's latest win is that Davitamon-Lotto can continue to 'sing when they're winning', something he's well aware of. "I think there is such thing as winning mood - when the pendulum swings, and you win something, and things just take off like we've seen," he said. "It's just been small problems in the sprint, or injuries, or something that we weren't lucky in the race - the races that we've been in, like the classics," he explained of the team's lack of success earlier in the season. "We've had guys in good condition that have always been in close, and the criticism of the team was sometimes well-founded, sometimes not."
Robbie McEwen (Davitamon-Lotto)
Photo ©: Sirotti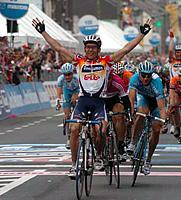 Like the fortunes of McEwen, Davitamon-Lotto is now poised to make 2006 a good year, and the Australian outlines that correlation. "Now we're certainly on the right track and the most important thing is that the leaders of the team, like myself, can step up and try and put a good shine on the good work the domestiques do, because those guys always do the same, and when a team leader can't finish it off it looks bad," he said.
This awareness of his teammates' good work was illustrated further when he said, "I'm happy to win today for my teammates, because in this tour we have some guys where it's only there first or second grand tour - Jan Kuyckx did good work at the front today, [Wim] Van Huffel's only in his second grand tour and it's Bert Roesems' first grand tour; so guys without much grand tour experience did a good job today, and it's a nice reward for them that we got the win."
It's all part of the McEwen maturity which has become a trademark of his riding in the last few seasons, and adding to that is extra responsibility at home - a nine-week-old daughter, Elena, makes it a team of four to look after when he's not looking after his team of nine on the road.
And with one eye undoubtedly on his preparations for the Tour de France, is McEwen on track for July? "For this part of the season I'm exactly where I want to be - on the podium!" he said. "It was a bit of a rough ride through the spring because of the crash I had in March; I worked through that and kept racing - I was a long way from 100 per cent but just concentrating where I should be," he explained. "I've won a stage in Romandie last week and now the stage win today; I'm exactly where I want to be."
But first there's a Giro d'Italia to get through, and with limited opportunities on offer for the sprinters, McEwen will just keep plugging away and take a win if it's there to be taken, all whilst keeping France in his sights. "I'll keep going as long as I feel that it's going well and there's the chance of a sprint," he said. "As everyone probably knows there aren't many opportunities for sprinters in the Giro - I'll do like other years and just go along until I feel I can't go any further and have something in reserve for the Tour. You never know, one day I might finally make it to Milan!"