Giro TT tech: Ivan Basso's Team CSC Cervélo P3 Carbon, May 19, 2006
Yesterday's time trial was not only significant for the return to form of Jan Ullrich, but also for maglia rosa Ivan Basso, who continued to take time out of his closest rivals with a textbook TT performance in Pontedera. Anthony Tan takes a closer look at his Cervélo P3 Carbon.
Blazing saddles starring Ivan Basso
By Anthony Tan
Ivan Basso's Cervélo P3 Carbon TT bike
Photo ©: Anthony Tan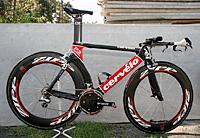 Asked if there's anything special about Ivan Basso's 54 centimetre Cervélo time trial bike, Team CSC's head mechanic Alejandro Torralbo doesn't hesitate before shaking his head: "No, no, everybody is the same," he tells Cyclingnews, shrugging his shoulders as if to remark, 'What else can I say?'
The fact that apart from size and Bobby Julich's choice of elliptical chainrings, all nine riders are riding exactly the same stock frame and the same spec'd machine, provides some testament as to how good the Cervélo P3 Carbon really is. And it's apt to review Basso's bike before us - and at this moment - because the frame was first used under ProTour conditions by the said rider in the eighth stage of last year's Giro d'Italia, where he finished second to his team-mate Dave Zabriskie.
11 days later, the Italian staged an amazing recovery to win back-to-back stages after stomach troubles took away hopes of overall victory, the latter a tough 34 kilometre time trial from Chieri to Torino. It was the first occasion where one bore witness to Basso's rapid improvement in the race against the clock, and ever since then, his recently acquired skills have transformed himself into a favourite in this discipline.
Initially an aluminium frame, the improvements made to the current model were such that only carbon would allow the required modifications to the tube shapes. Up front, the most noticeable feature is the NarrowHead head tube, which has the appearance of a 1" head tube but the internal space to fit a larger 1 1/8" steerer.
A narrow top tube has been purposefully designed to allow riders to keep their knees as far in as possible, allowing Basso to achieve the greatest aerodynamic gain in the 'tuck' position, while the downtube, equally narrow (head tube, downtube and seat tube are claimed to be narrowest in its class), utilises Cervélo's unique airfoil shape that co-founders Phil White and Gerard Vroomen pioneered. Furthermore, the company's Smartwall design involves varying wall thickness and layering patterns to achieve the appropriate balance between lateral stiffness and vertical compliance.
Rear aerodynamics are a little trickier, and Cervélo has worked hard to create smooth shapes from the bottom bracket to the saddle with minimal disruption to airflow. The curved cut-out with a constant width is claimed to shield the largest section of the rear wheel as legally possible, ensuring predominantly horizontal airflow over the seat tube, particularly with a disc wheel.
A two-position seatpost provides plenty of flexibility: a seat-tube angle of anywhere between 74 to 79 degrees can be achieved, while the integrated seat tube collar provides no disruption to airflow and allows the seat-tube to be easily removed for transport. Cervélo has also improved the seat stays, making the blend between them and the seat tube as seamless as can be.
The result? A faster, stiffer TT frame 100 grams lighter than its predecessor and 200 lighter than original P2C. But of course, the real result is out on the road, and yesterday, Basso didn't disappoint, finishing second to a magnifico Jan Ullrich.
A particularly aero front profile.
Photo ©: Anthony Tan

Looking down
Photo ©: Anthony Tan

The curved cutout
Photo ©: Anthony Tan

FSA's one-piece outside carbon chainring
Photo ©: Anthony Tan
Photography
For a thumbnail gallery of these images, click here
Images by Anthony Tan/Cyclingnews