Giro TT tech: Michael Rasmussen's Rabobank Colnago, May 11, 2006
Today, the all-important team time trial awaits. If nine are not riding as one, minutes can be lost, dramatically affecting the overall classification. Anthony Tan looks at the bike of someone who knows all about losing precious seconds in the race of truth.
Chicken's time machine
Chicken's time machine
Photo ©: Anthony Tan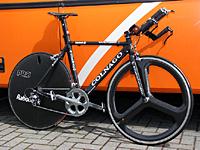 It's hard to forget what happened to Michael Rasmussen on the second last day of the 2005 Tour de France, where the experienced Dane lost his nerve in a 55 kilometre race against the clock, crashing twice and requiring three bike changes.
How much of that was due to his position on the bike is hard to say, but judging from the photos and the way he was cornering, he could certainly look a little more comfortable. Over the winter, Rasmussen did a few tests on the track to improve his time trialling position, and only last Wednesday, he went to a wind tunnel facility in Apeldoorn, Netherlands, to further finesse his aerodynamics.
"The point of his saddle went down, his seat went down two millimetres and the position of his handlebars was raised," Rabobank head mechanic Bart Van Gog told Cyclingnews. "That was the best position for Rasmussen after the test."
That was then - Rasmussen in the 2005 Tour
Photo ©: Luc Claessen

Does he feel more comfortable as a result of the changes?
"Well, I've been riding up and down the street outside the hotel two times!" laughed Rasmussen, speaking with Cyclingnews two days before the opening time trial in Seraing. "So I can't really say yet.
"But if I'm comfortable I'm comfortable - it doesn't really take long to figure out. And I'm not going to train specifically for the time trial; it's just a matter of optimising the position, though judging from the results [of the wind tunnel testing], there's some quite significant improvements."
Asked about his modified position, particularly the way his elbows rest on the handlebars and his hands point towards the sky, Rasmussen conceded it does look a little extreme, but it's more a case of whatever works best, rather than what looks best. "It's almost like I have my arms in front of my face, like you're hiding behind your arms," he said as a tiny smile emerged from his face, "but it affects the way I'm holding my head and it makes the gap between my helmet and my shoulders smaller, so it's more like one line and it seems to have a major effect on the numbers."
Rasmussen claims the new position saves him about 20 watts of power - or five percent for someone pushing out 400 watts. "One watt is roughly equal to three seconds in a 40 kilometre time trial at 40 k's an hour. At a higher speed, the gain is even bigger, because wind resistance grows with speed," he said.
"It's all theoretical at this point, but at least it's good to know what kind of direction we have to go in, and that we're doing something. But theoretically, there should be more than a minute to gain - actually, more like two minutes - in a 50 kilometre time trial, which is... a lot, so long as I can stay on my bike and if I can stay in that position. That's the question mark."
Van Gog admitted Rasmussen has been rather particular of late about his measurements, but for a team leader, there's always a mechanic ready to attend to Chicken's positional or mechanical requirements. "Ya, there's always a mechanic about," he said.
"The position is very important, and Rasmussen is one who pays a lot of attention to his position on the bike. But someone like Marc Wauters, he's 34 or 35 years old [Wauters is in fact 37! - ed.] and he's been riding such a long time, so he knows how his bike is supposed to feel. Plus Rasmussen is changing his position quite a lot at the moment."
Rasmussen's new position looks unusual compared to the horizontal-bar set-ups that have been standard in time trialling for the last few years. If you go back and look at riders in TTs just after aero bars were introduced, the standard set-up was to angle the extension at about 45 degrees. This was thought to give a 'point' to the rider's position so that hands and head cut the air together - it also felt like you were riding a computer game with your hands right in front of your face! Rasmussen's not the first to return to this thinking - Phonak's Floyd Landis has recorded some impressive time trrials in the last year in a high-angle position.
The Giro's opening time trial wasn't a great indicator at just 6.2 kilometres long, with Rasmussen finishing one minute and three seconds behind Paolo Savoldelli in 133rd place, but today's Stage 5 team time trial should reveal a little more. But the 50 kilometre-long Stage 11 ITT in Pontedera will be by far the best test of time.
Unlike the majority of the peloton,
Photo ©: Anthony Tan

The downtube
Photo ©: Anthony Tan

The seat-tube
Photo ©: Anthony Tan

The rear disc wheel
Photo ©: Anthony Tan
Photography
For a thumbnail gallery of these images, click here
Images by Anthony Tan/Cyclingnews