2002 Australian National Track Cycling Championships
Dunc Gray Velodrome, Australia, April 17 - 21, 2002
Day 4: Vinnicombe returns on a bicycle built for two
By Karen Forman
Vinnicombe and Hou
Photo: © Tom Balks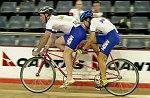 Former world champion time triallist Martin Vinnicombe is the first to admit that he never, ever, thought he would ride a tandem bicycle.
But tonight, after winning his third national track championship in a row with Lindy Hou at the 2002 Australian championships at Sydney Olympic Dunc Gray velodrome, he couldn't be happier that he took what many able bodied riders of his calibre might suggest was a rather unusual - not to mention brave - step.
Vinnicombe, 37, has become somewhat of a champion to the multi disability team at this year's nationals, not only for partnering the 42 year old former national triathlete Hou, but for going out of his way to demonstrate that athletes with disabilities are every bit as competitive as their able bodied counterparts.
Now he is hoping that other elite riders might follow his lead and look at getting involved with multi disability sport as their own careers are winding down.
He certainly has no regrets. In fact, doing so well on the tandem has encouraged him to start thinking about a return to able bodied racing... perhaps in time for next year's national championships.
The world kilo champion in 1987 (an event he was second in, five times), Olympic silver medallist and two times Commonwealth gold medallist, who now has his own training business in Sydney, had never been on a tandem until Christmas, 2001.
Enter Lindy Hou, a national level age group triathlete who had had to give up the sport when the progressive genetic eye disorder retinitis pigmentosa rendered her legally blind in 1996.
Hou, who made the Australian tri team in 1991 and 1992, rode a tandem for the first time on an RP fundraising ride from Sydney to Leeton via the Snowy Mountains in March 1999. She had been resisting the idea, because having lost her driver's licence and her vision, she didn't want to lose any more independence.
"Basically I had just stopped riding and was just taking my dog to the park," she said.
"It took me a while to overcome the fact I had lost my independence ... but then, with the Paralympics coming up I thought I wouldn't mind being on the team. I was going to run at first, but there wasn't a division for my age group, so I decided to try the tandem."
She sought help from Vinnicombe's Bike School to train for the event and, riding with another woman, missed out on qualifying by two seconds. But rather than be put off, she decided to keep going... and convinced Vinnicombe to come out of cycling retirement to be her pilot.
He takes up the story: "I had been coaching Lindy for two years and she had gone through several partners," he said. "They had all let her down for various reasons and she was considering giving up."
"She came to my house upset and suggested that perhaps I could ride with her. I said, 'F....g hell'... I had been off the bike for seven years.
"But then I got my Olympic torch pictures back... I was 99kg and I looked like, well, I looked like the public, you know... no offence, but."
(For the record, Vinnicombe weighed 86kg in his racing days and is back to 89 now).
So in the end, he figured that Lindy needed a pilot and he needed to lose weight...so why not?
"I figured it was time I did something about myself or I would be dead in 10 years. I had been coaching and just living life in general. I had been looking after Peter Robertson, the triathlete, and it was all quite stressful. You put on weight , sitting around planning their lives and your life gets out of control.
"So I said alright, I would ride with her until April 2001 to see how we went and if were in touch, I would keep going."
But it wasn't easy. Vinnicombe might have been seemingly born with a bike between his legs, but he had never ridden a tandem before.
"It is a whole new set of skills. It is f....g terrifying, really scary," he admitted.
"Everything the person does on the back is amplified on the front. The slightest wriggle has a huge reaction. Everything is slower, but at a high speed... it is like the difference between driving a small car and a truck. (The tandem is the truck.)"
Within 14 weeks, Vinnicombe had lost 13 kg in weight. And Hou was fitter than ever before.
They got to last year's national track championships, but were beleaguered with problems.
"The chain kept coming off and the frame of the bike was too light for me... it kept flexing," he said.
Still, the pair qualified for the European Cup, headed off to Europe and managed second in two events - the sprint and the time trial.
After that, they kept going for a bit longer, but Vinnicombe was getting tired and a little upset last year and chucked it in for a while.
Five months ago, he came back... putting in two or three solo ride roads a week, two tandem track sessions a week and two solo track sessions a week and "here we are".
Coached by Radek Valenta, the pair have won the tandem sprint, kilo time trial and 200 metre qualifier at these nationals... every event they entered... which has well and truly qualified them for the world championships to be held in Germany in August.
While Hou says she considers it a great honour to have a cyclist of the calibre of Vinnicombe with her on the bike - "I trust him with my life," she says - Vinnicombe says he has been very impressed at the reactions of his old racing mates to his return, albeit in a different genre.
"Sean Eadie, in particular, reckons it is fantastic," he said.
"I would encourage all the riders to have a go at it. It adds professionalism to the sport and gives others an option for when they are finished racing able bodied sport. It can help bring them back down. Plus it is great for the disabled riders, as well."
Vinnicombe stopped riding because he figured he had had enough of the sport and worked in a variety of professions - including biomedical engineering and developing and manufacturing scientific instruments, as well as coaching. At the moment he has 22 athletes on his books.
His plans now are to "do the world championship and see how it is."
And?
"I might even do the nationals here next year as an able bodied athlete. I mean, the times they are doing here, I rode a kilo time 16 years ago on a normal bike on an outdoor track faster than that.
"If I decided to get serious about training, maybe. I mean, I am not going to sit around in self pity. I want to do something with my life. I'm not going to sit in bed with a pipe when I am old. I'm gonna die with a smile knowing I lived life and hopefully that I helped people along the way."
Hou, meanwhile, is setting out to win the world title this year and then look towards the paralympics in Athens in 2004.
"I really would like to encourage other people to have a go," she said. "One of the great things about Martin doing this with me is that he is lifting the profile of the sport. Now we have our events at the same time as the able bodied nationals... it has made a lot of difference having him.
"Last year at the European titles a lot of the disabled riders really appreciated his presence. He's really popular; he's always willing to share information and help people. Also, the way he treats the disabled riders, it is opening the eyes of able bodied people and showing them that just because we don't have arms, legs, eyes... we are still athletes and still competitive."