2002 Australian National Track Cycling Championships
Dunc Gray Velodrome, Australia, April 17 - 21, 2002
Men's 20 km Scratch Junior U19 Men Team Pursuit
Day 4: Renshaw wins 20km championship in fastest-ever time
By Karen Forman
Sprint for the scratch
Photo: © Tom Balks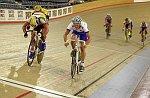 NSW rider Mark Renshaw won the 2002 Australian 20km championship tonight in the fastest-ever recorded time in Australia for a 20km scratch event, after launching a solo attack with eight laps to go and then outsprinting Tasmanian Darren Young on the line.
"It certainly felt like the fastest I have ever ridden," he said when told he had completed the distance in just 23.29. "I'm sweating."
The event - the last on the fourth night of the five-day national titles being held at Sydney's Olympic Dunc Gray velodrome - was the most exciting.
It was action from the starter's gun, with NSW riders driving the pace up with every lap. Brent Dawson, Stephen Wooldridge and Renshaw were on fire and Young was up there as well. Renshaw missed the break when it came. Dawson, Young, Woolridge and ACT rider Denis Mungoven were out the front, swapping turns and riders were continually being lapped.
By 14 laps to go, the race looked like a teams time trial, with the break half a lap in front and Renshaw, Tasmanian Stephen Rossendell, Japanese rider Yoshii Kouji and Dawson working the chasing bunch hard, trying to catch up.
Even more riders dropped off, with new scratch racing rules sending them out after being lapped. Suddenly it looked like NSW against The Rest.
Renshaw, meanwhile, was thinking it was time to do something. He said later he made the decision with 10 laps to go - then attacked two laps later. He was on the front of the attack group within seconds.
The bell for the final lap rang and Wooldridge led out the sprint, with Renshaw on his wheel and Young third wheel, pumping his pedals like mad.
In the race to the line Young came around the outside and looked as thought he might just take first place, but his final push of the front wheel across the line wasn't quick enough because Renshaw was already there.
Renshaw said later the NSW team had talked about some tactics before hand and had decided to try to break up the field. "It didn't work out exactly as we had planned but in the end it all just fell into place," he said. "Ideally we would have the other NSW boys up in the placings, but . . .
He said he had been feeling good before the start. "I knew I had good legs, but I had the individual pursuit and the teams pursuit before hand . . .and I didn't know how I would go. I was pretty confident; I wanted to win that race. But I was sick a couple of weeks ago. This was a big confidence booster for the points race on Sunday night."
Renshaw is keen on both the scratch race and the pointscore at the Commonwealth Games and believes his chances of riding in them are fairly good. "If my form keeps improving there's no reason I shouldn't be selected," he said.