2002 Australian National Track Cycling Championships
Dunc Gray Velodrome, Australia, April 17 - 21, 2002
Day 3: Sisterly rivalry puts Kerrie on track for Games
By Karen Forman in Sydney
Kerrie Meares
Photo: © Tom Balks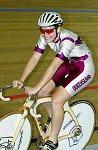 When Queenslander Kerrie Meares suggested, a little tongue-in-cheek, at the Qantas Cup meeting in Sydney last month that she would be "a little scared" of her younger sister, Anna, at the Australian track championships, she had every reason to be completely serious.
Although the 19 year old Kerrie has already collected the gold medals in both the women's 500 metre time trial and the women's flying 200 metre final at the championships at Sydney's Dunc Gray velodrome this week, the one year younger Anna has been snapping hard at her toes.
The younger Meares was second to Kerrie both times on Thursday and although her times didn't put her older sister in serious danger, she did manage to keep some more experienced riders out of the medals.
Kerrie won the flying 200 metre final in 11.884 at an average speed of 60.59. Queensland Academy of Sport coach Peter Day said it was the first time she had gone under 12 seconds, while Anna did manage it in Launceston last month.
Anna was second here at the nationals in 12.032, speeding along at an average of 59.84, while South Australian rider Rosealee Hubbard wasn't far behind in third spot in 12.160 (59.21kmh).
The oldest Meares took the time trial in 35.444 (averaging 50.78kmh) with Anna second in 36.365 (49.50kmh) and Hubbard third again in 36.984 (48.67kmh).
Both times fourth place was filled by up and coming Perth rider Kristine Bayley, who has been consistently winning on the Victorian track carnival scene this season and is a little disappointed at her performance here.
It is obvious the cycling runs in the Meares' blood. Kerry was the girl from country Queensland who astonished cycling officials when she beat open national time trial times as an under 17 year old.
Although she was being touted the next great of women's track cycling, at the time officials were loathe to push her too far too soon, afraid they would burn her out. Day was quoted at the time as saying he wanted to nurture her gently, so she would still be around to race as a senior.
But Kerrie wasn't planning on burning out. And it wasn't long before cycling had another Meares to admire and nurture through the ranks.
Anna appeared on the national scene a year after her sister and both girls, who Day says get along very well . . . are hungry for spots on the Commonwealth Games team. Kerry has guaranteed hers. Anna, with two seconds so far, is in contention.
Both sisters train with the Queensland Academy of Sport and Kerrie is now in her first year training with the Australian Institute of Sport.
So far she has achieved her goals. She said two weeks ago at the Qantas Cup that she had hoped to do well in the time trial and the keirin this week.
Tick yes to time trial and the keirin . . . well, the heats and final are on Sunday.