2002 Australian National Track Cycling Championships
Dunc Gray Velodrome, Australia, April 17 - 21, 2002
Men's 20 km Scratch Junior U19 Men Team Pursuit
Day 4: Victoria looks for worlds selection after junior teams pursuit win
By Karen Forman
Faster!
Photo: © Tom Balks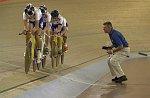 Victorian team manager Mark Heintz couldn't be happier with his team of junior riders after their stunning gold medal winning ride in the junior men's teams pursuit at tonight's Australian national track championships.
The team comprising Jonny Clarke, Sean Finning, Bradley Norton and Nicholas Sanderson is on track for junior worlds selection following their win in 4.19.983 against NSW.
"We are hoping they will get in," Heintz said. "We will find out on Sunday night. I suspect Sanderson will qualify at any rate, after winning the pointscore and the teams pursuit and coming second in the individual pursuit."
Norton, too, is a high hope. He was third in the individual time trial and second in the team sprint. As well, with Sanderson, he is favourite for Sunday night's madison. Queensland has two teams in the event - the second is comprised of Norton and Finning.
"It was a great ride," Heintz said. " We set them a schedule and they didn't fault. We had them aiming for 4.20 and they did 4.20."
Smooth
Photo: ©Tom Balks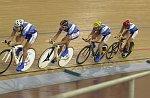 The team didn't start well and were down by 1.88 in the first two minutes of the ride. But they pulled themselves together quickly and had 1.382 on NSW very quickly.
From there, they didn't look back. At 2.54 Victoria was leading 1.300.
Announcer Stuart Doyle described them as a "well oiled machine" as they swapping turns smoothly and stayed together throughout.
NSW lost one rider with a few laps to go, but pushed on hard until the end.