2002 Australian National Track Cycling Championships
Dunc Gray Velodrome, Australia, April 17 - 21, 2002
U19 Women's 10 km Scratch U19 Men's Keirin Women's Keirin Men's Keirin Men's 40km Points U19 Men's Madison
Day 5: Inaugural men's under 19 madison championship goes to Victoria
By Karen Forman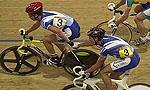 Victoria's Madison kings
Photo: © Tom Balks
Victoria has emerged the winner of the first junior men's madison championship to be held as part of the Australian national track cycling championships.
The team comprising Nicholas Sanderson and Jonathon Clarke finished the 30km event with 22 points, ahead of NSW riders Matthew Farmer and Christopher Sutton on 16 and Tasmanians Mark Jamieson and Abram Manion on 11.
Another Victorian team Sean Finning and Bradley Norton were fourth on 7 points, with teams from Tasmania, South Australia and a second NSW team finishing with one, two and eight laps down respectively.
Boasting all the required ingredients - speed, fatigue, tactical riding, teammanship and a crowd to cheer them on, it was a heck of a race to complete the 2002 championships with.
Sanderson and Clarke entered as favourites following successful madison rides together in last month's Australian Madison Championship and Australia's richest madison, Bendigo. Riding against much more experienced senior riders, the two 17 year olds still managed to finish in six place in each.
Now they are off to the 2002 junior world track championships to be held in Melbourne in August. "This was a long time in the planning," Clarke said.
"As soon as we found out this event was going to be included in the championships, we sat down with Dave Sanders and Hilton Clarke to plan it out. We knew it was our event, that we were going to win it."
Clarke, brother of Hilton Clarke Jnr who is now racing in Europe, had an early introduction to the madison.
"I grew up watching my brothers Troy and Hilton riding them and I love them," he said. "And I love riding with Nick. He is a fast sprinter and a classy bike rider and it is easy for me to set him up for the sprints."
Still, he conceded tonight's race was a tough one - and not only because of the pace. "It was hard, because after our other madisons were were the teams to be looked at," he said. "Although it is something you know you can do, there is a big step between being the favourites and then actually getting out on the track and doing it."
Clarke credits his father, a former Olympic medallist, as teaching him "everything I know about bikes" and aims to turn professional on the road. Victorian team manager Mark Heinz was rapt with both teams' efforts.
"Jonny and Nick rode according to plan," he said, "which was to go out hard early - which is what they did - and take the points as they came up." Earlier in the championships the two riders took gold medals in the teams pursuit.