2002 Australian National Track Cycling Championships
Dunc Gray Velodrome, Australia, April 17 - 21, 2002
Day 3: After winning the kilo. . . it's one Day at a time for Danny
By Karen Forman in Sydney
Danny Day with CP kilo record holder Chris Scott
Photo: © Tom Balks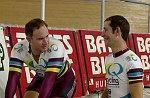 The time wasn't quite what he'd hoped for, but Queenslander Danny Day is pretty happy with his win in the men's kilo at the Australian national track championships this week.
After all, it wasn't so long ago that 29 year old Day, one of the stars of Australian cycling in the late 1990s, was off the bike . . . and not expecting to get back on it. Ever.
Many junior and senior Australian champion Day, who with Shane Kelly and Sean Eadie was third in the 1997 World Championship Olympic sprint, took silver in the 1990 worlds team sprint and managed two fourths at the 1998 Commonwealth Games, quit cycling after a dismal 2000, during which he suffered a lot of illness, didn't perform well enough at the nationals to earn selection for the Sydney Olympics, and ballooned up to more than 100kg in weight.
Until then, under the guidance of his father, Queensland Academy of Sport coach Peter Day, Danny had been one of the "stayers" of the Queensland scene. With the likes of Kelly, Eadie, and Gary Neiwand, he was part of the era of riders who did so much to make Australia one of the world's leading cycling nations.
He was a sought-after feature rider at the Queensland track carnivals, particularly in his pet events, the kilo and the sprints, and he looked to have a very bright future.
But then it all started to go wrong. Perhaps it was his decision to change tack and train specifically for the Olympic sprint. Maybe it was joining the national training program - a program which didn't really suit him. Maybe it was being based in Brisbane far away from the cycling hub of the AIS in Adelaide and maybe it was having a life outside of cycling; he was already a father (his son Mark is now nine years old) and he had a full-time job, working for the Bank of Queensland as a marketing manager. That meant lots of travel and time away from work and family.
Whatever it was, Day started getting sick a lot. He was training only a couple of times a week, yet finding he couldn't get out of bed. And he was fast losing that special "zip" that he had become well known for.
And so, he decided to "step off". He just stopped. Completely.
"I didn't ride, I didn't go to the gym. I just worked and I got married in 2000 (to wife Deborah)," he said.
"At the wedding, I weighed more than 100kg. I was the biggest, fattest thing you have ever seen, but my wife still married me."
It could have all ended there, but Day didn't realise that not riding would make him, in his own words, "a very angry man".
"I was unbearable, apparently," he said. "Basically Deborah told me to get back on the bike, so I did. And here I am."
Although he weighed 30 more kilos than he had during his racing career, Day felt like he was back to normal on the bike again. "Even though I was fat and unfit, I could feel that special kind of zip I used to have," he said.
"I started going to the track carnivals in Queensland, just for the sake of riding again, and found I was still winning things. Then in 2001 I did a couple of Qantas Cups and won one round of the sprint, beating Ryan Bayley and Jobie Dajka and I was second to Gary Neiwand in the keirin. That meant I was selected to the Goodwill Games in Brisbane."
Knowing he would be riding in front of a home town crowd was all the motivation Day needed. He trained hard and lost a lot of weight . . . because he didn't want to look bad in front of the locals.
Naturally, his father Peter was rapt to have him back on the team. But he wasn't reading too much into his son's comeback.
"Basically we just took the approach that as long as I was enjoying myself and wanted to do it, then I would," Day said.
"I just worked on achieving goals. First to lose weight. Then to do all right at the Goodwill Games - and I did, I got second in the keirin.
"Then, I thought I would focus on the kilo and try for a personal best."
Day's previous PB was 1.03.045 on the Launceston track in Tasmania in 1997. He trained hard and hoped he might surpass that at these nationals, but it wasn't to be. He did it in 1.04.162, beating his friend Kelly (who was best man at his wedding) 1.04.414 and rising newcomer Ben Kersten 1.04.582 to take the Australian championship.
But somehow, the thrill of winning wasn't quite what the thrill of a PB might have been.
"The conditions weren't all that great," he said. "The weather is humid and cold and the racing is very slow. It was really good to win but I am over the experience of always aiming to win or come second. Now I am just after personal bests. Gone are the days when my motivation is to win a gold medal. That motivation gets me up at 5am to go training."
Still, Day hopes for Commonwealth Games selection. He concedes he would like to ride the kilo at the Games in Manchester in July-August.
"I have done the qualifying time for the world championship and Commonwealth Games sprint events," he said. "Only one other person has gone under the qualifying time for the time trial - Mark Renshaw. We'll see what the selectors do. If I am selected it will be a bonus. If I don't, my world won't be over."
These days, Day's "world" is his work, his wife, his son and his family.
His goals, he says, are just to be happy.
"I think I've changed a bit," he said. "I'm a lot more laid-back and reflective. I am over a lot of the controversy of the last 10 years, the national teams etc. I have put it behind me. I will be 30 in October . . . and there is a new generation of athletes coming up - Jobie Dajka, Ben Kersten, Ryan Bayley. Everything is going through a transition. We old guys - me, Sean Eadie, Shane Kelly will be giving back. Hopefully the younger guys will learn from our mistakes and keep developing the sport."
So, where does he go from here?
"I think it is just one step at a time. If the Commonwealth Games happen, maybe the Worlds . . . and I will probably be back here for the nationals next year."