2002 Australian National Track Cycling Championships
Dunc Gray Velodrome, Australia, April 17 - 21, 2002
U19 Women's 10 km Scratch U19 Men's Keirin Women's Keirin Men's Keirin Men's 40km Points U19 Men's Madison
Day 5: Hubbard takes women's keirin
By Karen Forman
Women's keirin
Photo: © Tom Balks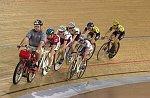 IT started as a race of the two champions - but in the end, neither of the two success stories of this year's Australian national track championships - Rochelle Gilmore and Kerrie Meares - took the gold in the women's keirin championship.
That honour went to South Australian Rosealee Hubbard, who out-sprinted the rest of the field to the line after riding a smart and consistent race.
The keirin had to be one of the most obviously tactical women's events of the week, with Kerrie Meares and her sister Anna making obvious attempts to keep major rival Gilmore boxed in on the inside in an attempt to prevent her trademark sprint from second or third wheel, around the outside, to the line.
Gilmore had moved into second position behind Hubbard after a lot of moving around behind the derney early in the race. Straight away, the Meares sisters had moved up to boxed Gilmore in on the outside.
With the two Western Australians - Kerry Cohen and Kristine Bayley - at the back, the girls were bunched tightly together right up until the moment the derney pulled up.
Lead on
Photo: © Tom Balks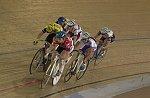 There seemed to be no way out for Gilmore, who was completely boxed in. Hubbard was the leader and riding hard, but her win wasn't going to come too easily. Gilmore managed to escape around the outside and was giving it everything she had.
Perhaps another couple of metres of track might have been enough for her to get there but on this day, on this track, at this nationals, the honours went to a delighted Hubbard.
"I wasn't sure whether I would get there, so I just kept going and it paid off in the end," she said afterward.
"I think I've been a senior for four years and I had silvers and bronze. I just wanted a gold...."