2002 Australian National Track Cycling Championships
Dunc Gray Velodrome, Australia, April 17 - 21, 2002
Day 3: Shane Kelly injured
By Karen Forman
Shane Kelly
Photo: © Tom Balks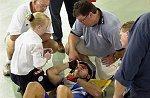 Update
Shane Kelly's shoulder is dislocated.
He has been anaesthetised, had the shoulder relocated, and is, according to Bankstown hospital, resting comfortably.
Time will tell as to how sore he is when he comes to . . . and whether he will get that keirin ride in on Sunday.
Earlier Report
Shane Kelly has been taken off the track on a stretcher and to hospital after coming down in the first round of the quarter final of the men's sprint at the Australian national track championships.
The "minute man", Kelly had just started his game of cat and mouse with New Zealander rider Justin Grace when Grace appeared to slip on the track and slid to the bottom, taking Kelly with him. Grace was helped to his feet and appeared okay, but the Australian champion remained on his back on the track.
Early fears were for a collarbone injury that could wipe out Kelly's chances at a medal, but the injury is now thought to be slightly less serious than that.
Grace said afterwards: "I was rolling up and suddenly my wheel just disappeared from beneath me. I didnt think I was going that slow.....looks like a shoulder I think. I feel really bad for him because he is a really good friend. We were really looking forward to racing each other today. I feel really bad actually."
Kelly fears he has dislocated the AC joint in his right shoulder.
"I hoped that it has just popped out," he said.
"I dislocated AND broke it in Japan in the keirin series in 1997 and my arm was in a sling for 6 weeks but that was major.
"I am hoping it is just a dislocation that they can pop back in. However, the consensus seems to be that is not broken."
Asked how the incident happened, Kelly wasn't holding back, despite the obvious pain of the arm he could only hold in the air.
"We were just going too slow," he said. "Just as I was moving to go around him, the dickhead lost his wheel and fell on in front of me and I went over the top of him.
"Ah well that's just the way it goes. Crashes are part of cycling, but this crash is a pain in the arse."
He said if the shoulder is not broken, he wants to be back on Sunday to ride the keirin."