2002 Australian National Track Cycling Championships
Dunc Gray Velodrome, Australia, April 17 - 21, 2002
Men's Sprint Women's Individual Pursuit Men's Teams Pursuit Women's 10km Scratch
Day 3: Easy ridin' Eadie outclasses Flyin' Ryan to win men's sprint title
By Karen Forman
Eadie gets it
Photo: © Tom Balks/Cyclingnews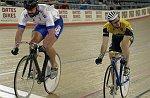 Australian Institute of sport sprinter Sean Eadie fended off his younger teammate Ryan Bayley - but only just - to win the 2002 national men's sprint championship at Sydney's Olympic Dunc Gray Velodrome tonight.
Sporting a sinister looking new black beard, the 33 year old former school teacher from Adelaide showed his years of experience but not his age in his dual with a fresh faced Bayley, riding a tactically near perfect race and in so doing, issuing a subtle warning to the youngster that it's not over yet.
The pair have been training together at the AIS in Adelaide and have developed a cautious respect for each other.
"We have been training with the new coach, training to race," Eadie said, sitting with a suspiciously also unshaven Bayley in the track infield later.
"Our primary focus were the Oceania Games and the World Cup, but there's no Oceania Games now. Our goal was to qualify with the most number of spots for the world championships and the Commonwealth Games.
"Now we look to the World Cup in May . . . I guess the nationals were a bit of a testing ground to see how we all went. Now we have three to four weeks to fine tune us and unleash us on everyone else."
Eadie said he had felt he might have the legs to win the sprint, yesterday and today. "You just have to take it race at a time," he said.
"I think the new kind of training in Adelaide has suited me. I am more like Ryan and Jobie (Dajka) now . . . I have more power at the high end. Martin has a totally different system to what was there before. It's an approach of more quality rather than quantity. It's better to do a 10.4 than six 10.6s."
And the beard? Did that help? He grinned. "There was a bit of a cold snap in Adelaide and Ray (the team's name for Bayley), Jobie, Ben Kersten and I decided to grow beards to get warm. Now I look like a Russian."
Bayley was gracious in his defeat by the master. "He just had the better form," he said. "When he's on fire you can't get near him. The man with the better beard won."
They might be matey now and sharing beards, but you get the feeling that some serious rivalry is brewing just under the surface. "The feeling in the group in the last few months has been really good and as long as we're going well it is very nice," Eadie said. "Here we're racing everybody else, but with the big ones coming up, soon we will be racing each other."
Eadie's win seemed to prove his theory that he performs well in two year cycles. "I won gold in the flying 200 metre and the sprint in 2000 and also did well in 1998," he said. "Last year I was suffering post Olympics depression and I have to thank Ray and Jobie and (coach) John Beasley for getting me through."
And what's next? He smiles ago, tweaks his beard . . ."We will see."