2002 Australian National Track Cycling Championships
Dunc Gray Velodrome, Australia, April 17 - 21, 2002
Day 2: Scott slashes world record in CP pursuit
By Karen Forman in the Dunc Grey infield
Chris Scott
Photo: © Tom Balks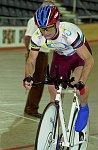 There's nothing like a bit of honest rivalry to propel athletes to try that much harder, to push their bodies that much further, to dream that much deeper. And even to come back a bit sooner when they are supposed to be taking a year out.
Queensland Paralympian Chris Scott had barely had a day to digest his word record breaking ride in Thursday's CP-4 3000 metre multi disability individual pursuit at the Australian national track championships in Sydney, when the guy he beat turned up, grinned widely, - and suggested to the new champ that "world records were meant to be broken. Watch out."
Victorian rider Peter Homann has held the record of 3.45.388 for four years and until this week, nobody came anywhere close to stealing it away from him.
Then along to Sydney's Olympic velodrome in suburban Bankstown this week came 33 year old Queensland Transport records manager Scott, to slash a massive five seconds off Homann's time. In so doing, Scott has earned himself a berth at the 2002 world championships to be held in Augsburg, Germany, in August; while Homann, currently enjoying a year's break, is reportedly bursting with determination to take the title back.
>From all accounts, the pair have enjoyed a friendly rivalry for years. Australian Paralympic team manager Elsa Lepore, who has had her hands full working with her team of 17 riders at this nationals, said Scott had been aiming to beat Homann, his main rival on the track, for some time.
"The team is really happy for him," she said at the team prepared for the afternoon session today. "Chris has been trying to beat Peter since 1994 and now he has finally done it. The funny thing is that when Peter flew in this morning, he told us straight away to pass on the message to Chris, that world records are meant to be broken and to watch out.
"Now we would like to see Chris take the world championship. The velodrome in Germany is known to be very fast and Chris is hoping he can do even better than he has here."
Scott, who has cerebral palsy, rides in the CP-4 division. There is only one other rider in Australia in this division - his rival Homan, who is having a year off and is expected to return for the European championships next year.
"We've always been really close," Scott said this morning. "Over the last three years especially, I've done 3.46es and a 3.47 and the world record was 3.45 and I've never quite got there. But this year my coach Peter Day has changed my training . . . I've been doing a lot more high cadence training. Coming from a distance running background I used to use big gears . . . one of the Queensland sprinters Danny Day, said last night it was all the sprint training I have been doing that had helped. More high cadence and shorter stuff.
"It showed in my kilo time as well...I was three tenths off the world record as well. This year I finally got a bike built for me for the pursuit. Until then I had only used an ordinary track bike with a pair of aero bars on it . . . I think that has helped a lot too."
He might have dreamt of it for a long time, but he says beating the world record was still a bit of a surprise.
"My family and coach have told me for a long time I have the ability to beat the record, but when it was by five seconds it was a big of a surprise."
Not bad for a rider who only started cycling after he broke an ankle playing soccer at the Paralympics in 1988 in Soul - for rehab.
"I was there to compete as a runner, but they formed a soccer side and I broke my ankle two days before my main event. I learnt my lesson the hard way. I never do anything other than cycling now, not matter what."
Although he kept running for a while after that, the ankle didn't like the pounding of the running, so he switched to cycling.
"I semi-seriously started in 1990, but seriously in 1993. I think training with QAS able bodied squad and racing against able bodied guys all the time - usually in open B grade - helps a lot. On the road in time trials I am fairly competitive but not the distance. Cerebral palsy is a neurological thing and I think it causes that prevents you getting the leg speed. Plus I don't have a fast twitch muscle in my body."
Scott is excited about the worlds . . . he has been to two previously, placing second in three events at one and third in two events at the other.
"The one thing I haven't got that I'd really like is the world championship jersey. To me that sort of means more than the medal. The actual winning of the race is probably the most important . . . then the medal. That's why the world record was so important to me. You don't actually get a medal to say you've got it, but it is an achievement; that feeling when you have finished the race, that you are the fastest in the world in your particular event."
His big goal is Athens in 2004 - and it may be his last. "I'm not sure if it will be my last event. It depends whether I am still wanting to get up at 5am in the morning to train, in the cold and the wet."
While Scott is a certainty for the worlds, Lepore is hoping to take at least another 21 riders (including the able-bodied pilots of those with vision impairments) to Germany for the track and the road events.
"We are trying to get as many as we can, because basically, the more we get to Germany, the better our position for the next Paralympics in Athens in 2004," she said.
The team at the nationals ranges in age from 24-40 years and covers six different disability divisions. Each has three events - the kilo, the individual pursuit and the flying 200 metre. As well, Cycling Australia has agreed to run a 10km scratch race combining two of the classes - the LC (amputee) and the CP (cerebral palsy). And, two teams will contest the able bodied team sprints on Saturday night.
"Basically to qualify for worlds section, the riders have to finish a certain percentage within the world championship time," Lepore said.
The team includes Sydney Paralympians Matthew Gray (Western Australia), Lyn Lepole (WA) and her pilot Eddy Hollands, South Australian Sarnya Parker, Victorian Christine Fisher, Victorian Noel Sens, Queenslander Greg Ball and South Australian Keiran Modra.
Newcomers for the nationals include Linda Hou from NSW with her pilot Martin Vinnicombe, Peter Brooks of NSW, Fisher's new pilot Geneveive Warriner from South Australia, Parker's new pilot Amanda Allen, Glen Jarvis from Victoria, Will Elrick from NSW, ACT rider Andrew Hughes, NSW riders Scott Durall, Anthony Biddle and his pilots Dennis Mungove and Kyle Stewart, Modra's new pilot Darren Harry from WA and Janet Shaw and pilot Fiona Scarff from Western Australia.
"We have at least one rider in every category," Lepore said.
"So far in the kilo and pursuit semis, the majority have qualified."
The flying 200 and finals for most divisions will be held today and tonight, with the exception of the mixed and mens ' tandems, set down for Saturday night.
It is the third year the events for disabled riders have been included as part of the able bodied national championships and Lepore couldn't be happier with the arrangement.
"It is perfect for us," she said. "Not only do our riders get to mix with the able bodied riders, but the able bodied athletes become more understanding and more accepting of us. Often they don't realise how well our guys ride until they see their times."