2002 Australian National Track Cycling Championships
Dunc Gray Velodrome, Australia, April 17 - 21, 2002
Men's Sprint Women's Individual Pursuit Men's Teams Pursuit Women's 10km Scratch
Safe takes women's Individual Pursuit
By Karen Forman
Safe progression
Photo: © DCV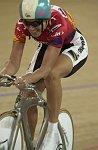 Former Olympic rower, Amy Safe sailed smoothly to the line to win the Australian women's individual pursuit championship for 2002 in a strong and confident performance normally exhibited by much more experienced riders, at Dunc Gray velodrome in Sydney tonight.
The 26 year old from Ballarat in country Victoria beat a devastated Emily Williams of Tasmania to take the gold medal and make her intentions for the future very clear: This is one determined and powerful woman who intends to take up in cycling where she left off in rowing . . . and probably not much is going to get in her way.
Her name might not be well known in cycling circles yet . . . but going by tonight's performance, it will be.
Safe rowed with the Australian national team for around 10 years through the 1990s until 2000, when she stopped because she had "had enough".
The highlight of her career was the Atlanta Olympics in 1996 , where she finished fourth in the women's eight.
But she says she came to a point where she realised it was time for a change . . . and cycling, which she had dabbled in as a form of cross training for rowing . . . beckoned.
Friends at university, where she was studying a PhD in health sociology, introduced her to Melbourne cycling identifies John and Vicki Beasley, who helped her out, got her onto a bike and introduced her to national pursuit coach, Ian McKenzie.
That was in February-March 2001. Not two weeks after riding on a track for the first time, Safe found herself at the nationals.
"I only did the pursuit, I wasn't ready at that stage to go up the track," she said. "This year I am only doing the pursuit as well . . . people are asking me if I might do a scratch race or something else, but not yet. Maybe in another 12 months I will find the confidence."
In reality, Safe has been on the track very little since she started on the bike. She crashed during the Canberra tour in May last year, fractured her scull in a couple of places and was off the bike for five months.
But with her elite sports background, she has high expectations of herself and it wasn't long before she found herself back on the bike and aiming high. "I know where I want to go in the sport. Ian is a hard man and he only takes on people who feel like that."
Tonight's ride was the quickest she has been, she said, but she believes she can go quicker. Both competitors started strongly, but it became evident very early that it would be Safe who would dominate. Riding smoothly and powerfully, she had gained a huge lead within the first minute of the ride.
At the two minute mark she had gained so much distance that she had Williams well in her sights. By 2.30 both riders were in the main straight and by 2.52, Safe had overtaken her demoralized competitor.
Delighted after the event and handling media attention like a professional, she conceded she didn't know exactly where she was going from here. "I thought about doing a block with James Victor's women's road squad, but only for training; not because I want to race the road," she said.
"But if I could I wouldn't mind doing the Sydney world cup. I am positive I can go faster." She said she felt good throughout the day and credited McKenzie for being able to bring her to peak at exactly the right time.
"I just concentrated on applying power, riding smoothly and breathing. And holding my line, because I am still new to track," she said. "Cycling uses a similar aerobic-anaerobic system to rowing, but it is shorter. I really like it."
NSW rider Natalie Bates took the bronze medal after a close dual with Tasmania Louise Yaxley. The Tasmanian out of the seat quicker than the NSW girl to take an early lead of 0.075. Both women rode extremely smoothly and by halfway, the 0.778 split was very close. But Bates was obviously keeping her strength for the last. She came back strongly to beat her opponent with a time of 3.53.939.