2002 Australian National Track Cycling Championships
Dunc Gray Velodrome, Australia, April 17 - 21, 2002
U19 Women's 10 km Scratch U19 Men's Keirin Women's Keirin Men's Keirin Men's 40km Points U19 Men's Madison
Day 5: Gold in the keirin: What a Day for Danny
Day's end
Photo: © Tom Balks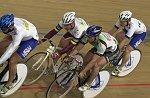 Queenslander Danny Day beat NSW rider Sean Eadie for the second time in an afternoon to win the Australian keirin championship for 2002 in a super fast ride at Sydney's Olympic Dunc Gray velodrome today.
Day flew home in a personal best of 10.703 and dramatically shoved his front wheel across the line to steal the gold medal out of the grasp of Eadie, who had had made his move around the outside at the bell and had gained enough of a gap on the field to look like he was in with a big chance for the win.
It was a superb display of sprinting from two of the older greats of Australian cycling and was a credit to their dedication and staying power, both on and off the track.
Every rider in this race had the talent and form to take the gold medal. Shaun Hopkins NSW, Greg McFarlane of Italy, Ben Kersten of NSW and Gavin White of SA made up the field and they made sure the win was hard earned.
Some early shuffling had White first wheel behind the derney, Kersten in second wheel, Eadie in third position and Day in fourth. Kersten was leading the way as the derny pulled away with two and a half laps to go and Hopkins was high on the track, making sure he had plenty of space for a free run when the sprint came down.
Eadie
Photo: © Tom Balks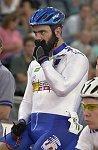 It was NSW one -two- three at the bell - Eadie led out and Day was flying up behind him as they swung through the bottom turn. But Day has had a stunning nationals and, as he did in the earlier heats, he managed to get his wheel in front of Eadie on the line.
"I'm a bit stuffed," he said afterward. "It's been a long week but I'm stoked with the ride. I'm really happy. My father and I have worked hard for the past six months. I would like to thank the Queensland Academy of Sport and my wife. She's put up with all my bad tempers and stuff, so, thanks."
Disappointed in his third place was Ben Kersten, who has been battling pain caused by a calcium deposit in his right knee.
"It gets quite aggravated," he said before the start. "This is the best I've been for two months now. I have bronze in the time trial already and hope I do well in the keirin so I can get a spot in the Commonwealth Games.