Bikes of the Tour: Levi Leipheimer's Gerolsteiner Specialized S-Works Tarmac SL, July 26, 2006
Levi's road warrior
Anthony Tan
The head tube

Not an easy day at all

Don't get dizzy now

The bottom bracket cluster.

X marks the spot.

The seat tube cluster.
Ritchey's pretty WCS carbon post.

Schwalbe tubulars.

Levi Leipheimer's Specialized S-Works Tarmac SL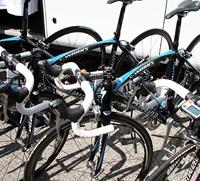 Unveiled at last year's Tour de France, Specialized's S-Works Tarmac SL is a lighter, stiffer incarnation of its predecessor, the S-Works Tarmac.
The 2006 Tarmac SL weighs 890 grams for the frame and 300 for the fork, with modulus of stiffness of 390 GPa (Gigapascals) - a 33 percent increase over the S-Works Tarmac - make an enviable set of numbers. Satisfying these two objectives has been achieved using Specialized's 'Az-1' technology, a curing and moulding technique that combines several sub- structures so they become 'as one'.
In this method, separate sections are formed and the joints are wrapped with multiple layers of carbon with a sequential curing process employed with each wrap. The final frame is then fully cured to form a homogeneous structure.
Additionally, while sharing the geometry with the original S-Works Tarmac, the previous incarnation's chassis rigidity, comfort, and handling characteristics have all been maintained or surpassed. A further 40 grams were thrown away by using carbon rather than aluminium dropouts and ditching the primarily cosmetic woven outer layer of carbon.
Specialized's 300 gram carbon fork.

At last year's Tour, Gerolsteiner co-leaders Levi Leipheimer and Georg Totschnig were the only riders aboard the S-Works Tarmac SL; now, the whole team now has Specialized's flagship road frame at its disposal. However, when Cyclingnews walked by the team bus before the start of Stage 16 in Bourg-d'Oisans, Austrian Peter Wrolich had opted for the Roubaix frame, primarily designed for the Spring Classics.
This will be the last Tour that Leipheimer rides aboard the S-Works Tarmac SL as his transfer to Discovery Channel in 2007 will see him switch back to that team's Trek bikes.
Specialized makes a fully tricked-out version of the Tarmac SL with its own FACT carbon crank and carbon fiber wheels that weighs in well under the UCI weight limit. But since it's slightly silly to roll up to the Tour on a bike that is so light you have to bolt on lead weights to meet the regulations, Leipheimer's bike is more modestly equipped.
Oversize Dura-Ace hubs.

A complete Shimano Dura-Ace group provides most of the stop-and-go bits, including a pair of parts that's rarely seen in these days of pre-built 'factory' wheels: Dura-Ace hubs with conventional flanges. These are laced into Dura-Ace carbon rims, which as Shimano-watchers will know is not the usual configuration for the Dura-Ace carbon wheels. In their standard spec these wheels use hubs with spoke nipples at the hub. We suspect Gerolsteiner's mechanics have asked for a more old-school design because it's rather easier to get a spoke key to a rim-mounted nipple than to one at the hub.
Other component choices on Leipheimer's rig include aluminium Ritchey bars and stem, with another 'old-school' touch in the bars: a curved rather than anatomic shape to the drops. Ritchey also provides the team's seatposts and saddles come from Selle Italia. Gerolsteiner rolls on Schwalbe tyres and drinks from Elite bottles and cages.
Photography
For a thumbnail gallery of these images, click here
Images by Anthony Tan/Cyclingnews