An interview with Robbie McEwen, July 5, 2006, part 1
Robbie McEwen: life of a sprinter
Australian sprinter Robbie McEwen is firmly in the hunt for the green jersey in this year's Tour after his spectacular win on stage two. Cyclingnews' Shane Stokes sat down with Robbie McEwen the day he withdrew from the recent Tour de Suisse with a sore knee. He was expecting to find the sprinter in a disappointed mood but instead the rider was in top form, talking happily for longer that was scheduled and showing clear confidence that everything was on track for a strong Tour de France.
Already a Tour stage winner.
Photo ©: AFP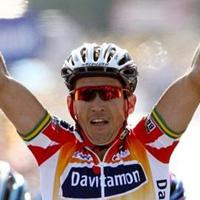 When it comes to the final 200 metres of a major race, Australian rider Robbie McEwen is one of the quickest and most tactically astute on two wheels. Along with Thor Hushovd and Tom Boonen he's one of the top favourites for stage wins and the green jersey as best sprinter in this year's Tour.
Mondays's road stage showed just why the Davitamon-Lotto rider has already won two maillots vert; McEwen produced a hugely impressive burst of speed to blast past Stuart O'Grady and Erik Zabel and win the stage. Last year McEwen took a hat-trick of stages at the Giro and then did the same at the Tour, taking the honours in Montargis, Karlsruhe and Montpellier. However, a controversial tangle with compatriot Stuart O'Grady on day three into Tours saw him disqualified, a decision he disagreed with and which he feels ultimately cost him his chance of winning the race for green.
This time round he's hoping for more success. He once again took three stages in the Giro and says that if history repeats itself and brings an equivalent number of victories in this year's Tour, he'd be very happy indeed. Over the course of a 25-minute interview a friendly McEwen gave an in-depth look into his career and the world of sprinting, talking about his abilities, his preparation, his career progression, his tactics when dealing with top rivals such at Tom Boonen and Thor Hushovd and his surprisingly relaxed approach vis-à-vis checking out the route of the race.
Cyclingnews: First off, you withdrew from the Tour de Suisse. Why was that?
Tussling with O'Grady.
Photo ©: Roberto Bettini

Robbie McEwen: I pulled out of the stage in order to protect my knee. I think it was giving me trouble because we have spent a lot of time in the big mountains and I normally don't do that too often, for obvious reasons! I always ride the race as preparation but this year it was a particularly hard Tour de Suisse. As you saw at the race, there wasn't one finish where the whole bunch arrived there together as one. The closest was when [Daniele] Contrini got the win, but I think if he hadn't been as far ahead as he was, it would have blown to pieces on the last climb.
The organisers were putting in climbs near the finish, these big bergs which are pretty hard. My knee started to get a tiny bit aggravated and I just wanted to play it safe. But it should be fine for the Tour.
CN: You said that the race was harder than expected, was it a case that the classification of the climbs was out - that perhaps what was rated as a fourth cat was closer to a third cat?
RMcE: Yes, I think when you look at some of the fourth cats they were pretty hard! Like, the climb on the first day was pretty hard. But it is more the placement of them… for example, we come onto a circuit, we come to the finish line and they want to send you around a lap, but they have a filthy mountain on it every time. Like the day Nick Nuyens won, it had already been really, really hard…it was like riding Liège-Bastogne-Liège. You come onto the circuit and they have put in a filthy cat three…if you can't climb, you a really wasting your time.
Tom Boonen (Quickstep-Innergetic)
Photo ©: AFP

I came here after a break from racing for three weeks…I am looking to get racing rhythm again. Often I come to the Tour de Suisse and I am all right…I suffer like anything in the hills, but most years I have been able to pop off a stage win or two because I am going good on the flat and I am sprinting well.
I am feeling about the same as the other years - I am still suffering in the hills, but there haven't been any real flat stages to do something in. But I am not too worried…I should be fine for the Tour.
CN: How did you feel your sprinting was in the Giro? You got three stages there….
RMcE: I wasn't equally good every day. That is something I always have on the Giro… My preparation is not focused on being 100 percent at the Giro. I go there pretty good, sprinting pretty fast, but I am not good every single day. I think I even won a stage this year where I felt I wasn't all that great on the day, although I sprinted good enough at the end.
But I was happy with how I was going. I think my best one was the third one, in Forli, That's because Vaitkus went early but I went straight over the top of him, doing a really long sprint but really fast one, too…it was 71 kilometres-per-hour. I was really happy with the Giro.
CN: You seemed to start winning big kind of late in your career….
RMcE: Yes, it was 2002…. In 1999 I won on the Champs Elysées, that was sort of a break-through win. I had won other races before that, but smaller ones, things like stages of the Route du Sud, Luxembourg, the Tour of Holland, Ruta del Sol, Dunkirk…that kind of thing. The Champs Elysees was for sure my biggest win at that point.
Thor Hushovd (Credit Agricole)
Photo ©: Luc Claessen

The year after that I just had a shocker of a year, I was just crap all season. I had a real problem, being sick pretty much from February to May, then I just started getting better. I was second on a stage of the Tour which kind of rescued my year, but the rest of the season just sort of petered out. 2000 was useless.
But in 2001 I started riding a lot more consistently. Even though I didn't have that good a press from 2001 - it was being said that I didn't win much while I was there with Domo - Farm Frites, but I actually won 16 races. That was the year where I started winning consistently and had consistently good form throughout the season, but the thing is that I just didn't really get to ride any really big races. It was in 2002, the year I turned 30, when I started not only winning consistently but also in the big events.
CN: What was the key to that late success?
RMcE: I think it was just that everything started coming together right. Also, I think I had also learned exactly how I needed to train to be at my best…you just have got to learn about yourself. I only started when I was 18, and I guess the best experience comes from really learning it the hard way.
I learned a few things the hard way; I figured out, partly with the help of other people but mostly on my own, what works for me. And also being in the environment which suited me meant that it started happening.
Another Giro win
Photo ©: Sirotti

CN: Generally people believed in the past that guys peak around 28 or 29, but now there is a school of thought which says it is actually the amount of years you have been racing…in other words, that it takes a certain number of years training and racing hard to reach your peak. So if you start later, you peak later…
RMcE: I think so. There is so much to learn about yourself and about the sport and about how to do things. I think if you start when you are 14, by the time you are 24, you are pretty much ready to do the right thing at the right time. And you also have a background of training…it does take years to harden your body and be physically ready to do things. And some guys are physically ready earlier than others.
CN: You had a big crash earlier this year…
RMcE: Yes, I crashed in the Three Days of West Flanders. I broke a rib there.
CN: Was that hard to come back from?
RMcE: Yes, it was…because I tried to ride through it. I think it was maybe in the end a good decision…okay, maybe it wasn't a really bad decision. I don't know if it was the best decision, I don't know how it would have gone if I had just rested. It probably would have been worse, because it would have taken me longer to build up my fitness again. What I did was just ride with an incredible amount of pain for a long time. When I really needed to go deep I just couldn't, my body would just shut down. I had that for a long time.
Robbie McEwen (Davitamon-Lotto)
Photo ©: Sirotti

I had the crash on the fifth of March. Two days later I was going to be going to Tirreno, as I was using that to prepare for Milan San Remo. I had been focussed on that since November when I got back on the bike. It was like, "I am sore, I am hurting, but I am going to ride Tirreno." So I didn't even bother going to hospital to get it checked out. I was in heaps of pain but I thought, "it will get better, maybe it is just bruised." But I went to Tirreno and my breathing was really, really hurting. Any movement I would make was very sore. Anyway I got through Tirreno, but was in heaps of pain. I got second on the last stage but could never go 100 percent. I then went back to Belgium and said that I had better go in for an Xray. It turned out that it was the same radiologist that I went to see back in 2004, when I broke my back in the Tour. He came out again with the same look on his face, shaking his head and saying "What are you doing?" because I rode the Tour with two fractures in my back.
Anyway, he came out, put the disk in his computer, buzzed through the images and said: "There it is." You could see my rib, you could see two sharp broken ends, rubbing against each other on the X-Ray photos.
CN: So what did they do with that?
RMcE: You just have to let it heal…you can't pin a rib. Basically you need to rest and let it heal. The doctor said, "normally you should have some time off, but knowing you, what have you got coming up?" Being a Belgian, he follows cycling and he said "Milan-San Remo is on Saturday, isn't it?" I said yes, then he said "and you are still going, aren't you?" I said "yeah".
But when push came to shove on the Cipressa, when I really had to try my hardest, again everything just shut down. All your muscles just go… Your body is pretty clever, when it is hurting it is going to find a way to stop you hurting yourself. Anyway, it took a long time to come back properly.
CN: Looking at how you did in the Giro, maybe that was a sign that you did the right thing in not stopping…
RMcE: Yeah, it was good to ride through it because I kept some fitness, I kept a base. I think also the fact that I was racing but my rib was not enabling me to go 100 percent, I was not depleting my physical reserves…. I still got through that period with some competition, but I wasn't really tired from it. So maybe it was a good thing.
After the Giro, I took a week off the bike. That is why I feel now that I have started to struggle the last couple of days, when the race has gone into the hills. When you pretty much start to overload things. But that is the story of my Tour de Suisse every year. I go okay, I feel good for a couple of days and then I start go downhill again. But it is a good training effect and then I will turn up at the Tour going well.
Part 2 is here