The Stuart O'Grady diary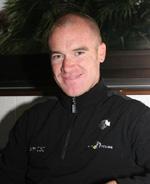 Stuart O'Grady
During the Tour de France CSC speedster Stuart O'Grady will be giving us a regular inside look at the daily goings-on in the peloton and the team hotel. An Olympic gold medalist on the track, O'Grady is a rider to watch in the sprints and long breakaways, and one of CSC's best hopes for a stage win or even the green points jersey.
O'Grady has had a rollercoaster ride at the last few Tours, wearing the yellow jersey in 2001 and green in 2002, but never quite managing to hang on to green all the way to Paris. In the last couple of years he's shifted his emphasis away from sprint speed and remodelled himself as a Classics and long breakaway expert.
July 17: A final rest
This rest day was certainly required, not just by me, but also half the peloton.
It was great to have a sleep in and just get up relaxed and no pressure. We had a press conference at 10.00 am and answered most of the same old questions, then off on a two hour relaxed ride around the lake. Bjarne and Kim came with us and it was great to just suck in as much of that fresh air as possible. A good coffee stop on the lake was great and then back for a massage and visit to the chiropractor.
Tonight I will catch up with the family, have dinner and more relaxing. I definitely needed this one.
The next three days of the tour will be crucial. It will be won and lost in the mountains and no one has played their cards yet. No one has unleashed their full capacity. After tomorrow there will be nowhere to hide.