Recently on Cyclingnews.com
News feature, July 11, 2006
T-Mobile press conference
In yellow, without Ullrich
Matthias Kessler
Photo ©: Anthony Tan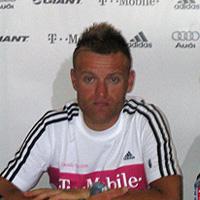 Some situations in life are truly ironic: T-Mobile try for years to get Jan Ullrich in another yellow jersey, but now der Kaiser is gone they get the desired clothing for the first time since 2000. Of course, the German outfit hasn't won the Tour de France yet, but after one week of racing they are the strongest squad in the peloton - with the overall lead to prove it and many cards to play. Cyclingnews Hedwig Kröner attended the T-Mobile press conference in Bordeaux to catch up on team news.
"The outcome of the first week of the Tour is very positive, two stage wins and the yellow jersey - we could only dream about this to happen," team director Olaf Ludwig said. "We are in a very good position in the race now; and difficult days await us. The other teams will attack us, as we have the jersey. Our handicap is that we only have seven riders left, so we cannot - and will not - play the part that Discovery Channel has played in the last years in the race. There will be many tactical games and variations. But we do have a lot of different possibilities, also because of the team's time trial abilities. We shall see what our rivals will do!"
Serguei Gonchar
Photo ©: AFP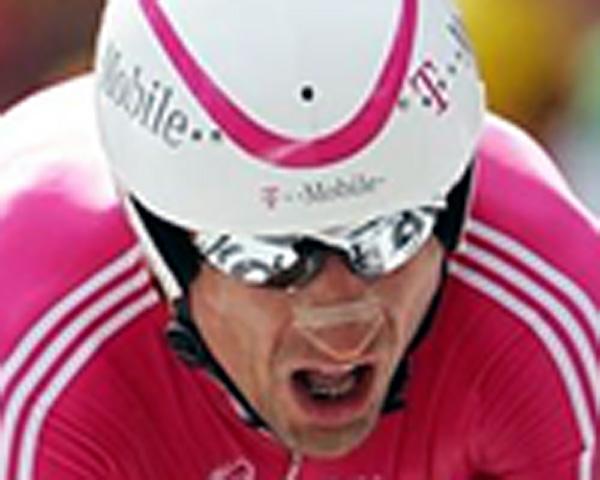 But Ludwig is sure that the race will not unfold like in recent years. "We can't compare this Tour with the last year's races. The Tour will be raced very differently in the mountains. Some teams aren't satisfied with their results yet; some have their leaders in front [of the overall classification - ed.]. So we'll have to adapt to those situations. Tomorrow there will be another sprinter's stage, but it will get very interesting as of Wednesday."
Asked who will take the role of team captain at T-Mobile, Ludwig responded, "That's easy: the rider who has the jersey is captain. Everybody knows that Serguei Gonchar can ride well up a mountain; we will try to be as long as possible at the top of the classification to have all tactical possibilities open to us."
Andreas Kloden
Photo ©: Sirotti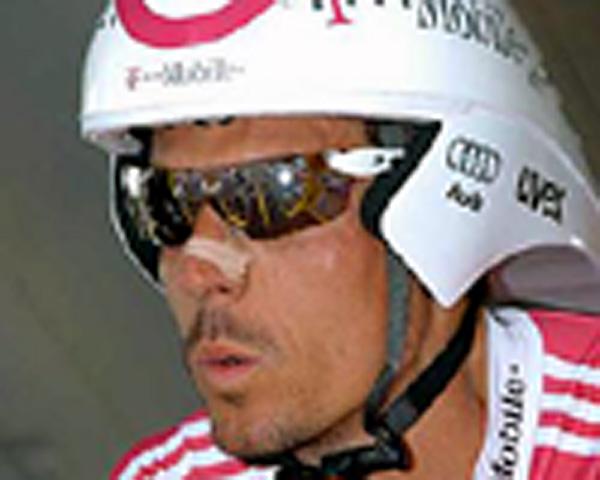 Not only Andreas Klöden or Michael Rogers could take over for Gonchar, also Patrik Sinkewitz is an excellent climber and well-placed after the first time trial. "Of course he also has abilities in the mountains, otherwise he would not be here," continued Ludwig. "Our team was designed to help Jan Ullrich 100 percent, to be in top physical shape for him. Neither the riders' form is gone, nor their morale - I think that was made clear. Now, nobody can replace Jan Ullrich but we can shuffle our cards and support our new possibilities, whether that's Matthias Kessler, Patrik Sinkewitz, or Eddy Mazzoleni."
How did that re-focusing reflect on the rider's mood? One journalist asked if they felt liberated of the pressure since the top captain returned home, which had helped them achieve their good results. "No - when you lose your captain, it's not liberating," said Matthias 'Matze' Kessler. "The remaining seven riders prepared 100 percent for the race and it worked out fine for us. Then two stage wins popped up for us, everybody got excited and even more motivated to show their best, and I hope that it will continue this way. Of course, it won't be easy to live up to that level, but we hope we do."
Matthias Kessler
Photo ©: Jon Devich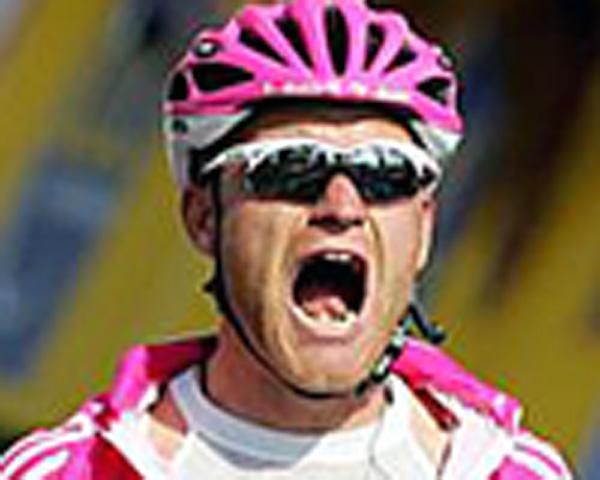 The grinning Serguei Gonchar, who finally could clarify the spelling of his name (with a G in the English translation, H in French, but definitely pronounced with an H), said he enjoyed every minute with the yellow jersey. "It's a very special jersey," he said. "I tried to go for it four years ago. It's a very special feeling to have it. I certainly [will] enjoy every day that I can retain it. In 2002, I was in the Pyrenees... [so] I've seen them a bit, but I don't know these mountains very well," he continued. He added that teammate Giuseppe Guerini told him that the Pyrenees were not as difficult than the Alps, or the climbs in the Giro d'Italia.
The team director took a little revenge on the assembled media representatives by saying, "I remember very well all those surprised faces when we announced that we had signed Gonchar. But the goal was to have a rider that can perform throughout three weeks, that has been World time trial champion, but who also keeps his abilities in the mountains. He has these qualities." Nevertheless, Ludwig stated that there were many other possibilities for T-Mobile success.
Serguei Gonchar
Photo ©: AFP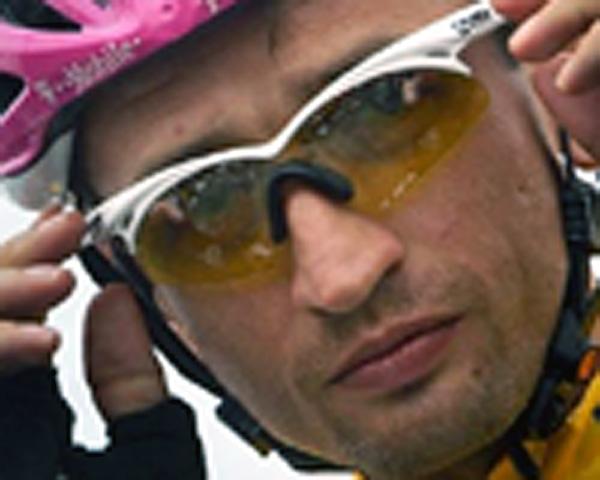 Kessler, who didn't rule out trying to get into the right breakaway again at this Tour, dedicated his stage 3 victory in Valkenburg to his good friend Jan Ullrich. Asked if he thought the team's sponsor had been happy about this dedication, he replied, "I know that our sponsor supports us and will continue to do so, and I would also repeat what I said. It's my personal opinion, and I did feel it that way just after crossing the line. I will stay in contact with Jan, and he congratulated me after my win. At the moment, there are only speculations on him," he added, clearly signifying his loyalty to his friend.
Michael Rogers
Photo ©: Jon Devich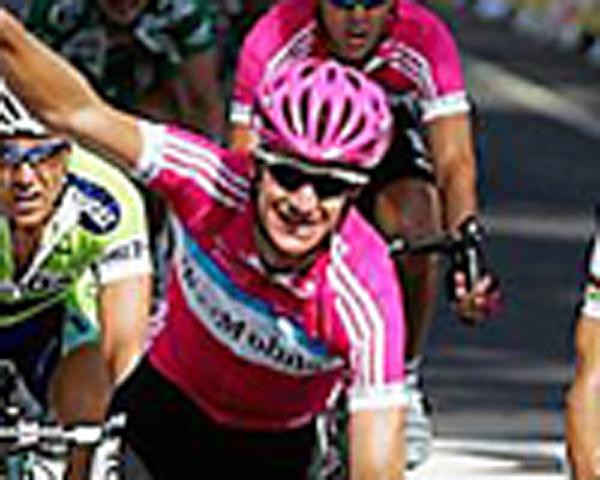 Ludwig, for his part, could of course not end the press conference without having to answer questions about the future of Jan Ullrich in the team. "On Friday before the Tour, the documents arrived, which led to the suspension of Jan Ullrich, Oscar Sevilla and also Rudy Pevenage," he recapped. "I handed them over to our lawyers as you can imagine that these matters are also managed on a legal level. On the basis of this Spanish report, we terminated Pevenage's contract last week. Ullrich's and Sevilla's situation is different as we haven't got new documents yet. They are still suspended."
The team's reaction to sack Ullrich's mentor and directeur sportif Rudy Pevenage was swift. But what about Jan Ullrich's contract? "The facts [linking Pevenage to Doctor Fuentes - ed.] are clear. There were no doubts about it. In his case, we could react fast; but in the cases of the riders, it will take longer to get all the facts straight. The matter is in the hands of [our and their] attorneys now, and this sort of thing just takes longer than one week, as you know."
If the T-mobile management finds enough proof that Ullrich was indeed a client of the Spanish doping ring, it will not hesitate to give its star rider his notice too.