The Stuart O'Grady diary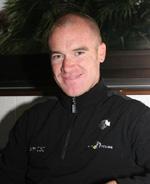 Stuart O'Grady
During the Tour de France CSC speedster Stuart O'Grady will be giving us a regular inside look at the daily goings-on in the peloton and the team hotel. An Olympic gold medalist on the track, O'Grady is a rider to watch in the sprints and long breakaways, and one of CSC's best hopes for a stage win or even the green points jersey.
O'Grady has had a rollercoaster ride at the last few Tours, wearing the yellow jersey in 2001 and green in 2002, but never quite managing to hang on to green all the way to Paris. In the last couple of years he's shifted his emphasis away from sprint speed and remodelled himself as a Classics and long breakaway expert.
July 7: Some improvement
Today's stage was not exactly what I was hoping for. Pouring rain, real slippery, which increases the chance of a crash, something I definitely don't need right now. Luckily it cleared up a bit although it threatened all day.
When a group of 20 got up the road and there were no CSCs there, we had to do a bit. Bjarne decided it was best to close it when it was only a few minutes, so we all got to the front and closed 'em down. That kind of buckled me for the rest of the stage but I managed to get through.
Robbie is sprinting superbly at the moment and he looks like he is going to be hard to beat.
I'm feeling heaps better. I didn't wake as bad and my body is definitely feeling better after treatment. I just came out of an hour with the chiropractor and my back is really loosening up. There is a lot more flexibility than in the past few days. The chiro is actually smiling and the body is actually starting to respond. Now he can really do some work on the joints and get blood flowing
Still not 100 percent, but we're getting there.
I will just need to ride tempo in the time trial and use at as a recovery day. Then it's a couple of flat stages including a rest day and I should be recovered enough for the mountain madness.
The first day in the Pyrenees will let me know if I'll be riding into Paris.