An interview with the maillot jaune, Cyril Dessel, July 12, 2006
Taking some revenge
In only his second Tour participation, Frenchman Cyril Dessel (AG2R) managed to obtain one of the treasured jerseys of his country's national tour: the maillot jaune. Dessel finished a close second in the 10th stage behind breakaway companion Juan Miguel Mercado, but still claimed the leader's tunic as well as the polkadots of best climber. But as Brecht Decaluwé reports, he wanted more.
Cyril Dessel (AG2R)
Photo ©: Sirotti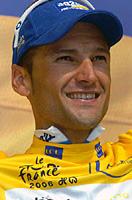 Q: At what moment in the race did you realize that you were heading for the yellow jersey?
CD: With twenty kilometres to go, my sports director said that it was possible. Still I tried to focus on the stage, because I felt I could win it. But in the end, Mercado also deserved to win something as our cooperation was good and I already had the yellow and the polkadot jerseys. He asked if we could split the prizes, but I do wanted to fight for it, as you haven't got an opportunity to win a stage in the Tour de France so often. However, I congratulate him on the victory.
Q: What was the strategy of the team for today's stage?
CD: Our strategy this morning was to be in every break that had five riders in it. My mission was to get into a bigger group of about ten riders. The start was very nervous as everybody wanted to be in the breakaway. Apparently, I chose a good moment to join a break. I was the last rider to join the group. Knowing that I was classified into the top-30 there was always a chance to get the yellow jersey.
Q: Your career has been marked by crashes, illness and bad luck. This victory clears out lots of those sores?
CD: This is my seventh year as a pro, still this is only my second participation in the Tour de France. The Tour gave me some very big disappointments. This year, my form was alright as I rode well in the Dauphiné Libéré and in the Tour of Catalunya. People told me that maybe this could be the year where everything falls into place. In all silence, I dreamed that maybe I could win a stage. This yellow jersey can be considered as a great compensation, or a great revenge.
Q: Now that you're wearing the yellow jersey, does it change your goals in the Tour?
Leading the break
Photo ©: AFP

CD: The objective won't change much. Of course, I will fight to keep the jersey as long as possible. Tomorrow will be a very tough stage in the Pyrenees; hopefully I'll recover enough to keep the jersey. If I do lose it, I will be there again to help Christophe Moreau as long as possible in the mountains.
Q: Yesterday, you extended your contract with AG2R for two more years. Maybe you did that a day too early..?
CD: Yes, it's true that today would've been better. But maybe, there is a possibility that we have some more little negotiations (laughs).
Q: AG2R entered this Tour with the shock of the non-start of Mancebo...
CD: We were all sad that this happened, it was very bad for the image of our team. Until that moment, we were doing very well in the races leading up to the Tour; but of course Mancebo's exclusion left it's marks on the team. However, we managed to concentrate on the Tour, as it started the next day. But I think we are still very successful. We had the stage win of Calzati, and the good performance of Dumoulin. AG2R is able to continue without Mancebo.