An interview with Matteo Tosatto, July 21, 2006
Plenty of reasons to smile
An opportunity to win rather than lead out someone else, the first Italian stage victory at this year's Tour de France and the best win of his career, Matteo Tosatto had plenty of reasons to be happy today. Cyclingnews' Anthony Tan found out what it meant to him at the post-race press conference.
Matteo Tosatto (Quick.Step)
Photo ©: Sirotti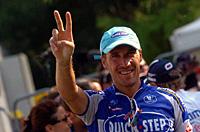 Q: Finally, a victory for Quick.Step...
MT: Well, I think it's been a good Tour for Quick.Step, because don't forget that Tom Boonen spent four days in the yellow jersey. The team did a great job, and I don't think with the crazy Tour we've had, that any other rider held the yellow jersey for as many days as Tom did. But of course, today is nice because it is the first Italian victory and the first for Quick.Step.
Q: Can you explain what happened yesterday - were you sick or something?
MT: Yesterday was a really hard day for me in the mountains. The problem was the altitude, where I had to stop for ten minutes before I was okay. I ended up finishing with the gruppetto. I think everybody in the Tour is tired, but today I had the opportunity to go with the break and to win a stage.
Q: In the last kilometres, we saw you speaking with Moreni, where he was shaking his head; what was happening there?
MT: It was just that I was afraid of him in the sprint because he's very fast. In the finale, everybody was afraid to pull because we were all afraid of each other; we tried to surprise each other, but when I started the sprint, I was almost sure to win, so long as I went to the very last centimetre.
Q: Matteo, you've spent so many years working tirelessly for riders like Alessandro Petacchi and now Tom Boonen. Did you have to remind yourself that you didn't need to peel off with 150 metres to go, and that you were sprinting for the victory?
A clear win
Photo ©: Sirotti

MT: Well, I'm also a fast rider, and I'm able to win a sprint with about forty or fifty riders. Today, I knew the sprint would be between me and Moreni, so I started my sprint and I made sure I didn't make any mistakes. I knew this was a big opportunity for me and that I couldn't lose it.
Q: When Boonen abandoned, was it difficult for the team?
MT: At that moment, yes, but after that, not so much, because what was left was very difficult mountain stages and not for him. We remained very positive in the team, because we are a nice group of friends; today was proof we were right.
Q: You are the first and probably the only Italian to win a stage at this Tour de France. Can you tell us what that means to you?
MT: In my career, I haven't won a lot of races, but if you look at my palmarès, they are all important victories, at the same level - maybe today is a little more important. With two days to go, of course I don't expect an Italian to win the time trial, but why not on Sunday?