First Edition Cycling News for July 23, 2006
Edited by Jeff Jones, with assistance from Susan Westemeyer
Stage 19 wrap-up
Coming up on

Cyclingnews will cover the 60th edition of the Dauphiné Libéré live as of stage 4 on Wednesday, June 10, at approximately 15:00 local Europe time (CEST)/ 23:00 Australian time (CDT)/ 9:00 (USA East).

WAP-enabled mobile devices: http://live.cyclingnews.com/wap/

Landis gains yellow in TT; Gonchar takes his second time trial
Floyd Landis (Phonak)
Photo ©: AFP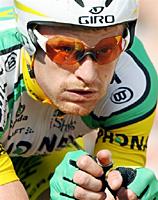 Floyd Landis (Phonak) is within a hair's breadth of taking his first ever Tour de France win, after finishing third in today's deciding time trial between Le Creusot and Montceau-les-Mines. Landis started the fastest, but gradually faded over the 57 km to lose 1'11 to winner Serguei Gonchar (T-Mobile), and 41 seconds to Andreas Klöden (T-Mobile). Maillot jaune Oscar Pereiro (Caisse d'Epargne) fought bravely, but ultimately finished fourth on the day, 2'40 behind Gonchar and 1'29 behind Landis.
In the overall classification, Landis has an effectively unbeatable 59 seconds on Pereiro and 1'29 on Klöden. CSC's Carlos Sastre, who started the day in second overall, rode below his best in the TT and is now in fourth, 3'13 behind Landis. Tomorrow's final stage into Paris is not expected to change the podium, and besides the top three, Robbie MeEwen (points), Michael Rasmussen (mountains), Damiano Cunego (young rider) and T-Mobile (teams) will take home the other classifications.
Click here for the Full results, report & photos, Live report, Video.
An interview with Serguei Gonchar
Mystery win or not?
Reporting from today's time trial in Montceau-les-Mines, Brecht Decaluwé finds out about today's self-confessed mystery winner, Serguei Gonchar.
Serguei Gonchar (T-Mobile)
Photo ©: Sirotti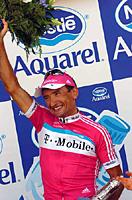 "I have had other important victories in my career, with other teams. I've won the world championships, and other important time trials," said Gonchar. "But this year, I was able to get the pink and the yellow jerseys, and I've won a stage at the Tour. So that, for every rider, would be important. Every year is special to me - but maybe this year just a bit more!"
Q: You suffered very hard in the Alps and today you won the time trial. Can you explain that?
SG: It's a mystery to me as well. I was ill in the Alps and I had to take antibiotics. But this morning our team manager told us that we had to fight for the teams classification. So that's what I did. Afterwards it was very difficult because I had to wait very long before I knew if was the winner of the stage or not.
Q: Is your next objective the time trial at the world championships in Salzburg?
SG: No, now I just want to reach Paris and then I'll enjoy some holidays. The last two months were very hard with the Tour of Romandie, the Giro and now the Tour de France. Now I need tranquility, afterwards we'll see. We have Michael Rogers in the team and maybe it's more something for him than it is for me.
Click here for the full interview
An interview with Andreas Klöden
"Now, I'm hungry for more!"
It was an important day for T-Mobile's Andreas Klöden: at 2'29 behind Oscar Pereiro, the German's goal was to transform his fourth overall placing into third and hop on the podium again in Paris. Many did not believe this was going to be possible, but Klöden proved them wrong: "They underestimated me," was his blunt answer after the race in Montceau-les-Mines. Cyclingnews' Hedwig Kröner waited for the close friend of Jan Ullrich at the finish of the Tour's last and decisive time trial, and found out about Klöden's feelings after this brilliant feat.
Andreas Klöden (T-Mobile)
Photo ©: Sirotti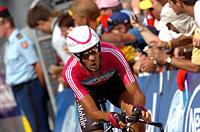 Q: Today's second placing behind your teammate Gonchar, as well as your podium spot in Paris must make you feel very happy.
AK: Yeah, I'm overwhelmed! After the difficulties I had this spring, and the setbacks in the Alps, it's great to perform so well in the last time trial. My team always believed in me; they motivated me yesterday, and this morning. They told me I could do it - now, I'm really happy I did.
Q: Were you informed about the intermediate times - did you know you'd jump on the podium during the race?
AK: I actually asked my directeur sportif Valerio Piva not to give me any times during the first 25 kilometres, as that would have only driven me crazy. When he started giving me the times, I was already 1'30 ahead of Sastre. Of course, that motivated me a lot, and I had Serguei's times as well for orientation. In the end, I had Cadel Evans in front of me, so that pulled me again. It certainly was one of my best time trials ever.
Click here for the full interview
Hunter and Brard's final torture
By Jean-François Quénet in Montceau-les-Mines
Robbie Hunter (Phonak)
Photo ©: Jon Devich

Rarely a Tour de France rider doesn't make the time cut in the final time trial. It has happened to Robert Hunter, although the South African had showed good form all the way, riding efficiently for Floyd Landis on the flat sections of the race. But he finished the three-week event with an horrible saddle sore. "I rode the whole time trial standing!" he said, while getting to know that he was out of the time cut because of covering the 57 kilometres more than 18 minutes and 9 seconds slower than Serguei Gonchar's. As he was supposed to finish no more than 16 minutes and 58 seconds, which was 25% more than the winning time, he's out of the race.
"What a way to end the Tour", he commented sadly. But he'll share with his Phonak teammates the celebration of Landis' victory in Paris. Hunter was the first South African to ride the Tour five years ago, then he became the first South African to finish the Tour, this year he can be considered as the first South African to win the Tour through his team captain.
The French champion Florent Brard (Caisse d'Epargne) will also be a non-starter of the last stage. He heavily crashed at the same place as Christophe Moreau, hitting the barricades. He has multiple fractures in his hand. "My back is also extremely sore", he said, very frustrated about not finishing a race he enjoyed a lot in the service of Oscar Pereiro.
Booty and the beast: Payday for Merckx
By Shane Stokes
Eddy Merckx
Photo ©: Sirotti
Eddy Merckx was regarded as a cannibal on the bike, but the Belgian appears to be a shark off it. He stands to make a killing at the bookies after a confident flutter on Phonak rider Floyd Landis looks to have paid off.
Merckx has close ties to the team due to the fact that his son Axel Merckx races in their colours and also because the five-time Tour winner raced during his career (and worked after it) with the father of John Lelangue, who is currently Phonak's manager.
The American's team-mate Robert Hunter talked about the bet, which was placed after Landis dropped way out of the reckoning on Wednesday.
"Here is a funny story," he wrote on his website www.robbiehunter.net. "Eddy Merckx has spent a bit of time with us over the past weeks because of his attachment to the team. Today we found out that last night after Floyd lost the jersey and 8 minutes to the leader, he [Eddy] went to the bookies in Belgium and bet 100 euro that Floyd would win the Tour anyways. The odds were 75 to 1 and he is laughing so hard, now that the possibility is really there. The way Floyd raced today [Thursday's 17th stage] was like the way Eddy used to race in the old days; he said it was the best race he has seen!"
Although he will be part of the team celebrations in Paris, Hunter will miss out on finishing the Tour. He unfortunately finished outside the time limit on Saturday's penultimate stage after a saddle sore prevented him from riding in the saddle.
Gerolsteiner optimistic again
Things were looking up again for Gerolsteiner, just one day after Hans-Michael Holczer bravely said it could have been worse. Levi Leipheimer's breakaway attempt in stage 19 wasn't rewarded with a stage win, but he won the title of "most aggressive rider. But at that, he wasn't the most notable Gerolsteiner rider of the day.
Ronny Scholz took off from the breakaway group just as it overtook his captain Leipheimer. Only the two Italians Matteo Tosatto and Cristian Moreni could follow him. "As the two Italians joined me, I knew that I would only get the third place. They can sprint better than I can. But I tried everything," he said.
Directeur Sportif Christian Henn praised the 28-year-old. "Ronny rode a very strong race. We had already said that a group would probably go, of which we wanted to be a part. And Ronny paid attention and our tactics paid off. It's just too bad that of all people, those two Italians went with him."
Double program for Team Barloworld
Boosted by the success of Felix Cardenas on Friday's second stage of the Brixia Tour, Barloworld team riders will head to Belgian and Spanish events motivated to do well.
First off is the Tour of the Wallonne Region between July 24 and July 28, where Claudio Corti's team will be racing on the famous roads used for the Ardennes Spring classics.
Sprinters Giosuč Bonomi and Enrico Degano will represent the team in sprint finishes while Gianpaolo Cheula, Alex Efimkin, Mauro Facci, Jeremy Maartens and Hugo Sabido are the riders for hillier terrain. Alberto Volpi will act as directeur sportif.
Meanwhile 2003 world champion Igor Astarloa, Pedro Arreitunandia, Felix Cardenas, Ryan Cox, Rodney Green, James Perry and Amets Txurruka will compete on Tuesday July 25th at the La Prueba Vilafranca de Ordiza in Spain.
The Tour de France of give-aways and competitions
Don't miss out at Tour time!
Resident freebies expert, Rufus Staffordshire, sniffs out some competitions where over $600,000 in prizes are on offer as manufacturers clamber for your eyeballs. Woof!
Scratch - but don't sniff
Photo ©: Trek

The Tour de France is not only a reasonably popular bike race, ahem, it's also a great opportunity to win an incredible range of prizes and competitions on offer from manufacturers, publishers and distributors.
Many of our sponsors are offering Cyclingnews readers a schwag-fest of give-aways during the lap-around-France. The prizes on offer range from pedals and laptops through to trips to Paris for the 2007 TdF, as well as actual kit being ridden by top pros in the Tour - including top bikes from Trek, Blue, and Avanti.
So that you don't have to go hunting around the Internet for all these goodies, we've assembled the Cyclingnews complete guide to Tour freebies and competitions.
(All rights reserved/Copyright Knapp Communications Pty Limited 2006)