The Stuart O'Grady diary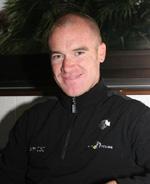 Stuart O'Grady
During the Tour de France CSC speedster Stuart O'Grady will be giving us a regular inside look at the daily goings-on in the peloton and the team hotel. An Olympic gold medalist on the track, O'Grady is a rider to watch in the sprints and long breakaways, and one of CSC's best hopes for a stage win or even the green points jersey.
O'Grady has had a rollercoaster ride at the last few Tours, wearing the yellow jersey in 2001 and green in 2002, but never quite managing to hang on to green all the way to Paris. In the last couple of years he's shifted his emphasis away from sprint speed and remodelled himself as a Classics and long breakaway expert.
Controlled anger in the prologue
Yesterday was pretty dramatic day for the whole team and took some getting over, but we all had to make the decision to get over the initial disappointment and wake upon this morning and remember that we still have eight extremely talented riders that can do a fantastic Tour de France.
Obviously we have a major strategic change of plans. My job this morning was to wake up and give it my best.
It a good way to release some controlled anger on the bike. I went out this morning and took it very serious and I put a lot of pressure on myself to do a good ride and I am more than happy with how it worked out.
I went over the course the first time this morning and after one lap I realised this really suits me. A nice technical start, not too long a straight and around 7 km it was just up my alley.
I haven't won many prologues in my life but I was third in the Dauphine which gave me a lot of confidence after being out of the game for so long and in the Eindhoven time trial we were absolutely flying.
I came into today quietly confident, I knew I was going to be up for a big day and I pictured myself about fifth. In the end I was just a poofteenth from third. I'm very glad I didn't lose by a fraction of a second, it's much better to lose by about four.
We also had high hopes for Dave Zabriskie and he did a great ride as well. But to give him his due, Thor really pumped everyone. Good on him.
I really tried to take the first four km fast and control it through the corners. Bjarne was behind and he said "You're going well Stuart." I looked down and I was doing 55 km/h and I thought, "Yeah, I'm going all right," but I definitely didn't lose any time through the corners, I was flying.
I just had a five minute chat with Bjarne and he said, "Well Stuart what do you want to do?" and I said "Hey, if you want me to have a go for the sprints, I will."
I told him I still didn't want to get in the battle for the green jersey, I just don't have the head for that at the moment.
I came here with the intention of protecting Ivan in his challenge for the Tour and I was really looking forward to it. Mentally I am not prepared to get out there and battle for the green jersey.
Bjarne is concerned about me crashing in the battle for the stage win. The first day is always the most chaotic out of all of them but we will have the big meeting tonight and I am sure he will give me the freedom to have a crack tomorrow and if it comes off, it comes off and if it doesn't, so be it.