News feature, July 10, 2006
A week in the life of Floyd
Phonak's team leader Floyd Landis has had a big opening week of the Tour, confirming his status as one of the race's favourites by taking second place in the first long time trial despite a bike swap and finishing the opening week second overall. But to keep things interesting, Landis chose the rest day to announce that he has been battling a severe hip injury for the last few years and will undergo replacement surgery after the Tour. Cyclingnews' Anthony Tan was there for the announcement.
Floyd Landis looking dapper in his suit.
Photo ©: Anthony Tan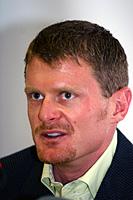 "No, it doesn't feel to me like this is the last one. I don't race any differently, knowing that maybe it is or maybe it isn't. Until now, I've had a very good season and I've proved I can win some of the hardest races, so whatever happens here will be an outcome of the race."
Floyd Landis, Phonak's 30 year-old team leader, is talking about the possible consequences of his imminent hip replacement surgery. Landis has been dealing with a persistent hip problem since a crash in 2003, and yesterday finally conceded that he was going to need to get the joint replaced after this year's Tour.
The accident happened in January of 2003. Landis was out training by himself near his home in San Diego, where he lost control of his bike on some loose gravel, falling and broke the head of the femur on his right leg.
Here, the 30 year-old Californian refers to his announcement that he will be in need of a new hip sooner rather than later. The accident happened in January of 2003. Landis was out training by himself near his home in San Diego, where he lost control of his bike on some loose gravel, falling and broke the head of the femur on his right leg.
"The bone close to my hip had severed completely," said Landis.
"I had surgery to reattach it, hoping it would heal. The following years showed that didn't work out exactly like we hoped. The odds of it working out were pretty high to start with," he mused.
"Since then, I've had two more surgeries, the last at the end of 2004, where we tried to restore some blood flow to the hip in order to prolong the functioning hip I had. At that point, we didn't have any misconception that the damaged hip was going to be the same, or that it would never need to be replaced - that was clear. The operation was to try and increase the blood flow and slow down the degeneration process."
Asking his personal physician, Dr. Brent Kay, where he lies on that degenerative curve, the fellow Californian paused before answering softly, almost as if he didn't want Landis to hear: "In the dive, if not at the bottom," he said. "The only way to treat it is to implant a hip prosthesis."
Dr. Kay explaining the intricacies of Floyd's hip
Photo ©: Anthony Tan

Added Landis: "The only problem with the hip is when it hurts too much and we can't use it anymore, where it will have to be replaced. Using it doesn't in any way increase the chance that it will be usable later - it's already ruined. So, whenever the pain gets too bad, I will have it replaced, probably sooner rather than later.
So it appears the Tour de France favourite already knows how bad his hip really is, and what that means.
But Landis, Dr. Kay and Phonak - in fact, all of Team Floyd - are optimistic. Not only for his chances now, but when he decides it's time to go under the knife.
"We did some research, and we found some top-level, Cat. 1, Cat. 2 cyclists who came back [after hip replacement surgery] and were very happy with their results," said Dr. Kay.
"We haven't had any Tour de France cyclists do that, but I think it's certainly possible. The big thing doctors try to keep their patients away from are running-type activities; cycling isn't really much of a stress on the hip joint itself. I certainly think it's possible and reasonable."
Floyd Landis (Phonak)
Photo ©: Jon Devich

"The worst of it is in the time trial," said Landis, "which is why I have the position the way I have it now. I can't lift my leg any closer to my chest, so I have to sit further forward on the seat than the other guys. It seems to be pretty effective," he grins, "it doesn't seem to hurt my time trialling."
Last Saturday in Rennes, the crew-cut reddish blonde was the only man who got close to Serguei Gonchar's performance against the clock, which saw the Ukrainian take control of the race. If it weren't for a bike change midway through his ride, Landis might be another 30 seconds closer, but sitting where he is now on general classification, he can't really complain.
"We had a little technical problem with the handlebars," admitted team manager John Lelangue, "but at the end of the race, we saw we were in a perfect position to begin the last two weeks of the Tour de France."
Added Landis: "I can't say I had time to be afraid really, when something catastrophic happens - you just deal with it in the moment. I was just happy I didn't fall off my bike, because that would have been a bigger disaster. The bike change went very quickly, and I don't think it had a big effect on the outcome of the race, really... just a few seconds.
"Until now, we're fortunate not to have any big incidents. Until now, things couldn't have gone any better.
Floyd Landis with his team manager John Lelangue
Photo ©: Anthony Tan

"There was a lot of talk about predictions and who's going to be where after the first time trial. I guess there were some disappointments, but we're happy with the outcome. Also, keep in mind it's a long way to the finish; they [the gaps] look big now, but they get bigger as thing get rearranged, so I wouldn't assume anything at this point."
In recent years, the battle for overall honours at the Tour de France has been dominated by two or three teams. Last year, it was Discovery Channel versus CSC; this year, it's looking like a war between Phonak and T-Mobile.
On paper, with four riders in the top ten, the latter are in the best position to go on the offensive in the mountains. However, Landis noted the opening time trial provides only a rough indication of who will be there in the Pyrenées and Alps, and having so many apparent leaders also has its disadvantages.
"I would say it's rarely the case that a flat time trial establishes who's the best climber," he said. "Certainly, you can't ride a good time trial if you're not in good shape, but as far as I can tell, it doesn't predict who will be good in the mountains.
"I think the T-Mobile team has to make a decision as who is their leader at some point; trying to keep five riders in the top ten is a mistake, in my estimation. I don't know what their goal is or who their strongest guy is - but right now, yeah, it's complicated for us, because it's not easy to watch five guys who can all go in breakaways and can be a threat for the classification in the end.
"But they're not the only ones in the bicycle race," added Landis, "and we're going to have to attack other people as well. Like I said, it's a long way to Paris, and the differences will be much larger than the seconds they are now."
All the mountain stages can be potentially disastrous, Landis said. Rather than single out one day, he said the best is to be consistent.
"But the Alps, to me, look potentially more decisive than the Pyrenées. In the Pyrenées, the last climb on the first mountain stage is a long way to the finish; the second day, the last climb is not steep, just long - it's not easy by any means, but the Alps stages have three very difficult stages in a row, and I think that will be the deciding factor in the race."
Floyd Landis at the centre of attention.
Photo ©: Anthony Tan

One problem, though, is that Landis' hip is in most pain when he's climbing: "Climbing steep hills is worst, because I have to lean forward further," he said.
"But most of the time, that's not an issue; it's more of an aching pain at the end of a four or five hour ride... it's [the pain] there for at least a few hours after.
"It's hard to quantify what pain is... it's hard to understand what someone else is going through. I wish it wasn't there, but I don't think in the middle of the race, when everybody is in pain - not from the same condition, obviously, but just from the race itself - I can't say it has any effect on the way I race or when I decide I can't go anymore.
"Whatever happens, I try to focus on the race itself."
Asked if he appreciates what he does more now since his accident, and the impending surgery that it brings, Landis thinks to himself momentarily before answering.
"Yes, I do appreciate it more. I always felt very lucky to be able to do something that I love to do, and live what's been a dream of mine. So when I had to go through this, it certainly made me think about it more... and yes, everyday I spend here, I try not to miss anything."