The Stuart O'Grady diary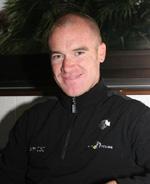 Stuart O'Grady
During the Tour de France CSC speedster Stuart O'Grady will be giving us a regular inside look at the daily goings-on in the peloton and the team hotel. An Olympic gold medalist on the track, O'Grady is a rider to watch in the sprints and long breakaways, and one of CSC's best hopes for a stage win or even the green points jersey.
O'Grady has had a rollercoaster ride at the last few Tours, wearing the yellow jersey in 2001 and green in 2002, but never quite managing to hang on to green all the way to Paris. In the last couple of years he's shifted his emphasis away from sprint speed and remodelled himself as a Classics and long breakaway expert.
July 8: Black cloud over CSC
Don't even feel like I've ridden a tour stage. I've been in the hotel for hours watching the GC contenders do their stuff. I've been in the hotel so long I feel like a tourist.
Stuart O'Grady (CSC)
Photo ©: Jon Devich

I started so early this morning I nearly missed breakfast, but it was nice and cool and little or no wind. I am starting to get some power down to the pedals now and got a good tempo going on the flat. It would have been a good route to give it full gas but there was no point in that for me. The main thing is I came out of it unscathed, got a good workout and some recovery as well.
Unfortunately Bobby had a fall and it looks like he's broken his wrist. The black cloud continues over CSC.
Gonchar ripped the race apart. That was an awesome ride and the Aussies are still right in the mix.
I felt a lot better today. The chiropractor has been great and I'm starting to feel about 65 instead of 80. With another couple of flat days and a rest day before the mountains, I may just recover enough for the challenge.