An interview with Yaroslav Popovych, July 14, 2006
Renewed focus
Ukrainian Yaroslav Popovych revived Discovery Channel's fortunes by winning the 12th stage into blazing hot Carcassonne. Popo got into the winning break of four after 100 km, and attacked them with three kilometres left to win the stage alone. Brecht Decaluwé reports from Carcassonne.
Yaroslav Popovych (Discovery)
Photo ©: Jon Devich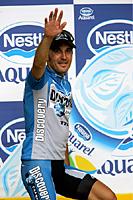 Q: The outcome of yesterday's stage wasn't so good for your team. What are your thoughts on this?
Yaroslav Popovych: It was a hard day, but that's just something that can happen. But from now on, the whole team will try to give all they have in the stages that are left.
Q: What did Johan Bruyneel say to you and the other riders after yesterday's stage?
YP: Yesterday he didn't say anything because it was already very late. We had a meeting this morning where he said that another Tour is starting for us, from now on. We had to react, and I think we that pretty well today. At first we didn't have anybody in the first escape, but we chased to catch them. Afterwards, Hincapie was in the second break and I was in the next one.
Q: You're a bit closer in GC now, do you think you still have you chances for a podium in Paris?
YP: We'll have to see what happens in the next stages. If I'm still as bad in the Alps as I was in the Pyrenees, then of course, I don't have a chance. There's still a long way to Paris.
Q: Do you know the next stages?
Going for it
Photo ©: AFP

YP: I know the stages in the Alps as they were also included in some previous races. There was a similar finish in the Dauphiné Libéré and another featured in last year's Tour de France.
Q: Did Lance Armstrong send you or someone else a message?
YP: No, we didn't get any message for two days, but maybe it's better like that.
Q: What happened in the finale? It was a bit strange that Freire didn't chase you. Was there some kind of agreement between team Discovery Channel and Rabobank?
YP: No, not at all. I attacked because it was impossible for me to win over Freire in the sprint. I didn't have another option if I wanted to win the stage. Maybe Freire didn't react because he wanted to see what Ballan was doing. The circumstances were just like that during the race, so that was in my advantage.
Q: Biggest victory in your career?
YP: No, my most beautiful victory was when I won the World Championships in the U23 category. It was more important to me because the emotion was very different. You're standing on a podium and you hear the national anthem of your country. This victory comes in as a nice second.
Q: When you were younger, you raced more classic races. Now it looks as you're evolving in a different kind of rider. Can you explain why that is?
At the press conference
Photo ©: Brecht Decaluwé

YP: I didn't win that many classics, besides Paris-Roubaix. But yes, it's different these days although this year I wanted to compete in the classics. A sore knee and a different program didn't allow me to take part this year.
Q: Can you explain how your team director Bruyneel motivated you? How do you feel now, are you still disappointed or very motivated now?
YP: Yesterday, I was very disappointed as I really wanted to do something different. Today was another day, as you can't change what happened. This morning when I stepped out of the team bus Johan (Bruyneel) told us that we now had to try and win a stage... and that was exactly what we did. So I think I can be happy today.