93rd Tour de France - ProT
France, July 1-23, 2006
Main Page Results Overall standings Stage Details Live report Previous Stage Next Stage
Stage 15 - Tuesday, July 18: Gap - l'Alpe d'Huez, 187 km
A new page in cycling history: Luxembourger King of L'Alpe
Landis sails back into maillot jaune - and maybe for good
By Anthony Tan, Hedwig Kröner & Brecht Decaluwé in L'Alpe d'Huez
Fränk Schleck (CSC)
Photo ©: AFP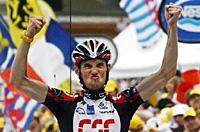 145 kilometres from the foot of the legendary climb of L'Alpe d'Huez, twenty-five riders embarked on an escape fuelled only by hope. But when fifteen of the original twenty-five were still there at this critical point, almost half an hour ahead of schedule and holding a lead of three and a quarter minutes, hope turned to belief for two men.
As Damiano Cunego and Fränk Schleck went mano-a-mano virtually the whole way up the twenty-one hairpin ascent, a fierce battle for the maillot jaune was been waged behind. However, this didn't concern them, particularly Schleck, who was set to become the first Luxembourger in cycling history to achieve victory atop L'Alpe.
Although the 26 year-old looked the more comfortable, effortlessly spinning a small gear ŕ la Armstrong, his equally prodigious Italian companion - not to mention a Giro d'Italia champion - was a renowned pure climber, desperate for a big win.
And if someone asked who would be leading the race three kilometres from the finish, a few may have picked Cunego - though certainly not Schleck. Yet the baby-faced Luxembourger defied the odds and the law of gravity with a perfectly-timed attack, flying up, up and away to earn the most magnificent achievement of his four-year career.
Schleck attacks
Photo ©: AFP

"I'm a bit afraid to attack," said Schleck, "But today I had to attack, as I knew that Cunego is a better sprinter than me. If you get the chance to win the stage on Alpe d'Huez, you need to grab that chance.
"Normally, I would've needed to stay with Carlos [Sastre], to help him out if necessary. But I got in the breakaway, together with three teammates. A lot of riders told me to go back as I was too close in the GC. I was at eleven minutes, so I said no, just like Bjarne [Riis].
"He told me not to pull, as we had three more guys. Jens [Voigt] and David [Zabriskie] did an amazing job today, it was crazy what they did. They believed in me and they were never in doubt; I want to say thank you to those guys, and all of the team who believed in me."
Cunego's second place should not regarded as a loss, as he was up against someone who rode the best race of his life today. Rather, after two lacklustre years, the 24 year-old strawberry blonde from Cerro Veronese should use the occasion to mark his resurgence among the world's best riders.
Damiano Cunego (Lampre-Fondital)
Photo ©: Sirotti

"I would have liked to win," lamented Cunego, "but when you have a guy that's this explosive in front of you, you just can't do anything about it. I don't regret anything, and I'm happy with the way that my form is coming up.
"Yesterday, I said that L'Alpe d'Huez was just a climb like the other ones. I also thought the same while I was climbing, but at the top, the emotion is different than anywhere else. My second place means a lot for the future. I'll come back to win that stage one day," he said.
Landis regains the yellow tunic
Floyd Landis (Phonak)
Photo ©: Sirotti

Another Italian, Stefano Garzelli, was the next best of the early breakaway, but his third place was overshadowed by the man right behind him: Floyd Landis.
Not once looking like he was hurting ("I've got a good poker face!" he joked afterwards), the 30 year-old American from Farmersville, Pennsylvania, looked as if he were on training ride. Testing himself occasionally - which just happened to drop everyone bar Andreas Klöden - but never launching a full-blooded attack we know he's capable of, Landis sailed back into the maillot jaune as easily as he first found himself in it five days ago.
"I don't care at all about what people thought about it," he said when asked about losing the yellow jersey a few days before.
"I think it was a wise thing to do. If you understand how cycling works, you don't comment on that. Today, everybody saw that my team is stronger than some people hoped. I'll let you know when I am at the red line, but I felt well today. It wasn't necessary to take more time on the other guys, I was just content to follow Klöden.
"From now on, I would like to keep the jersey," said Landis. "I can't figure a reason why we would give it away now. But if that scenario arises, it's still a possibility to give it away, but it seems unlikely."
Fans react as Andreas Klöden
Photo ©: Jon Devich

Finishing on the same time as the new yellow jersey, Klöden moves himself one place closer to the top spot, now sitting sixth overall, but more importantly, the 31 year-old is now just two-and-a-half minutes behind the maillot jaune.
"At the foot of the climb, Matthias Kessler rode a great tempo; I saw that some guys had problems, so I told him to go flat out," explained Klöden. "When I passed him, the group had shrunk.
"It was very hard; I tried to take the initiative with our team. It went alright; Floyd was also really strong, but nobody took over the lead work - I had to lead almost everything myself. You saw the result."
Pereiro loses it - just; Dessel still well placed
Oscar Pereiro (Caisse d'Epargne)
Photo ©: Sirotti

The man who Landis displaced, Caisse d'Epargne's Oscar Pereiro, lost 1'39 to his former teammate, which was enough to concede the golden fleece by ten seconds. It was an enormous ask for the Spaniard to hold onto the maillot jaune after today's epic stage, though there's little doubt the 28 year-old will continue fighting for a place on the Paris podium.
As for the three riders sitting between Pereiro and Klöden - Cyril Dessel (AG2R-Prevoyance), Denis Menchov (Rabobank) and Carlos Sastre (Team CSC) - the first is a massive though popular surprise, and the French may have finally found themselves a new stage race hope.
"But being the best Frenchman doesn't mean much in my mind," Dessel said.
"What I'm doing is a good surprise for myself and for French cycling. I'm kind of living a dream. Today, the crowd was pushing me with their encouragement. Making the top 10 would be a fantastic result but we're not there yet; there is a 57 kilometre time trial, and I'm not a super specialist."
A pair of Aussies, Cadel Evans (Davitamon-Lotto) and Michael Rogers (T-Mobile), Gerolsteiner's GC-man Levi Leipheimer and Haimar Zubeldia (Euskaltel-Euskadi) round out the current top ten on GC.
"It was tough on the last climb but I came out alright so I'm quite happy," said Rogers, who is so far going far better than expected. "It was a hard day, and there's more hard days to come."
Floyd Landis (Phonak)
Photo ©: AFP

With all bar Pereiro two minutes or more off the winning pace, each will need to step up their game or bank on an unlikely Landis collapse over the next forty-eight hours in the Haute Alpes, as the penultimate day's time trial has the American's name written all over it.
"During the next two stages, I'll be riding conservative again," said Landis. "I don't feel the need to win any of those stages; I'll try to win a stage, but if it doesn't work out that way...
"Cycle racing is a tactical game, and to my way of thinking, I would like to save my team as much as possible. Straight after the last day, I would like my team to go home feeling well, if that is possible.
"So, with that in mind, I'll do whatever I can to race conservatively. Most of the times, that means other riders are winning stages. I'm proud of what my team's done today, and on what I've done. Whether I win a stage or not, if I can win the Tour, I will be happy."
So, where to now for Fränk Schleck, a man who is being compared with the great Luxembourg climber Charly Gaul? "I will be more confident. Many people said that I could do well, that I had to be confident. At the end of the day, I ended up winning this fantastic stage. It will take a while before I realise that I've won over here," he said.
How it unfolded
By Tim Maloney
Five minutes before the start.
Photo ©: Anthony Tan

Phase Three of the 93rd Tour de France went full gas with a massive stage through the dark heart through the Hautes Alpes into Isere. After a much needed rest day in Gap, Saunier Duval-Prodir, CSC and Gerolsteiner teams had a visit from the UCI 'vampires' this morning, but no one was found unfit to race.
No one abandoned on rest day so 156 riders took the start at 11:51. Right from the get-go, the attacks started out of Gap as the Tour peloton headed up the Luye River valley to then join the Durance River valley before the first sprint in Embrun. David De la Fuente (Saunier) went on the attack on the outskirts of Gap and was joined by Wegmann (Gerolsteiner), Posthuma (Rabobank), Cunego (Lampre), Brard (Caisse d'Epargne), Charteau (C.A) and Albasini (Liquigas).
Then one after another, riders bridged up to the front and at the sprint in Embrun, the break had swelled to 25 riders, including Hincapie and Martinez (Discovery), Schleck, Voigt, Zabriskie (CSC), Mazzoleni (T-Mobile), Arrieta (AG2R), Wegmann (Gerolsteiner), Flecha (Rabobank), Merckx (Phonak), Cunego & Vila (Lampre), Arroyo & Garcia-Acosta (Caisse d'Epargne), Charteau (C.A.), Landaluze (Euskaltel), Chavanel (Cofidis), De la Fuente & Lobato (Saunier), Eisel and Vaugrenard (FDJ), Albasini & Garzelli (Liquigas), Pineau (Bouygues) and big Chris Knees (Milram). Speedster Eisel took the sprint from Albasini as maillot jaune Pereiro's Caisse d'Epargne squad was riding tempo 1'30 behind and Schleck (CSC) was the best placed rider in the escape, as the Luxembourger is in 20th place, 10'06 behind Maillot Jaune Pereiro.
Egoi Martinez (Discovery)
Photo ©: AFP

The mountain air was cooler than the previous day's heat but the racing was red-hot as the tailwind coming up the valley pushed the break to ride 50.8km in the first hour, with the gap back to the peloton 3'40 in Guillestre after 54km. Before the front group hit the first slopes of the Izoard, Lobato jumped away to try and keep the pace high, and he was caught quickly as CSC jammed harder. As the ascent of the Izoard began after 68km, the gap back to the group MJ was 5'00.
Halfway up the Izoard, it was Stefano Garzelli on the attack as he made a quick jump. As the Bianchi-Liquigas man traversed the Izoard's eerie landscape of the la Casse desert section 3km from the summit with it's spiky seracs, perhaps he saw the ghost of his former teammate Marco Pantani, who helped Garzelli win the 2000 Giro d'Italia on this very ascent of the mythical Izoard. As he crested the hors categorie ascent after 86km of racing, his pace was 20'00 faster than the fastest time schedule. Maillot a pois De La Fuente took second at the GPM, 1'06 behind Garzelli. Garzelli's gap over the chasers never got much more than 1'00, so at the feed zone in Chantmerle at the base of the climb to Serre-Chevalier, Garzelli had sat up and let the chasers catch him.
Stefano Garzelli (Liquigas)
Photo ©: Roberto Bettini

As the second ascent of the day of the Col du Lautaret commenced, CSC was driving the pace in the escape with Zabriskie and Voigt up the relatively gentle slopes of the Lautaret, but the gap to the group maillot jaune started to drop. In the peloton, Phonak and T-Mobile had now joined Caisse d'Epargne in the chase and the difference was 4'00 and falling, as De La Fuente and Vila had gone off the front of the break, which seemed to confuse the general organisation of the escapee until CSC's Dave Z and Voigt hit the front hard. World champion Tom Boonen was having a bad day and couldn't even stay with the gruppetto because of breathing problems, and he abandoned in the feed zone.
The pressure was on in the peloton as the additional chasers upped the pace in the group maillot jaune. Former MJ Gonchar was pounding his usual huge gear on the front and rider after rider went out the back as the group maillot jaune scaled the Lautaret. Rabobank's Weening was also pulling along with hardman Cente Garcia (Caisse d'Epargne) who dropped out of the break after the Izoard to go back the group maillot jaune. At the summit of the Lautaret, De La Fuente and Vila passed over the summit 0'25 ahead of 13 others, with Cunego, Garzelli, Zabriskie, Voigt, Lobato, Schleck, Hincapie, Merckx, Hincapie, Landaluze, Arrieta, Mazzoleni and Chavanel, with the group maillot jaune at 4'20.
The break now had 38.5km to the foot of l'Alpe d'Huez; down the mountain to Le Freney d'Oisans, they raced then a long straight road down the Romanche River valley to Le Bourg-d'Oisans at the foot of the final ascent of the mythical hors categorie 13.9km ascent. De La Fuente and Vila had come back to the escape and as dark clouds gathered atop the crest of les Grandes Rousses above l'Alpe d'Huez, a few raindrops began to sprinkle down, then the skies opened up. Dave Z was on the front tracing a careful trajectory down the long, gentle descent of the Lautaret. The group maillot jaune was still at 3'50 with 30km to go.
L'Alpe d'Huez
Photo ©: Sirotti

The rain had stopped, but the road was still wet as down past the Chambon Dam and then all along the valley towards Le Bourg-d'Oisans, the pursuit match between the escape and the groups was on, as Vila and Dave Z were hammering on the front with 25km to go. The gap was now 3'40 as the group maillot jaune had gained back 0'40 since the summit of the Lautaret. Rabobank's Flecha was hammering on the front, with Gonchar right behind. The tension began to crank up as the base of l'Alpe approached. Although he had crashed on the slippery descent of the Lautaret, Voigt had gotten back on and was now all out on the road to Le Bourg-d'Oisans, with the gap at 3'00 with 15km to go. Although the rain had cooled things down, the racing was still white hot as the break came through Le Bourg-d'Oisans a quarter of an hour ahead of the fastest time schedule.
After 140km away in the break, Vila hit the front as l'Alpe d'Huez commenced, and the courageous Voigt and his CSC teammate Dave Z dropped off the pace. Arrieta, Landaluze and Merckx came off. Cunego accelerated hard and maillot a pois De La Fuente went out the back. Cunego went again with only Schleck able to follow. As the group maillot jaune hit l'Alpe d'Huez, Rabobank's Flecha was all out on the front, as third place on GC Dessel (AG2R) dropped his chain at the worst moment possible!
Damiano Cunego (Lampre-Fondital)
Photo ©: AFP

After 2km of l'Alpe and Cunego's accelerations, only Lobato, Schleck, Arroyo, Cunego and Mazzoleni were left in front as Hincapie and Garzelli were together 0'10 back. Clearly Cunego had great legs and was just tearing the break apart with his accelerations and when he went for the third time in the third kilometre of the ascent, only Schleck could get across to the Italian, while the group maillot jaune was still 2'45 behind. Phonak had blown things apart with Martin Perdiguero forcing for Landis, and only Kessler, Klöden, Evans and Menchov could hang on to the Fast Floyd. Behind them, Boogerd and Rasmussen were trying to get across, as Caucchioli was chasing with maillot jaune Pereiro, Simoni, Leipheimer, Azevedo and Horner, while Sastre was fighting his way up, and Popovych didn't have the legs.
With 10km to climb, Cunego and Schleck were 0'10 ahead of Mazzoleni and 0'20 ahead of Lobato, with the group maillot jaune at 2'20. The favourites' chase group was 2'00 behind the front duo and 0'20 ahead of maillot jaune Pereiro as Klöden then accelerated, dropping his teammate Kessler, Evans and big meat Menchov, whose big climbing gears finally caught up with him. It was just Floyd and Klöden, and although Evans had fought back, Landis went again and the Davitamon-Lotto Aussie went out the back again for good.
Andreas Klöden (T-Mobile)
Photo ©: Jon Devich

CSC's Sastre was coming back as he caught his teammates Voigt and Zabriskie; Evans and Leipheimer was hanging on the back for dear life. Menchov was battling hard being this group to try and limit his losses to Landis. Sastre and Leipheimer come across to Landis and Klöden with 7.2km to go and 400m later, Floyd jumped across to his teammate Axel Merckx, who then upped the pace which then dumped Leipheimer.
In in Huez d'Oisans with 5km to go to the finish atop l'Alpe d'Huez, Cunego was riding hard, maybe too hard as Schleck was smartly playing possum and T-Mobile's Mazzoleni was ready to pounce in the front three, but the T-Mobile man then dropped off the front group to wait for Klöden. Chavanel, Lobato and Garzelli were at 040, maillot a pois De la Fuente at 1'15 and fading, Merckx Landis, Klöden, Leipheimer and Sastre were at 1'45, Evans and Menchov at 1'55 and the group maillot jaune at 2'45. With 4500m to race, Klöden attacked but Landis covered the move easily, while Leipheimer, then Sastre were dropped.
At the 2km mark, Rasmussen came up to a suffering Menchov to give the grimacing Russian a hand, while Mazzoleni had joined the Landis / Klöden group. The front duo still had 1'45 on the closest chasers and would go to the finish together, but with 2200m to race, Schleck went hard and Cunego hesitated and was gapped. The lanky Amstel Gold Race winner powered away while the Italian - like Schleck in his rookie Tour de France and his first time racing up l'Alpe d'Huez - did his best to stay close to Schleck.
Carlos Sastre (CSC)
Photo ©: Jon Devich

The CSC rider won the stage for his third career elite win and the lanky Luxembourger was certainly in a hurry to get to the top of l'Alpe d'Huez, as he finished 15'00 faster than fastest time schedule in an average speed of 38.38km/h. Schleck had started the day in 20th on GC, 10'00 behind maillot jaune Pereiro and jumped eight places to 12th, now 7'07 behind new leader Landis. A valiant, combative Cunego came across the line 0'10 behind Schleck and learned his first lesson on l'Alpe the hard way today, but can still be proud of his performance.
Garzelli took the sprint from Landis, Klöden and their five man group, 1'08 behind Schleck and the classy Italian also earned most aggressive rider on Stage 15. Sastre had tailed off the Landis group at 1'35, with Leipheimer off the pace at 1'49 and a gutsy Menchov, who fought l'Alpe d'Huez like a tiger today and finished at 2'21, losing 1'13 to Landis today.
The yellow jersey comes through
Photo ©: Jon Devich

And speaking of fighting, a tenacious maillot jaune Pereiro was an excellent 14th today and dignified his cherished tunic by going all-out, but Landis was too strong for him to contain on the 13.9km final ascent and the Spanish rider from Caisse d'Epargne lost his maillot jaune to Landis by just 0'10. The record for the ascent of l'Alpe d'Huez of 36'50 was set by Marco Pantani, while Lance Armstrong rode a 37'30 when he won the ITT up l'Alpe d'Huez in 2004. Today, Landis and Klöden ascended the 13.9km climb in 38'37.
Courageous former maillot jaune Cyril Dessel came flying up l'Alpe d'Huez after dropping his chain at the beginning of the ascent and ended up 22nd on Stage 15, incredibly maintaining his 3rd place on GC just 10 ahead of Menchov, who stayed where he was in 4th but lost time on Landis.
Garzelli
Photo ©: Sirotti

Sastre came up 1 place to 5th, 2'17 behind Landis, while Klöden also moved up one slot on GC to 6th. Evans dropped three places to 7th, Klöden's former slot, 2'56 behind Landis. Mercado and Moreau dropped out of the top 10, while Leipheimer and Zubeldia came back into the first 10 riders. Popovych lost 4'31 today and is now in 13th, 7'36 behind. CSC is atop the TDF Team GC, and besides Schleck's win and Landis adorning the maillot jaune for the second time at this Tour de France, as the Tour's podium music struck for Frank Schleck, Jens Voigt came across the finish line 13'50 behind his teammate, the jersey of his bloody left shoulder torn from his crash on the descent of the Lautaret. Voigt's left fist was clenched in victory as he saw that his teammate Schleck had won atop l'Alpe d'Huez and the CSC team strategy had worked.
Stage 16 - Wednesday, July 19: Le Bourg-d'Oisans-La Toussuire, 182 km
Stage 16 could be the key to the 2006 Tour. The crucial lynchpin stage begins by immediately ascending the immense Galibier, then descends over 60km to attack the Beyond Category Col de la Croix-de-Fer, then the transition climb of Col du Mollard, and then down to St.Jean-de-Maurienne to the final ascent of the new climb up to the ski station of La Toussuire. It's not a steep grade at 6% but it is 18.4km long, which could lead to big gaps at the finish. Look for Cunego to go on the attack again on the final ascent if he's still in contention, as Landis and Phonak just need to mark their adversaries.
Stage 16 climbs:
Beyond Category: 45.5km Col du Galibier 2,645 m - 42.8km @ 4.5%
Beyond Category: 127.5km Col de la Croix-de-Fer / 2,067 m - 22.7km @ 7%
Cat 2: 147.5km Col du Mollard / 1,638 m - 5.8km @ 7%
Cat 1: 182.5km La Toussuire / 1,690 m. - 18.4km @ 6%
Photography
For a thumbnail gallery of these images, click here
Images by Jonathan Devich/epicimages.us
Images by Fotoreporter Sirotti
Images by Roberto Bettini/www.bettiniphoto.net
Images by AFP Photo
Images by Anthony Tan/Cyclingnews.com
Images by Hedwig Kröner/Cyclingnews.com
Results
1 Fränk Schleck (Lux) Team CSC                                         4.52.22 (38.376 km/h)
2 Damiano Cunego (Ita) Lampre-Fondital                                    0.11
3 Stefano Garzelli (Ita) Liquigas                                         1.10
4 Floyd Landis (USA) Phonak
5 Andreas Klöden (Ger) T-Mobile
6 Ruben Lobato (Spa) Saunier Duval                                        1.14
7 Sylvain Chavanel (Fra) Cofidis                                          1.18
8 Eddy Mazzoleni (Ita) T-Mobile                                           1.28
9 Carlos Sastre (Spa) Team CSC                                            1.35
10 Levi Leipheimer (USA) Gerolsteiner                                     1.49
11 Denis Menchov (Rus) Rabobank                                           2.21
12 Michael Rasmussen (Den) Rabobank
13 Pietro Caucchioli (Ita) Crédit Agricole
14 Oscar Pereiro (Spa) Caisse d'Epargne-Illes Balears                     2.49
15 Michael Rogers (Aus) T-Mobile
16 Cadel Evans (Aus) Davitamon-Lotto
17 Ivan Ramiro Parra (Col) Cofidis
18 Axel Merckx (Bel) Phonak                                               2.56
19 Cyril Dessel (Fra) AG2R-Prevoyance                                     3.04
20 Haimar Zubeldia (Spa) Euskaltel-Euskadi
21 Mikel Astarloza (Spa) AG2R-Prevoyance                                  3.07
22 David Arroyo (Spa) Caisse d'Epargne-Illes Balears                      3.18
23 Gilberto Simoni (Ita) Saunier Duval                                    3.24
24 David De La Fuente (Spa) Saunier Duval                                 3.36
25 Christophe Moreau (Fra) AG2R-Prevoyance                                3.48
26 Tadej Valjavec (Slo) Lampre-Fondital
27 José Luis Arrieta (Spa) AG2R-Prevoyance                                4.11
28 Inigo Landaluze (Spa) Euskaltel-Euskadi                                4.31
29 Yaroslav Popovych (Ukr) Discovery Channel
30 George Hincapie (USA) Discovery Channel
31 Michael Boogerd (Ned) Rabobank
32 Marzio Bruseghin (Ita) Lampre-Fondital                                 5.15
33 Vladimir Karpets (Rus) Caisse d'Epargne-Illes Balears                  5.16
34 Georg Totschnig (Aut) Gerolsteiner
35 Xabier Zandio (Spa) Caisse d'Epargne-Illes Balears
36 Laurent Lefevre (Fra) Bouygues Telecom
37 Marcus Fothen (Ger) Gerolsteiner
38 Stephane Goubert (Fra) AG2R-Prevoyance
39 Iker Camano (Spa) Euskaltel-Euskadi
40 Christophe Brandt (Bel) Davitamon-Lotto
41 Juan Miguel Mercado (Spa) Agritubel
42 Christian Vandevelde (USA) Team CSC
43 Koos Moerenhout (Ned) Phonak
44 Benoît Salmon (Fra) Agritubel                                          6.30
45 David Moncoutié (Fra) Cofidis
46 Patxi Vila (Spa) Lampre-Fondital                                       7.08
47 Moises Duenas (Spa) Agritubel                                          7.15
48 José Azevedo (Por) Discovery Channel
49 Giuseppe Guerini (Ita) T-Mobile
50 Alexandre Botcharov (Rus) Crédit Agricole                              7.50
51 Christophe Rinero (Fra) Saunier Duval
52 Sébastien Joly (Fra) Francaise Des Jeux                                7.51
53 José Angel Gomez (Spa) Saunier Duval                                   8.34
54 Thomas Lövkvist (Swe) Francaise Des Jeux                               8.39
55 David Millar (GBr) Saunier Duval                                       9.06
56 Björn Schröder (Ger) Milram
57 Alexandre Moos (Swi) Phonak                                           10.10
58 Sylvain Calzati (Fra) AG2R-Prevoyance                                 10.52
59 Riccardo Ricco (Ita) Saunier Duval                                    10.53
60 Christopher Horner (USA) Davitamon-Lotto                              11.34
61 Patrice Halgand (Fra) Crédit Agricole                                 11.52
62 Patrik Sinkewitz (Ger) T-Mobile                                       12.20
63 Bram Tankink (Ned) Quick-Step-Innergetic                              12.26
64 Jens Voigt (Ger) Team CSC                                             13.52
65 Sebastian Lang (Ger) Gerolsteiner                                     14.11
66 Pavel Padrnos (Cze) Discovery Channel                                 15.56
67 Sandy Casar (Fra) Francaise Des Jeux
68 Pierrick Fedrigo (Fra) Bouygues Telecom
69 Juan Manuel Garate (Spa) Quick-Step-Innergetic
70 Viatscheslav Ekimov (Rus) Discovery Channel
71 Egoi Martinez (Spa) Discovery Channel
72 Johan Vansummeren (Bel) Davitamon-Lotto
73 Gorka Verdugo (Spa) Euskaltel-Euskadi
74 Samuel Dumoulin (Fra) AG2R-Prevoyance
75 Manuel Calvente (Spa) Agritubel
76 Inaki Isasi (Spa) Euskaltel-Euskadi
77 Matej Mugerli (Slo) Liquigas                                          17.28
78 Didier Rous (Fra) Bouygues Telecom
79 Anthony Geslin (Fra) Bouygues Telecom
80 Anthony Charteau (Fra) Crédit Agricole
81 Matthias Kessler (Ger) T-Mobile                                       18.28
82 Fabian Wegmann (Ger) Gerolsteiner
83 Maxim Iglinskiy (Kaz) Milram                                          19.22
84 Serguei Gonchar (Ukr) T-Mobile                                        19.44
85 Alessandro Ballan (Ita) Lampre-Fondital                               20.33
86 Cristian Moreni (Ita) Cofidis
87 Marco Velo (Ita) Milram
88 Paolo Tiralongo (Ita) Lampre-Fondital
89 Daniele Righi (Ita) Lampre-Fondital
90 Daniele Bennati (Ita) Lampre-Fondital
91 Salvatore Commesso (Ita) Lampre-Fondital
92 David Zabriskie (USA) Team CSC                                        21.05
93 Francisco Ventoso (Spa) Saunier Duval                                 21.31
94 Miguel Angel Martin Perdiguero (Spa) Phonak
95 Nicolas Portal (Fra) Caisse d'Epargne-Illes Balears                   21.36
96 Juan Antonio Flecha (Spa) Rabobank                                    22.31
97 Pieter Weening (Ned) Rabobank
98 Jose Vicente Garcia Acosta (Spa) Caisse d'Epargne-Illes Balears       25.35
99 Luca Paolini (Ita) Liquigas                                           28.01
100 Filippo Pozzato (Ita) Quick-Step-Innergetic                          30.14
101 Erik Zabel (Ger) Milram
102 Simon Gerrans (Aus) AG2R-Prevoyance
103 Bernhard Eisel (Aut) Francaise Des Jeux
104 Christophe Laurent (Fra) Agritubel
105 Bert Grabsch (Ger) Phonak
106 Ralf Grabsch (Ger) Milram
107 Christian Knees (Ger) Milram
108 José Rujano (Ven) Quick-Step-Innergetic
109 Christophe Mengin (Fra) Francaise Des Jeux
110 Jérôme Pineau (Fra) Bouygues Telecom
111 Gustav Larsson (Swe) Francaise Des Jeux
112 Matthieu Sprick (Fra) Bouygues Telecom
113 Nicolas Jalabert (Fra) Phonak
114 Victor Hugo Pena (Col) Phonak
115 Stuart O'Grady (Aus) Team CSC
116 Joost Posthuma (Ned) Rabobank
117 Florent Brard (Fra) Caisse d'Epargne-Illes Balears
118 Philippe Gilbert (Bel) Francaise Des Jeux
119 Eduardo Gonzalo (Spa) Agritubel
120 Robert Hunter (RSA) Phonak
121 Cédric Vasseur (Fra) Quick-Step-Innergetic
122 Benoît Vaugrenard (Fra) Francaise Des Jeux
123 Michael Albasini (Swi) Liquigas
124 David Lopez (Spa) Euskaltel-Euskadi
125 Bradley Wiggins (GBr) Cofidis
126 Matteo Tosatto (Ita) Quick-Step-Innergetic
127 Unai Etxebarria (Ven) Euskaltel-Euskadi
128 Carlos Da Cruz (Fra) Francaise Des Jeux
129 Patrick Calcagni (Swi) Liquigas
130 Cédric Coutouly (Fra) Agritubel
131 Steven De Jongh (Ned) Quick-Step-Innergetic                          34.11
132 Robbie McEwen (Aus) Davitamon-Lotto
133 Peter Wrolich (Aut) Gerolsteiner
134 Kjell Carlström (Fin) Liquigas
135 Ronny Scholz (Ger) Gerolsteiner
136 Mario Aerts (Bel) Davitamon-Lotto
137 Wim Vansevenant (Bel) Davitamon-Lotto
138 Gert Steegmans (Bel) Davitamon-Lotto
139 Walter Beneteau (Fra) Bouygues Telecom
140 José Luis Rubiera (Spa) Discovery Channel
141 Arnaud Coyot (Fra) Cofidis
142 Manuel Quinziato (Ita) Liquigas
143 David Kopp (Ger) Gerolsteiner
144 Thomas Voeckler (Fra) Bouygues Telecom
145 Aitor Hernandez (Spa) Euskaltel-Euskadi
146 Thor Hushovd (Nor) Crédit Agricole                                   35.00
147 Julian Dean (NZl) Crédit Agricole
148 Stéphane Auge (Fra) Cofidis                                          35.23
149 Jimmy Casper (Fra) Cofidis                                           35.30
150 Sébastien Hinault (Fra) Crédit Agricole                              36.05
151 Christophe Le Mevel (Fra) Crédit Agricole                            36.22
152 Oscar Freire (Spa) Rabobank
DNF Beat Zberg (Swi) Gerolsteiner
DNF Bram De Groot (Ned) Rabobank
DNF Tom Boonen (Bel) Quick-Step-Innergetic
DNF Andriy Grivko (Ukr) Milram
 
Points
 
1 Fränk Schleck (Lux) Team CSC                                              20 pts
2 Damiano Cunego (Ita) Lampre-Fondital                                      17
3 Stefano Garzelli (Ita) Liquigas                                           15
4 Floyd Landis (USA) Phonak                                                 13
5 Andreas Klöden (Ger) T-Mobile                                             12
6 Ruben Lobato (Spa) Saunier Duval                                          10
7 Sylvain Chavanel (Fra) Cofidis                                             9
8 Eddy Mazzoleni (Ita) T-Mobile                                              8
9 Carlos Sastre (Spa) Team CSC                                               7
10 Levi Leipheimer (USA) Gerolsteiner                                        6
11 Denis Menchov (Rus) Rabobank                                              5
12 Michael Rasmussen (Den) Rabobank                                          4
13 Pietro Caucchioli (Ita) Crédit Agricole                                   3
14 Oscar Pereiro (Spa) Caisse d'Epargne-Illes Balears                        2
15 Michael Rogers (Aus) T-Mobile                                             1
 
Mountains
 
Col D'izoard - HC, km 86
1 Stefano Garzelli (Ita) Liquigas                                           20 pts
2 David De La Fuente (Spa) Saunier Duval                                    18
3 Damiano Cunego (Ita) Lampre-Fondital                                      16
4 Patxi Vila (Spa) Lampre-Fondital                                          14
5 Egoi Martinez (Spa) Discovery Channel                                     12
6 Fränk Schleck (Lux) Team CSC                                              10
7 Anthony Charteau (Fra) Crédit Agricole                                     8
8 José Luis Arrieta (Spa) AG2R-Prevoyance                                    7
9 Jens Voigt (Ger) Team CSC                                                  6
10 David Arroyo (Spa) Caisse d'Epargne-Illes Balears                         5
 
Col Du Lautaret - Cat. 2, km 134
1 David De La Fuente (Spa) Saunier Duval                                    10 pts
2 Patxi Vila (Spa) Lampre-Fondital                                           9
3 Stefano Garzelli (Ita) Liquigas                                            8
4 Jens Voigt (Ger) Team CSC                                                  7
5 David Zabriskie (USA) Team CSC                                             6
6 Axel Merckx (Bel) Phonak                                                   5
 
L'Alpe-D'Huez - HC, km 187
1 Fränk Schleck (Lux) Team CSC                                              40 pts
2 Damiano Cunego (Ita) Lampre-Fondital                                      36
3 Stefano Garzelli (Ita) Liquigas                                           32
4 Floyd Landis (USA) Phonak                                                 28
5 Andreas Klöden (Ger) T-Mobile                                             24
6 Ruben Lobato (Spa) Saunier Duval                                          20
7 Sylvain Chavanel (Fra) Cofidis                                            16
8 Eddy Mazzoleni (Ita) T-Mobile                                             14
9 Carlos Sastre (Spa) Team CSC                                              12
10 Levi Leipheimer (USA) Gerolsteiner                                       10
 
Sprints
 
Embrun, km 35
1 Bernhard Eisel (Aut) Francaise Des Jeux                                    6 pts
2 Michael Albasini (Swi) Liquigas                                            4
3 Patxi Vila (Spa) Lampre-Fondital                                           2
 
Le Monętier-Les-Bains, km 121
1 David Zabriskie (USA) Team CSC                                             6 pts
2 Ruben Lobato (Spa) Saunier Duval                                           4
3 George Hincapie (USA) Discovery Channel                                    2
 
Young rider
 
1 Damiano Cunego (Ita) Lampre-Fondital                                 4.52.33
2 David De La Fuente (Spa) Saunier Duval                                  3.25
3 Marcus Fothen (Ger) Gerolsteiner                                        5.05
4 Moises Duenas (Spa) Agritubel                                           7.04
5 Thomas Lövkvist (Swe) Francaise Des Jeux                                8.28
6 Riccardo Ricco (Ita) Saunier Duval                                     10.42
7 Johan Vansummeren (Bel) Davitamon-Lotto                                15.45
8 Matej Mugerli (Slo) Liquigas                                           17.17
9 Maxim Iglinskiy (Kaz) Milram                                           19.11
10 Francisco Ventoso (Spa) Saunier Duval                                 21.20
11 Pieter Weening (Ned) Rabobank                                         22.20
12 Filippo Pozzato (Ita) Quick-Step-Innergetic                           30.03
13 Bernhard Eisel (Aut) Francaise Des Jeux
14 Christian Knees (Ger) Milram
15 José Rujano (Ven) Quick-Step-Innergetic
16 Matthieu Sprick (Fra) Bouygues Telecom
17 Joost Posthuma (Ned) Rabobank
18 Philippe Gilbert (Bel) Francaise Des Jeux
19 Eduardo Gonzalo (Spa) Agritubel
20 Benoît Vaugrenard (Fra) Francaise Des Jeux
21 David Lopez (Spa) Euskaltel-Euskadi
22 Aitor Hernandez (Spa) Euskaltel-Euskadi                               34.00
 
Most combative
 
1 Stefano Garzelli (Ita) Liquigas
 
Teams
 
1 T-Mobile Team                                                       14.42.33
2 Team CSC                                                                1.24
3 Saunier Duval - Prodir                                                  2.47
4 Rabobank                                                                3.46
5 Lampre-Fondital                                                         3.47
6 Phonak Hearing Systems                                                  3.55
7 AG2R Prevoyance                                                         4.32
8 Cofidis Credit Par Telephone                                            5.10
9 Caisse D'Epargne-Illes Balears                                          5.56
10 Gerolsteiner                                                           6.54
11 Euskaltel - Euskadi                                                    7.24
12 Discovery Channel Team                                                10.50
13 Agritubel                                                             13.34
14 Davitamon - Lotto                                                     14.12
15 Credit Agricole                                                       16.36
16 Francaise Des Jeux                                                    26.59
17 Bouygues Telecom                                                      33.13
18 Liquigas                                                              41.12
19 Team Milram                                                           43.34
20 Quick Step - Innergetic                                               53.09
 
General classification after stage 15
 
1 Floyd Landis (USA) Phonak                                           69.00.05 (41.535 km/h)
2 Oscar Pereiro (Spa) Caisse d'Epargne-Illes Balears                      0.10
3 Cyril Dessel (Fra) AG2R-Prevoyance                                      2.02
4 Denis Menchov (Rus) Rabobank                                            2.12
5 Carlos Sastre (Spa) Team CSC                                            2.17
6 Andreas Klöden (Ger) T-Mobile                                           2.29
7 Cadel Evans (Aus) Davitamon-Lotto                                       2.56
8 Michael Rogers (Aus) T-Mobile                                           5.01
9 Levi Leipheimer (USA) Gerolsteiner                                      6.18
10 Haimar Zubeldia (Spa) Euskaltel-Euskadi                                6.20
11 Christophe Moreau (Fra) AG2R-Prevoyance                                6.22
12 Fränk Schleck (Lux) Team CSC                                           7.07
13 Yaroslav Popovych (Ukr) Discovery Channel                              7.36
14 Juan Miguel Mercado (Spa) Agritubel                                    7.39
15 Marcus Fothen (Ger) Gerolsteiner                                       8.23
16 Michael Boogerd (Ned) Rabobank                                         9.15
17 Sylvain Chavanel (Fra) Cofidis                                         9.56
18 Axel Merckx (Bel) Phonak                                              10.25
19 Ivan Ramiro Parra (Col) Cofidis                                       10.43
20 Georg Totschnig (Aut) Gerolsteiner                                    10.53
21 Vladimir Karpets (Rus) Caisse d'Epargne-Illes Balears                 11.13
22 Tadej Valjavec (Slo) Lampre-Fondital                                  12.15
23 Inigo Landaluze (Spa) Euskaltel-Euskadi                               12.24
24 Pietro Caucchioli (Ita) Crédit Agricole                               12.46
25 José Azevedo (Por) Discovery Channel                                  13.47
26 Damiano Cunego (Ita) Lampre-Fondital                                  15.21
27 Patrik Sinkewitz (Ger) T-Mobile                                       16.48
28 Marzio Bruseghin (Ita) Lampre-Fondital                                17.12
29 Christian Vandevelde (USA) Team CSC                                   17.35
30 Christophe Rinero (Fra) Saunier Duval                                 17.58
31 Christophe Brandt (Bel) Davitamon-Lotto                               18.09
32 Benoît Salmon (Fra) Agritubel                                         19.55
33 David Arroyo (Spa) Caisse d'Epargne-Illes Balears                     20.22
34 Ruben Lobato (Spa) Saunier Duval                                      20.25
35 Michael Rasmussen (Den) Rabobank                                      23.08
36 Patxi Vila (Spa) Lampre-Fondital                                      23.32
37 Sylvain Calzati (Fra) AG2R-Prevoyance                                 24.32
38 George Hincapie (USA) Discovery Channel                               26.18
39 José Luis Arrieta (Spa) AG2R-Prevoyance                               26.24
40 Xabier Zandio (Spa) Caisse d'Epargne-Illes Balears                    31.11
41 Laurent Lefevre (Fra) Bouygues Telecom                                32.07
42 Stefano Garzelli (Ita) Liquigas                                       32.43
43 Alexandre Botcharov (Rus) Crédit Agricole                             33.47
44 Iker Camano (Spa) Euskaltel-Euskadi                                   38.25
45 Gilberto Simoni (Ita) Saunier Duval                                   38.43
46 Pierrick Fedrigo (Fra) Bouygues Telecom                               38.54
47 Giuseppe Guerini (Ita) T-Mobile                                       40.59
48 Moises Duenas (Spa) Agritubel                                         41.44
49 Stephane Goubert (Fra) AG2R-Prevoyance                                42.36
50 José Angel Gomez (Spa) Saunier Duval                                  44.16
51 Cristian Moreni (Ita) Cofidis                                         46.41
52 Koos Moerenhout (Ned) Phonak                                          47.48
53 Mikel Astarloza (Spa) AG2R-Prevoyance                                 47.53
54 Thomas Lövkvist (Swe) Francaise Des Jeux                              48.36
55 Patrice Halgand (Fra) Crédit Agricole                                 48.45
56 Jens Voigt (Ger) Team CSC                                             51.48
57 Eddy Mazzoleni (Ita) T-Mobile                                         53.47
58 David Moncoutié (Fra) Cofidis                                         53.50
59 Serguei Gonchar (Ukr) T-Mobile                                        53.59
60 Egoi Martinez (Spa) Discovery Channel                                 54.07
61 Fabian Wegmann (Ger) Gerolsteiner
62 Miguel Angel Martin Perdiguero (Spa) Phonak                           54.17
63 Matthias Kessler (Ger) T-Mobile                                       58.43
64 David Millar (GBr) Saunier Duval                                      59.50
65 David De La Fuente (Spa) Saunier Duval                              1.00.09
66 Didier Rous (Fra) Bouygues Telecom                                  1.00.40
67 Matthieu Sprick (Fra) Bouygues Telecom                              1.02.28
68 Inaki Isasi (Spa) Euskaltel-Euskadi                                 1.03.50
69 Sebastian Lang (Ger) Gerolsteiner                                   1.05.25
70 Salvatore Commesso (Ita) Lampre-Fondital                            1.05.27
71 Carlos Da Cruz (Fra) Francaise Des Jeux                             1.06.17
72 Francisco Ventoso (Spa) Saunier Duval                               1.07.05
73 Pavel Padrnos (Cze) Discovery Channel                               1.07.12
74 Gorka Verdugo (Spa) Euskaltel-Euskadi                               1.08.38
75 David Zabriskie (USA) Team CSC                                      1.10.17
76 Simon Gerrans (Aus) AG2R-Prevoyance                                 1.10.27
77 Maxim Iglinskiy (Kaz) Milram                                        1.12.47
78 Alessandro Ballan (Ita) Lampre-Fondital                             1.13.33
79 Manuel Calvente (Spa) Agritubel                                     1.14.21
80 Björn Schröder (Ger) Milram                                         1.14.32
81 Erik Zabel (Ger) Milram                                             1.16.46
82 Anthony Geslin (Fra) Bouygues Telecom                               1.19.26
83 Manuel Quinziato (Ita) Liquigas                                     1.19.29
84 Thomas Voeckler (Fra) Bouygues Telecom                              1.19.56
85 Daniele Bennati (Ita) Lampre-Fondital                               1.20.22
86 Christopher Horner (USA) Davitamon-Lotto                            1.21.23
87 Pieter Weening (Ned) Rabobank                                       1.21.48
88 Viatscheslav Ekimov (Rus) Discovery Channel                         1.22.34
89 Joost Posthuma (Ned) Rabobank                                       1.22.39
90 Juan Antonio Flecha (Spa) Rabobank                                  1.22.50
91 Jérôme Pineau (Fra) Bouygues Telecom                                1.23.33
92 Cédric Vasseur (Fra) Quick-Step-Innergetic                          1.23.51
93 Riccardo Ricco (Ita) Saunier Duval                                  1.26.13
94 Marco Velo (Ita) Milram                                             1.26.58
95 Alexandre Moos (Swi) Phonak                                         1.28.16
96 José Luis Rubiera (Spa) Discovery Channel                           1.28.32
97 Christophe Le Mevel (Fra) Crédit Agricole                           1.29.07
98 José Rujano (Ven) Quick-Step-Innergetic                             1.31.22
99 Sandy Casar (Fra) Francaise Des Jeux                                1.31.33
100 Juan Manuel Garate (Spa) Quick-Step-Innergetic                     1.31.58
101 Nicolas Portal (Fra) Caisse d'Epargne-Illes Balears                1.32.16
102 Ralf Grabsch (Ger) Milram                                          1.32.28
103 Christian Knees (Ger) Milram                                       1.33.05
104 Nicolas Jalabert (Fra) Phonak                                      1.33.14
105 Oscar Freire (Spa) Rabobank                                        1.33.42
106 Benoît Vaugrenard (Fra) Francaise Des Jeux                         1.34.22
107 Ronny Scholz (Ger) Gerolsteiner                                    1.34.39
108 Paolo Tiralongo (Ita) Lampre-Fondital                              1.34.41
109 Bernhard Eisel (Aut) Francaise Des Jeux                            1.35.10
110 Gustav Larsson (Swe) Francaise Des Jeux                            1.36.35
111 Mario Aerts (Bel) Davitamon-Lotto                                  1.36.41
112 David Lopez (Spa) Euskaltel-Euskadi                                1.37.43
113 Bert Grabsch (Ger) Phonak                                          1.39.22
114 Walter Beneteau (Fra) Bouygues Telecom                             1.42.02
115 Bram Tankink (Ned) Quick-Step-Innergetic                           1.42.06
116 Robert Hunter (RSA) Phonak                                         1.43.39
117 Luca Paolini (Ita) Liquigas                                        1.44.05
118 Jose Vicente Garcia Acosta (Spa) Caisse d'Epargne-Illes Balears    1.45.24
119 Johan Vansummeren (Bel) Davitamon-Lotto                            1.45.30
120 Robbie McEwen (Aus) Davitamon-Lotto                                1.47.11
121 Eduardo Gonzalo (Spa) Agritubel                                    1.48.05
122 Sébastien Hinault (Fra) Crédit Agricole                            1.48.27
123 Michael Albasini (Swi) Liquigas                                    1.48.44
124 Samuel Dumoulin (Fra) AG2R-Prevoyance                              1.48.46
125 Matej Mugerli (Slo) Liquigas                                       1.49.02
126 Victor Hugo Pena (Col) Phonak                                      1.49.30
127 Florent Brard (Fra) Caisse d'Epargne-Illes Balears                 1.49.37
128 Thor Hushovd (Nor) Crédit Agricole                                 1.50.31
129 Bradley Wiggins (GBr) Cofidis                                      1.52.09
130 Christophe Laurent (Fra) Agritubel                                 1.52.19
131 Unai Etxebarria (Ven) Euskaltel-Euskadi                            1.52.27
132 Julian Dean (NZl) Crédit Agricole                                  1.54.52
133 Stuart O'Grady (Aus) Team CSC                                      1.56.16
134 Patrick Calcagni (Swi) Liquigas                                    1.56.25
135 Matteo Tosatto (Ita) Quick-Step-Innergetic                         1.56.52
136 Anthony Charteau (Fra) Crédit Agricole                             1.57.45
137 Steven De Jongh (Ned) Quick-Step-Innergetic                        1.59.28
138 Philippe Gilbert (Bel) Francaise Des Jeux                          1.59.43
139 Arnaud Coyot (Fra) Cofidis                                         2.00.11
140 Christophe Mengin (Fra) Francaise Des Jeux                         2.01.02
141 Kjell Carlström (Fin) Liquigas                                     2.01.25
142 David Kopp (Ger) Gerolsteiner                                      2.01.36
143 Daniele Righi (Ita) Lampre-Fondital                                2.03.25
144 Cédric Coutouly (Fra) Agritubel                                    2.03.46
145 Filippo Pozzato (Ita) Quick-Step-Innergetic                        2.03.54
146 Peter Wrolich (Aut) Gerolsteiner                                   2.04.06
147 Stéphane Auge (Fra) Cofidis                                        2.10.40
148 Sébastien Joly (Fra) Francaise Des Jeux                            2.12.42
149 Aitor Hernandez (Spa) Euskaltel-Euskadi                            2.15.41
150 Jimmy Casper (Fra) Cofidis                                         2.19.38
151 Gert Steegmans (Bel) Davitamon-Lotto                               2.22.45
152 Wim Vansevenant (Bel) Davitamon-Lotto                              2.23.26
 
Points classification
 
1 Robbie McEwen (Aus) Davitamon-Lotto                                      252 pts
2 Oscar Freire (Spa) Rabobank                                              207
3 Daniele Bennati (Ita) Lampre-Fondital                                    192
4 Erik Zabel (Ger) Milram                                                  172
5 Thor Hushovd (Nor) Crédit Agricole                                       159
6 Bernhard Eisel (Aut) Francaise Des Jeux                                  152
7 Luca Paolini (Ita) Liquigas                                              148
8 Francisco Ventoso (Spa) Saunier Duval                                    120
9 David Kopp (Ger) Gerolsteiner                                            111
10 Inaki Isasi (Spa) Euskaltel-Euskadi                                      99
11 Jimmy Casper (Fra) Cofidis                                               98
12 Cristian Moreni (Ita) Cofidis                                            84
13 Michael Rogers (Aus) T-Mobile                                            68
14 George Hincapie (USA) Discovery Channel                                  62
15 Jens Voigt (Ger) Team CSC                                                57
16 Gert Steegmans (Bel) Davitamon-Lotto                                     56
17 Floyd Landis (USA) Phonak                                                53
18 Oscar Pereiro (Spa) Caisse d'Epargne-Illes Balears                       52
19 Stefano Garzelli (Ita) Liquigas                                          50
20 Arnaud Coyot (Fra) Cofidis                                               49
21 Carlos Da Cruz (Fra) Francaise Des Jeux                                  48
22 Andreas Klöden (Ger) T-Mobile                                            46
23 Alessandro Ballan (Ita) Lampre-Fondital                                  46
24 Stuart O'Grady (Aus) Team CSC                                            43
25 Alexandre Botcharov (Rus) Crédit Agricole                                42
26 Eddy Mazzoleni (Ita) T-Mobile                                            41
27 Yaroslav Popovych (Ukr) Discovery Channel                                40
28 Sylvain Chavanel (Fra) Cofidis                                           40
29 Marco Velo (Ita) Milram                                                  40
30 Sylvain Calzati (Fra) AG2R-Prevoyance                                    39
31 Cadel Evans (Aus) Davitamon-Lotto                                        39
32 Peter Wrolich (Aut) Gerolsteiner                                         39
33 Anthony Geslin (Fra) Bouygues Telecom                                    38
34 Michael Albasini (Swi) Liquigas                                          35
35 Walter Beneteau (Fra) Bouygues Telecom                                   34
36 Denis Menchov (Rus) Rabobank                                             33
37 Pierrick Fedrigo (Fra) Bouygues Telecom                                  33
38 Georg Totschnig (Aut) Gerolsteiner                                       33
39 Manuel Quinziato (Ita) Liquigas                                          32
40 Kjell Carlström (Fin) Liquigas                                           32
41 Fränk Schleck (Lux) Team CSC                                             31
42 Salvatore Commesso (Ita) Lampre-Fondital                                 28
43 Philippe Gilbert (Bel) Francaise Des Jeux                                28
44 David Zabriskie (USA) Team CSC                                           26
45 Patrice Halgand (Fra) Crédit Agricole                                    26
46 Sebastian Lang (Ger) Gerolsteiner                                        26
47 Björn Schröder (Ger) Milram                                              26
48 Matthias Kessler (Ger) T-Mobile                                          25
49 Cyril Dessel (Fra) AG2R-Prevoyance                                       25
50 Damiano Cunego (Ita) Lampre-Fondital                                     25
51 David De La Fuente (Spa) Saunier Duval                                   24
52 Samuel Dumoulin (Fra) AG2R-Prevoyance                                    24
53 Christophe Moreau (Fra) AG2R-Prevoyance                                  24
54 Michael Boogerd (Ned) Rabobank                                           24
55 Fabian Wegmann (Ger) Gerolsteiner                                        24
56 Carlos Sastre (Spa) Team CSC                                             23
57 Levi Leipheimer (USA) Gerolsteiner                                       23
58 Egoi Martinez (Spa) Discovery Channel                                    22
59 Marcus Fothen (Ger) Gerolsteiner                                         22
60 Christophe Rinero (Fra) Saunier Duval                                    22
61 Miguel Angel Martin Perdiguero (Spa) Phonak                              22
62 Juan Miguel Mercado (Spa) Agritubel                                      20
63 Christian Vandevelde (USA) Team CSC                                      20
64 Christophe Le Mevel (Fra) Crédit Agricole                                20
65 Benoît Vaugrenard (Fra) Francaise Des Jeux                               16
66 Mario Aerts (Bel) Davitamon-Lotto                                        16
67 Sébastien Hinault (Fra) Crédit Agricole                                  16
68 Christophe Laurent (Fra) Agritubel                                       16
69 Steven De Jongh (Ned) Quick-Step-Innergetic                              16
70 Serguei Gonchar (Ukr) T-Mobile                                           15
71 Inigo Landaluze (Spa) Euskaltel-Euskadi                                  15
72 Aitor Hernandez (Spa) Euskaltel-Euskadi                                  15
73 José Luis Arrieta (Spa) AG2R-Prevoyance                                  14
74 Haimar Zubeldia (Spa) Euskaltel-Euskadi                                  14
75 Ruben Lobato (Spa) Saunier Duval                                         14
76 Florent Brard (Fra) Caisse d'Epargne-Illes Balears                       12
77 Stéphane Auge (Fra) Cofidis                                              12
78 Robert Hunter (RSA) Phonak                                               11
79 Patrik Sinkewitz (Ger) T-Mobile                                          10
80 Laurent Lefevre (Fra) Bouygues Telecom                                   10
81 Juan Antonio Flecha (Spa) Rabobank                                       10
82 Christian Knees (Ger) Milram                                             10
83 José Luis Rubiera (Spa) Discovery Channel                                 9
84 Axel Merckx (Bel) Phonak                                                  8
85 Marzio Bruseghin (Ita) Lampre-Fondital                                    7
86 Riccardo Ricco (Ita) Saunier Duval                                        7
87 Nicolas Portal (Fra) Caisse d'Epargne-Illes Balears                       6
88 Gustav Larsson (Swe) Francaise Des Jeux                                   6
89 Johan Vansummeren (Bel) Davitamon-Lotto                                   6
90 Christophe Mengin (Fra) Francaise Des Jeux                                6
91 Wim Vansevenant (Bel) Davitamon-Lotto                                     5
92 Michael Rasmussen (Den) Rabobank                                          4
93 Giuseppe Guerini (Ita) T-Mobile                                           4
94 David Millar (GBr) Saunier Duval                                          4
95 Maxim Iglinskiy (Kaz) Milram                                              4
96 Thomas Voeckler (Fra) Bouygues Telecom                                    4
97 Jérôme Pineau (Fra) Bouygues Telecom                                      4
98 Cédric Vasseur (Fra) Quick-Step-Innergetic                                4
99 Jose Vicente Garcia Acosta (Spa) Caisse d'Epargne-Illes Balears           4
100 Pietro Caucchioli (Ita) Crédit Agricole                                  3
101 Eduardo Gonzalo (Spa) Agritubel                                          3
102 Matej Mugerli (Slo) Liquigas                                             3
103 Julian Dean (NZl) Crédit Agricole                                        3
104 Ivan Ramiro Parra (Col) Cofidis                                          2
105 Patxi Vila (Spa) Lampre-Fondital                                         2
106 Matthieu Sprick (Fra) Bouygues Telecom                                   2
107 Nicolas Jalabert (Fra) Phonak                                            2
108 Unai Etxebarria (Ven) Euskaltel-Euskadi                                  2
109 Cédric Coutouly (Fra) Agritubel                                          2
110 Vladimir Karpets (Rus) Caisse d'Epargne-Illes Balears                    1
111 José Azevedo (Por) Discovery Channel                                     1
112 Joost Posthuma (Ned) Rabobank                                            1
 
Mountains classification
 
1 David De La Fuente (Spa) Saunier Duval                                   108 pts
2 Fränk Schleck (Lux) Team CSC                                              74
3 Michael Rasmussen (Den) Rabobank                                          73
4 Floyd Landis (USA) Phonak                                                 63
5 Cyril Dessel (Fra) AG2R-Prevoyance                                        62
6 Fabian Wegmann (Ger) Gerolsteiner                                         61
7 Michael Boogerd (Ned) Rabobank                                            61
8 Stefano Garzelli (Ita) Liquigas                                           60
9 Damiano Cunego (Ita) Lampre-Fondital                                      52
10 Juan Miguel Mercado (Spa) Agritubel                                      45
11 Inigo Landaluze (Spa) Euskaltel-Euskadi                                  38
12 Levi Leipheimer (USA) Gerolsteiner                                       38
13 Carlos Sastre (Spa) Team CSC                                             37
14 Andreas Klöden (Ger) T-Mobile                                            36
15 Juan Antonio Flecha (Spa) Rabobank                                       36
16 Christophe Rinero (Fra) Saunier Duval                                    35
17 Salvatore Commesso (Ita) Lampre-Fondital                                 31
18 Denis Menchov (Rus) Rabobank                                             30
19 Pierrick Fedrigo (Fra) Bouygues Telecom                                  30
20 Jens Voigt (Ger) Team CSC                                                29
21 Jérôme Pineau (Fra) Bouygues Telecom                                     28
22 Sylvain Chavanel (Fra) Cofidis                                           26
23 Inaki Isasi (Spa) Euskaltel-Euskadi                                      26
24 Iker Camano (Spa) Euskaltel-Euskadi                                      25
25 Cristian Moreni (Ita) Cofidis                                            24
26 Patxi Vila (Spa) Lampre-Fondital                                         23
27 Cédric Vasseur (Fra) Quick-Step-Innergetic                               22
28 Ruben Lobato (Spa) Saunier Duval                                         20
29 Haimar Zubeldia (Spa) Euskaltel-Euskadi                                  20
30 Thomas Voeckler (Fra) Bouygues Telecom                                   20
31 José Luis Arrieta (Spa) AG2R-Prevoyance                                  19
32 Eddy Mazzoleni (Ita) T-Mobile                                            17
33 Mario Aerts (Bel) Davitamon-Lotto                                        17
34 Cadel Evans (Aus) Davitamon-Lotto                                        16
35 Oscar Pereiro (Spa) Caisse d'Epargne-Illes Balears                       15
36 Matthias Kessler (Ger) T-Mobile                                          14
37 Christophe Moreau (Fra) AG2R-Prevoyance                                  14
38 Egoi Martinez (Spa) Discovery Channel                                    14
39 Sylvain Calzati (Fra) AG2R-Prevoyance                                    13
40 Daniele Bennati (Ita) Lampre-Fondital                                    13
41 Pietro Caucchioli (Ita) Crédit Agricole                                  12
42 Matthieu Sprick (Fra) Bouygues Telecom                                   11
43 Aitor Hernandez (Spa) Euskaltel-Euskadi                                  10
44 Giuseppe Guerini (Ita) T-Mobile                                           9
45 Björn Schröder (Ger) Milram                                               9
46 George Hincapie (USA) Discovery Channel                                   9
47 David Zabriskie (USA) Team CSC                                            9
48 Anthony Charteau (Fra) Crédit Agricole                                    8
49 Georg Totschnig (Aut) Gerolsteiner                                        7
50 Unai Etxebarria (Ven) Euskaltel-Euskadi                                   7
51 Stephane Goubert (Fra) AG2R-Prevoyance                                    6
52 Samuel Dumoulin (Fra) AG2R-Prevoyance                                     6
53 Christophe Laurent (Fra) Agritubel                                        6
54 Christophe Le Mevel (Fra) Crédit Agricole                                 5
55 Laurent Lefevre (Fra) Bouygues Telecom                                    5
56 Axel Merckx (Bel) Phonak                                                  5
57 David Arroyo (Spa) Caisse d'Epargne-Illes Balears                         5
58 Carlos Da Cruz (Fra) Francaise Des Jeux                                   5
59 Yaroslav Popovych (Ukr) Discovery Channel                                 4
60 David Millar (GBr) Saunier Duval                                          3
61 David Lopez (Spa) Euskaltel-Euskadi                                       3
62 Philippe Gilbert (Bel) Francaise Des Jeux                                 3
63 Patrice Halgand (Fra) Crédit Agricole                                     3
64 Manuel Quinziato (Ita) Liquigas                                           3
65 José Rujano (Ven) Quick-Step-Innergetic                                   2
66 Oscar Freire (Spa) Rabobank                                               2
67 Kjell Carlström (Fin) Liquigas                                            2
68 Alessandro Ballan (Ita) Lampre-Fondital                                   1
69 Anthony Geslin (Fra) Bouygues Telecom                                     1
70 Juan Manuel Garate (Spa) Quick-Step-Innergetic                            1
71 Cédric Coutouly (Fra) Agritubel                                           1
 
Young rider classification
 
1 Marcus Fothen (Ger) Gerolsteiner                                    69.08.28
2 Damiano Cunego (Ita) Lampre-Fondital                                    6.58
3 Moises Duenas (Spa) Agritubel                                          33.21
4 Thomas Lövkvist (Swe) Francaise Des Jeux                               40.13
5 David De La Fuente (Spa) Saunier Duval                                 51.46
6 Matthieu Sprick (Fra) Bouygues Telecom                                 54.05
7 Francisco Ventoso (Spa) Saunier Duval                                  58.42
8 Maxim Iglinskiy (Kaz) Milram                                         1.04.24
9 Pieter Weening (Ned) Rabobank                                        1.13.25
10 Joost Posthuma (Ned) Rabobank                                       1.14.16
11 Riccardo Ricco (Ita) Saunier Duval                                  1.17.50
12 José Rujano (Ven) Quick-Step-Innergetic                             1.22.59
13 Christian Knees (Ger) Milram                                        1.24.42
14 Benoît Vaugrenard (Fra) Francaise Des Jeux                          1.25.59
15 Bernhard Eisel (Aut) Francaise Des Jeux                             1.26.47
16 David Lopez (Spa) Euskaltel-Euskadi                                 1.29.20
17 Johan Vansummeren (Bel) Davitamon-Lotto                             1.37.07
18 Eduardo Gonzalo (Spa) Agritubel                                     1.39.42
19 Matej Mugerli (Slo) Liquigas                                        1.40.39
20 Philippe Gilbert (Bel) Francaise Des Jeux                           1.51.20
21 Filippo Pozzato (Ita) Quick-Step-Innergetic                         1.55.31
22 Aitor Hernandez (Spa) Euskaltel-Euskadi                             2.07.18
 
Teams classification
 
1 Team CSC                                                           206.51.13
2 Caisse D'Epargne-Illes Balears                                         20.29
3 T-Mobile Team                                                          20.45
4 Gerolsteiner                                                           28.25
5 AG2R Prevoyance                                                        30.51
6 Rabobank                                                               33.34
7 Saunier Duval - Prodir                                                 42.06
8 Lampre-Fondital                                                        45.24
9 Cofidis Credit Par Telephone                                           48.17
10 Phonak Hearing Systems                                                51.35
11 Discovery Channel Team                                                54.15
12 Euskaltel - Euskadi                                                   59.52
13 Agritubel                                                           1.15.20
14 Credit Agricole                                                     1.33.27
15 Davitamon - Lotto                                                   1.33.28
16 Bouygues Telecom                                                    1.47.39
17 Team Milram                                                         2.22.18
18 Francaise Des Jeux                                                  2.39.05
19 Liquigas                                                            2.57.30
20 Quick Step - Innergetic                                             3.42.19