Recently on Cyclingnews.com
News feature, July 10, 2006
McEwen: "Evans will win the Tour de France"
As it enters the critical phase in the mountains, Davitamon-Lotto is confident that their dream Tour will continue. Brecht Decaluwé reports from the team's rest day press conference in Bordeaux.
Robbie McEwen (Davitamon-Lotto)
Photo ©: Jon Devich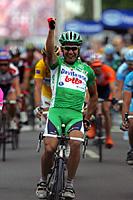 Team Davitamon dreams of bringing yellow and green to Paris with their Australian leaders McEwen and Evans. During the rest day the team organised a press conference in their luxurious hotel 'Aquitania' in Bordeaux. Sprinter Robbie McEwen and GC-rider Cadel Evans were present. The captains of the Belgian team are both Australian, which helps them to let their hair down: "It's good to have a compatriot in the team, as I understand all of his humour," said Evans. "It's good for the communication but for the rest it stays the same. In my previous team there weren't any other Australians, but now I have some and I must say I never felt better in a team."
Ambiance set by Davitamon during transfer
After yesterday's transfer from Lorient to Bordeaux the Davitamon Lotto team felt very relaxed as they set the ambiance in the restaurant that evening. The other teams present couldn't do anything but watch them having fun.
During the rest day, Robbie McEwen and Cadel Evans explained what happened. "Gert Steegmans plugged his iPod into the wall and put it over the loudspeakers in the restaurant," McEwen said.
Cadel Evans adds: "I don't think the other teams really liked it." Robbie McEwen apparently didn't mind as he quickly reacted, "Oh, I don't think they minded. And even if we were there totally alone, we would've done the same thing. It's not because our main rivals are there that we would tone down our celebrations. Actually everybody clapped their hands, but that was mainly because I sprayed the whole of our personnel with champagne."
Team manager Marc Sergeant summarized what happened so far: "The first week of the Tour was perfect. We had two goals: winning some stages with Robbie and doing a good GC with Cadel. The first mission has already been accomplished, all the rest is extra. Now we're going to work a lot to help Cadel as much as possible in the mountains."
Cadel Evans made his debut in the Tour last year, and it confronted him with some surprises which won't bother him this year. "I'm a little bit more confident, as last year, I really hadn't any idea what to expect. Everyone's going to be a little bit scared in the first mountains stage," he stated. "The stage isn't really a walk in the park, actually it's pretty heavy. Everyone's going to be scared of the course, but also of each other. But I don't think the first mountain stage will be hugely important, the next day will say more about the GC."
The general manager, Marc Coucke spoke out that he had been dreaming about green and yellow. "It's good to dream," Evans reacted. Robbie McEwen dared to state the team's ambitions more openly: "Cadel Evans is going to win the Tour de France (deadly serious face). He's the most natural GC rider here in the field. The others are time trialists who turned themselves into climbers, or the other way around. I don't think anyone else is going to beat him...cycling's simple," McEwen laughed.
This probably fired up Cadel Evans who started to evaluate his main rivals: "Robbie exudes confidence, I try to keep it inside. Five people who were before me last year, aren't here this year. That puts me in a good position but some riders weren't chasing GC in the Tour last year; like Klöden, Sastre and Menchov. I must admit that I don't know Menchov that well. Obviously it's a great opportunity, not because of the situation, but because of my age, the form and the team I'm in. Our strength is that we can go into the last week more confident than some other teams who are probably more anxious."
Evans coming into his own
Photo ©: Sirotti

During the time trial it was noticed that McEwen started getting into his rhythm as soon as Tom Boonen overtook him. That made it possible to follow him and at some moments it looked as though McEwen was playing some sort of mind game. "That wasn't at all my purpose, and as soon as I saw I would make the finish in time I eased off. The last three kilometres I even started doing a warm down. I went straight up to the podium to pick up another jersey and you don't want to do that with heavy legs. I was thinking about the next day and as I won the bunch sprint the next day, that might have been part of the reason. Really, there was no plan to play any sort of games with Boonen."
Back to Cadel Evans, who was happy to see that his team didn't had to work for McEwen too often during the first week. "We didn't need to defend the yellow jersey, like Quickstep, Milram and Credit Agricole," he stated. "Aerts and Horner will be very fresh instead of last year, when we were on our own to make it a bunch sprint each day."
The mountain stages are mainly being held in the Alps during the last week, that doesn't advantage the Australian GC-rider: "I prefer the Pyrenees, as the roads are steeper and smaller; but there aren't many stages there, so that's sad."
The two riders also described what they did during this rest day. Robbie McEwen clearly enjoyed a day off, while Evans had been training more seriously. "I rode for a total of one hour, but I was away for more than two hours … we watched the world go by sitting in a coffee shop," McEwen laughed. "That's the life of a sprinter", Evans joked. "I did two hours of motor pacing because otherwise my legs would blow up tomorrow."
McEwen ready to defend green
Photo ©: Sirotti

Robbie McEwen then reacted more seriously. "I'm always tired after a week. That's a pity because the second part of the Tour will appear almost double as long as the first part," McEwen sighed. The sprinter is leading the green jersey competition with an advantage of 17 points on Tom Boonen. "I know the battle for green is far from over, I'm just going to concentrate on what I need to do from day to day."
His main rival, Tom Boonen, said that he would give up the battle for green as he didn't even know how to sprint anymore. "That not true, he probably said it in a moment of disappointment," answered McEwen. "Tom doesn't give up, because he hasn't got to where he's now by giving up. I had a year where I didn't win any stage and lost the green jersey on the last day in 2003, so I know that feeling. But eventually you start winning again. It often happens when you're good, but not 100%," McEwen explained.