Tour de France Tech – June 30, 2005
Edited by John Stevenson
Got tech? Send press releases, news, and tech questions to the Cyclingnews tech desk.
Levi and Georg's nouvelle Tour rig
Specialized launches S-Works Tarmac SL
By Anthony Tan in Nantes
Specialized's new S-Works tarmac SL
Photo ©: Specialized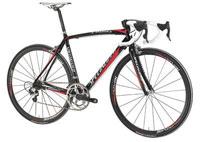 Two days out from the opening stage of the 92nd Tour de France, Team Gerolsteiner's always-innovative American bike sponsor, Specialized, unveiled an all-new weapon for the team's top two riders, Levi Leipheimer and Georg Totschnig.
Named the S-Works Tarmac SL, this sub-1.2 kilo superlight newbie (both frame and fork) is not only to be lighter, but considerably stiffer and more road compliant than the original Tarmac, according to Specialized. "Lighter, stiffer and more compliant; together they're not the easiest engineering parameters," said Specialized's advanced R&D expert Chris D'Alusio to Cyclingnews.
"But we feel we've achieved that [with the Tarmac SL]," he added, before Specialized's founder and president, Mike Sinyard, told Cyclingnews we were the first to get a sneak-peek of the bike outside of their own family. "The arcing top tube and S-bend seat stays are designed to minimise 'bump forces', while one only needs to look at the downtube to see where improvements in stiffness have been made."
Speaking of stiffness, brand manager Ben Capron told Cyclingnews the modulus of stiffness (measured in Gigapascals) increased to 390 GPa from its predecessor, also mentioning that the Tarmac's already high 294 GPa rating surpassed virtually every other production bicycle available.
Besides using a lighter, stiffer carbon and variable layering technique for each tube (as well as varying diameters based on frame size), Capron added another 40 grams was saved by excluding the ostensibly cosmetic carbon weave. "What's left is just muscle and sinew... actually, the Tarmac SL isn't really that different from Levi and Totschnig," he said.
Levi (centre) and team hit the road
Photo ©: AFP

Said Leipheimer about his new steed, "I knew the guys at Specialized had been working on the SL for over a year, so I was stoked when they told me I'd have one in time for the Tour and that it would have the same compliant ride and laser-sharp handling as the Tarmac I'd been riding on all season."
The general public can expect to see the Tarmac SL hit the shelves later this year, with the estimated price a cool eight g's for the frame and fork - which translates to roughly a 40 percent increase over the original Tarmac. Around the same time, a Tarmac SL 'dream bike' will also make its debut, complete with: a S-Works FACT carbon crank that's said to be 165 grams lighter and 11 percent stiffer than its Dura-Ace equivalent; the Barmac FACT one-piece bar and stem, no brick either at 349 grams and to be available in 11 different sizes; the 155 gram Toupé saddle (for your bum, not your dome!); and Roval Rapide carbon wheels, tipping the scales at 1,550 grams per pair, with Campagnolo's Record group gracing the rest of the dream machine.
However, the bikes Gerolsteiner will be riding in the Tour won't be hung with all these new goodies because a Tarmac SL with a complete suite of the new components weighs considerably less than the UCI's 6.8kg lower limit for race bikes.
Nevertheless, Leipheimer is happy with his new ride. "To win the Tour you need everything going your way. Because I've got the lightest, best riding road bike ever, I can forget about my equipment and focus on the million or so other things that'll make the winning difference in this year's race," he said.
More info: www.specialized.com