Latest Cycling News for June 29, 2006
Edited by Hedwig Kröner, with assistance of Susan Westemeyer
Guardia Civil report expected very soon
According to Spanish newspaper El País, the Central Operating Unit of the Guardia Civil has conducted an exhaustive report on the Operación Puerto investigation, which will be transmitted to the Spanish Secretary of State for Sport, Jaime Lissavetsky, very soon. The 500 page-thick summary will detail all the names of the 58 riders supposedly implicated in the doping scandal, as well as the circumstantial evidence on their implication produced by the investigators.
Lissavetsky, who had met with the public prosecutor in the affair, Manuel Moix, and the head of the Guardia Civil operating unit, Colonel Félix Hernand French counterpart Jean-François Lamour, on Friday - one day before the Tour de France gets under way. The race organiser has already said that it wanted to "clean up the peloton" before that start of the event. o on Wednesday, will get together with his
El País further wrote that all the documents and allegations published by the paper last Sunday and Monday would be found in the official report as well, including the suspicions about "Jan" and "the son of Rudy". According to sources close to the investigation, "many of the 58 cyclists that are named are non-Spanish and some are elite cyclists."
Politician Lissavetsky had also initialised the new anti-doping law, which was unanimously voted for in Spanish Congress on Thursday, June 28, and which is due to become law in the beginning of November. A similar legislation, penalizing the production, use and distribution of doping products, exists already in France.
ASO reacts to UCI "recommendation"
By Tim Maloney, European editor in Strasbourg
Cyclingnews spoke to Tour de France director Christian Prudhomme on Thursday morning in Strasbourg, and asked him about his reaction to the communiqué issued by the UCI yesterday, in which UCI president Pat McQuaid "strongly recommended" the ProTour teams to ask their riders to sign a written statement certifying that they are not involved in the latest Spanish doping case. Upon refusal, they would be replaced by another rider; and if they lied, immediately removed from the team and asked for a substantial indemnity.
"I have nothing to say about that," Prudhomme replied. "We are waiting for the decision made by the Court of Arbitration for Sports on the Astana-Würth team, as well as for further developments." Spanish investigators is expected to hand over a detailed report on the doping case to Spanish Sports minister today, who will meet his French counterpart on Friday.
The general consensus of many observers in the Tour de France press room in Strasbourg is that the UCI is not showing great leadership in the current situation, and that it is more interested in protecting the ProTour system than getting active in the biggest doping scandal that has shattered the sport since the Festina affair in 1998.
Spanish cycling chief "had doubts" for years
Fugencio Sanchez, head of the Spanish cycling federation, said that he had suspicions for years about those persons caught up in Operación Puerto, and called the present situation "one of the greatest crises in Spanish sport."
"We've had doubts. We had heard comments," Sanchez told The Associated Press. "I always thought that this day had to come in order to clear up those doubts.
"I know all of these people. They have spent their lives in Spanish cycling and all of them have an important career in cycling," Sanchez said. "I was always suspicious. His skepticism started during the 1998 Tour de France and increased after Roberto Heras tested positive for EPO at the 2005 Vuelta a España.
"The police operation was necessary. We had gone astray in anti-doping issues in Spain," Sanchez said. "We had the duty to start persecuting those frauds."
Ullrich to be questioned?
Jan Ullrich and his T-Mobile teammates arrived in Strasbourg yesterday evening, to be met by numerous journalists at their hotel. Ullrich again denied being a client of the recently uncovered Spanish doping network around Dr. Fuentes, and said, "I have nothing to do with the situation being described in the Spanish newspaper and have therefore turned the matter over to my attorneys. They will take the necessary steps."
When asked if he would submit to a DNA test, Ullrich responded, "I have not been accused of anything. But I will discuss that with my attorneys, too - but first I will ride the Tour."
Ullrich's attorneys may have to become active during the Tour de France, according to the German press agency sid. The Tour's 11th stage, on July 13, ends in Val d'Aran - on Spanish soil. "It is possible" that Ullrich will be taken in for questioning by the Spanish police, the Guardia Civil, when he arrives there, the media outlet said.
Judge Serrano opens investigation on El País
Judge Antonio Serrano, in charge of the Operación Puerto affair, has asked the newspaper El País to identify all the journalists who were involved in the reporting of the confidential information related to the doping scandal. Serrano will probably ask the journalists to explain how they have had access to a summary that in principle was secret to guarantee the security of the investigation. Newspaper El País already stated that the Spanish Constitution protects the right of the journalists not to reveal its sources.
Courtesy of Antonio J. Salmerón
May 18, 2009 - Valverde to start Catalunya
May 15, 2009 - Valverde not welcome in Denmark
May 14, 2009 - Spanish federation wants proof in Valverde case
May 13, 2009 - Spanish Olympic Committee defends Valverde
May 12, 2009 - Valverde responds to sanction
May 11, 2009 - Italian tribunal delivers Valverde two-year suspension
May 8, 2009 - Valverde case: Italian Olympic Committee defends Torri
May 7, 2009 - Valverde to take legal action against CONI prosecutor
May 5, 2009 - WADA and Spanish federation join CONI and UCI on Valverde
May 1, 2009 - International Cycling Union joins in on Valverde's hearing in Italy

De Rooy: "Everybody for Menchov"
By Anthony Tan in Strasbourg
Rabobank team manager Theo De Rooy
Photo ©: Anthony Tan/Cyclingnews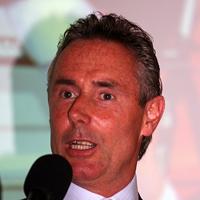 With a multi-talented team of nine, and five Tour stage winners in their own right, Rabobank cycling team's general manager Theo De Rooy has an enviable though difficult task of managing varying expectations and ambitions in the 2006 Tour de France. However, when crunch time comes, the name of Denis Menchov currently sits at the top of the priority list.
"It's obvious that Menchov is the leader of the team," De Rooy told Cyclingnews.
"So when it really comes [down] to it, everybody will be working for Menchov, especially in the last week of the Tour in the mountains. On the flat stages, he will always have riders protecting him, too; we can always have one or two riders taking care of Menchov."
Leading up to the Grande Boucle, the 28 year-old Russian enjoyed a promising ride at the Critérium du Dauphiné Libéré, but tailed off towards the end to finish sixth overall. Nevertheless, the Vuelta a España champion's stage win atop Le Mont Ventoux, coupled with the fact that he was still a little off his best form, gives De Rooy and the team more than hope, it seems.
"I don't think he was 100 percent, because at the Dauphiné, you are always at the stage of building up your form for the Tour de France," said De Rooy.
"The stage where he lost a few minutes, he had a crash and he came back to the car a couple of times asking for glucose, so he was getting a little empty. I think the crash was the final blow... At the foot of the last climb, he immediately lost contact, but then we saw on the second part of the climb he was gaining momentum and was able to follow Hincapie's group, so the loss was less than we expected."
A little uncertainty also surrounds wunderkind Thomas Dekker, who was replaced by Bram de Groot at the last minute. After last Sunday's Dutch national road championships in Maastricht, de Groot was given the nod ahead of Dekker the younger, the former part of the winning move while the latter finished four and a half minutes down on winner Michael Boogerd.
Explained De Rooy: "We asked him after the race, 'How are you feeling, what are you thinking?' - and he was having doubts, so we agreed the best decision was to pull him out [of the Tour de France]. Because I mean, a 21 year-old guy like him, so talented, so motivated, to let him go in such a difficult race... you have to be fresh at the start, ambitious, convinced, eager, eager to work, eager to perform for the team - but if, less than a week before the Tour, you are having your doubts, it's...
"We didn't want to give the signal last week; we thought it would be best to wait until the national championships to see how he was going. If he had been very good [in the road race], then okay, maybe we saw the signs incorrectly - but we didn't see a good Thomas Dekker that day. We also contacted his trainer [Dr. Luigi Cecchini - ed.], and his trainer was also saying it was not the Thomas he knew before."
The eleventh hour change shouldn't have an effect on Menchov's chances in terms of attaining a high overall classification; the question is more how well will he perform in the greatest cycling race of all. De Rooy says he is eager to prove his Vuelta victory was no fluke.
"He certainly wants to prove that his Vuelta victory last year was not because of luck or because of the disqualification of Heras, but that he's just a very good rider.
"On the other hand, Menchov is not a Tour favourite," said De Rooy. "We are not one of the teams expected to take immediate responsibility when there is a situation - there are other teams like CSC and T-Mobile, because they have the big favourites and they have the pressure of the race, day-in, day-out. Our situation's a little bit different."
The full interview with Theo De Rooy will be published soon.
Sastre approaching Tour form
Out of all the riders at Team CSC, just one has all three grand tours on his program: Carlos Sastre. The Spaniard has already done well at the Giro d'Italia and is getting ready for Tour de France at the moment, while he will be finishing off with Vuelta a España in September. But throughout the season, the Tour de France has been the most important race for Sastre, even though he still did really well in helping Ivan Basso achieve his victory in the Giro this spring.
"I'm quite pleased with my efforts," said Sastre. "To me it was just preparation for the Tour. I knew I wouldn't be able to help Basso a hundred percent, but I ended up doing some good work for him in some of the stages." The 30 year-old hasn't been racing since the Giro, but he has not been taking it easy.
"I can feel that I'm getting very close to my Tour form," he continued. "It feels better and better when I train, so it looks like perfect timing for me."
Although he is focusing one hundred percent on helping Basso at the Tour de France, Sastre also has a very exciting Vuelta a España ahead of him later this season. Last year, he was second in this race.
"We'll deal with the Vuelta nearer the time," Sastre added. "Inigo Cuesta didn't get selected for the Tour squad, so he's relaxing a bit over the next couple of weeks, but will start preparing after that, and then we'll have to help each other as much as we can. Whether it will be me or Cuesta, who will end up captain at the end, we'll have to wait and see, because he's a strong guy as well."
So far this season Sastre has had one victory, when he won Klasika Primavera, and hopefully he will add to his list later in the year.
Papa Savoldelli
Paolo and Simonetta Savoldelli have become parents again. Simonetta gave birth to the couple's second daughter on Monday morning at 2 a.m. Guilia weighed in at 3.8 kg and joins elder sister Marika, now 3 years old. All are doing well.
Critically injured cyclist needs support
By Mark Zalewski, North American Editor
Bret Neylon (Heroes Foundation Cycling Team), a middle school history teacher and running coach from Brownsburg, Indiana, crashed while racing at the Summer Solstice road race in Wilmington, Ohio. Nylon, 39, suffered a fractured C3 vertebra causing him to lose all feeling from the shoulders down. Surgery was performed to fuse the C3 and C4 vertebrae and a plate was placed on the break to stabilise the bone.
The crash occurred during the finish sprint in front of Neylon, giving him no place to go. He was thrown from his bike and landed on his head. Friend and fellow cyclist Brent Dawes was the first on the scene. "He had a look on his face and a fear in his eyes, and he was just gasping for air," Dawes told the Indianapolis Star. "He kept saying, 'I can't move. I can't move.' That memory has been really hard for me."
While he is still in critical condition at hospital in Dayton, Ohio, Neylon has been making some steady progress - breathing for increasingly longer periods without the assistance of a ventilator and beginning physical therapy. Doctors are still unsure of the long-term prognosis at this time.
However, Neylon now needs to be moved to a special facility in Atlanta to begin his rehabilitation, with the transportation costs of almost $8,000 needed to be paid up front. A special support fund has been established and can currently cover about half of the transportation cost. For more information or to make an online donation, visit www.morristrucking.com/race/race.html.
Eddie Tobin Memorial this Sunday
By Tommy Campbell, Irish Independent/Evening Herald/Sunday Independent
The Eddie Tobin Memorial is the main attraction on the cycling scene this Sunday. The inaugural event last season was won by Ciaran Power of the Navigators Insurance Team who finished runner-up to David McCann in the National road championship last weekend.
"Unfortunately, I have other commitments and have to bypass the race this time," said Power who admitted that McCann was a worthy winner of a well organised event in Westport.
The race is being sponsored by the Riverside Hotel, but the sign on is at the 1798 Centre at the 66 mile-race start.
"We are using the Enniscorthy-Monageer-Enniscorthy circuit which includes 'Whites Hill' and this should make things interesting for competitors and spectators alike," said race organiser Liam Ruth, who is very happy to run this event in memory of the late Eddie Tobin, who not only worked tirelessly on behalf of the community, but had time to make a huge contribution to the sport. "Racing gets under way at mid-day with local hope Frank Dunne expected to do well."
Hopefully the South East club will be rewarded with a good turnout as the organisers of the Nationals (Ladies and Gents) last weekend, Mayo Wheelers, were left scratching their heads, asking themselves, 'Where have all the cyclists gone!'
Win a T-Mobile team bike - play le Tour Fantasy Game
Giant TCR Advanced

BBB's BSG-23 Winner Quick-Step World Champion glasses

Speedplay Zero pedals

Deda Alanera handlebars

fi'zi:k saddles

DedaTre RS Corsa clincher tyres

Reynolds SV KOM carbon wheels

Play the 2006 Le Tour game and win a Giant TCR Advanced T-Mobile Team bike! The TCR Advanced T-Mobile Team bike is Giant's lightest and strongest bike and the one used by Jan Ullrich and the T-Mobile team. Made from T-700 carbon fiber using Giant's formulaOne technology, the frame is a jointless monocoque mainframe and features an integrated seat post and a Giant T-700 Full Composite fork. A small sized frame is only 865g making it one of the lightest frames on the market.
The bike comes equipped* with Shimano Dura-Ace group set and wheels, a Selle Italia saddle, Deda Elementi bars and stem, an FSA headset and Continental GP4000 tyres in the magenta/black colour scheme. (* Note that depending on where you live the specifics of the bike you might win may differ from country to country as the bike is sold with slightly different specs around the world).
It's free to play the first five stages - you could be our first winner of the great Daily Stage winner prizes from BBB. Registration has already begun.Be a professional team manager for the 2006 Le Tour and create your own dream team from any of the real life riders in this year's Tour. Based on the live racing action, you will take up the challenge of using your knowledge and tactical skill as a race team manager to compete with other virtual managers from around the world. Follow the races live and use your skill and knowledge to win some great prizes.
The full Le Tour Fantasy Game Prize List
Grand Prize from Giant TCR Advanced T-Mobile Team bike.
Daily Prize from BBB Parts - 21 pairs of BSG-23 Winner Quick-Step World Champion glasses designed for Tom Boonen.
Runner-up Prizes - Set of wheels from Reynolds. - Cirro SV KOM carbon wheels
Runner-up Prizes - Ten pairs of tyres from DedaTre.
Runner-up Prizes - Handlebars from Deda Elementi.
Runner-up Prizes - Three Giro Atmos helmets.
Runner-up Prizes - Three sets of Speedplay's Zero pedals.
Runner-up Prizes - Three fi'zi:k saddles.
Play for free in the Fantasy Le Tour 2006 game
Remember you can play for free for the first 5 stages! Try the game out and see how best to play. It's easy to play the Tour games - all you need to do is pick your dream team of 15 from the riders racing in this year's Le Tour start list. Then each day pick 9 riders to race for your fantasy team from these 15. You'll need a good combination of climbers, sprinters and general classification riders.
For more details go to the rules section of the site. There's also some great tips and tricks in the downloads and winners sections of the site. It's a great way to follow Le Tour 2006.
Good luck!
The Fantasy Cyclingnews Team
(All rights reserved/Copyright Knapp Communications Pty Limited 2006)