Latest Cycling News, May 15, 2009
Edited by Hedwig Kröner
Armstrong puts ambitions aside for Leipheimer
By Gregor Brown in Mayrhofen, Austria
Armstrong would be at Leipheimer's service if his teammate takes the race lead in the time trial
Photo ©: Sirotti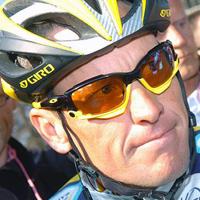 Lance Armstrong is set to put his ambitions aside for Astana teammate Levi Leipheimer following what the seven-time Tour de France winner thinks will be a maglia rosa ride in the Cinque Terre time trial next Thursday in the Giro d'Italia.
"A lot will depend on what happens with him [Leipheimer]," Armstrong told Cyclingnews prior to the start of the sixth day of racing. "If he is in pink after that time trial then my ambitions will have to be put aside. There is no point in me going for a stage win if he is in the lead, we have to support that."
Armstrong's chance for a stage win is possible thanks to his near-three-minute loss Wednesday in the mountaintop stage to Alpe di Siusi. Leipheimer rode ahead of his famous American teammate in the stage to finish with the overall classification favourites. He is now only 43 seconds behind race leader Danilo Di Luca (LPR Brakes-Farnese Vini) with six days ahead of the 60.6-kilometre time trial in Cinque Terre.
"If I was one of the other favourites I would try get some time before that," Armstrong continued to the gathered journalists. "I don't know if they can now because there are no more uphill finishes before then, but perhaps I would have tried a little more yesterday [on Alpe di Siusi] to distance him. If it stays the way it is now, I think there is no doubt he is in pink."
Coming up on
Cyclingnews will cover the 60th edition of the Dauphiné Libéré live as of stage 4 on Wednesday, June 10, at approximately 15:00 local Europe time (CEST)/ 23:00 Australian time (CDT)/ 9:00 (USA East).

WAP-enabled mobile devices: http://live.cyclingnews.com/wap/

Armstrong's chances for the pink jersey were more or less dashed when he crashed and fractured his collarbone at the Castilla y León in early April. He returned to training as soon as possible, but lacked the depth of his rivals when the race started in Venice on Saturday.

Depth is something Leipheimer has thanks to his overall win in the same Spanish stage race where Armstrong crashed, as well as a recent win in Tour of the Gila. He finished 18th last year when he rode in the service of race winner, Alberto Contador.

Armstrong lost an additional 39 seconds on the stage finish to Mayrhofen when he lost contact in the final four kilometres. The seven-time Tour de France winner is now 4.13 minutes back in the overall classification.
Contador happy with Pyrenees reconnaissance
Alberto Contador (Astana)
Photo ©: Susanne Goetze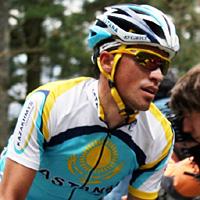 While the world of cycling is watching the peloton take on the roads of Italy at the Giro, Astana's Alberto Contador has travelled to the Pyrenees in order to reconnoitre the Tour de France stages coming up in the Franco-Spanish mountain range in a few weeks time.
The 2007 Tour de France winner concentrated his efforts mainly on stage seven's mountain top finish to Andorra's ski station Ordino-Arcalis, as the other two stages in the region do not end at altitude. "There was so much talk about this climb that when I saw it, it was a pleasant surprise," said Contador after the ride on Tuesday this week. He was joined by Benjamin Noval and rode the Tour route leading up the mountain a total of three times, preparing his assault on the 2009 Grand Tour victory.
The Spaniard was happy to find out that the 10.6 kilometre-ascent averaging 7.1 percent gradient was well-suited to his characteristics as a climber. "It's an ascent to my taste, much more than La Rabassa [2008 Vuelta stage seven finish - ed.] or Pla de Beret [2006 Tour stage 11 finish - ed.]," said Contador, who still noted that the stage will be a tough one nevertheless.
"There will be no difficulty in the stage before the climb [except the Port d'Oliana mid-way through the stage - ed.], but we will arrive at the foot of the ascent with 200 kilometres in the legs and thus with less power. The same goes for the fact that this stage comes at the seventh day of racing, when we won't have reached the first rest day yet."
The 26-year-old figured that the stage leading up to Ordino-Arcalis would be "raced very fast", but did not think that it would be a race-decisive day. "Depending on everybody's intentions and the speed in which it will raced, many riders will lose some time here, but it is not a day to win the Tour, either," he said.
Contador made sure he knew all the details of the stage taking place on July 10. "As soon as we pass Andorra La Vella [with 28 kms to go - ed.], the road goes uphill. Although there are some stretches to recover, this first part of the ascent will be very fast until we reach El Serrat some 9.5 kilometres to the finish. That is where the climb really starts.
"The first kilometres might be the hardest, until we'll reach a tunnel with about five kilometres to go. From there, the road is a succession of hairpin curves which are not overly steep but will be hard because of the altitude. The last four kilometres are located above 2.000 metres altitude, and many riders will pay for it. It's a pretty good ascent for a climber," he commented.
The Astana leader initially wanted to ride the Port d'Envalira as well as the Tourmalet that will be tackled in stages eight and nine of this year's Tour, but could not because of bad weather conditions. He might return to the Pyrenees to finish his reconnaissance soon.
Klöden defends while Astana stands by him
Andreas Klöden (Astana) recently won the Giro del Trentino time trial
Photo ©: Riccardo Scanferla

Andreas Klöden's attorneys have criticized doping allegations against their client, while Team Astana is not ready to take any action concerning the rider. The German this week was named as having used blood doping during the 2006 Tour de France, in a report looking into organised doping by Freiburg University Clinic doctors and Team Telekom/T-Mobile.
Klöden published a statement from his attornies criticizing the report on his website, andreas-kloeden.com. They pointed out that the report bases its assumption concerning their client on statements made by Patrik Sinkewitz. However, the commission "forgets, for example, to mention that this person has given contradictory accounts in various interrogations, and not only before the public prosecutors."
In addition, the lawyers point out that their client is accused of receiving medications from the clinic without any evidence as to what kind of medication this might have been.
His trade team Astana is also in no hurry to take any action. "We only know about the report from the press and have to read the report first," Astana spokesman Philippe Maertens told the sid news agency. "Only then will we make a decision. We can't say more at this time."
Astana manager Johan Bruyneel echoed those sentiments, saying he must first look at the report. "If there is evidence, we will respond," Bruyneel told HLN.be.
Klöden and Matthias Kessler, who also was named in the report, both live in Switzerland and could face charges by Swiss authorities. Swiss Olympic, which handles doping investigations, as well as Swiss Cycling, the national federation, want to analyse the findings as well. After its review of the facts, Swiss Olympic will decide "whether the Swiss Olympic Disciplinary Chamber for doping cases will open one or more investigations for violations of the appropriate anti-doping regulations," Marco Steiner, deputy director of the national anti-doping agency Antidoping Schweiz told the DPA press agency.
Swiss Cycling director Viktor Andermatt said his federation is also following the cases, but at the moment there are no results to report. (SW)
Discuss the Freiburg report and Klöden's alleged implication in our forum thread.
Valverde not welcome in Denmark
Alejandro Valverde is not welcome at the Tour of Denmark (July 29 - August 2), the head of the Danish Cycling Union has said. The Spanish rider with Caisse d'Epargne was recently given a two-year suspension in Italy for his involvement in Operacion Puerto.
"His suspension of two years on Italian soil should be extended to the rest of the world," Jesper Worre of the Danish federation told the Ritzau news agency. "It would be easier if Valverde just held himself out of competition for two years," he added.
Meanwhile, Valverde's lawyers have announced taking legal action against Worre, suing him for damages. (SW)
New Astana kits debut
By Susan Westemeyer
Lance Armstrong (Astana) wearing the lightened jersey at the start of stage 7
Photo ©: Phil Maertens

Team Astana debuted a new kit in today's seventh Giro d'Italia stage. The "sun" logo and most of the sponsor names have been dramatically lightened on the jerseys, but the colours have remained the same.
"The sponsors are still there, but much lighter, except for Trek, Nike and KazMunaiGaz, who paid," team spokesman Philippe Maertens told Cyclingnews.
The team has experienced difficulties with payments from its sponsors, and riders and staff are behind in receiving payments. The UCI threatened to suspend the team if payments are not made by May 31.
KazMunaiGaz, which exports petroleum oil, is one of the Kazakhstan state-owned companies which sponsor the team. Trek (bicycle manufacturer) and Nike (casual clothing) are also long-term sponsors. All three have fulfilled their obligations, but companies KEGOC, Eurasian Bank, Kazakhmys, Kaztsink and Kazakhstan Temir Zholy have not.
UCI bans non-compliant aero components in competition
The International Cycling Union (UCI) has announced the strict implementation of its equipment regulations in time trials as of July 1, 2009. In a press release, the world governing body of cycling noted that "wing-shaped" handlebars and aerodynamic extensions that do not comply with the regulations (Art. 1.3.023 on the bike frame, and Art. 1.3.024 , on accessories such as handlebars, seat post and pedal cranks) were used more and more frequently, and has therefore decided to enforce the rules.
After writing to the teams and national federations on the subject and meeting with the AIGCP (International Association of Professional Cycling Teams), the UCI "decided that, for competitions, contentious handlebars would have to be replaced by compliant handlebars by 1 July 2009. For all other bicycle components, in particular the seat post, the deadline for compliance of equipment was set as 1 January 2010.
"Once these deadlines have elapsed, UCI International Commissaires will not compromise on the application of the regulations."
The UCI will publish a document on its website in June that will act as an aid to the application of the regulations.
Stage Seven: The Columbia Jersey wants to go home with you!
Enter Cyclingnews' contest to win a unique piece of cycling memorabilia - a special edition Columbia jersey designed for the Giro d' Italia, signed by all nine team members from the squad's 2009 Giro d'Italia line-up. To be in with a chance of winning all you have to do is pick today's top three finishers from stage six of the Giro in the correct order.
Since nobody won on Thursday, we are offering this again today. Adjust your thinking caps a little better and tell us who will win today. But remember, you MUST have ALL THREE top finishers, in the right order!
Impossible? No, we have confidence in our readers!
To enter the competition, all you have to do is register then post your top three prediction here. Entries will close when the first rider hits the 20-kilometre to go banner. Easy!
NEW RULE: Sorry, folks, only one entry per customer.
The jersey has been signed by the following riders:
Michael Barry (Can)
Edvald Boasson Hagen (Nor)
Mark Cavendish (GBr)
Thomas Lövkvist (Swe)
Marco Pinotti (Ita)
Morris Possoni (Ita)
Mark Renshaw (Aus)
Michael Rogers (Aus)
Kanstantsin Siutsou (Blr)

So go for it, folks, and start posting your picks!
(All rights reserved/Copyright Future Publishing (Overseas) Limited 2009)