Latest Cycling News, May 12, 2009
Edited by Hedwig Kröner
Giro: First GC test
The Dolomites will be a first test for the overall contenders at the 2009 Giro d'Italia
Photo ©: Sirotti

The Giro d'Italia heads to the Dolomites mountains on Tuesday, where the first mountaintop finish awaits the riders on the race's centennial edition. Stage four from Padova to San Martino di Castrozza features two climbs counting towards the climber's classification, the Croce d'Aune and the final climb up to San Martino di Castrozza.
Although the last ascent is 13.7 kilometres long, its average gradient is not overly difficult (5.5 per cent, with maximum slopes up to 10 per cent). Therefore it may not create enormous time differences between the overall favourites, but it could be a first indicator of who may not be able to contend for the Grand Tour victory.
With the main favourites all within one minute of each other, tactics may be a factor in how the race develops. Teams Astana (Levi Leipheimer, Lance Armstrong), LPR Brakes (Danilo Di Luca), Lampre (Damiano Cunego), Cervélo (Carlos Sastre), Liquigas (Ivan Basso) and Serramenti PVC Diquigiovanni (Gilberto Simoni) are all within touching distance of maglia rosa, but some may not want the race responsibility of wearing the precious garment too soon.
Coming up on
Cyclingnews will cover the 60th edition of the Dauphiné Libéré live as of stage 4 on Wednesday, June 10, at approximately 15:00 local Europe time (CEST)/ 23:00 Australian time (CDT)/ 9:00 (USA East).

WAP-enabled mobile devices: http://live.cyclingnews.com/wap/

Stage three winner, and current GC leader Alessandro Petacchi (LPR Brakes) would like to pass on the jersey to his teammate Di Luca. "I think [Danilo] Di Luca can take it," he told Cyclingnews.
"We did a good team time trial [fourth best, 22 seconds behind Columbia-Highroad] so we have some advantage over the others. I see Armstrong and Leipheimer riding strong, so it would be good to have a minute's advantage going into the [Stage 12] Cinque Terre time trial," Petacchi added.
Speculate about what will happen in our official Giro d'Italia forum thread.
Farrar takes second despite broken derailleur
Tyler Farrar (Garmin-Slipstream) hopes for a stage win at the 2009 Giro
Photo ©: Isabelle Duchesne
In yesterday's stage three of the Giro d'Italia, Team Garmin-Slipstream's sprinter Tyler Farrar continued to show his presence in a tricky sprint finish, nearly taking the stage win behind Alessandro Petacchi. But as if this wasn't enough of a feat for the 25-year-old, Farrar achieved it with a broken rear derailleur.
The American broke his derailleur cable in a massive crash with ten kilometres to go in the stage, meaning that he had to get back up to speed and then battle for the victory with only one gear.
"It was really a crazy finish circuit today, lots of up, down, left, right - all on small roads," Farrar said after the stage. "I had a bit of bad luck and broke my rear derailleur with 10km to go, so I only had the 12 cog for the end of the race. I was really motivated for today though since it was my last chance for a win before we head into the mountains. Luckily it came together enough that I was able to get second and take the young rider's jersey. A little more luck and I'll get one of these!"
On top of earning the white jersey for best young rider, his second place on the stage moved him up to second place overall.
A deadline for Astana
Astana team has been given a deadline by the International Cycling Union (UCI) to sort out its financial problems. The UCI has sent a letter to Kazakhstan's cycling federation, notifying it of a possible suspension if the team's cash flow is not restored by May 31.
Team manager Johan Bruyneel revealed the news to media outlets on Tuesday. "That's the deadline to arrange the whole financial situation. If it's not taken care of by then, the letter says that the team will be suspended," Bruyneel said, adding, "At least we're going to be able to finish the Giro."
The Giro d'Italia, which the team is currently racing with Lance Armstrong and Levi Leipheimer, ends on May 31.
Astana is lacking the $2 million in order to replenish the UCI bank guarantee that has already been used to pay salaries. Bruyneel and Armstrong indicated last week that they were trying to find solutions, including taking over the team under a new sponsor. They now have less than three weeks in order to find a solution, with ties to the Kazakhstan sponsors apparently faltering.
"I've already said that all I know about Kazakhstan is Astana and Borat. I don't know anything more," Armstrong told the Guardian. "It's not my team, it's not my sponsor. I've got nothing to say about it. I would love to give you an answer but I don't have one. I would be speculating."
Securing one or more new sponsors this far into the cycling season will not be an easy task, even for Armstrong. "It's difficult to go to any major corporation and say in the middle of the calendar year - the fiscal year - 'How about we start in 20 or 30 days?' But we'll see," the seven-time Tour de France winner said.
Alfredo Binda: The Giro's first superstar
Alfredo Binda redefined the way stage races
Photo ©: AFP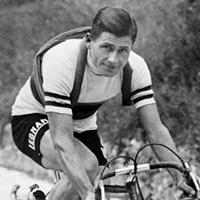 Alfredo Binda was the first multiple Giro d'Italia champion, securing five victories between 1925 and 1933 that redefined the way stage races were ridden. As the Giro celebrates its centenary edition Cyclingnews' Les Clarke takes a look at Binda's impressive record of overall triumphs that wasn't broken for 20 years.
Handsome, rugged and talented, Alfredo Binda was undoubtedly the first superstar of the Giro d'Italia. A popular rider, Binda essentially became the archetypal modern stage racer way before his time. The legacy he left cycling with was his ability to combine the strength of a one-day Classics rider with an incredible climbing prowess.
Three road world championship titles, five Giro wins, two Milan-Sanremo crowns and four Giro di Lombardia victories all indicate the immense capabilities Binda possessed. His record of overall Giro titles wasn't beaten until another legendary Italian rider, Fausto Coppi, took his fifth title in 1953.
It was Binda's climbing ability that netted him 41 Giro stage wins, a record eclipsed only by Mario Cipollini in Montecatini during the 2003 edition of the Giro. It was ironic that a sprinter achieved that feat, although Cipo's joy in breaking the record is testament to the esteem in which all of Italy's generations of professional cyclists hold Binda.
"I never thought I could break (Binda's) record. I'm a champion in the sprint and I can't be compared with champions like Merckx and Binda... but at 36 years old I tried to do my best," said an emotional Cipollini on May 19, 2003. It's apt that 'Super Mario' was the man to break the mark - both men were mercurial professionals, able to charm the Italian public both on and off the bike.
Continue to the full feature.
Boonen: "cocaine is everywhere"
Boonen faces his demons
Photo ©: Tim Van Wichelen

Tom Boonen's recreational drug problem continues to make headlines in Belgium, where the rider is a public superstar. In an interview with the three-time Paris-Roubaix winner, dating back from the end of 2008, Boonen talks openly about his use of the drug. The interview was with a journalist from newspaper De Morgen, but remained unpublished at the time due to legal reasons.
"It [cocaine] is everywhere, really everywhere," said Boonen, explaining why it was hard for him to resist the temptation. "I really want to say this, not only for me but for all the people that are using it. It's even easier than to drink a cup of coffee."
The 2005 world champion said that his problem wasn't related to the world of professional cycling. "It doesn't have to do with stardom or money or with the cycling scene. Cocaine is amongst young people, but not only young people."
The Belgian didn't want to play down the dangers of using cocaine on a recreational level, and even asked why it was not on the list of prohibited out-of-competition substances. "Cocaine is a greater problem than everybody thinks it. They [the sports authorities] had better put it on the list [of] out-of-competition [prohibited substances]."
Last week, Boonen was suspended by his Quick Step team following the second positive result for cocaine in an out-of-competition test made by the Flemish Community of Belgium. Meanwhile, it was revealed that Boonen already returned a positive result for cocaine and ecstasy in a UCI doping control in on November 15, 2007.
Australian team for Junior Worlds announced
Cycling Australia has announced the riders nominated to the Australian team for the UCI Junior Road World Championships being held in Moscow, Russia, from August 7-9.
The Junior Men's squad will consist of: Luke Durbridge (TT), Jordan Kerby (RR, TT), Patrick Lane (RR), Jay McCarthy (RR), Michael Phelan (RR) and Thomas Richards (RR, TT).
The Junior Women's team includes Megan Dunn (RR), Alexandra Carle (RR, TT) and Kendelle Hodges (RR, TT).
A 'Reserve Team' has also been established. In the event of illness or injury, any replacement required will be selected from Matthew Benson, Aaron Donnelly, Lachlan Morton, Eric Sheppard and Stuart Smith.
Whats hot on the forum
It's been another busy week on the forums, with some small event, with an incredible field, taking place in Italy. Giro d'Italia, heard of it?
The year's first Grand Tour hasn't been the only thing on reader's minds though. The, erm, indiscretions of Tom Boonen and Alejandro Valverde's battle with the Italian National Olympic Committee's crusaders has also been a point of much discussion.
Official thread: Giro d'Italia
TOMORROW IS MOVING DAY. Let's take some guesses. - Escarabajo
I'm gonna throw a curveball with this one but Lance Armstrong for at least one the stage or the Maglia Rosa, I know i'm gonna catch some heat for that but whatever - Franciep10
Have bike makers gone mad?
I have to admit that I am amazed at how quickly, almost absurdly quickly, that prices for bikes and components have gone through the roof of late. A case in point:

A 2009 Hyundai Accent lists (no discounts mind you) for $12,745.

A new Pinarello Prince, with Super Record group and set of Zipp 404 hoops in a package discout from a reputable dealer costs $11,420.61.

I hope you were not expecting a power meter with that? - Gree0232

In 1999 my tri bike w/Hed 3 Wheels was $3400 USD . Frames ran $1200/1500. dura-ace $900. I have no interest in moving to carbon. My next bike will be a custom steel. I love the ride. I sure like the looks of the Pinnerello Prince, but for it would just be Bling. Some of my favorite bikes have been cobbled together from parts found in the trash. I can't drive by and not look, but I only take high class junk these days. Prices now are amazing. I don't care for electric shifting and run mechanical discs on my MTB. Just easier to fix on the trail or road. Or I'm just getting old. - Krebs303
I always find this sort of thing ridiculous. Are you somehow arguing that bike companies are making a ridiculous amount of profit? The way you are talking, you make it sound like Pinarello's margin on a Prince is 99.9%. I assure you, it is not. - Ovidius
Previous News Next News
(All rights reserved/Copyright Future Publishing (Overseas) Limited 2009)