Latest Cycling News, May 11, 2009
Edited by Gregor Brown
Classics stars ignite Giro's stage finale
Filippo Pozzato (Katusha) leads a last minute move with Philippe Gilbert (Silence-Lotto) and Enrico Gasparotto (Lampre-NGC)
Photo ©: Sirotti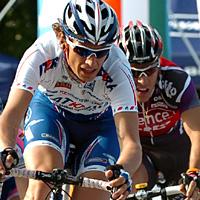 The finale of Giro d'Italia stage two in Trieste yesterday saw attacks from three of cycling's Classics stars: Belgian Philippe Gilbert (Silence-Lotto), Italian Filippo Pozzato (Katusha) and local favourite Enrico Gasparotto (Lampre-NGC).
"I tried to honour the Giro passing through my home region and I'm happy to have put in a good attack," said Gasparotto, who now lives near Como. "I was motivated but unfortunately the sprinters' teams organised themselves and there wasn't much hope for us."
The trio broke free after an attack from Gilbert on the final of three closing circuits. He broke free near the top of the Montebello climb, with 4.3 kilometres left to race.
"Filippo Pozzato joined me a little bit late at the head of the race," said Gilbert. "The cooperation between us was very good but the head wind prevented us from staying away."
The sprinters' teams pulled the trio in with just over two kilometres remaining.
Gilbert added, "I said I'd try and win from stage three onwards. I've started with stage two, but I'll try again."
"I gave it a try because it's what I have to do," said Pozzato. "I will try something again tomorrow [today - ed.], near my home."
Coming up on
Cyclingnews will cover the 60th edition of the Dauphiné Libéré live as of stage 4 on Wednesday, June 10, at approximately 15:00 local Europe time (CEST)/ 23:00 Australian time (CDT)/ 9:00 (USA East).

WAP-enabled mobile devices: http://live.cyclingnews.com/wap/

Today's stage takes the riders from Grado to Valdobbiadene, 60 kilometres from Pozzato's home in Sandrigo. The stage is 198 kilometres long with a series of punchy climbs in the finale.
(Talk about this article on our forum.)
Milram's Russ faces unlucky break
By Susan Westemeyer
At the beginning of the season, Milram's Matthias Russ said that the Giro d'Italia was his favourite race. He may just change his mind after his experiences in the last two years after the 25-year-old had to leave this year's race in only the second stage, due to injuries.
On the second lap of a closing circuit course in Trieste, Russ hit a manhole cover wrong and went down. An ambulance took him to a local hospital, where doctors diagnosed him with a broken collarbone.
The 25-year-old finished the Giro last year riding for Gerolsteiner, but he had some unhappy moments.
Russ joined an escape group in the sixth stage, which finished 11 minutes ahead of the peloton. Unfortunately for Russ, he finished three seconds behind Quick Step's Giovanni Visconti, giving them virtually the same time for the overall lead. However, the maglia rosa was awarded to the Italian, based on his better time in the opening team time trial.
Coming so close was a bitter disappointment to the young German. "It was almost tragic for me personally, since at first I thought I had ridden into the pink jersey," he told Cyclingnews last week. "Only a little later did I find out that I had missed it due to the team time trial results."
That experience had given him extra motivation for this year, Russ said, "To be perfectly honest, I am still a bit disappointed. But when you have been so close to something once, then you keep this goal and of course that motivates me."
Russ will be out of competition for approximately six weeks.
Boonen positive for cocaine a third time
Tom Boonen: a third cocaine positive
Photo ©: Roberto Bettini

Tom Boonen's positive doping control for cocaine announced last week was his third, one more than originally believed for the drug. The Belgian's first positive test for cocaine and ecstasy, only now made public, was in November 2007.
The sprinter faced an out-of-competition doping control by the International Cycling Union (UCI) on November 15, 2007. The testing lab in Gent, Belgium, found cocaine and ecstasy, a so-called "party drug" that is an amphetamine derivative.
Neither substance is prohibited out-of-competition, so the lab reported it as a negative test. According to the belga news agency, Boonen and Quick Step only learned of this test in December of 2008.
Team Quick Step suspended Boonen, winner of April's Paris-Roubaix, on Saturday as a result of last month's anti-doping test.
Boonen, 28, also tested positive for cocaine last spring. A court in Turnhout, Belgium, ultimately gave him a suspended sentence, with one of the conditions being that he refrain from such drug usage. That same court will now review the current case.
Boonen also faces a one- to six-month suspension from the International Cycling Union (UCI) for damaging the sport's reputation. The cycling union can't act against him on anti-doping grounds, but may still take action.
Union President Pat McQuaid told Nieuwsblad.be, that, "this scandal affects all of cycling. He faces criminal penalties." Boonen will have to answer to the cycling union's disciplinary commission. (SW)
Ullrich: Swiss ruling expected soon
By Susan Westemeyer
Jan Ullrich: Swiss ruling expected soon
Photo ©: Roberto Bettini

Germany's Jan Ullrich, the 1997 Tour de France winner, may be facing the possibility of a lifetime ban from the Swiss cycling federation for his involvement in Operación Puerto. The case will soon be in the hands of the Swiss Olympic disciplinary committee for action, according to news reports.
Bernhard Welten, head of the Swiss Olympic anti-doping committee, told Cyclingnews that "the proceeding will be opened soon and that it involves the possibility of a lifetime ban for Jan Ullrich," as a conviction would be his second doping violation.
Ullrich retired in 2007 and has lived in Switzerland since 2003.
A lifetime ban would preclude Ullrich from working in any position of responsibility at any top team. In March, his former mentor, Rudy Pevenage, said the Ullrich may join him at the American Continental team Rock Racing as a public relations adviser.
Ullrich was linked by DNA testing to blood bags taken into custody during Operación Puerto.
His first doping violation dates back to 2002, when he tested positive for amphetamines while recovering from knee surgery. Since then, amphetamine use outside of competition is no longer considered a sporting violation.
Sutherland wins third Joe Martin title
By Kirsten Robbins in Fayetteville, Arkansas
Rory Sutherland (OUCH pb Maxxis)
Photo ©: Tom Ewart

Rory Sutherland rode away with his third consecutive Joe Martin stage race title that ended in Fayetteville, Arkansas, on Sunday. The victory is the fifth consecutive title for team OUCH-Maxxis and its first win of the 2009 season.
"It's big for us because it's our first win this year - we needed some momentum," said Mike Tamayo, OUCH directeur sportif.
"We got the ball rolling with the team, getting better as the races went on. I think this is a good lead in to the next set of races. For Rory, to win three times in a row was a goal. But at the end of the day, we have a strong team and other options. My hat goes off to all the other teams because it was a very hard race."
OUCH earned a hard-fought victory and, according to Sutherland, it was the toughest win of all three. "It was really great racing from all the domestic teams," he said. "They went hard and they were very professional. It was like European racing in Arkansas - who would have thought?"
Sutherland placed second to Ben Jacques-Maynes in the opening time trial. He took over the classification lead by virtue of capturing a valuable time bonus in the stage two sprint. He held on to the overall lead through the fourth and final stage, ahead of team Bissell duo Jacques-Maynes and Jeremy Vennell.
"The guys, as last year and the year before, rode amazingly," Sutherland said. "I think this week showed that we picked up what we've been missing in the early part of the season. We rode together in a way that took control of the race."
Powers wins first overall title
By Kirsten Robbins in Fayetteville, Arkansas
Alison Powers (Team Type 1) won her first stage race title at the Joe Martin stage race in Fayetteville, Arkansas, on Sunday. The US national time trial champion, recognised for her all-around ability on a bike, has worn many leader's jersey during her short career as a cyclist, but had yet to win the general classification of a stage race.
"It's cool. I've worn leader's jerseys before because of prologues or time trial victories, but I've never actually held onto them until the end of a stage race," said Powers. She was delighted to win the 25th annual Joe Martin stage race, a valuable event in the NRC series.
Powers capped off a successful weekend of bike racing with solo victory at the downtown criterium finale. She rode away from the field with five laps to go and entrusted her teammates would take care of the field sprint behind. Her speedy teammate Jen McRae won the bunch sprint for second place ahead of Ruth Croset (Jazz Apple) in third place.
"I'd say it was a very good day for Team Type 1," said Powers. She showcased her leader's jersey in the final laps in front of her sponsor Tony Karklins, who is the managing director Orbea-USA. The bike company is based in Little Rock, Arkansas.
She captured the overall title with a healthy 19 seconds to spare ahead of runner up Katheryn Mattis (Webcor-Builder) and 24 seconds ahead of third placed Katharine Carroll (Team TIBCO). Croset moved into fourth place in the overall by virtue of a five-second time bonus for her third place in the stage and time gaps enforced on the steep hill at the finish line.
(Additional editorial assistance from Susan Westemeyer)
(All rights reserved/Copyright Future Publishing (Overseas) Limited 2009)