Latest Cycling News, February 3, 2009
Edited by Bjorn Haake
Tour of California field announced
Levi Leipheimer wants to add a third overall victory to his track record in California.
Photo ©: Mitch Clinton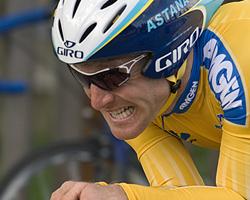 The organisers of the Tour of California have announced a star-studded line-up for 2009. The illustrious field includes two Tour de France champions, Lance Armstrong and Carlos Sastre, and former Giro d'Italia winner Ivan Basso. There are also 11 World Champions, 17 Tour de France stage winners and 25 current and former national champion amongst the peloton.
Thanks to the return of Floyd Landis, the winners of the first three editions will start (Landis and Levi Leipheimer). Climbing sensation Robert Gesink, a regular at the race, and winner of the young rider classification for the past two years, will also race.
There are also several riders who have won distinct jerseys in the past. Two of the three previous mountains jerseys will attend (Levi Leipheimer and Scott Nydam). The same is true for the sprinter's jersey (Juan José Haedo and Dominique Rollin).
Haedo has won the most stages (five), closely followed by Leipheimer (four) and George Hincapie (three). Leipheimer has spent the most days in gold (15), triple that of Landis (five). The only other gold wearers are Cancellara, Hincapie and Tyler Farrar, all of whom will line up in 2009.
The start list of the 2009 peloton is on the Tour of California page.
Boonen's cocaine case ends
A court in Turnhout, Belgium, has ruled that although Tom Boonen used cocaine, the Quick Step rider will face no further punishment.
The sprinter, who is currently riding the Tour of Qatar, tested positive for the drug in an out-of-competition control last spring. The use of cocaine outside of competition is not a sporting violation. It was later claimed that tests showed that he had used cocaine "often" over a period of months and also that he had taken the drug ecstasy.
After testing positive for cocaine, Boonen was excluded from the Tour de Suisse and the Tour de France, which the court found to be adequate punishment.
The sprinter is still prohibited from using psychoactive and narcotic substances and must pay court costs.(SW)
Henderson shelters Cavendish from Qatar winds
By Gregor Brown in Doha, Qatar
Greg Henderson will launch sprints for Mark Cavendish
Photo ©: Jon Devich

Greg Henderson will lead out multiple Tour de France stage winner Mark Cavendish in the Tour of Qatar this week.
The New Zealander's job will be tough, with cross-winds set to scatter the field.
"The first objective is to get many teammates in the lead-out train. If we are going well we can get three or four guys in the front, and the odds are pretty good if we have that many. However, so many things can happen in conditions like this," Henderson said to Cyclingnews.
The Tour of Qatar's first road stage saw the field splinter in to several groups. Cavendish led home the second group behind the front move of 14 men. Henderson finished in the third group.
There are four flat stages left in the Tour of Qatar, February 1 to 6. All of the stages should suit the sprinters.
"If Cavendish gets to the finish with the leaders he is the fastest, but so much can happen before the final few meters."
The last time Henderson raced with Cavendish was in the June's Ster Elektrotoer. He helped his captain win the Scheldeprijs Vlaanderen in April. Henderson won two stages for himself in the 2008 Tour of Georgia.
Haedo brothers hope to be the fastest in California
By Kirsten Robbins in California
Juan José Haedo with his father Juan Carlos
Photo ©: Kirsten Robbins

Saxo Bank sprinter Juan José 'JJ' Haedo and his younger brother Sebastian (Colavita-Sutter Home) will cross swords for the second time this year at the Tour of California, set to begin in Sacramento on February 14.
Each went home with a stage victory in the season opening Tour of San Luis last week. JJ won the final stage while Sebastian took stage two and the overall best sprinter competition.
"I feel good about the Tour of California this year," said JJ Haedo. He is undefeated on the streets of Santa Rosa, the stage one finish. "The Tour of California is a very big race for our team. If you look at the line-up, I don't think you can get much better than that."
He joined the ProTour ranks in 2006 after signing a two-year contract with CSC, now Saxo Bank. He was picked out after his double stage victories at the Tour of California that season – a step that his younger brother hopes to make, too. "My dream of being a pro is real now," said Sebastian Haedo.
He joined the American ranks in 2008 with hopes of turning heads at the Tour of California but his New Jersey based team was not invited last year. "It is still my dream to be a pro in Europe and race with my brother – that is my real dream."
He added that his preparations for the Tour of California started in November. Being the younger brother of a well-known sprinter adds to his motivation for success in this year's event. "My main goal is to win a stage," said Haedo.
He will need to contain world-class sprinters like his brother to do so. "But, I am JJ's first fan. He has the potential to be the best in the world. I feel motivation, not pressure for being his brother.
"I have grown up with a well known last name in cycling because of our father. He was a very good cyclist in Argentina. Several times he was the road and points race champion. One year our father's team won 76 of 77 races."
Juan Carlos, a 1984 Olympian, handed the sport down to his sons at early ages. Both boys left home to pursue a cycling career in their early twenties. JJ went to the US-based team Colavita and Sebastian headed to the Spain-based team Diputacion de Leon.
They hope to join forces on the same team in the future. "Our father raced for so many years and in our family there is a tradition with cycling," said Sebastian Haedo. " But the most important thing is that my family supports us to do what ever we want. If it is cycling, a lot better, but if not they just want to see us happy with what we do."
Columbia to meet school children in Solvang
Columbia-Highroad will participate in a "Ride-By" visit at the school in Solvang, California, on February 9. School kids from grade four to grade six will get a chance to meet the professional cyclists as they ride up to the school yard. The event is part of the educational curriculum of the Amgen Tour of California.
A specially developed classroom curriculum has been distributed to fourth through sixth-grade instructors and students in the 16 California "host" cities selected for the race. A free English and Spanish booklet given to students provides information about the state of California, including targeted lesson plans that use cycling to teach math, science and geography.
The event comes close to the end of the team's training camp in the Solvang area. Solvang will once again host the time trial in the Tour of California, on February 20.
Albert considers 2016 Olympics
New World Cyclo-cross Champion Niels Albert will consider riding the mountain bike events at the 2016 Olympic Games. In the meantime though, he said he has only just begun to realise what he accomplished on Sunday.
As for mountain biking: "It is not something I can see myself doing immediately," he told hln.be. "The London Olympics (2012) come too early, but the Games of 2016 offer me a possible goal."
On Wednesday he will ride the 'cross in Maldegem. On Thursday, he turns 23 and "I could not have dreamed of a more beautiful birthday present."(SW)
CSF Group-Navigare with busy season opening
The place where CSF holds its camp
Photo ©: CSF Navigare

CSF Group-Navigare training camp starts today and runs through February 15. The team's camp is being held at the Tenuta Il Cicalino in Massa Marittima (Grosseto). The last three days of the camp include the participation at the Giro della Provincia di Grosseto.
Not all riders will attend the whole camp, as some open the season on February 7, at the GP Costa degli Etruschi in Donoratico. Another part of the team heads to Malaysia, for the Tour de Langkawi (February 9-15).
Directeur Sportif Roberto Reverberi was hopeful the Langkawi team could once again do well. "For the sprints we have Ruben Bongiorno, who already rode in Argentina with his national team and gained a second place in a stage, and for the overall we have [Domenico] Pozzovivo and [Fortunato] Baliani, if their form will be good to stay with the best riders along the 'Genting Highlands'."
Tiziano Dall'Antonia, Federico Canuti and neo-pro Alan Marangoni will be free to go into breakaways.
Rabobank's Nuyens has a son
Nick Nuyens of Rabobank became a father Tuesday morning. His wife, Evy Van Damme, a former rider, gave birth to the couple's first child, a son named Sterre. Mother and child are both well.
Nuyens left the Tour of Qatar before the first stage to be able to attend the birth, which was some two weeks overdue.(SW)
Queensland teenager claims world record at Australian Championships
Michael Hepburn set a new world record
Photo ©: Shane Goss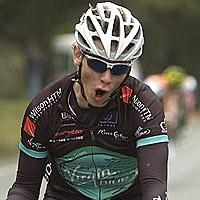 Michael Hepburn, a 17-year-old Brisbane cyclist, set a new world record of 3:16.385 in the 3,000m pursuit qualifiers at the Australian Track Cycling Championships in Adelaide's Superdrome.
Hepburn clipped two tenths of a second off the previous record, 3:16.589sec, which was set by American Taylor Phinney last June in Los Angeles.
Despite knowing his form was good, Hepburn was a bit surprised. "I knew I would go quick, but I didn't think I would go that quick. I thought I would go around the 3:18 mark," said Hepburn. His coach had him on a schedule for 3:18 ride. "The last kilometre I had a bit left in the tank and I lifted it above the schedule, so I am pretty happy with that."
In the qualifying ride Hepburn was on the track at the same time as South Australian Dale Parker who had been touted as the rider to watch, having come agonisingly close to the World Record time at the Australian Youth Olympic Festival last month. Parker's 3:19.544sec was the fourth fastest time in the round and put him in the ride-off for bronze against Tasmanian Peter Loft who rode 3:19.374sec.
Hepburn admitted lining up against Parker was a little daunting. "I did feel the pressure because there were many guys saying how fast he is and how fast he was going to go today but I knew I would be able to give it a good run," said Hepburn.
Hepburn switched from triathlon to cycling three years ago and last year represented Australia on the road at the Junior World Championships. He rides on the road with the Fly V-Australia team but in his second season on the track he has set his sights on representing Australia in the individual pursuit at the Junior World Track Championships in Moscow in August.
"It was a great experience last year at the road [World Championships] but I am hoping to go for the track this year for something different," said Hepburn.
In the final Hepburn will face West Durbridge, who qualified for the gold medal ride with his time of 3:19.184sec, a personal best time for him.
Cyclists face stiffer fines on German roads
New traffic laws and penalties took effect in Germany on February 1, and some of those changes affect cyclists, who now face higher fines if they violate traffic laws.
The main change concerns disobeying a red light. Cyclist who run a red will now face fines of 45 to 180 euro, instead of 25 to 100 euro previously. The biggest change concerns riding through a closed train crossing. Those violators will be fined 350 euro.(SW)
(Additional editorial assistance by Susan Westemeyer)
(All rights reserved/Copyright Future Publishing (Overseas) Limited 2009)