First Edition Cycling News, February 3, 2009
Edited by Greg Johnson and Les Clarke
Sastre heads to California with Giro in mind
By Shane Stokes
Spain's Carlos Sastre was in a relaxed mood,
Photo ©: Shane Stokes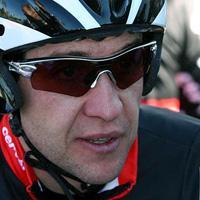 Temporarily delayed due to bad weather in Madrid, Carlos Sastre is heading to the US to meet up with his Cervélo team-mates and prepare for the Tour of California. February 14 will see the Tour de France champion begin his first race of the season, after which he will ride the Vuelta Castilla y León in March, then the Vuelta a Pais Vasco, Liège-Bastogne-Liège and Flèche Wallonne in April.
Sastre will line out alongside his former teammate Ivan Basso (Liquigas) and Lance Armstrong (Astana) in the American event, and will later join them in what will be a strong lineup for the Tour of Italy.
He said that being at a good level in this race is his first target of the year. "My goal is to be ready for the Giro. To be ready for the Tour. And to be ready for the Worlds," he told Cyclingnews. "If I am ready for it, I will aim for the overall classification in the Giro. The Tour too, of course. And the world championship is on a more difficult course this year. It is possible that a small break can go, maybe it is possible for me to finish higher than ever in that race."
This year's Tour de France will be very different to that of 2008, due to the expected participation of the Astana team. Not invited last summer, the Kazakh-sponsored squad will most likely be led by Alberto Contador, Levi Leipheimer, Andreas Klöden and Armstrong.
It's hard to say if Sastre personally agrees with the American's return or not; his answer is brief, to the point. "It is his decision," he said. "It is good for the media because the media is talking about cycling because of him. But nothing more."
"It won't change the way I will ride the Tour this year," he added. "I will focus on myself and my team. We have the number one through to nine [race numbers], and they have to try to take it from us, if they want."
Should things follow the pattern of recent years, the third week of the race should see him hit his best form. "That is how I am…that is one of my characteristics," he said of his ability to grow stronger as a Grand Tour progresses. "But it is also because I have enough experience to know what I have to do to do to arrive at the Tour de France in my best condition. All these things together, plus knowing the race as I now do, helps me to take decisions and to grow in strength during those three weeks."
Cyclingnews will have a complete interview with reigning Tour de France champion Carlos Sastre later today.
Hammond continues British success in Qatar
By Gregor Brown in Al Kor, Qatar
Roger Hammond solos to victory
Photo ©: Roberto Bettini

Roger Hammond (Cervélo Test Team) put in a powerful move at the end of the Tour of Qatar's Stage 2 to polish off the strong work of his team with a victory. His effort ensured the win in Al Khor Corniche and the leader's golden jersey.
The move left a Briton in control of the overall classification for the second day, after Bradley Wiggins won the team time trial with his Garmin-Slipstream teammates.
"There are Brits everywhere; not in cyclo-cross, but we need to work on that," he said. "Ten or twelve years ago, they were getting really slatted for concentrating on the track. I think it is working and that riders are coming through. I just wish that system had been around for me 15 years go, but I am glad for the young guys."
Hammond made the winning move of 14 men in Monday's 134-kilometre stage from Khalifa Stadium to Al Khor Corniche. Team Cervélo had to take control of the finale since it had six men in the move. Another British rider, Daniel Lloyd, started the attacks that led to the winning attack of Hammond at 2.8 kilometres remaining.
"I am really happy with Lloyd," said Hammond. "It was his first race in a big team. In a big race like this, to make the front group with twelve guys, I wonder what he was thinking when he was looking around seeing the rest of the riders in that group.
"He should be really happy with himself," he added. "He did a great job for the team today. It is nice to see another Brit come through and step up."
The group also included a trio of fast guys - Tom Boonen, Danilo Napolitano and Angelo Furlan.
Strong winds almost destroyed Hammond's move. He held only one second over Napolitano at the finish line, but won his first race on the road since the 2006 Tour of Britain stage two.
"Did I look back? A couple of times because I felt like I had stopped," he said. "I looked back just to make sure I was still going forward!"
Hammond turned professional in 2001 with Collstrop-Palmans. He made a breakthrough in 2004 with a podium spot in the one-day Classic Paris-Roubaix, before spending two years with Discovery Channel and two with T-Mobile/Columbia.
"Last year I had a really bad winter, but this year the winter was much more consistent," he said. "I had consistent training and my wife looked after me pretty well. [The win] is a nice confirmation that things are on the right track."
Hammond moved into the overall classification lead by six seconds over Boonen, thanks to the bonus seconds awarded for the win. The next four days are flat, but with bonus seconds and windy stages, anything can happen before the final overall win is decided.
"It is going to be very difficult to win the overall here," he said. "It is a seconds game. I have won a stage, I am leading now and that is nice. We have six riders in the front; it would not surprise me if one of our guys took a flyer and took a jersey by winning the stage."
Cervélo's Heinrich Haussler is in third overall, seven second behind Hammond. Teammate Andreas Klier is 11 seconds back.
The Tour of Qatar, February 1 to 6, continues with a 137.5 kilometre stage to the Doha Golf Club tomorrow.
Davis lays out schedule, targets
By Shane Stokes
Allan Davis (Quick Step)
Photo ©: Mark Gunter

Morale boosted by his dominant win in the Tour Down Under, Allan Davis (Quick Step) is back in Spain and honing his form prior to Milano-Sanremo. He is likely to resume racing in the Giro della Provincia di Grosseto, running from February 13 - 15, then ride the Tour du Haut Var and Tirreno-Adriatico.
The initial part of his season is based around targeting selected one day events. "The first objective for me is Milano-Sanremo," he said. "Then I have got some other objectives that I haven't done in the past, but that I'd like to concentrate on for the rest of my career. The Amstel Gold race, for one, and Flèche Wallonne. As I get older, I think I'm more suited to that race as well."
After that, his focus will turn to the three-week races. "I am also definitely down for the Giro so I will be looking for a stage win there," he said. "Then we will see what happens for the Tour. Bearing in mind that Tom Boonen is in the team as well, I'll be giving 100 percent for him when we are in races together. But I might get my chance somewhere."
Davis ruled out aiming for a win in the UCI Road World Championships this year. He said that he expects the course to be too tough for him, but that he'd be happy to ride for fellow Australians Cadel Evans and Michael Rogers.
Tour de Nez still partying in 2009
By Mark Zalewski, North American Editor
Despite the recent announcements of a few North American UCI and NRC races canceling or postponing for 2009, there is still good news for American race fans. The long-running Tour de Nez, located in the Reno and Lake Tahoe areas on the Nevada-California border, is back again from June 16-21 and is focusing more on its roots - a party that launched a bike race.
The 2008 edition was a rebirth of sorts that consisted of huge growth - from a downsized pair of criteriums in 2007 into a four-stage omnium that featured two challenging road races at the Northstar ski resort. But for 2009, the race wants to refocus itself to bring out the social aspect that made it popular over the years.
"The whole point in 2009 is to recreate the whole party aspect of Nez that seemed to slip a little with the growth last year," race director Tim Helion told Cyclingnews.
The two main changes are the return to well-known downtown Reno criterium, which was moved to a casino last year -- and the elimination of the larger road race around the Northstar resort, which while epic, posed road closure challenges that Healion said are being addressed. Still Northstar will be featured as the finale, with the circuit course that rides right through the middle of the resort village.
The change of the Reno criterium away from the downtown in 2008 was significant, and the city's higher-ups realized the event's worth when it was gone. "The City of Reno stepped up and demanded that we bring it back to the downtown course," said Healion. "It is the epic legendary Tour de Nez single day course; ten turns [with] a chicane, down on the river [with] short steep hills."
But of course the main focus are the parties that encompass the racing, which according to Healion, will culminate on the final day at the Northstar resort. "[A] big party in Truckee, big party in downtown Reno, and a big party at the grand finale at Northstar!"
Boonen impressed with Cervélo's Qatar performance
By Gregor Brown in Al Khor, Qatar
Tom Boonen (Quick Step) speaks to the media.
Photo ©: Roberto Bettini

Tom Boonen (Quick Step) was impressed with what the Cervélo Test Team did to produce the win and overall lead for Roger Hammond in stage two of the Tour of Qatar Monday in Al Khor.
"It is a really strong team," said Boonen. "They were not afraid to race into their hands, they earned it."
Hammond and Boonen made the winning move of 14 men in Monday's 134-kilometre stage from Doha's Khalifa Stadium to Al Khor's Corniche. Boonen had two teammates - Steven De Jongh and Kevin Hulsmans - but Cervélo managed to put a total of six of its eight men in the escape.
The Swiss team had to take control of the finale since it had the numbers and faced arguably stronger sprint finishers in Boonen, Angelo Furlan (Lampre-NGC) and Danilo Napolitano (Katusha). Boonen has won 14 Tour of Qatar stages in the race's eight-year history.
"They had six guys and it was only me and Steven [De Jongh] left. Everyone was watching us; no one is going to give me a free ride to the finish line. It was really difficult."
Cervélo's Daniel Lloyd and then Gabriel Rasch attacked. Hammond countered their moves with his own at 2.8 km out from the finish line. Boonen chased the Briton to try for the win but also to limit the time difference in the overall standings.
Boonen won the race in 2006 and 2008, and he would like to add an historic third overall victory.
"I tried to catch Roger for the victory; he gave it his all. He was only five or six seconds ahead. I knew it was too soon to win the sprint, but now we are at least in the race."
Italy's Napolitano of Team Katusha won the sprint for second. Hammond's teammate Heinrich Haussler took third over Boonen's fourth. They were all one second back from the day's winner Hammond.
Hammond claimed the overall leader's gold jersey with six seconds over Boonen thanks to the bonus seconds awarded for the win.
Madiot: Gilbert departure won't hurt FdJ
Marc Madiot
Photo ©: AFP

After the departure of Philippe Gilbert to Silence-Lotto, Française des Jeux will start this season without a clear leader. This became apparent during the team's presentation in Paris on Monday, but team manager Marc Madiot believes this hasn't weakened his squad, despite its roster now boasting only 23 riders.
"I do not think that the departure of Gilbert has weakened us," Madiot told Sporza.be. "Whoever works in any way, they'll be the leader of our team."
Madiot hopes that Matthieu Ladagnous and Gianni Meersman can take over Gilbert's role as protagonists in some of the season's major races, although Gilbert's absence is still a big gap to fill.
The squad has the lowest average age of any in the ProTour, and just as Madiot helped develop Gilbert he hopes the likes of Anthony Geslin, in addition to Meersman and Ladagnous, can benefit from riding with experienced hands such as Sandy Casar and Frédéric Guesdon, both of whom are continuing with the team in 2009.
Marrone calls for calm on Giro invites
The announcement by Giro d'Italia organiser RCS of the first 20 teams to be invited to its showcase event has left some Italian teams under pressure from fans. ProTour squads Cofidis, Euskaltel-Euskadi, Française des Jeux and Fuji-Servetto have not received an invitation, nor has Italian Professional Continental outfit Ceramica Flaminia-Bossini Docce.
Ceramica Flaminia-Bossini Docce manager Roberto Marrone has called for patience from supporters, however. The absence of his team means that the Italian national champion's jersey, worn this season by Filippo Simeoni, will be missing from the roads of Italy in May, something that has caused unrest amongst fans.
"I'm sorry for what is happening following the failure to announce that one of the first teams at the Centenary Giro was Flaminia Bossini," said Marrone in a statement. "I understand that the jersey of the Italian champion underlines the patronage of all the fans, but I would urge everyone to be calm and wait confidently for the final list of starters.
"The last two teams to be invited to the Giro or those that will ride Tirreno-Adriatico and Milano-Sanremo have not yet been disclosed," he continued. "We are convinced to have all the ethical requirements, plus technical, historical and financial institutions to be selected. We expect a positive decision, and invite our fans and supporters to do likewise."
Aussie women needed for Kiwi race
Five Australian women's riders are required for this month's Tour of New Zealand and One Day International Cycling Cup, in New Zealand. The event's organiser has five positions open, with entry fee expenses already covered by a sponsor, for Australian women who can get themselves to the land of the long white cloud.
Meals, accommodation and team uniforms will also be provided by the organizers.
The racing starts on February 25 and runs through to March 1. Any interested women should contact race organiser Jorge Sandoval at: jorge@ihug.co.nz
(All rights reserved/Copyright Future Publishing (Overseas) Limited 2009)