Tour de Nez - NE
Nevada, USA, June 18-21, 2008
Main Page Results Overall standings Previous Stage Next Stage
Stage 5 - June 21: Northstar at Tahoe Circuit Race, 60 minutes
Olson rides team to overall Nez win
By Mark Zalewski, North American Editor outside Truckee, California
Kilun doubles his stage wins
Roman Kilun (Health Net-Maxxis) wins another.
Photo ©: Mark Zalewski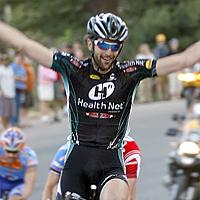 Only 59 riders survived Friday's epic road stage, an up and down leg-ripper at the Northstar Resort near Lake Tahoe. Yet the final stage of the Tour de Nez still saw the top of the overall classification stacked tightly, making for an exciting finish. The parcours also played a key role. Gone was the long but steady climbing - in its place were multiple hard power climbs and a lot of technical turning, as the 3.1km loop rolled over a long section of pave in the resort's village.
Race leader Andy Bajadali (Kelly Benefits Strategies-Medifast) was holding onto a single digit lead with only three team-mates left to defend. Unfortunately, that was his undoing as a well-stocked Bissell squad was able to put Aaron Olson up the road in a break to eliminate his 24 second deficit to take the overall win, while Roman Kilun (Health Net-Maxxis) jumped Olson for his second stage win.
"Once Aaron and his team-mates bridged across it was hard!" stage winner Kilun told Cyclingnews. "Those guys were going for broke and we had been out for like ten laps. So for a little while it was just trying to stay with them!"
"[Jon] Baker (Vitamin Cottage) attacked with one to go and he got away but we caught him on the descent. Then Olson just went all out through the village. I stayed on his wheel, then all the way up the climb he just went harder and harder. I kept saying, 'If I can hold his wheel I'm going to win the race! If I can hold his wheel I'm going to win the race!' We came around the top and hit the downhill and that's when I went."
Kilun and Baker was the order in the Truckee crit, but almost was reversed today. "I thought I had a good gap, so I posted it but I saw Baker throwing his bike and I got a bit nervous!" But a strong ride by Ben Raby (SRAM Corp) netted him second on the day.
"We were trying to get one of the guys up the road and then have either Burke or me bridge across," said Olson regarding the team's strategy. "But it was hard to change from the rhythm of yesterday to the speed you needed today. Graham Howard has been riding awesome, he went up and then Tom Zirbel came across. I came across last and they just kept the pressure on. I think Bajadali just ran out of team-mates because it is such a difficult course with all the undulations."
Hugs all around for a team effort.
Photo ©: Mark Zalewski

With Olson in the break, Bissell pushed its advantage which was aided by Bajadali's team-mate Alex Candelario flatting. "It's a numbers game, but really frustrating because I felt like I was one of the strongest guys out there," Bajadali said. "My team rode amazing with Dan as the man today. We had a bit of bad luck with Candelario flatting early on, it set us back and we had to wait and regroup. We needed his motor, but we also needed three more guys."
"I really wanted to pull the win off but they had the numbers and in the end it was me pulling," Bajadali continued. "The other teams looked to us but we had three guys. BMC chased with two to go and we needed them with ten to go - maybe it was a little inexperience but you have to go for the win, no matter what. I had some help from Brad White (Successful Living) trying to set up Escuela for the stage win, but I really appreciated the help."
Despite losing the overall, team-mate Dan Bowman kept his KOM jersey he earned in yesterday's road stage - though he was clearly disappointed on the day. "I wasn't really planning on [the KOM] but I thought I might as well go for it," he said about yesterday's stage. "I guess it is a consolation.²
Yesterday¹s impressive ride netted Eric Wohlberg (Symmetrics) the final point's jersey.
A gentleman in victory and defeat, Bajadali tipped his hat to Olson and Bissell. "I knew it was going to be tough but you really need a full team here - Bissell had a full team and you need that with a stage this tough. But Aaron did a full block of racing as well, Philly week and everything, so my hats off to him - he rode a really smart, tactical race with his team."
For Olson, this overall victory is few and far between compared to stage wins. "I won Valley of the Sun quite a few years ago," he laughed, having to think about it. "It's mostly stage wins for me. I was really hoping for a stage win or Burke to win the overall. After yesterday's disappointment I was just happy to be up there - I just couldn't hang with Wohlberg. So I had to give it a go today. Team Bissell just rode awesome today, and I give 100 percent of the credit to them."
Bamburger takes first women's Nez
Sarah Bamburger (Cheerwine)
Photo ©: Mark Zalewski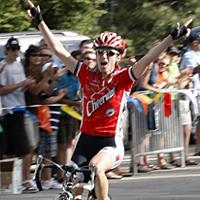 Despite a major NRC race taking place in Austin, Texas, drawing all of the women's teams for NRC points, a small but strong women's field made the trip to Lake Tahoe for the first-ever women's race of the Tour de Nez. The women did half the distance of the men on the tough 3.1-kilometre circuit course through the Village at Northstar Resort. Coming out on top was Sarah Bamburger (Cheerwine), making a smart move around the final climb to out-last Amber Rais (TIBCO).
"I went before the turn on the uphill because I can't out-sprint anyone, especially on a downhill," Bamburger told Cyclingnews. "I was already sitting down half-way down [the finish] because I was already dead! But I had enough of a gap to hold it. Even though it was a small field, the talent around northern California is huge. It felt like a mini NRC race!"
Rais agreed that the size of the field did not matter due to its quality. "The strategy doesn't change much, it's just cross the line first!" she said. "Sarah led it through the last corner and I was on Betina's wheel – we balked for a second and Sarah just went hard up the left. I should have jumped on Sarah's wheel but I stayed on Betina's."
She also was excited that Nez had a women's category this year, and hopes that it will continue here at Northstar. "It was an awesome course and I couldn't think of a better venue that up here at Northstar. It was a great course and very technical. The crowds made it a lot of fun, too."
Photography
For a thumbnail gallery of these images, click here
Images by Mark Zalewski/Cyclingnews.com
Results
1 Roman Kilun (Health Net p/b Maxxis)                               1.37.00
2 Jonathan Baker (Vitamin Cottage P/B XP Companies)                        
3 Ben Raby (SRAM Corp)                                                 0.01
4 Adam Livingston (Team 5 Star Waste Vegetable Oil)                        
5 Aaron Olson (Bissell Pro Cycling Team)                                   
6 Paul Mach (ZteaM Cycling)                                                
7 Steven Cozza (Slipstream Chipotle)                                       
8 Ricardo Escuela (Successful Living.com P/B Parkpre)                  0.30
9 Scott Nydam (BMC Pro Cycling Team)                                   0.38
10 Andrew Bajadali (Kelly Benefit Strategies/Medifast)                     
11 Burke Swindlehurst (Bissell Pro Cycling Team)                           
12 Eric Wohlberg (Symmetrics)                                          0.39
13 Roman Van Uden (Team Rubicon-ORBEA)                                 0.40
14 Matthew Cooke (Health Net p/b Maxxis)                                   
15 Carson Miller (Team Rubicon-ORBEA)                                      
16 Corey Collier (Health Net p/b Maxxis)                               0.41
17 Bradley White (Successful Living.com P/B Parkpre)                       
18 Karl Bordine (Team 5 Star Waste Vegetable)                          0.43
19 Jackson Stewart (BMC Pro Cycling Team)                              0.49
20 Andy Jacques-Maynes (California Giant Berry Farms/ Specialized)     0.52
21 Eddy Kwon (Mob Cyclery Racing/RMCEF)                                0.56
22 Matthew Seagrave (Kahala-LaGrange)                                  1.03
23 James Mattis (California Giant Berry Farms/ Specialized)            1.13
24 Ian Mckissick (BMC Pro Cycling Team)                                1.36
25 Tom Zirbel (Bissell Pro Cycling Team)                               3.00
26 Graham Howard (Bissell Pro Cycling Team)                            3.33
27 Adam Switters (Rock Racing)                                         3.50
28 Justin England (Toyota-United)                                      4.55
29 Dirk Friel (Vitamin Cottage P/B XP Companies)                       5.35
30 John Hunt (California Giant Berry Farms/ Specialized)               7.04
31 Nathaniel Deibler (Team 5 Star Waste Vegetable Oil)                     
32 Justin Kerr (Liquid Fitness)                                        8.00
33 Ian Holt (US Armed Forces)                                          9.44
34 Joshua Bartlett (Team Rubicon-ORBEA)                                    
35 Chris Swan (ZteaM Cycling)                                          9.51
36 Christian Kearney (ZteaM Cycling)                                       
37 Andy Bestwick (Allegiant Air/Pain Team)                                 
38 Joseph Pinkerton (Vitamin Cottage P/B XP Companies)                     
39 Chris Winn (RMCEF Racing / MOB Cyclery)                                 
40 James Gunn-Wilkinson (Team 5 Star Waste Vegetable Oil)                  
41 Devon Vigus (California Giant Berry Farms/ Specialized)             9.52
42 Chuck Coyle (Successful Living.com P/B Parkpre)                     9.55
43 Ben Bradshaw (Kahala-LaGrange)                                          
44 Omer Kem (Bissell Pro Cycling Team)                                     
45 Daniel Bowman (Kelly Benefit Strategies/Medifast)                       
46 Andres Gil (Pacific State Bank Cycling Team)                       10.35
47 Kris Koke (Liquid Fitness)                                              
48 Tim Srenaski (Tokyo Joe's Cycling Team)                            15.03
49 Dylan Clark (BPG/Montano Velo)                                     20.00
 
  Riders dropping out                                                      
 Alex Candelario (Kelly Benefit Strategies/Medifast)                       
 Brian Buchholz (Kelly Benefit Strategies/Medifast)                        
 Jesse Moore (California Giant Berry Farms/ Specialized)                   
 Randy Reichardt (Vitamin Cottage P/B XP Companies)                        
 Victor Ayala (Kahala-LaGrange)                                            
 Josh Horowitz (Liquid Fitness)                                            
 Eric Bennett (Successful Living Pro Cycling Team)                         
 Timothy Farnham (Team Norcal Bike Sport)                                  
 
Sprints
 
Sprint 1
1 Ben Raby (SRAM Corp)                                                    3 pts
2 Paul Mach (ZteaM Cycling)                                               2
3 Graham Howard (Bissell Pro Cycling Team)                                1
 
Sprint 2
1 Roman Kilun (Health Net p/b Maxxis)                                     3 pts
2 Paul Mach (ZteaM Cycling)                                               2
3 Jonathan Baker (Vitamin Cottage P/B XP Companies)                       1
 
Mountains
 
Mountains 1
1 Daniel Bowman (Kelly Benefit Strategies/Medifast)                       7 pts
2 Matthew Cooke (Health Net p/b Maxxis)                                   5
3 Scott Nydam (BMC Pro Cycling Team)                                      3
4 Paul Mach (ZteaM Cycling)                                               2
5 Burke Swindlehurst (Bissell Pro Cycling Team)                           1
 
Mountains 2
1 Daniel Bowman (Kelly Benefit Strategies/Medifast)                       7 pts
2 Tom Zirbel (Bissell Pro Cycling Team)                                   5
3 Ricardo Escuela (Successful Living.com P/B Parkpre)                     3
4 Matthew Cooke (Health Net p/b Maxxis)                                   2
5 Paul Mach (ZteaM Cycling)                                               1
 
Mountains 3
1 Daniel Bowman (Kelly Benefit Strategies/Medifast)                       7 pts
2 Tom Zirbel (Bissell Pro Cycling Team)                                   5
3 Aaron Olson (Bissell Pro Cycling Team)                                  3
4 Eric Wohlberg (Symmetrics)                                              2
5 Justin England (Toyota-United)                                          1
 
Mountains 4
1 Daniel Bowman (Kelly Benefit Strategies/Medifast)                       7 pts
2 Eric Wohlberg (Symmetrics)                                              5
3 Aaron Olson (Bissell Pro Cycling Team)                                  3
4 Scott Nydam (BMC Pro Cycling Team)                                      2
5 Corey Collier (Health Net p/b Maxxis)                                   1
 
Final General classification
 
1 Aaron Olson (Bissell Pro Cycling Team)                            7.04.42
2 Andrew Bajadali (Kelly Benefit Strategies/Medifast)                  0.13
3 Scott Nydam (BMC Pro Cycling Team)                                   0.17
4 Eric Wohlberg (Symmetrics)                                           0.19
5 Burke Swindlehurst (Bissell Pro Cycling Team)                        0.31
6 Matthew Cooke (Health Net p/b Maxxis)                                0.42
7 Bradley White (Successful Living.com P/B Parkpre)                    0.59
8 Paul Mach (ZteaM Cycling)                                            1.59
9 Corey Collier (Health Net p/b Maxxis)                                2.12
10 Steven Cozza (Slipstream Chipotle)                                  2.52
11 Andy Jacques-Maynes (California Giant Berry Farms/ Specialized)     4.04
12 Jonathan Baker (Vitamin Cottage P/B XP Companies)                   7.09
13 Justin England (Toyota-United)                                      9.08
14 James Mattis (California Giant Berry Farms/ Specialized)            9.34
15 Roman Kilun (Health Net p/b Maxxis)                                12.20
16 Ricardo Escuela (Successful Living.com P/B Parkpre)                12.33
17 Carson Miller (Team Rubicon-ORBEA)                                 14.30
18 Roman Van Uden (Team Rubicon-ORBEA)                                14.38
19 Tom Zirbel (Bissell Pro Cycling Team)                              15.50
20 Daniel Bowman (Kelly Benefit Strategies/Medifast)                  15.53
21 Jackson Stewart (BMC Pro Cycling Team)                             17.58
22 Adam Livingston (Team 5 Star Waste Vegetable Oil)                  18.54
23 John Hunt (California Giant Berry Farms/ Specialized)              22.06
24 Ian Holt (US Armed Forces)                                         22.56
25 Ben Raby (SRAM Corp)                                               23.54
26 Karl Bordine (Team 5 Star Waste Vegetable)                         23.56
27 Adam Switters (Rock Racing)                                        24.18
28 Dirk Friel (Vitamin Cottage P/B XP Companies)                      25.00
29 Ben Bradshaw (Kahala-LaGrange)                                     25.18
30 Nathaniel Deibler (Team 5 Star Waste Vegetable Oil)                26.00
31 Christian Kearney (ZteaM Cycling)                                  26.10
32 Andres Gil (Pacific State Bank Cycling Team)                       26.14
33 Eddy Kwon (Mob Cyclery Racing/RMCEF)                               29.20
34 Graham Howard (Bissell Pro Cycling Team)                           29.36
35 Devon Vigus (California Giant Berry Farms/ Specialized)            31.13
36 James Gunn-Wilkinson (Team 5 Star Waste Vegetable Oil)             32.12
37 Matthew Seagrave (Kahala-LaGrange)                                 33.25
38 Omer Kem (Bissell Pro Cycling Team)                                33.37
39 Justin Kerr (Liquid Fitness)                                       38.00
40 Andy Bestwick (Allegiant Air/Pain Team)                            39.29
41 Chris Swan (ZteaM Cycling)                                         39.43
42 Ian Mckissick (BMC Pro Cycling Team)                               40.29
43 Joshua Bartlett (Team Rubicon-ORBEA)                               41.44
44 Joseph Pinkerton (Vitamin Cottage P/B XP Companies)                45.56
45 Chris Winn (RMCEF Racing / MOB Cyclery)                            47.20
46 Kris Koke (Liquid Fitness)                                         50.59
47 Tim Srenaski (Tokyo Joe's Cycling Team)                            58.23
48 Dylan Clark (BPG/Montano Velo)                                     58.29
49 Chuck Coyle (Successful Living.com P/B Parkpre)                  1.02.51
 
Sprint classification
 
1 Roman Kilun (Health Net p/b Maxxis)                                    40 pts
2 Jonathan Baker (Vitamin Cottage P/B XP Companies)                      26
3 Eric Wohlberg (Symmetrics)                                             25
4 Andrew Bajadali (Kelly Benefit Strategies/Medifast)                    24
5 Ricardo Escuela (Successful Living.com P/B Parkpre)                    23
6 Aaron Olson (Bissell Pro Cycling Team)                                 17
7 Ben Raby (SRAM Corp)                                                   13
8 Justin England (Toyota-United)                                         13
9 Scott Nydam (BMC Pro Cycling Team)                                     12
10 Paul Mach (ZteaM Cycling)                                             11
11 Ian Mckissick (BMC Pro Cycling Team)                                  11
12 Matthew Cooke (Health Net p/b Maxxis)                                 10
13 Steven Cozza (Slipstream Chipotle)                                     9
14 Bradley White (Successful Living.com P/B Parkpre)                      9
15 Burke Swindlehurst (Bissell Pro Cycling Team)                          8
16 Adam Livingston (Team 5 Star Waste Vegetable Oil)                      8
17 Corey Collier (Health Net p/b Maxxis)                                  6
18 Jackson Stewart (BMC Pro Cycling Team)                                 4
19 Roman Van Uden (Team Rubicon-ORBEA)                                    4
20 Dirk Friel (Vitamin Cottage P/B XP Companies)                          2
21 Graham Howard (Bissell Pro Cycling Team)                               1
 
Mountains classification
 
1 Daniel Bowman (Kelly Benefit Strategies/Medifast)                      28 pts
2 Tom Zirbel (Bissell Pro Cycling Team)                                  10
3 Matthew Cooke (Health Net p/b Maxxis)                                   9
4 Eric Wohlberg (Symmetrics)                                              7
5 Aaron Olson (Bissell Pro Cycling Team)                                  6
6 Scott Nydam (BMC Pro Cycling Team)                                      5
7 Ian Mckissick (BMC Pro Cycling Team)                                    3
8 Ricardo Escuela (Successful Living.com P/B Parkpre)                     3
9 Paul Mach (ZteaM Cycling)                                               3
10 Corey Collier (Health Net p/b Maxxis)                                  2
11 Burke Swindlehurst (Bissell Pro Cycling Team)                          1
12 Justin England (Toyota-United)                                         1
 
Under 23 classification
 
1 Carson Miller (Team Rubicon-ORBEA)                                7.19.12
2 Roman Van Uden (Team Rubicon-ORBEA)                                  0.08
3 Adam Switters (Rock Racing)                                          9.48
4 Ben Bradshaw (Kahala-LaGrange)                                      10.48