Tour de Nez - NE
Nevada, USA, June 18-21, 2008
Main Page Results Overall standings Previous Stage Next Stage
Stage 3 - June 19: Downtown Truckee Criterium, 75 minutes
Kilun scores first NRC win in Nez
McKissick holds shrinking GC lead into road race
By Mark Zalewski, North American Editor in Truckee, California
Roman Kilun (Health Net-Maxxis) takes his first ever NRC win
Photo ©: Mark Zalewski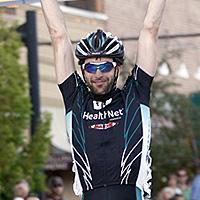 In the past four years the Downtown Truckee Criterium has been well-known for both its fast racing and hearty partying by a large contingent of spectators. That tradition continued again this year with many people on hand enjoying a variety of beverages. In the race the battle for the classification was unexpectedly hot, resulting in a breakaway that moved Justin England (Toyota-United) up the overall to second place, just six seconds behind the time trial winner Ian McKissick (BMC).
Along with England in the break was elite amateur Jon Baker (Vitamin Cottage) and Roman Kilun, who was keeping tabs on England for his two GC teammates. But as the race wore on, the field had not reacted and it looked like the break would stick. Kilun changed from cover rider to break rider, and was able to use his long frame to power himself to his first ever NRC win.
"I've done this race on this course every year they have had it," he told Cyclingnews. "This is my first NRC win, so it's pretty big for me!"
Kilun said he was only present in the break to cover for Matt Cooke and Corey Collier, his teammates that were second and third on GC respectively and England was a threat to them. "Number one goal is to protect the GC guys, so I was just floating," he said. "When that move went I went with it with the same idea – but the field let us go and I got the sense I could get the stage win so I started working."
Still he did not want to let the gap grow to where the break would lap the field, something that has occurred here before. In fact, the best case would be to have the field just behind them as they sprinted for the finish – a risky calculation. "I had to be careful, I just tried to feather the gap," he noted about working in the break early on. "I didn't want to get a lap up because there was no reason. Justin is an overall threat and the closer we ended up to the field the better."
Justin England (Toyota-United) tries to keep the break away
Photo ©: Mark Zalewski

England finished third behind Baker and benefited from additional time bonuses on the line, which puts him 11 seconds ahead of the two Health Net riders. "I didn't know about any time bonuses," he said, surprised. "I just got out there and tried to pick up as much time as possible to move up on GC. I lost a little in the time trial this morning."
The surprising tone upon learning of the additional time bonus came from the fact that England did not necessarily want the leader's jersey heading into tomorrow's leg-busting road race at the Northstar ski resort. "I would rather not since I am here by myself and tomorrow is going to be the hardest stage, so I hope that is not the case!"
As well, working in the break for half the race likely took some juice out of England. "I was just killing myself to get as much time as possible. Jon and Roman were both really strong out there. There were a couple of times where Roman came through the turn really strong and I lost the wheel, struggling to get back on."
Mike Sayers leads the BMC team
Photo ©: Mark Zalewski
Race leader McKissick holds onto his jersey, but by a smaller margin. While England is without any teammates, BMC only has four riders here, compared to Bissell and Kelly Benefits Strategies-Medifast, which each have a full contingent. [The field was] attacking hard early, making it hard for us," said McKissick. Mike "Sayers rode really hard to cover the moves and did unbelievably well."
"Then the move with England got away and our guys were just really tired. We let them get too far away and then Bissell and Successful Living helped out, but it wasn't enough."
Health Net is another team that is undermanned, but like BMC and England, they own the top for on the overall. However, waiting in the wings are Bissell and Kelly Benefits, each with riders in the top ten – including Burke Swindlehurst and Aaron Olson for Bissell, as well as Andy Bajadali (Kelly Benefits Strategies.)
Friday's road race is a 100-kilometre stage around the lower to mid-mountain points of the Northstar Resort, with the KOM going the opposite direction of Thursday's time trial course, which should ensure some exciting descending.
Photography
For a thumbnail gallery of these images, click here
Images by Mark Zalewski/Cyclingnews.com
Results
1 Roman Kilun (Health Net p/b Maxxis)                           1.14.18
2 Jonathan Baker (Vitamin Cottage P/B XP Companies)                    
3 Justin England (Toyota-United)                                       
4 Ricardo Escuela (Successful Living.com P/B Parkpre)              0.13
5 Alex Candelario (Kelly Benefit Strategies/Medifast)                  
6 Bradley White (Successful Living.com P/B Parkpre)                    
7 Roman Van Uden (Team Rubicon-ORBEA)                                  
8 Ian Mckissick (BMC Pro Cycling Team)                                 
9 Aaron Olson (Bissell Pro Cycling Team)                               
10 Andrew Bajadali (Kelly Benefit Strategies/Medifast)                 
11 Andy Jacques-Maynes (California Giant Berry Farms/ Specialized)     
12 Adam Livingston (Team 5 Star Waste Vegetable Oil)                   
13 Michael Sayers (BMC Pro Cycling Team)                               
14 Scott Nydam (BMC Pro Cycling Team)                                  
15 Burke Swindlehurst (Bissell Pro Cycling Team)                       
16 Andres Gil (Pacific State Bank Cycling Team)                        
17 Corey Collier (Health Net p/b Maxxis)                               
18 Brian Buchholz (Kelly Benefit Strategies/Medifast)                  
19 Daniel Bowman (Kelly Benefit Strategies/Medifast)                   
20 Brandon Gritters (Team 5 Star Waste Vegetable)                      
21 Tom Zirbel (Bissell Pro Cycling Team)                               
22 Eric Wohlberg (Symmetrics)                                          
23 Ian Holt (US Armed Forces)                                          
24 Steven Cozza (Slipstream Chipotle)                                  
25 Nathaniel Deibler (Team 5 Star Waste Vegetable Oil)                 
26 Dirk Friel (Vitamin Cottage P/B XP Companies)                       
27 Joseph Pinkerton (Vitamin Cottage P/B XP Companies)                 
28 Justin Spinelli (Kelly Benefit Strategies/Medifast)                 
29 Carson Miller (Team Rubicon-ORBEA)                                  
30 Victor Ayala (Kahala-LaGrange)                                      
31 Matthew Cooke (Health Net p/b Maxxis)                               
32 Ben Bradshaw (Kahala-LaGrange)                                      
33 Jesse Moore (California Giant Berry Farms/ Specialized)             
34 Devon Vigus (California Giant Berry Farms/ Specialized)             
35 James Mattis (California Giant Berry Farms/ Specialized)            
36 Paul Mach (ZteaM Cycling)                                           
37 Dylan Clark (BPG/Montano Velo)                                      
38 Steven Howard (Bissell Pro Cycling Team)                            
39 Omer Kem (Bissell Pro Cycling Team)                                 
40 Chuck Coyle (Successful Living.com P/B Parkpre)                     
41 Eric Bennett (Successful Living Pro Cycling Team)                   
42 Adam Switters (Rock Racing)                                         
43 Christian Kearney (ZteaM Cycling)                                   
44 Karl Bordine (Team 5 Star Waste Vegetable)                      0.50
45 Graham Howard (Bissell Pro Cycling Team)                        1.17
46 Morgan Schmitt (Bissell Pro Cycling Team)                       1.20
47 Justin Kerr (Liquid Fitness)                                        
48 Edgar Parra (Kahala-LaGrange)                                       
49 Randy Reichardt (Vitamin Cottage P/B XP Companies)              1.21
50 Kris Koke (Liquid Fitness)                                          
51 Andy Bestwick (Allegiant Air/Pain Team)                         1.23
52 Timothy Farnham (Team Norcal Bike Sport)                            
53 James Gunn-Wilkinson (Team 5 Star Waste Vegetable Oil)              
54 Ben Raby (SRAM Corp)                                                
55 Curtis Gunn (Successful Living.com P/B Parkpre)                 1.25
56 Matthew Seagrave (Kahala-LaGrange)                              1.26
57 John Hunt (California Giant Berry Farms/ Specialized)           1.53
58 Chris Winn (RMCEF Racing / MOB Cyclery)                         3.01
59 Paul Che (Team 5 Star Waste Vegetable Oil)                          
60 Josh Horowitz (Liquid Fitness)                                  3.18
61 Tim Srenaski (Tokyo Joe's Cycling Team)                             
62 Michael Jacques (Great Basin Imaging Cycling Team)                  
63 Jonathan Coulter (WEBCOR-ALTO VELO)                                 
64 Chris Swan (ZteaM Cycling)                                          
65 Joshua Bartlett (Team Rubicon-ORBEA)                                
66 Logan Hunn (Team Rubicon-ORBEA)                                 4.52
67 Eddy Kwon (Mob Cyclery Racing/RMCEF)                            5.14
68 Jackson Stewart (BMC Pro Cycling Team)                          0.13
DNF Joao Correia (Bissell Pro Cycling Team)                            
DNF Chris Demarchi (Team 5 Star Waste Vegetable Oil)                   
DNF Shaun Morris (Team Rubicon-ORBEA)                                  
DNF Logan Loader (BPG/Montano Velo)                                    
DNF Ben Knellar (Jittery Joe's)                                        
 
Sprints
 
Sprint 1
1 Alex Candelario (Kelly Benefit Strategies/Medifast)                 3 pts
2 Dirk Friel (Vitamin Cottage P/B XP Companies)                       2
3 Steven Howard (Bissell Pro Cycling Team)                            1
 
Sprint 2
1 Justin England (Toyota-United)                                      3 pts
2 Roman Kilun (Health Net p/b Maxxis)                                 2
3 Jonathan Baker (Vitamin Cottage P/B XP Companies)                   1
 
Sprint classification
 
1 Roman Kilun (Health Net p/b Maxxis)                                22 pts
2 Ricardo Escuela (Successful Living.com P/B Parkpre)                20
3 Steven Howard (Bissell Pro Cycling Team)                           18
4 Justin England (Toyota-United)                                     13
5 Jonathan Baker (Vitamin Cottage P/B XP Companies)                  13
6 Ian Mckissick (BMC Pro Cycling Team)                               11
7 Andrew Bajadali (Kelly Benefit Strategies/Medifast)                11
8 Eric Wohlberg (Symmetrics)                                         10
9 Alex Candelario (Kelly Benefit Strategies/Medifast)                 9
10 Michael Sayers (BMC Pro Cycling Team)                              6
11 Brian Buchholz (Kelly Benefit Strategies/Medifast)                 6
12 Aaron Olson (Bissell Pro Cycling Team)                             5
13 Bradley White (Successful Living.com P/B Parkpre)                  5
14 Matthew Cooke (Health Net p/b Maxxis)                              5
15 Steven Cozza (Slipstream Chipotle)                                 4
16 Jackson Stewart (BMC Pro Cycling Team)                             4
17 Roman Van Uden (Team Rubicon-ORBEA)                                4
18 Corey Collier (Health Net p/b Maxxis)                              3
19 Dirk Friel (Vitamin Cottage P/B XP Companies)                      2
20 Victor Ayala (Kahala-LaGrange)                                     2
21 Timothy Farnham (Team Norcal Bike Sport)                           1
 
General classification after stage 3
 
1 Ian Mckissick (BMC Pro Cycling Team)                          2.38.53
2 Justin England (Toyota-United)                                   0.06
3 Corey Collier (Health Net p/b Maxxis)                            0.17
4 Matthew Cooke (Health Net p/b Maxxis)                                
5 Andrew Bajadali (Kelly Benefit Strategies/Medifast)              0.18
6 Aaron Olson (Bissell Pro Cycling Team)                           0.19
7 Scott Nydam (BMC Pro Cycling Team)                                   
8 Burke Swindlehurst (Bissell Pro Cycling Team)                    0.20
9 Jonathan Baker (Vitamin Cottage P/B XP Companies)                0.22
10 Roman Kilun (Health Net p/b Maxxis)                             0.23
11 Steven Cozza (Slipstream Chipotle)                              0.24
12 Ricardo Escuela (Successful Living.com P/B Parkpre)             0.26
13 Bradley White (Successful Living.com P/B Parkpre)               0.32
14 Andy Jacques-Maynes (California Giant Berry Farms/ Specialized)     
15 Daniel Bowman (Kelly Benefit Strategies/Medifast)               0.42
16 Adam Switters (Rock Racing)                                         
17 Paul Mach (ZteaM Cycling)                                       0.43
18 Tom Zirbel (Bissell Pro Cycling Team)                               
19 Adam Livingston (Team 5 Star Waste Vegetable Oil)               0.46
20 Eric Wohlberg (Symmetrics)                                      0.48
21 Jackson Stewart (BMC Pro Cycling Team)                          0.52
22 Justin Spinelli (Kelly Benefit Strategies/Medifast)             0.53
23 Alex Candelario (Kelly Benefit Strategies/Medifast)             0.57
24 Brian Buchholz (Kelly Benefit Strategies/Medifast)              1.00
25 Jesse Moore (California Giant Berry Farms/ Specialized)             
26 Steven Howard (Bissell Pro Cycling Team)                            
27 Ian Holt (US Armed Forces)                                      1.05
28 Dirk Friel (Vitamin Cottage P/B XP Companies)                   1.16
29 Carson Miller (Team Rubicon-ORBEA)                                  
30 Joseph Pinkerton (Vitamin Cottage P/B XP Companies)             1.23
31 Roman Van Uden (Team Rubicon-ORBEA)                                 
32 Ben Bradshaw (Kahala-LaGrange)                                  1.24
33 Dylan Clark (BPG/Montano Velo)                                  1.28
34 Morgan Schmitt (Bissell Pro Cycling Team)                       1.34
35 Michael Sayers (BMC Pro Cycling Team)                               
36 Karl Bordine (Team 5 Star Waste Vegetable)                      1.44
37 Nathaniel Deibler (Team 5 Star Waste Vegetable Oil)             1.53
38 Andres Gil (Pacific State Bank Cycling Team)                    1.55
39 Ben Raby (SRAM Corp)                                            2.08
40 Justin Kerr (Liquid Fitness)                                    2.20
41 Christian Kearney (ZteaM Cycling)                               2.23
42 Eric Bennett (Successful Living Pro Cycling Team)               2.25
43 Victor Ayala (Kahala-LaGrange)                                  2.31
44 Kris Koke (Liquid Fitness)                                      2.41
45 Randy Reichardt (Vitamin Cottage P/B XP Companies)              2.54
46 Devon Vigus (California Giant Berry Farms/ Specialized)         3.16
47 Edgar Parra (Kahala-LaGrange)                                   3.43
48 Chris Winn (RMCEF Racing / MOB Cyclery)                         3.49
49 James Mattis (California Giant Berry Farms/ Specialized)        4.15
50 Brandon Gritters (Team 5 Star Waste Vegetable)                  4.59
51 Chuck Coyle (Successful Living.com P/B Parkpre)                 5.16
52 Omer Kem (Bissell Pro Cycling Team)                             5.36
53 Logan Hunn (Team Rubicon-ORBEA)                                 5.51
54 John Hunt (California Giant Berry Farms/ Specialized)           6.31
55 Josh Horowitz (Liquid Fitness)                                  6.46
56 Joshua Bartlett (Team Rubicon-ORBEA)                            7.10
57 Andy Bestwick (Allegiant Air/Pain Team)                         7.16
58 Matthew Seagrave (Kahala-LaGrange)                              7.32
59 Graham Howard (Bissell Pro Cycling Team)                        7.56
60 Timothy Farnham (Team Norcal Bike Sport)                        8.13
61 Tim Srenaski (Tokyo Joe's Cycling Team)                         8.23
62 James Gunn-Wilkinson (Team 5 Star Waste Vegetable Oil)              
63 Paul Che (Team 5 Star Waste Vegetable Oil)                      8.24
64 Michael Jacques (Great Basin Imaging Cycling Team)              9.51
65 Curtis Gunn (Successful Living.com P/B Parkpre)                 9.59
66 Chris Swan (ZteaM Cycling)                                     11.45
67 Jonathan Coulter (WEBCOR-ALTO VELO)                            13.07
68 Eddy Kwon (Mob Cyclery Racing/RMCEF)                           14.23
 
Under 23
 
1 Adam Switters (Rock Racing)                                   2.39.35
2 Steven Howard (Bissell Pro Cycling Team)                         0.18
3 Carson Miller (Team Rubicon-ORBEA)                               0.34
4 Roman Van Uden (Team Rubicon-ORBEA)                              0.41
5 Ben Bradshaw (Kahala-LaGrange)                                   0.42
6 Eric Bennett (Successful Living Pro Cycling Team)                1.43
7 Edgar Parra (Kahala-LaGrange)                                    3.01
8 Logan Hunn (Team Rubicon-ORBEA)                                  5.09