Tour de Nez - NE
Nevada, USA, June 18-21, 2008
Main Page Results Overall standings Previous Stage Next Stage
Stage 4 - June 20: Northstar at Tahoe Road Race, 100 km
Wohlberg solos in epic Nez queen stage
By Mark Zalewski, North American Editor outside Truckee, California
Bajadali takes thin overall lead into final stage
Eric Wohlberg (Symmetrics)
Photo ©: Mark Zalewski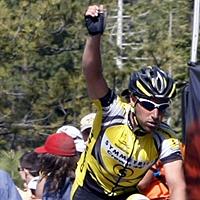 After yesterday's beautiful and challenging uphill time trial course at the Northstar Resort, everyone was looking forward to an epic road stage today - consisting of ten laps up the other side of the climb followed by a sweeping descent on the TT course, and repeat nine more times. In fact, the 10km loop probably had less than 1km of actual flat road and climbed nearly 192m from a base altitude of 1929m. Adding to the excitement was a black bear spotted crossing the road on the descent earlier in the morning. Luckily the bear did not get to any of the riders, but the course sure did, as the peloton quickly thinned from 68 starters to less than half just three laps in.
On the front a breakaway group eventually thinned to three on the last two laps, consisting of Andy Bajadali (Kelly Benefits Strategies-Medifast), Aaron Olson (Bissell) and Eric Wohlberg (Symmetrics.) On the final time up the climb, Wohlberg set a furious pace, dropping the other two and soloing away for an impressive strongman win without team-mates.
"I really felt like crap yesterday and didn't know how I was going to go today," Wohlberg said. "It was a hard pace at the start with teams firing from the gun, so I just tagged on from the start. Then Tom Zirbel and Dan Bowman went and I knew Bissell would sent someone like Burke [Swindlehurst] across to help. So I took the opportunity to bridge across. I ended up taking Aaron [Olson] with me and then it was us four."
Because he was disappointed with his racing in the TT and criterium yesterday, Wohlberg set out a goal to move up the overall. "I had a stage win in mind but I was also trying to move up the GC." He even went so far to swap out equipment for the climbing-intensive stage. "Out of desperation I did switch up to 175 cranks [from 172.5mm.] But maybe it's all psychological. I also had my homemade 11-28 on the back. I didn't really use the 28 it but thought I should have it there. The 12-27 seems to be missing a few gears so I just made my own cassette."
Tom Zirbel (Bissell) leads the break
Photo ©: Mark Zalewski

Wohlberg was clearly the most motivated in the breakaway group, setting the pace up the climbs in the closing laps. "I knew there were a bunch of guys that were closing on us and without any team-mates behind it was up to me to keep it away. I knew I had to go hard and either win or go down in blaze of glory!"
The 8-time Canadian champion benefitted from reading the other team's tactics well. "We were trying to send Tom [Zirbel] up [the road] and them have some of us come across," said Aaron Olson. We thought it would be a bigger group and it would be hard for bigger guys like me and Tom to go with the bigger surges.
"Wohlberg rode an awesome race and it was just amazing to be there with him," said his break-mate Olson. "He rode like an animal today and definitely deserved it. He did the same thing to us at Merced - it was pancake flat and he just soloed away from ten of us!"
Olson and many of the other riders had nothing but praise for the Northstar course. "It was pretty epic. We were talking about it and it is just so cool to do some epic races, even if you don't do well on it."
In the breakaway Bajadali was trying to get Olson to share the chasing work, vocally motivating him. But Olson said he was looking out for his GC rider Burke Swindlehurst who was still within reach. "He wanted me to work, and I wanted to, but we had Burke just behind and he is our guy for the race. It didn't make sense for me to work because he would have beaten me on the finish climb."
Matt Cooke (Health Net-Maxxis) lost his overall chances
Photo ©: Mark Zalewski

The KOM leader Matt Cooke (Health Net-Maxxis) was with the main group all day, riding strong up the climb. However, a poor tactical choice cost him the jersey and his second place on the GC. "I wanted to win the race overall, but I kinda screwed it up. We tried, but at the end I made myself too tired and did too much work in the last 5km. Bajadali attacked and I had nothing left. The last three times up the climb I went as hard as I could, but the headwind really hurt me."
Bajadali and Olson stayed close together over the top of the climb and were caught on the bottom by a chasing group with Cooke, Scott Nydam (BMC,) and Brad White (Successful Living). All that remained was a long drag up the main road at Northstar to the lodge, where Wohlberg was already crossing the line.
Taking second on the day was Bajadali, and with a 6 second bonus he leapt into the overall lead. Nydam took third and a four second bonus, and is now in second overall just 4 seconds behind. Wohlberg's 10 second bonus for the stage win put him in third, just 5 seconds back. Two Bissell riders Swindlehurst and Olson are just 18 and 24 seconds back and with a strong team setting up a battle royale for the final stage between Kelly Benefits and Bissell - but look out for the sneaky Canadian from way up north, looking to spoil the party.
The final stage is a technical and hilly 3.1km circuit that actually runs over the brick pave through the ski resort at Northstar.
Photography
For a thumbnail gallery of these images, click here
Images by Mark Zalewski/Cyclingnews.com
Results
1 Eric Wohlberg (Symmetrics)                                        2.47.51
2 Andrew Bajadali (Kelly Benefit Strategies/Medifast)                  0.21
3 Scott Nydam (BMC Pro Cycling Team)                                   0.22
4 Burke Swindlehurst (Bissell Pro Cycling Team)                        0.31
5 Aaron Olson (Bissell Pro Cycling Team)                               0.38
6 Matthew Cooke (Health Net p/b Maxxis)                                0.43
7 Bradley White (Successful Living.com P/B Parkpre)                    0.44
8 Corey Collier (Health Net p/b Maxxis)                                2.12
9 Paul Mach (ZteaM Cycling)                                            2.13
10 Steven Cozza (Slipstream Chipotle)                                  3.25
11 Andy Jacques-Maynes (California Giant Berry Farms/ Specialized)     3.38
12 James Mattis (California Giant Berry Farms/ Specialized)            5.04
13 Justin England (Toyota-United)                                      5.05
14 Josh Horowitz (Liquid Fitness)                                      6.11
15 Daniel Bowman (Kelly Benefit Strategies/Medifast)                   6.14
16 Jonathan Baker (Vitamin Cottage P/B XP Companies)                   7.51
17 John Hunt (California Giant Berry Farms/ Specialized)               9.29
18 Ricardo Escuela (Successful Living.com P/B Parkpre)                12.35
19 Ian Holt (US Armed Forces)                                         13.05
20 Roman Kilun (Health Net p/b Maxxis)                                     
21 Tom Zirbel (Bissell Pro Cycling Team)                                   
22 Alex Candelario (Kelly Benefit Strategies/Medifast)                13.06
23 Jesse Moore (California Giant Berry Farms/ Specialized)                 
24 Carson Miller (Team Rubicon-ORBEA)                                 13.32
25 Roman Van Uden (Team Rubicon-ORBEA)                                13.33
26 Andres Gil (Pacific State Bank Cycling Team)                       14.42
27 Christian Kearney (ZteaM Cycling)                                  14.54
28 James Gunn-Wilkinson (Team 5 Star Waste Vegetable Oil)             14.56
29 Ben Bradshaw (Kahala-LaGrange)                                     14.57
30 Eddy Kwon (Mob Cyclery Racing/RMCEF)                               14.59
31 Jackson Stewart (BMC Pro Cycling Team)                             17.15
32 Nathaniel Deibler (Team 5 Star Waste Vegetable Oil)                18.01
33 Devon Vigus (California Giant Berry Farms/ Specialized)            19.03
34 Omer Kem (Bissell Pro Cycling Team)                                19.04
35 Adam Livingston (Team 5 Star Waste Vegetable Oil)                  19.05
36 Brian Buchholz (Kelly Benefit Strategies/Medifast)                      
37 Chris Swan (ZteaM Cycling)                                              
38 Graham Howard (Bissell Pro Cycling Team)                                
39 Dirk Friel (Vitamin Cottage P/B XP Companies)                      19.07
40 Adam Switters (Rock Racing)                                        20.44
41 Karl Bordine (Team 5 Star Waste Vegetable)                         22.27
42 Ben Raby (SRAM Corp)                                               22.47
43 Joshua Bartlett (Team Rubicon-ORBEA)                               25.48
44 Matthew Seagrave (Kahala-LaGrange)                                      
45 Randy Reichardt (Vitamin Cottage P/B XP Companies)                 28.21
46 Eric Bennett (Successful Living Pro Cycling Team)                  28.38
47 Justin Kerr (Liquid Fitness)                                            
48 Timothy Farnham (Team Norcal Bike Sport)                           30.05
49 Chris Winn (RMCEF Racing / MOB Cyclery)                            34.38
50 Joseph Pinkerton (Vitamin Cottage P/B XP Companies)                35.40
51 Tim Srenaski (Tokyo Joe's Cycling Team)                            35.55
52 Dylan Clark (BPG/Montano Velo)                                     37.59
53 Victor Ayala (Kahala-LaGrange)                                     38.33
54 Kris Koke (Liquid Fitness)                                         38.41
55 Ian Mckissick (BMC Pro Cycling Team)                               39.51
56 Chuck Coyle (Successful Living.com P/B Parkpre)                    48.38
DNF Jonathan Coulter (WEBCOR-ALTO VELO)                                    
DNF Michael Sayers (BMC Pro Cycling Team)                                  
DNF Curtis Gunn (Successful Living.com P/B Parkpre)                        
DNF Morgan Schmitt (Bissell Pro Cycling Team)                              
DNF Brandon Gritters (Team 5 Star Waste Vegetable)                         
DNF Paul Che (Team 5 Star Waste Vegetable Oil)                             
DNF Logan Hunn (Team Rubicon-ORBEA)                                        
DNF Edgar Parra (Kahala-LaGrange)                                          
DNF Andy Bestwick (Allegiant Air/Pain Team)                                
DNS Justin Spinelli (Kelly Benefit Strategies/Medifast)                    
DNS Steven Howard (Bissell Pro Cycling Team)                               
DNS Michael Jacques (Great Basin Imaging Cycling Team)                     
 
 
Mountains
 
Mountains 1
1 Daniel Bowman (Kelly Benefit Strategies/Medifast)                       7 pts
2 Matthew Cooke (Health Net p/b Maxxis)                                   5
3 Scott Nydam (BMC Pro Cycling Team)                                      3
4 Paul Mach (ZteaM Cycling)                                               2
5 Burke Swindlehurst (Bissell Pro Cycling Team)                           1
 
Mountains 2
1 Daniel Bowman (Kelly Benefit Strategies/Medifast)                       7 pts
2 Tom Zirbel (Bissell Pro Cycling Team)                                   5
3 Ricardo Escuela (Successful Living.com P/B Parkpre)                     3
4 Matthew Cooke (Health Net p/b Maxxis)                                   2
5 Paul Mach (ZteaM Cycling)                                               1
 
Mountains 3
1 Daniel Bowman (Kelly Benefit Strategies/Medifast)                       7 pts
2 Tom Zirbel (Bissell Pro Cycling Team)                                   5
3 Aaron Olson (Bissell Pro Cycling Team)                                  3
4 Eric Wohlberg (Symmetrics)                                              2
5 Justin England (Toyota-United)                                          1
 
Mountains 4
1 Daniel Bowman (Kelly Benefit Strategies/Medifast)                       7 pts
2 Eric Wohlberg (Symmetrics)                                              5
3 Aaron Olson (Bissell Pro Cycling Team)                                  3
4 Scott Nydam (BMC Pro Cycling Team)                                      2
5 Corey Collier (Health Net p/b Maxxis)                                   1
 
Teams
 
1 Bissell Pro Cycling Team                                          8.37.47
2 Health Net p/b Maxxis                                                1.46
3 California Giant Berry Farms/ Specialized                            3.57
4 Kelly Benefit Strategies/Medifast                                    5.27
5 ZteaM Cycling                                                       21.58
6 Team 5 Star Waste Vegetable Oil                                     37.48
7 Team Rubicon-ORBEA                                                  38.39
8 Vitamin Cottage P/B XP Companies                                    41.05
9 BMC Pro Cycling Team                                                43.14
10 Successful Living.com P/B Parkpre                                  47.43
11 Liquid Fitness                                                     59.16
12 Kahala-LaGrange                                                  1.05.04
 
Under 23
 
1 Carson Miller (Team Rubicon-ORBEA)                                3.01.23
2 Roman Van Uden (Team Rubicon-ORBEA)                                  0.01
3 Ben Bradshaw (Kahala-LaGrange)                                       1.25
4 Adam Switters (Rock Racing)                                          7.12
5 Eric Bennett (Successful Living Pro Cycling Team)                   15.06
 
General classification after stage 4
 
1 Andrew Bajadali (Kelly Benefit Strategies/Medifast)               5.27.17
2 Scott Nydam (BMC Pro Cycling Team)                                   0.04
3 Eric Wohlberg (Symmetrics)                                           0.05
4 Burke Swindlehurst (Bissell Pro Cycling Team)                        0.18
5 Aaron Olson (Bissell Pro Cycling Team)                               0.24
6 Matthew Cooke (Health Net p/b Maxxis)                                0.27
7 Bradley White (Successful Living.com P/B Parkpre)                    0.43
8 Corey Collier (Health Net p/b Maxxis)                                1.56
9 Paul Mach (ZteaM Cycling)                                            2.23
10 Steven Cozza (Slipstream Chipotle)                                  3.16
11 Andy Jacques-Maynes (California Giant Berry Farms/ Specialized)     3.37
12 Justin England (Toyota-United)                                      4.38
13 Daniel Bowman (Kelly Benefit Strategies/Medifast)                   6.23
14 Jonathan Baker (Vitamin Cottage P/B XP Companies)                   7.40
15 James Mattis (California Giant Berry Farms/ Specialized)            8.46
16 Josh Horowitz (Liquid Fitness)                                     12.24
17 Ricardo Escuela (Successful Living.com P/B Parkpre)                12.28
18 Roman Kilun (Health Net p/b Maxxis)                                12.55
19 Tom Zirbel (Bissell Pro Cycling Team)                              13.15
20 Alex Candelario (Kelly Benefit Strategies/Medifast)                13.30
21 Jesse Moore (California Giant Berry Farms/ Specialized)            13.33
22 Ian Holt (US Armed Forces)                                         13.37
23 Carson Miller (Team Rubicon-ORBEA)                                 14.15
24 Roman Van Uden (Team Rubicon-ORBEA)                                14.23
25 John Hunt (California Giant Berry Farms/ Specialized)              15.27
26 Ben Bradshaw (Kahala-LaGrange)                                     15.48
27 Andres Gil (Pacific State Bank Cycling Team)                       16.04
28 Christian Kearney (ZteaM Cycling)                                  16.44
29 Jackson Stewart (BMC Pro Cycling Team)                             17.34
30 Adam Livingston (Team 5 Star Waste Vegetable Oil)                  19.18
31 Nathaniel Deibler (Team 5 Star Waste Vegetable Oil)                19.21
32 Brian Buchholz (Kelly Benefit Strategies/Medifast)                 19.32
33 Dirk Friel (Vitamin Cottage P/B XP Companies)                      19.50
34 Adam Switters (Rock Racing)                                        20.53
35 Devon Vigus (California Giant Berry Farms/ Specialized)            21.46
36 James Gunn-Wilkinson (Team 5 Star Waste Vegetable Oil)             22.46
37 Karl Bordine (Team 5 Star Waste Vegetable)                         23.38
38 Omer Kem (Bissell Pro Cycling Team)                                24.07
39 Ben Raby (SRAM Corp)                                               24.22
40 Graham Howard (Bissell Pro Cycling Team)                           26.28
41 Eddy Kwon (Mob Cyclery Racing/RMCEF)                               28.49
42 Chris Swan (ZteaM Cycling)                                         30.17
43 Justin Kerr (Liquid Fitness)                                       30.25
44 Eric Bennett (Successful Living Pro Cycling Team)                  30.30
45 Randy Reichardt (Vitamin Cottage P/B XP Companies)                 30.42
46 Joshua Bartlett (Team Rubicon-ORBEA)                               32.25
47 Matthew Seagrave (Kahala-LaGrange)                                 32.47
48 Joseph Pinkerton (Vitamin Cottage P/B XP Companies)                36.30
49 Timothy Farnham (Team Norcal Bike Sport)                           37.45
50 Chris Winn (RMCEF Racing / MOB Cyclery)                            37.54
51 Dylan Clark (BPG/Montano Velo)                                     38.54
52 Ian Mckissick (BMC Pro Cycling Team)                               39.18
53 Victor Ayala (Kahala-LaGrange)                                     40.31
54 Kris Koke (Liquid Fitness)                                         40.49
55 Tim Srenaski (Tokyo Joe's Cycling Team)                            43.45
56 Chuck Coyle (Successful Living.com P/B Parkpre)                    53.21
 
Sprints
 
1 Eric Wohlberg (Symmetrics)                                             25 pts
2 Andrew Bajadali (Kelly Benefit Strategies/Medifast)                    23
3 Roman Kilun (Health Net p/b Maxxis)                                    22
4 Ricardo Escuela (Successful Living.com P/B Parkpre)                    20
5 Justin England (Toyota-United)                                         13
6 Jonathan Baker (Vitamin Cottage P/B XP Companies)                      13
7 Aaron Olson (Bissell Pro Cycling Team)                                 11
8 Ian Mckissick (BMC Pro Cycling Team)                                   11
9 Scott Nydam (BMC Pro Cycling Team)                                     10
10 Matthew Cooke (Health Net p/b Maxxis)                                 10
11 Alex Candelario (Kelly Benefit Strategies/Medifast)                    9
12 Bradley White (Successful Living.com P/B Parkpre)                      9
13 Burke Swindlehurst (Bissell Pro Cycling Team)                          8
14 Brian Buchholz (Kelly Benefit Strategies/Medifast)                     6
15 Corey Collier (Health Net p/b Maxxis)                                  6
16 Steven Cozza (Slipstream Chipotle)                                     5
17 Jackson Stewart (BMC Pro Cycling Team)                                 4
18 Roman Van Uden (Team Rubicon-ORBEA)                                    4
19 Dirk Friel (Vitamin Cottage P/B XP Companies)                          2
20 Victor Ayala (Kahala-LaGrange)                                         2
21 Paul Mach (ZteaM Cycling)                                              2
22 Timothy Farnham (Team Norcal Bike Sport)                               1
 
Mountains General classification
 
1 Daniel Bowman (Kelly Benefit Strategies/Medifast)                      28 pts
2 Tom Zirbel (Bissell Pro Cycling Team)                                  10
3 Matthew Cooke (Health Net p/b Maxxis)                                   9
4 Eric Wohlberg (Symmetrics)                                              7
5 Aaron Olson (Bissell Pro Cycling Team)                                  6
6 Scott Nydam (BMC Pro Cycling Team)                                      5
7 Ian Mckissick (BMC Pro Cycling Team)                                    3
8 Ricardo Escuela (Successful Living.com P/B Parkpre)                     3
9 Paul Mach (ZteaM Cycling)                                               3
10 Corey Collier (Health Net p/b Maxxis)                                  2
11 Burke Swindlehurst (Bissell Pro Cycling Team)                          1
12 Justin England (Toyota-United)                                         1
 
Teams General classification
 
1 Bissell Pro Cycling Team                                         16.35.32
2 Health Net p/b Maxxis                                                1.46
3 California Giant Berry Farms/ Specialized                            5.20
4 Kelly Benefit Strategies/Medifast                                    6.14
5 ZteaM Cycling                                                       35.43
6 Team 5 Star Waste Vegetable Oil                                     41.41
7 Vitamin Cottage P/B XP Companies                                    43.06
8 BMC Pro Cycling Team                                                43.18
9 Team Rubicon-ORBEA                                                  44.29
10 Successful Living.com P/B Parkpre                                  52.50
11 Liquid Fitness                                                   1.09.57
12 Kahala-LaGrange                                                  1.11.15
 
Under 23
 
1 Carson Miller (Team Rubicon-ORBEA)                                3.01.23
2 Roman Van Uden (Team Rubicon-ORBEA)                                  0.01
3 Ben Bradshaw (Kahala-LaGrange)                                       1.25
4 Adam Switters (Rock Racing)                                          7.12
5 Eric Bennett (Successful Living Pro Cycling Team)                   15.06