Latest Cycling News, February 2, 2009
Edited by Bjorn Haake
Bennati signs for Liquigas until 2010
Daniele Bennati signed for Liquigas until 2010
Photo ©: AFP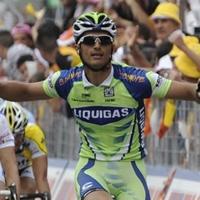 Daniele Bennati has signed a two-year contract with Liquigas, until the end of the 2010 season. Bennati won six races last year and had several podium spots as well. He won three stages in the 2008 Giro d'Italia.
Team Manager Roberto Amadio and Bennati quickly came to terms about the contract. "We're really satisfied with this agreement achieved in short time. Daniele is an excellent rider and represents the value of our team in the best way; [he shows] sportsmanship, competitiveness, seriousness and dedication," said Amadio.
Bennati was also satisfied with the deal. "I'm proud to wear the Liquigas jersey again, for one of the best teams in the world and, for sure, the first in Italy. I find it well organised, so I can work seriously and with the maximum serenity. The team supports me without obsessions of results and this is ideal for me," said Bennati
Today Bennati will leave to Spain for a training period with his teammates. From February 8 he will race in the Challenge de Mallorca. "The physical problems I suffered during last year are memories and now I can train consistently. The best form is far away but for March I want be really competitive."
World Champion Grabsch back for Cavendish
By Gregor Brown in Doha, Qatar
Bert Grabsch is back in action
Photo ©: AFP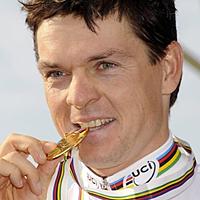 Bert Grabsch returned to racing for the first time since he won the time trial World Championships in Varese, Italy, in September. The opening six-kilometre team time trial in the Tour of Qatar on Sunday gave the German a chance to display his rainbow jersey in a stage race tailor-made for sprinter Mark Cavendish.
"It was special because it was my first race after four months off. It wasn't easy but the team can be happy with sixth," said Grabsch to Cyclingnews. Columbia finished with a time of 6:39.98, five seconds off Garmin-Slipstream.
Columbia was the only team of the day to finish with all eight of its men together. Rules state that the calculations for the teams' times are off the fifth man over the finish line.
Many other teams employed a different strategy to propel its fastest five men ahead in the final kilometres.
"Normally that is our plan, to start all together and to finish all together – all eight. For tomorrow and the next days we are very optimistic for the sprint for Cav."
Cavendish will captain the team for the next five stages. The Briton, who won four stages in the 2008 Tour de France, is expected to do well on the flat and fast stages.
Asia's best battles stars of Qatar
By Gregor Brown in Doha, Qatar
Korean Sung Baek Park (Meitan Hompo - GDR)
Photo ©: Gregor Brown

Korean Sung Baek Park faces cycling's biggest sprinting stars for the first time this week in the Tour of Qatar. The rider known as 'Asia's best sprinter' hopes for a top 10 finish against Tour de France stage winners, like Tom Boonen and Mark Cavendish.
"They are really big names and I am very lucky to have this chance. It is the first time I've gone up against riders of that calibre," said Park to Cyclingnews.
Park is the winner of the 2007 Tour of Korea. The 24-year-old will have the support of Continental (third division) Team Meitan Hompo-GDR, which includes 2008 Paris-Corrèze winner Miyataka Shimizu.
The Japanese team will have to battle with Columbia, Quick Step, Katusha and others to position Park for the sprint.
"I just want to try my best and go for a top ten. I don't know if it is possible, but I will try. I think it is very difficult because we are a Continental team and we are up against ProTour and Professional Continental teams."
Team Meitan Hompo finished with a time of 7:03 in the opening team trial on Sunday. Its time was 29 seconds back on the winner, Team Garmin-Slipstream.
Briton Bradley Wiggins leads the race. He will wear the golden jersey in Monday's stage two, 134 kilometres to Al Khor Corniche.
Nuyens left Qatar before team time trial
Rabobank rider Nick Nuyens quickly left Qatar on Sunday, before the team time trial, when he heard news that his pregnant wife was ready to deliver.
Team manager Erik Dekker knew he took a risk when he nominated Nuyens to the team. "His wife was already two weeks due. To take Nick was a calculated risk."
There was no news if the baby had been born, but Dekker had no regrets. "The decision to let Nick return to Belgium was right."
Sastre delayed in travel to California
Carlos Sastre's travels were effected by a snow storm en route to California on Sunday, where he will participate in the Tour of California (February 15-22). Heavy snow in central Spain scuppered his plans to join his Cervélo teammates, who are already training in the US.
Sastre was surprised by the winter weather. "When I woke up there were 50 centimetres of snow." He said he left on time, but the traffic en route had caused severe delays. Sastre finally arrived at the airport when the plane was still parked, "but the doors were already closed."
Sastre exchanged his ticket for a flight on Monday morning and returned home.
Rojas wants to win in Mallorca
By Antonio J. Salmerón
José Joaquín Rojas (Caisse d'Epargne) on the final podium Down Under
Photo ©: Mark Gunter

José Joaquín Rojas (Caisse d'Epargne) is optimistic of his chances in the Challenge de Mallorca (February 8-12) after his strong start to the season in the Tour Down Under. Rojas finished third overall in Australia.
"In the Tour Down Under I was at a competitive level, better than in previous years. In the sprints we [sprinters] were evenly matched and the sprints were very fast."
Rojas admitted that he had hoped for even more. "I wanted to get closer to a stage win, especially in the penultimate stage, but at least I won the young rider classification and I was on the final podium."
Last year Rojas had a good start to the season when he won the Trofeo Pollença. But the next day he crashed when he sprinted against Philippe Gilbert. "I don't have any physical problem from that crash. I will return to do it once again, because that [crashing] is the risk for the sprinters."
Rojas thinks he can repeat his 2008 victory. "I am in very good shape and after what I have shown in the sprints in the Tour Down Under, I head to Mallorca optimistically."
After that Rojas will race the Clásica de Almería (March 1), but he won't be in the Vuelta a Murcia and hasn't yet decided wether to do Tirreno-Adriatico or Paris-Nice. "I think that the finishes in the French race suit me better because they are harder. But it will be up to the team's management. In Tirreno, I also had good performances."
Milano-Sanremo will start his Classics campaign: Flanders, Gent-Wevelgem and Paris-Roubaix. "I like the Belgian Classics a lot, both for the characteristics of the routes and also for the many people on the road. I hope to improve in these races, which are very important to my team."
Française des Jeux presents team
Française des Jeux held its team presentation this morning in Boulogne, France. Team manager Marc Madiot and Christophe Blanchard-Dignac, the president of the French national lottery, led through the programme.
Madiot had a simple wish for 2009. "I want that the maximum number of my riders cross the line with their arms in the air."
Madiot continues to support young talent, with his 23 riders averaging only 25 years of age. "This young team can rest on the foundation of experienced riders like Frédéric Guesdon, Sandy Casar and Sébastien Joly. It is a very motivated team and full of passion for cycling. The riders have great quality."
The Française des Jeux team for 2009: Sandy Casar, Sébastien Chavanel, Mikaël Chérel, Jérôme Coppel, Rémy Di Grégorio, Aurélien Duval, Arnaud Gérard, Anthony Geslin, Timothy Gudsell, Frédéric Guesdon,Yauheni Hutarovich, Sébastien Joly, Matthieu Ladagnous, Guillaume Levarlet, Christophe le Mével, Gianni Meersman, Francis Mourey, Yoann Offredo, Anthony Roux, Jéremy Roy, Wesley Sulzberger, Benoit Vaugrenard and Jussi Veikkanen.
Impey delivers podium spot ahead of Barloworld training camp
South African Daryl Impey (Barloworld)
Photo ©: Roberto Bettini

Daryl Impey finished second in the 97-kilometre race Berge en Dale Super Classic in Krugersdorp, South Africa. Impey was beaten by Reinardt Janse van Rensburg. The podium spot came a day before Impey was heading to the Barloworld training camp, held from February 2-11, in Tuscany, Italy.
Impey could leave optimistically to camp. "I guess training camp could not have come at a better time for me," he said after his good result. Although a little disappointed at not taking top spot, Impey congratulated Janse van Rensburg on a well deserved win. "He rode extremely well and saved his energy for exact moment – his moment of victory!"
During the training camp Team Barloworld will pay special attention to team time trial training. The riders will perfect their positions on their new Bianchi bikes and work on the race strategy. "We're going to work on the team time trial because it is becoming more and more important in major stage races," Team Manager Claudio Corti said. "We've got one in the Tour of Mediterranean and we also want to be ready for the Giro d'Italia."
The team has not yet secured a Giro d'Italia spot, but Corti was optimistic. "We believe we've got a good team that deserves an invitation to the Giro. We've got some important riders who know how to do well in a three-week race like the Giro. Someone like Mauricio Soler , who is capable of doing amazing rides in the mountains, deserves to ride the Giro d'Italia. The whole of the team has the ability to do well in individual stages and also in the overall classification, as we've often proved in the past. As a result we're optimistic about the future".
(All rights reserved/Copyright Future Publishing (Overseas) Limited 2009)