First Edition Cycling News, May 11, 2009
Edited by Peter Hymas
Petacchi refutes the idea of his cancelled wins
By Jean-François Quénet in Trieste, Italy
Alessandro Petacchi ( LPR Brakes - Farnese Vini)
Photo ©: Roberto Bettini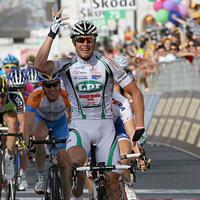 Due to all the controversial doping affairs, the palmarès – or record books – of cycling can be interpreted in very different ways. Do Thor Hushovd, Gabriele Balducci and Max Richeze consider themselves as stage winners of the 2007 Giro d'Italia? The man who beat them, Alessandro Petacchi, doesn't accept the idea that he's been disqualified after failing a dope test for Salbutamol. Strangely, he was even stripped of the two stage wins he got prior to the 11th stage where he was found positive.
"I'll always count 164 wins for myself as per today," said the Italian whose first win as a professional occurred on the stage to Mersing in the 1998 Tour de Langkawi in Malaysia. It's interesting to see that Petacchi counts 164 while the official profile issued by the organisation of the Giro d'Italia makes it 135, including some criteriums which weren't part of the international calendar.
It was actually the 25th time Petacchi crossed a finishing line as the winner in the Giro d'Italia. "The nicest remains the first one in Lecce in 2003 because it also gave me the pink jersey and I won in front of Mario [Cipollini] who was the world champion at the time," said Petacchi. "I also enjoyed winning in Cagliari two years ago because it was my first one after the big crash I had in 2006."
In fact, he's doing his second comeback to the Giro d'Italia this year at the age of 35. One year ago he was given a one-year ban with retrospective effects. In reality he wasn't allowed to race from May to August but returned successfully to competition with three stage wins at the 2008 Tour of Britain. He'll remember his winning sprint at Trieste for being on the first birthday of his son to whom he dedicated his success.
Coming up on
Cyclingnews will cover the 60th edition of the Dauphiné Libéré live as of stage 4 on Wednesday, June 10, at approximately 15:00 local Europe time (CEST)/ 23:00 Australian time (CDT)/ 9:00 (USA East).

WAP-enabled mobile devices: http://live.cyclingnews.com/wap/
He was also proud of beating Mark Cavendish for two reasons. About the first one, the Italian said, "For a few days I was wondering how I could beat him. I didn't understand. I could only see pictures like in Qatar. I wanted to make sure he really had the speed. I started with 250 metres to go and he didn't start. I took the risk that he'd pass me. He's very young. We'll hear a lot about him again. I'd like to maybe finish my career at the service of a great sprinter when I don't have the will to take risks anymore."
The second reason is related to his team. "Just before the Giro I lost Alberto Ongarato and Lorenzo Bernucci because of fractures," Petacchi said. "They've had to stay at home. Now I'm backed by teammates who don't have the characteristics for the lead-out at all but we've planned something this morning and we've done it. Climbers doing this job means the value of their work is double! I've told them: when the others arrive, I'll do my own thing."
Petacchi was known for sprinting out from a train. Not having one this year at LPR, he found the wheels of Edvald Boasson Hagen, Mark Renshaw and Cavendish from Team Columbia. He now hopes to do it again to take over the race leadership from the Brit in pink.
Cavendish sees pink jersey as a consolation prize
By Jean-François Quénet in Trieste, Venice
Mark Cavendish (Team Columbia - Highroad)
Photo ©: Roberto Bettini

Mark Cavendish was super confident that he would win his first stage at the Giro d'Italia with the pink jersey on his shoulders but it ended up differently with Alessandro Petacchi passing him with 250 metres to go. "Normally I deliver and today I didn't," said the Team Columbia-Highroad sprinter.
"I can take the consolation from the fact that I lost to Alessandro Petacchi, there's no shame about that," Cavendish said. He showed up with the pink jersey on his shoulders for the second day in a row. "It's another consolation keeping it but my team worked very hard for me. They did a perfect job, that's why it's difficult to accept losing."
Unlike Petacchi, Cavendish rode for a hot spot sprint on the way but he felt offended when an Italian reporter asked him whether or not he had wasted some of his resources doing so. "I stayed on the wheel of Tyler Farrar! It wasn't going to take energy from me!," Cavendish said.
Also, the Montebello climb which had to be done three times in the final 30 kilometres wasn't an excuse for him. "When I can sprint like I did after Milan-Sanremo, I wouldn't be afraid of today's climb," said 'Cav' who came back to his first point. "With an ego like mine, to lose to Alessandro isn't such a bad thing."
Quick Step manager and sponsor react to Boonen news
Patrick Lefevere, Quick Step manager
Photo ©: Brecht Decaluwé

The team Quick Step sponsor doesn't really know what to think of its star sprinter Tom Boonen, who last week again tested positive for cocaine. But what it does think is not good. Team manager Patrick Lefevere said that not only he, but also Boonen's teammates, were shocked by the news.
On Saturday, Team Quick Step suspended Boonen after hearing of his second positive doping control for cocaine within a year.
Frans De Cock, the former CEO of Unilin, Quick Step's parent company and the firm's contact to the team, said he would not try to convince the Tour de France to accept the troubled Belgian, as he did (unsuccessfully) in 2008.
"Last year I worked very hard and put my neck out for Tom. I told him that I forgave him that mistake, but that this was not to be repeated. He was very grateful to me. And now he does it again," De Cock told the Belga news agency.
"Last year, we argued his case in Paris. This time we do not," said De Cock, who was to meet with Boonen Sunday afternoon. "I genuinely care for the rider Tom Boonen. But how is it possible that such a champion on the bike does such stupid things? I think that Tom needs help. It would be a shame for Belgium and international cycling to lose Boonen in this way."
Team manager Patrick Lefevere told Belga that he is still recovering from the shock of the news. Boonen's girlfriend Lore called him Friday and broke the news.
The manager said that it was now unlikely that Boonen would ride the Tour de France. "I cannot assess the impact of the news," Lefevere said. "We have had a lot of publicity this year, but this hurts badly."
In addition, Lefevere said that he does not know how his other riders will react. "Through the directeurs sportif, I hear that they are shocked. I don't know yet whether they will still want to work for Tom. It is too early." (SW)
Team Columbia to keep growing with more sponsorship
By Jean-François Quénet in Venice, Italy
Columbia team manager Bob Stapleton
Photo ©: JF Quénet

While Astana is deeply struggling with finances due to the interruption of the funding by the Kazakh companies involved in their budget compilation, Team Columbia-Highroad, on the other hand, is run with serenity. That's probably one reason why they are doing so well again this year. Their 20th win came with the inaugural team time trial of the Giro d'Italia.
Columbia-Highroad's manager Bob Stapleton told Cyclingnews in Venice that the title of the team might evolve again in the coming weeks. "We're trying to bring in a co-sponsor," he said. "We have a very good relationship with our current main sponsors [Columbia Sportswear and Scott bicycles - ed.] and we hope to extend our cooperation until 2012. For now the budget of the team is fully secured till the end of 2010 but there's space for another co-sponsor."
"The team's performances are exceptional and the interest is getting better in the US and internationally as well," Stapleton continued. "Last year, the Tour de France had given us in return a 15 million euro value in publicity in only eight European countries and the US. We'll probably reach 150 million euro value this year. We want to keep the team growing. I'd like to bring to sponsors something that makes them super enthusiastic."
Listening to Stapleton, the global economic crisis doesn't affect cycling as much as other sports. "Formula 1 is putting their price 75% down, all US sports are down, especially NASCAR. For us, the absolute credibility we have comes from our anti-doping program and the results we still get. Now cycling has a very good image compared to US sports. There are constant scandals in baseball! What we are doing gives the sponsors an additional comfort."
Vande Velde, Millar unfazed by Cavendish remarks
By Daniel Friebe, Procycling
David Millar had a laugh with Cavendish
Photo ©: Brecht Decaluwé

Within 48 hours of Mark Cavendish's comments that Garmin boss Jonathan Vaughters had been "disrespectful" to focus so squarely on the team time trial which kicked off the Giro d'Italia on Saturday, peace and smiles had been restored to both camps on Sunday – as well as the healthy sense of rivalry which provided the context for the Manxman's comments.
Already, on Saturday, as he watched the last hour of the team time trial in a media tent next to the finish line, Cavendish had been keen to nuance his remarks of the previous day. "What I said was really directed at Jonathan Vaughters – and not the Garmin riders," Cavendish said. "They're a great bunch of guys and riders – Christian [Vande Velde], Dave Millar, Zabriskie, Brad and the rest of them. As soon as the comments were published online, Dave and I exchanged messages and had a laugh about it. I meant what I said but it was directed at Jonathan and what he had said about the Garmin season starting on Saturday."
At around the same time, after Saturday's time trial, in which Columbia triumphed by six seconds over their American counterparts, Cavendish's teammate Marco Pinotti was making light of the controversy. "There's great respect and even friendship between the two sets of riders, us and Garmin," Pinotti said. "We even had a joke about it. We take the mickey out of them and them of us. There's no ill-feeling – quite the opposite."
Pinotti, incidentally, also explained why Cavendish had screamed at him after the pair crossed the line on Saturday. "I was in third position coming into the final bend, with Mark on my wheel and I wanted to pass the two in front but I didn't want to risk too much. Mark's used to taking more risks than me...", the Italian time trial champion said. Pinotti then added with a broad grin, "His scream at the end was just due to the tension of the race..."
Garmin rider Millar was similarly phlegmatic on Sunday when asked about Cavendish's jibes at Vaughters. "We all know what Cav's like," Millar said with a good-natured roll of the eyes. "He's volatile. He can be saying something and he totally means it at the time, but when he's thought about, 24 hours later, he can mean something completely different."
Garmin leader Christian Vande Velde's echoed Millar. "I'll basically put it down to the fact that he's so young," Vande Velde smiled. "I still haven't spoken to Mark about it, but I will..."
Swift quick to please
By Daniel Friebe, Procycling
Ben Swift (Katusha)
Photo ©: Susanne Goetze

Katusha's rookie sensation Ben Swift admitted on Sunday night that he was "a little surprised" by his third-place finish in the Giro's second stage from Jesolo to Trieste. A pro since the start of the year, Swift is considered an all-arounder rather than a pure sprinter, but his outstanding performance this weekend comes on the back of several strong showings in bunch gallops in the first four months of the season.
"I felt the best I'd felt all day on the climb near the finish, then I was fighting for Cavendish's wheel as we came off the descent. But everyone wanted Cav's wheel; I'd be on it, then I'd lose it and finally Petacchi moved in and I had to get onto his wheel," Swift said from his team hotel in Trieste. "I lost a lot of energy in the chaos and fight for position in the last two kilometres..."
Swift said that he couldn't follow Petacchi when the LPR man launched his sprint – a hesitation which allowed Cavendish to move into the Italian's slipstream. Under threat from more experienced sprinters Allan Davis and Tyler Farrar, Swift nonetheless held on for third.
"I suppose I'm starting to re-evaluate what type of rider I am, having done well in bunch sprints this year. At the same time, though, I'm doing a lot of work on my climbing as well as my sprinting," the 21-year-old explained. "I often do five 30-second sprints, with a minute's rest in between, at the start and end of sessions training sessions."
On paper, Monday's stage, with two gnarly climbs in the final 40 kilometres, looks even better suited to Swift. As an amateur the Rotherham-born youngster often thrived on similarly undulating courses. "These guys go really hard on the climbs but, yeah, tomorrow should be even better for me," Swift commented on the 198km third stage from Grado to Valdobbiadene. "If it's all together at the end and I'm in a good position, I'll certainly give it another shot."
Just over 24 hours into his first major tour, Swift was certain of one thing: he was enjoying the Giro experience.
"I didn't really know what to expect but the whole event's definitely got a great aura. Having Lance makes it even bigger. It's a massive thing for me, who grew up watching Lance. To me, he is cycling; him being here makes it a lot more special."
Giro boss pretends to boost the Tour de France
By Jean-François Quénet in Venice, Italy
Race director Angelo Zomegnan
Photo ©: JF Quénet

One year ago, the promoters of the Giro d'Italia suggested in Palermo that their race was better than the Tour de France as they lined up the winners of the three Grand Tours of the previous season: Alberto Contador (Tour de France), Danilo Di Luca (Giro) and Denis Menchov (Vuelta), while the Tour de France didn't even accept the participation of its defending champion due to his belonging to the undesirable Astana team.
The feeling is even greater this year in Italy with the eight Grand Tour winners on the start line. All combined, they have won eight Tours de France (seven by Lance Armstrong, one by Carlos Sastre), six Giri (two by Gilberto Simoni, one by Stefano Garzelli, Damiano Cunego, Ivan Basso and Di Luca) and two Vueltas (by Menchov). Not so many top achievers will line up on Port Hercules in Monaco on July 4th.
Sarcastically, Giro boss Angelo Zomegnan said in Venice, "In the French mentality, the fear of the superiority of the foreigners doesn't exist. My perception is that they look at what we're doing with interest." Tour de France boss Christian Prudhomme gave a friendly phone call to Zomegnan on Friday morning to wish him "a safe trip."
Zomegnan also noticed the stages of the Tour de France are much more attractive and more similar to the ones of the Giro d'Italia since Prudhomme took over from Leblanc at the end of 2006. Zomegnan suggested that criticisms and aggressive headlines about the Tour routes in La Gazzetta dello Sport in the past have been constructive for the Tour de France to improve.
Haedo takes two in Arkansas
By Kirsten Robbins
Sebastian Haedo (Colavita-Sutter Home) took his second consecutive field sprint victory in the Joe Martin Stage Race held in Fayetteville, Arkansas this weekend.
"I'm happy to win again but my team rode fantastic today so I have to thank them," said Haedo who took double wins the previous year. "We were trying to be very aggressive and force a breakaway. I honestly did not think I would see a field sprint today. My team did a good job helping me get to the front."
Despite having a flat tire and a bike change in the final eight kilometres of the pro men's 147-kilometre road race, Haedo managed to work his way through the peloton to contest the final sprint. The Argentinean sprinter out-kicked Jonathan Cantwell (Fly V Australia) and Nic Sanderson (Rock Racing).
Rory Sutherland (OUCH p/b Maxxis) maintained a nine-second lead ahead of Bissell duo Ben Jacques-Maynes and Jeremy Vennell. The race for the 25th annual Joe Martin title will continue in the final criterium held in downtown Fayetteville on Sunday.
(All rights reserved/Copyright Future Publishing (Overseas) Limited 2009)