First Edition Cycling News, May 10, 2009
Edited by Peter Hymas
Team spirit the key, says Columbia chief
By Daniel Friebe, Procycling
Mark Cavendish led Columbia – Highroad across the line as planned.
Photo ©: Roberto Bettini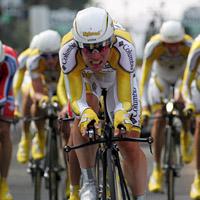 Columbia-Highroad team manager Rolf Aldag looked a nervous but excited man at around half-past five on Saturday afternoon at the Giro d'Italia. By that time, all of his riders bar pink jersey elect Mark Cavendish were safely holed up in the comfort of their team bus, while Cavendish awaited his verdict in front of a TV screen in the media tent by the Venice finish line. "I was a bit disappointed when we crossed the line," Cavendish grimaced. "I think we could have gone quicker..."
But as the minutes ticked by, so Cavendish and Columbia's position at the top of the leader board looked ever more impregnable. And so Aldag looked ever more satisfied with his and his team's day's work.
"You always look at places where you could have gone faster or better," he said. "There's was a small mechanical problem with [Michael] Rogers at the start, then the last roundabout could have been faster but they did all of the basic things right. They always came in line to the corners, they grouped before the corner, then they sped up really well out of the corners. You always have a couple of critical moments when guys can't follow any more and the others don't realize, but we held it together all the way..."
Aldag confirmed that, contrary to speculation in the Italian media that Marco Pinotti would be the first Columbia man over the line, it was always the team's intention to let Cavendish lead them in.
"It was our plan for Mark to cross the line first, although there was also a plan B," Aldag said, smiling cryptically. "The problem was that we talked about it and everybody really deserved it. That's the thing. We finally decided that it would be Mark but we also said that he had to take care of it. We told Mark that he was the sprinter and he should know where to be to come over the line first; he couldn't be at the very front or back with a kilometre to go because that wouldn't work. But he did it very well."
Coming up on
Cyclingnews will cover the 60th edition of the Dauphiné Libéré live as of stage 4 on Wednesday, June 10, at approximately 15:00 local Europe time (CEST)/ 23:00 Australian time (CDT)/ 9:00 (USA East).

WAP-enabled mobile devices: http://live.cyclingnews.com/wap/
Aldag, Cavendish and also Pinotti spoke effusively about the team spirit that had fired their performance – and also allowed all nine Columbia riders to cross the line together. As well as great camaraderie, Aldag said that his team had also benefited from the considerable experience of time trial and team events within their ranks.
A team effort put Cavendish in the maglia rosa.
Photo ©: Roberto Bettini

"The thing is that we have many guys who have a lot to say about the team trial," he said. "It's quite complicated for us because the meeting always takes more time than on other teams. For other teams it's quite easy; you have one guy who's really vocal and everyone just does what he says, whereas in this team, we have a three-time world time trial champion in Mick Rogers. We have Cav, who has a lot of experience on the track. We have Mark Renshaw, an excellent team pursuiter, so you have so much experience. You just have to listen to it all then decide which are the best ideas and go with it. It takes a lot of time to come to an agreement but I think the way we tried to do it worked well.
"It's amazing when you think that Mark is only 23," Aldag said of Cavendish. "It's also amazing, how he can bring people together. He'll be there, telling everyone 'Come on guys, let's go out and beat everyone.'. The other really amazing thing about him is that whatever he's promised to do, he's always done it. He's never really failed. He's taught us that you have to trust him."
Aldag's spoke finally of the intriguing subplot to yesterday's team time trial – the Columbia-Garmin rivalry stoked by Cavendish's claims that Garmin boss Jonathan Vaughters had been "disrespectful" to claim that his team's season started on Saturday. Cavendish would temper those remarks in his post-race press conference on Saturday. Even before that, Aldag laughed off suggestions that the controversy had an impact on yesterday's result.
"We were in a team meeting yesterday when we saw what Mark had said and we were like 'OK' [raises eyebrows]. But he feeds off that stuff. It's not like, 'Oh, it was an accident'. He reads it and he has a big smile on his face. Sometimes he reads things and people misunderstand, but he likes to say things and play games...It's all a bit of fun, and it's good for you journalists!"
Boonen puts blame on alcohol problem
Tom Boonen.
Photo ©: James Huang

Tom Boonen says he may have used cocaine on an afternoon when he had too much to drink. However, he claims to have had a black-out and does not know what happened.
"I do not think I have a problem with cocaine, I have problems when I drink too much. 364 days per year I am good. But if I drink too much, it's exactly like I change in my head," Boonen told Belgian Radio1.
The Quick Step sprinter was suspended by his team Saturday after it was announced that he had tested positive a second time for cocaine.
"I need help," he told sporza.be. "Someone should teach me to understand what happens when I drink too much."
Looking to the future, he said, "Whether I will continue to be a cyclist? That is the least of my concerns."
The former World Champion received support from Lance Armstrong. According to nieuwsblad.be, the American said, "Tom must look at himself and and say, 'I have a problem, how do I solve this?' He is not the only one in the world who has to resist temptation. I wish him the best and hope everything goes well.."
Blockhaus stage cut by 5.5 kilometres
By Gregor Brown
Blockhaus (stage 17) shortened by 5.5 kilometres
Photo ©: Roberto Bettini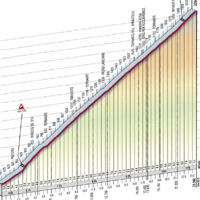 Giro d'Italia's 17th stage from Chieti to Blockhaus has been shortened by 5.5 kilometres due to road problems. The 83-kilometre stage, May 27, will now finish with an 18-kilometre climb up the mythical area where cycling legend Eddy Merckx won his first ever mountaintop finish.
"We don't want to ask a region that is suffering from the earthquake to spend time and money to widen the road. We took the decision this morning to shorten the stage," said race director Angelo Zomegnan.
The stage will finish near Hotel Mamma Rosa, at 1631 metres. A representative from the hotel told Cyclingnews yesterday that "from the Pomilio refuge [1892m, -2km] and onwards, there has always been problems with passage" for large vehicles.
Snowfall in the winter reportedly prohibited work and the Abruzzo region dealt with a 6.3 magnitude earthquake on April 6.
To maintain the stage's distance an additional (flat) section will be included at the beginning of the stage. The subtraction of approximately 433 metres means the Cima Coppi (race's highest point) will be switched to stage 10's Colle del Sestriere (2035m). The Alpine pass was the first in the Giro to surpass 2000 metres when it was used in 1911.
Merckx won the Blockhaus stage in 1967, the first time organisers included it. Blockhaus featured three more times: In 1968 when Franco Bitossi won, in 1972 (José Manuel Fuente) and in 1984 (Moreno Argentin).
Voeckler at the Giro in search of first Grand Tour stage win
By Jean-François Quénet in Venice, Italy
Thomas Voeckler under the arcades
Photo ©: JF Quénet
Thomas Voeckler found it strange to walk around San Marco square in Venice "in the middle of the tourists but not for doing any shopping," he said. The Giro is his first time racing alongside Lance Armstrong since the comeback of the American. "We have one thing in common: we both broke a collarbone before coming here this year," the Frenchman said. Voeckler had his crash in March during Paris-Nice and came back racing at the Circuit de la Sarthe only one week after Armstrong fell at the Vuelta a Castilla y León.
The Bbox Bouygues Telecom rider is a winner again since he claimed a solo victory at the French cup race Trophée des Grimpeurs on Sunday. "It's been difficult to accept being off the bike while I was having my best early season ever," he said referring to his wins at the Etoile de Bessèges and Tour of Haut-Var. "Before being injured, I was going really well. Now I'm back at 70% of my capacities. I can go well at one-day races but I'm not able to sustain the same effort for a three-week basis."
Therefore, the Frenchman will target a stage win. "I don't a have a stage win at any Grand Tour on my palmarès yet and I wouldn't like to conclude my career without achieving it," announced the man who became famous by riding the Tour de France in yellow for 10 days in 2004.
"Of course for all French riders the major event remains the Tour de France, but I'm not here for training, I'm here for racing." He made his first attempt at the Giro two years ago but was forced to pull out after four stages due to knee tendinitis. "A stage win at the Giro wouldn't have the same impact as at the Tour but my pleasure at winning would be equivalent," he said.
Pfannberger says no to Austrian lab
Christian Pfannberger (Team Katusha)
Photo ©: Roberto Bettini

Christian Pfannberger has asked the UCI to have his B-sample analysed, but requested that it not be done by the lab in Seibersdorf, Austria.
The Austrian was suspended by Team Katusha on Wednesday after testing positive for EPO in March.
In a letter to the UCI, Pfannberger confirmed his request that the B-sample be analysed, saying he would attend with an expert.
However, he specifically requested that the sample not be tested at the lab in Seibersdorf. That lab had tested his samples when he was suspended for EPO use in 2004. "I was found guilty although no test record exists or was presented in the proceeding, which can link me with urine samples for EPO," he wrote.
He sent the UCI a document which shows "that the analyses were first declared as negative and later changed to positive – the only explanation ... was, 'this was a mistake'."
Pfannberger has requested an alternative testing site since, as allowed by the UCI's rules, the B-sample be tested by any other accredited lab.
Renshaw on his toes to lead out Cav
By Jean-François Quénet in Venice, Italy
Mark Renshaw (Team Columbia - Highroad)
Photo ©: JF Quénet
Team Columbia-Highroad not only won the team time trial at the Giro d'Italia, bettering their rivals Garmin-Slipstream in the process, but they finished with all nine riders together, including their sprinters. This is indicative of the good condition lead-out man Mark Renshaw has arrived with in Venice.
The Australian said while waiting for the other teams to complete the course, "It wasn't an objective to finish with nine but it means as a team we were going well. We've given it all. Two of our guys, [Morris] Possoni and Kosta [Kanstantsin Siutsou] missed some turns during the last 10 kilometres, but at the end they gave one last big turn that proved to be very good."
Teamwork is something Renshaw has been used to on the track as well. He felt at ease in Venice. "I was good. I died a little bit in the end. We rode at 60 or 61km/h on the way out and that's where we took the advantage on Garmin."
It was decided at the meeting that either Michael Rogers or Mark Cavendish,who are the two leaders of the team, would cross the line first. "I did a big turn of 1.5 kilometres near the end, after it wasn't even a question who would be first, I was done," the Australian said. "It's probably good for the spectacle of the Giro if it comes to a bunch sprint tomorrow and Cavendish is in pink," echoed Renshaw who is ready to take on his role as the Brit's last lead-out man following Gent-Wevelgem's winner Edvald Boasson Hagen.
"We've got enough horsepower I think," Renshaw said. The fast man from Bathurst, NSW, was picked by Team Columbia-Highroad for this job when his previous team Crédit Agricole folded last summer and he has done it well so far. Cavendish has been led out by Renshaw successfully five times this year already, twice at the Tour of California and the Three Days of de Panne and at Milano-Sanremo as well.
"We are looking for some sprint stages now," confirmed Rogers who is patient enough to wait for his turn to take over from Cavendish the leadership of the team.
Garcia Dapena will dedicate a stage win to Simeoni
By Jean-François Quénet in Venice, Italy
David Garcia Dapena (Xacobeo Galicia)
Photo ©: JF Quénet
As he completed the inaugural team time trial of the Giro, David Garcia Dapena didn't worry too much about the position of his Xacobeo Galicia team. The Spanish squad eventually finished 18th out of 22. "Since our captain Ezequiel Mosquera broke his wrist and couldn't come here, we won't target the general classification," said the Galician who recently won the one-day race Tour of the Rioja after finishing third at the Presidential Tour of Turkey, a race he won last year.
The selection of the Professional Continental team from Spain was justified at the start in Venice by race organiser Angelo Zomegnan as "the only team that came up with a new climber recently, until he got injured, but there's nothing we can do about that." Zomegnan added, "No TV in Spain would have broadcast the Giro if it was a race entirely with Italian riders. In our mind, Xacobeo Galicia was a valuable replacement for Euskaltel who didn't have enough riders on their roster this year for doing the Giro, Tour and Vuelta. We are happy to have a Giro that is more international than ever."
That was an answer to Filippo Simeoni who returned his Italian champion jersey in protest of the non-selection of his Ceramica Flaminia team. However, Zomegnan noticed that Simeoni returned to the federation "another jersey than the one he won because this one had publicity on it." Simeoni criticised the choice of the promoters of the Giro stating that his team was better than Xacobeo Galicia.
These comments have come to the ears of Garcia Dapena who won stage 14 at the Vuelta a España last year. "It's the first time I do the Giro and I want to win a stage here as well," he said. "After stage six, I believe there will be many opportunities for riders like me. Shall I manage to do it, I'll dedicate my win to Simeoni as a response to his allegations."
Scott Nydam back home
By Kirsten Robbins
Scott Nydam at Tour of the Battenkill
Photo ©: Marco Quezada

Scott Nydam returned to his Santa Rosa, California, home after being released from a four-day stay at the Thomason Hospital in El Paso. Nydam was airlifted to the hospital following a high-speed crash in the final stage of the Tour of the Gila on Sunday. The 33-year-old suffered head injuries and recently underwent surgery to correct a broken collarbone. According to BMC directeur sportif Gavin Chilcott the team is looking forward to his return to the peloton.
"He seems to be doing pretty good," Chilcott said. "Now we are marching forward to see how his other injuries from the crash proceed and how quickly his doctor will give him the green light on activity level."
Medics first drove Nydam to the local Silver City clinic where upon further review he was airlifted to Thomason, a much larger facility. "He was very bruised up, cut up and he hit his head pretty hard and needed the most urgent care," said Chilcott. "He hit his head during the crash and that was the second time he had hit his head. It was decided that they needed to watch the situation more intensively and deal with it at a bigger facility."
Nydam recently returned to the peloton following an accident at the Tour of California in February. According to Chilcott, there is no question the two accidents mark a major setback for the talented cyclist. "He was in the pipeline to compete in some big races at the first part of the season that he missed," Chilcott said. "He did such a great job re-training for this next block of racing that he will miss, too. Two big accidents is hard on anyone."
Nydam was next scheduled for the Tour of Belgium to prepare for the highlighted French event, Critérium du Dauphiné Libéré held in June.
Cavendish targeted by Twitter impersonator
New Giro leader Mark Cavendish was shocked to discover on Saturday that he has become one of the growing number of pro riders to join micro-blogging site Twitter. Several updates appeared on the page on the day of Cavendish and Columbia's pink jersey triumph, including a reference to Tom Boonen's positive test for cocaine. Cavendish, though, said that the author of those updates – and the person who activated the account twitter.com/MarkCavendish – was not him.
Cavendish and Highroad-Columbia have already contacted Twitter with a view to deactivating the offending account.
(Additional editorial assistance from Susan Westemeyer)
(All rights reserved/Copyright Future Publishing (Overseas) Limited 2009)