First Edition Cycling News for June 28, 2006
Edited by John Stevenson & John Kenny
Ullrich Tour okay
Jan Ullrich (T-Mobile)
Photo ©: AFP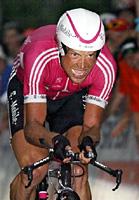 The organisers of the Tour de France have decided not to block Jan Ullrich's participation in this year's race. Spanish newspaper El Pais has linked Ullrich to the Operation Puerto doping scandal, but the accusation is too tenuous for Tour organiser ASO to ask Ullrich to withdraw.
"For the Tour de France, for now, there is no problem with Ullrich," Tour spokesman Philippe Sudres told the Associated Press. El Pais had implicated Ullrich on the basis of a collection of code names allegedly used by Dr Eufemiano Fuentes to identify athletes. The paper speculated that the athlete identified as 'Hijo Rudicio', or 'son of Rudicio' was Ullrich, based on Ullrich's close relationship with long-time mentor Rudy Pevenage.
However, Sudres pointed out that Ullrich, "has not been formally identified" by police investigating the case. The code names listed by El Pais were too vague to identify Ullrich with certainty, he added.
Ullrich has strongly denied any involvement in the Spanish affair.
May 18, 2009 - Valverde to start Catalunya
May 15, 2009 - Valverde not welcome in Denmark
May 14, 2009 - Spanish federation wants proof in Valverde case
May 13, 2009 - Spanish Olympic Committee defends Valverde
May 12, 2009 - Valverde responds to sanction
May 11, 2009 - Italian tribunal delivers Valverde two-year suspension
May 8, 2009 - Valverde case: Italian Olympic Committee defends Torri
May 7, 2009 - Valverde to take legal action against CONI prosecutor
May 5, 2009 - WADA and Spanish federation join CONI and UCI on Valverde
May 1, 2009 - International Cycling Union joins in on Valverde's hearing in Italy

Tour de France: Who will wear the green and polka dots?
The prolific Tom Boonen
Photo ©: Shane Stokes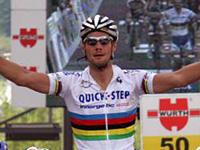 The points and mountains prizes, have arguably provided more of a dogfight between rivals in the Armstrong era. John Kenny previews the riders in the frame for this year's sprinter's green jersey and the climber's polka dot jersey.
The Tour does not simply reward the rider with the shortest elapsed time over the three-weeks duration of the race. Some riders, and indeed entire teams, will target the sprinter's and mountain's prizes if they do not have a realistic chance of a high overall placing. The competition for the points and the mountains prizes are much more than a mere sideshow to the main event, the winners will stand alongside the yellow jersey winner in Paris as the top riders in their specialty.
Points
The green jersey prize generally goes to the most consistent finisher, not necessarily the most prolific stage winner. Green jersey legends Sean Kelly and Erik Zabel founded their records on their relentless accumulation of points. Kelly won four green jerseys but only claimed five stages in his long career. Robbie McEwen (Davitamon - Lotto) and Tom Boonen (Quickstep - Innergetic) could provide the fireworks in the first week, but they will need to defend their points all the way to Paris by sprinting for small bonuses along the race route and for minor stage placings.
Click here for the full story.
Rasmussen: 1800km to get ready
Danish mountains specialist Michael Rasmussen (Rabobank) says he is not quite ready to defend his 2005 mountains jersey in this year's Tour de France - but he will be by the time the race hits the mountains.
"I don't know if I am quite as sharp compared to last year, but hopefully I will be. We have to ride 1800 km before reaching the Pyrenees, and I feel quite sure, that I am where I have to be when we reach the Pyrenees," Rasmussen said in his diary at www.feltet.dk/michaelrasmussen/.
Rasmussen said his preparation has been going well. "I have spent three days in the Pyrenees, where I rode the two mountains stages, and it went well, I think. Actually, that is what I have been doing since Tour de Suisse. There hasn't been that many days to waste."
Rasmussen doesn't believe this year's race will really start until the mountains, and doesn't expect any gifts to be given before that. "Then it is just the best that wins, and I believe that I am good enough to do that. I think that I am capable of beating them all in a straight fight."
The mountains jersey is his target, and team-mate Denis Menchov is Rabobank's designated general classification contender. But Rasmussen is not ruling himself out of going for a high place on GC too.
"Obviously, it could make the race much more fun to be 10 minutes behind in the overall," he said. "But that is not a decision I will make prior to the race. That decision will be made after the first time trial. If it goes well, I might be our second card for the overall all of a sudden. There is no reason to throw away the overall classification intentionally."
Strategically, Rasmussen said he will have to look out for riders such as Danilo Di Luca. "I could always hope that the points of the first ten days will be spread out on 15 different riders," he said. "That would make the task a little more foreseeable. Yesterday I heard that Di Luca goes to the Tour to take the mountains jersey. He is a little faster than me in the sprints, and that means that he might be able to get quite a few points on the smaller climbs, and then it can be difficult to close a gab of 50 points. In that situation I will have to win on a climb like Alpe d'Huez,where the score is twice as high. So, the decision [to go for the mountains jersey will be] made during the race."
Bishop to welcome Tour riders
Bishop Frans Wiertz of Roermond will welcome Tour de France riders when the race arrives in Valkenburg, July 4, according to Dutch news agency ANP. The third stage of the Tour covers 216km from Esch-sur-Alzette to Valkenburg in the Netherlands, and Bishop Wiertz plans to be at the finish. However, he will not bless the riders, as that ceremony will be performed before the prologue. Rather, Bishop Wiertz intends to meet the riders informally.
Hamilton to keep Olympic time-trial gold medal
The Court of Arbitration for sport (CAS) yesterday dismissed the appeal filed by Viatcheslav Ekimov and by the Russian Olympic Committee (ROC). Ekimov and the ROC had requested an annulment of the decision made by the International Olympic Committee (IOC) in 2004 that US cyclist Tyler Hamilton would not be sanctioned after a non-conclusive result of an anti-doping blood test after the time-trial event at the 2004 Olympic Games.
"Tyler Hamilton can retain the gold medal he won at the time-trial event in Athens and the ranking of this race is definitively confirmed," the CAS said.
Hamilton is currently serving a two-year ban for testing positive for blood doping at the Vuelta in September 2004. The CAS upheld that ban in February, which came into effect one month after the initial doping test in the Olympics had led to suspicions Hamilton had used a blood transfusion to boost his endurance.
The International Olympic Committee had to abandon its investigation because Hamilton's backup specimen was mistakenly frozen, leaving too few red blood cells to analyse.
Athens runner-up Ekimov would get the gold medal if Hamilton was disqualified. Michael Rogers, who finished fourth in the race, the Australian Olympic Committee, and the International Cycling Union (UCI) participated in the procedure as interested parties. Rogers stood to get the bronze medal if the appeal was successful.
The CAS panel has dismissed Ekimov's appeal on the grounds that he and the ROC had no standing to file an appeal with CAS in accordance with the IOC anti-doping rules applicable at the time of the 2004 Olympic Games.
Hamilton has also been implicated as one of the 58 cyclists named in the Operacion Puerto scandal. Spanish newspaper El Pais alleged on Monday that the investigation's dossier indicates that Hamilton was placed on an extensive doping programme by Dr Eufemiano Fuentes, the former Kelme team doctor at the centre of the investigation.
Hamilton said on Monday that, "I was very upset to read the accusations against me and to see my name associated with the 'Operacion Puerto' investigation in Spain. I have not been treated by Dr Fuentes. I have not done what [is alleged].
"In addition, I have never been contacted by authorities in Spain regarding these allegations," he said.
Commesso makes Lampre-Fondital's Tour team
Salvatore Commesso today was named as part of Lampre-Fondital's Tour team. He had earlier been in doubt due to a dislocated shoulder and fractured collar bone that he suffered in a recent training accident.
The Lampre medical officers passed him fit to ride alongside Alessandro Ballan, Daniele Bennati, Marzio Bruseghin, Damiano Cunego, Daniele Righi, Paolo Tiralongo, Tadej Valjavec and Patxi Vila Errandonea.
Two world champions for Natour Broker Criterium
The Natour Broker Criterium in Diksmuide, Belgium on July 25 is claiming an unusual double for its second edition: two world champions on the start line. As well as main drawcard Tom Boonen, the race will feature guest rider Laurent Thirionet; the Frenchman is the world and Paralympic champion among one-legged riders.
Thirionet, who is sponsored by Cofidis, usually specialises in the pursuit, and Diksmuide will be his first criterium. He had intended to ride a criterium in Calais a few weeks ago, but withdrew because of injury. He hopes to stay with the professionals for at least the first 20 laps or so (30km), even though many of them will have spent the previous three weeks riding the Tour de France.
FRW for Giro
The FRW women's team has announced its line up for the Giro d'Italia, which starts June 30 in Formello and finishes July 9 in Magreglio after 891km of racing.
The team will field Giorgia Bronzini, Martina Corazza, Kettj Manfrin, Nina Ovcharenko, Tetyana Palchynska, Ombretta Ugolini and Modesta Vzesniauskaite.
Cyclosportif event to mirror the Univest Grand Prix
Cyclosportif riders will be able to ride part of the Pennsylvania course ridden by the pros in the Univest Grand Prix on September 9, Univest GP organisers announced yesterday. The event begins three hours before the start of the pro men's race. Riders can choose between a 40 or a 60-mile course.
Cyclosportif is a European term for the recreational cyclist who enjoys the challenge of riding a road racing course. Popular cyclosportif events include 'L'Etape du Tour', which runs on a Tour de France stage three days before the Tour stage.
This year's Univest Grand Prix Cyclosportif participants can expect the same type experience as the Etape. Riders will receive official finishing times, on-course technical support provided by SRAM, a post-ride meal, post ride VIP seating to watch the finish of the pro race and can win over US$5000 in prizes from Bianchi, SRAM and Festina watches.
Louis Garneau Montreal-Quebec classic adds support races
Organisers have included support races for junior, senior, master's men and women on the Saturday before the Montreal-Quebec classic on August 13. The new edition of the race will be called the Louis-Garneau Québec – Trois-Rivières challenge.
"We are happy to sponsor a quality race not only for elite cyclists, but also for junior cyclists, tomorrow's stars", said Louis Garneau.
The new national-level race is sanctioned by the Canadian Cycling Association (CAA), so competitors can collect points to improve their national ranking. The challenge will depart in front of the Louis Garneau factory in Saint-Augustin-de-Desmaures and race to the arena Jean-Guy Talbot in Trois-Rivières. The 109-kilometre race is mostly flat.
Sunday's 252-kilometre pro race is the longest and oldest in North America and attracted over 200 riders last year. The race being is sanctioned as a national event, so riders can collect points for the national classification. To register, cyclists must hold a senior 1-2-3 or master A license.
The race was first organized in 1931. Since 2002, Louis Garneau and Jean-Yves Labonté have sponsored the race, helping ensure that the race finishes near Garneau's factory in Quebec.
Grand Prize for Fantasy Le Tour 2006 announced!
Giant TCR Advanced

BBB's BSG-23 Winner Quick-Step World Champion glasses

Speedplay Zero pedals

Deda Alanera handlebars

fi'zi:k saddles

DedaTre RS Corsa clincher tyres

Reynolds SV KOM carbon wheels

Play the 2006 Le Tour game and win a Giant TCR Advanced T-Mobile Team bike! The TCR Advanced T-Mobile Team bike is Giant's lightest and strongest bike and the one used by Jan Ullrich and the T-Mobile team. Made from T-700 carbon fiber using Giant's formulaOne technology, the frame is a jointless monocoque mainframe and features an integrated seat post and a Giant T-700 Full Composite fork. A small sized frame is only 865g making it one of the lightest frames on the market.
The bike comes equipped* with Shimano Dura-Ace group set and wheels, a Selle Italia saddle, Deda Elementi bars and stem, an FSA headset and Continental GP4000 tyres in the magenta/black colour scheme. (* Note that depending on where you live the specifics of the bike you might win may differ from country to country as the bike is sold with slightly different specs around the world).
It's free to play the first five stages - you could be our first winner of the great Daily Stage winner prizes from BBB. Registration has already begun.Be a professional team manager for the 2006 Le Tour and create your own dream team from any of the real life riders in this year's Tour. Based on the live racing action, you will take up the challenge of using your knowledge and tactical skill as a race team manager to compete with other virtual managers from around the world. Follow the races live and use your skill and knowledge to win some great prizes.
The full Le Tour Fantasy Game Prize List
Grand Prize from Giant TCR Advanced T-Mobile Team bike.
Daily Prize from BBB Parts - 21 pairs of BSG-23 Winner Quick-Step World Champion glasses designed for Tom Boonen.
Runner-up Prizes - Set of wheels from Reynolds. - Cirro SV KOM carbon wheels
Runner-up Prizes - Ten pairs of tyres from DedaTre.
Runner-up Prizes - Handlebars from Deda Elementi.
Runner-up Prizes - Three Giro Atmos helmets.
Runner-up Prizes - Three sets of Speedplay's Zero pedals.
Runner-up Prizes - Three fi'zi:k saddles.
Play for free in the Fantasy Le Tour 2006 game
Remember you can play for free for the first 5 stages! Try the game out and see how best to play. It's easy to play the Tour games - all you need to do is pick your dream team of 15 from the riders racing in this year's Le Tour start list. Then each day pick 9 riders to race for your fantasy team from these 15. You'll need a good combination of climbers, sprinters and general classification riders.
For more details go to the rules section of the site. There's also some great tips and tricks in the downloads and winners sections of the site. It's a great way to follow Le Tour 2006.
Good luck!
The Fantasy Cyclingnews Team
(All rights reserved/Copyright Knapp Communications Pty Limited 2006)