Latest Cycling News for June 21, 2006
Edited by Hedwig Kröner, with assistance of Susan Westemeyer
T-Mobile announces Tour de France line-up
After casting a final look at their riders' form at the recently concluded Tour de Suisse and Vuelta a Asturias, T-Mobile Team manager Olaf Ludwig and Tour de France sporting director Rudy Pevenage have finalised their roster for the 2006 Tour de France. Giuseppe Guerini, Matthias Kessler, Oscar Sevilla and Patrik Sinkewitz have secured the last four places in the line-up. The four now team up with the five riders, already nominated to the core roster in January: Serguei Gonchar, Andreas Klöden, Eddy Mazzoleni, Michael Rogers and Jan Ullrich.
Olaf Ludwig admitted that it wasn't an easy decision to make. "We were in the fortunate position to have a shortlist of 12 strong candidates to choose from." Asturias overall winner Oscar Sevilla was the last to cement his place in the line-up. "In the end we opted for another pure climber over a so-called rouleur," explained Pevenage. Meanwhile, the Italian Lorenzo Bernucci will be on stand-by as first reserve to slot in, should one of the nine nominees make a late withdrawal.
Team manager Ludwig believes Guerini, Kessler, Sevilla and Sinkewitz have performed solidly in the last weeks and months. Stephan Schreck and Sergey Ivanov were the other names on the Tour short-list right up the final decision. "They were in contention", says Ludwig. "But eventually we had to make the final decision." Schreck, who made his Tour debut last year, has struggled to follow-up on his solid 2005 season, while "Bernucci just about edged out Ivanov for the reserve spot," added Pevenage.
Pevenage, Ludwig and captain Jan Ullrich have huge belief in two riders, who, for different reasons, have struggled to make a mark on the season so far: Andreas Klöden and Eddy Mazzoleni. Ullrich is convinced that Klöden, Tour runner-up in 2004, will come good at the right time: "Andreas is a brick, he will find his best form." Ludwig shares the same faith in Klöden: "We will be able to count on him when the Tour hits the mountains." Mazzoleni, who since January has been assured of his place in the roster, has been able to make the Tour de France the front and centre of his entire season planning.
"We are taking a fantastic team to the start line," added Ullrich in praise of the eight teammates who will support his latest bid for a second overall Tour win. The captain judges the team's solid Giro and Tour de Suisse campaigns as evidence of "the great mood in the camp and the potential within the team." He himself is "extremely satisfied" with his form-building; the overall win in Switzerland has given him "enormous self-confidence." In addition to the overall victory, T-Mobile is also looking to win the Best Team Classification, which it has already done at the past two Tours.
The T-Mobile team to the 2006 Tour de France will therefore be: Giuseppe Guerini (36/Italy), Serguei Gonchar (35/Ukraine), Matthias Kessler (27/Germany), Andreas Klöden (30/ Germany), Eddy Mazzoleni (32/Italy), Michael Rogers (26/Australia), Patrik Sinkewitz (25/ Germany), Oscar Sevilla (30/Spain) and Jan Ullrich (32/ Germany).
Ullrich skips Nationals
Jan Ullrich has decided not to participate in the German national championship road race next Sunday in order to concentrate on the Tour de France. "Travelling to and from the race would cost me a day each way," he wrote on his personal website. "Apart from the stress, I would also hardly have time to train on Saturday and Monday. We are convinced that too much running around would hurt my Tour preparations. Therefore, I will stay home in order to prepare myself for the Tour in peace and quiet."
Sevilla celebrates victory
Oscar Sevilla (T-mobile) at last year's Tour de France
Photo ©: Luc Claessen

T-Mobile's Oscar Sevilla has won the Vuelta Asturias this week, his first victory in four years and his first stage race win ever. The Spaniard, 29, went into the final stage with a lead of only six seconds over second-placed Eladio Jimenez Sanchez (Valenciana), but was able to build it up to 1'20 in the final stage, where he finished second, seven seconds behind stage winner Ruben Plaza (Valenciana).
"I am extremely happy for Oscar," said T-Mobile Directeur Sportif Valerio Piva. "He is a very quiet and determined worker. This win is the just reward for his efforts."
Sevilla's victory improved his chances of being named to the T-Mobile Tour squad that was announced today. "Oscar has been in good form here and was able to control the race right throughout," according to Piva. "His form curve shows he's peaking at exactly the right time, which proves that he knows exactly how to go about his preparations."
A dark cloud hanging over Sevilla is the fact that he was allegedly filmed entering the building where the incriminated Dr. Fuentes has his offices, in the Spanish Operation Puerto affair. Sevilla claimed not to have been involved with the controversial doctor and has assured his team of his innocence in a written statement.
The pressure is on for Boonen
Tom Boonen (Quick.Step) in Green after stage 1 last year
Photo ©: Sirotti

Belgian cycling superstar Tom Boonen is looking forward to the fight over stage victories and the Green jersey in France, starting in only ten days. But the leader of team Quick.Step also knows that the pressure on him will be tough, and not only coming from his fans.
"The Tour is the greatest competition of the year," Boonen said. "I'm not really happy to go there, because it is so hard mentally. As soon as you're out of bed, it's stressful. And everyone wants to win and thinks they can! Everybody gets involved in the sprints, even riders that don't have anything to do with it: GC riders, climbers... It's life-threatening."
The World Champion expected danger coming from other riders than the sprinters, amongst which he sees Australian Robbie McEwen as his biggest rival for the fast stage finishes. "Sometimes I don't agree with the way he [McEwen] sprints, but I have a lot of respect for him," Boonen continued. "Robbie does things that I wouldn't do, but on the other hand, I couldn't name two crashes that he would have caused."
Boonen also had a word for his fellow sprinter Alessandro Petacchi, who has just been taking up training again after crashing heavily in the Giro d'Italia. "It's a pity for him, a pity for the Tour," the Belgian commented on his non-participation. Still, Boonen is looking forward to the Grand Tour. "In Belgium, everyone expects me to win in the Tour," he added. "I'm fast, that's the weapon I do have. So I'll use it. One day I'll have enough of the Tour for sure, but at the moment I just can't pull back."
An interview with Robert Förster
Förster cracks the big one
Rewards for victory.
Photo ©: Sirotti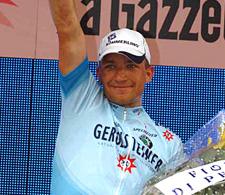 Robert Förster became Gerolsteiner's number one sprinter when Olaf Pollack left to join rival German Team T-Mobile. The only problem was that he had more second and third places than wins. So his goal for 2006 was to "pull off a big one" - and that's exactly what he did, winning the final stage of the Giro d'Italia. Unfortunately for him,he won't be able to win on the Champs Elysees this year, as Gerolsteiner has decided against including sprinters in their Tour team. Cyclingnews' Susan Westemeyer caught up with "Frösi" to find out how he is dealing with the ups and downs of life as a sprinter.
Cyclingnews: After you won the last stage of the Giro d'Italia, you said that you couldn't believe it. Have you been able to absorb it by now and what does it mean to you?
Robert Förster: It's slowly beginning to sink in - that was the biggest win of my career to date. Looking at it from a purely athletic point of view, winning a sprint at the end of a three-week Tour is something very special. I forced myself to make it through to Milan; some of the other sprinters had already gone home. It was a really super experience and I'm very proud of that win.
CN: How did the Giro go for you otherwise? Were you satisfied with your performance before the last stage?
RF: Well, I had to work pretty hard especially after what was a very frustrating start. I just wasn't able to get into the swing of things and I didn't play a role in any of the early sprints. I suffered many injuries before the Giro and they really had a negative effect on my form.
Click here for the full interview
Vuelta considers retracting Comunidad Valenciana's invitation
In an interview published in the Spanish sports newspaper AS, Ignacio Ayuso, president of Vuelta a Espańa organiser Unipublic, said that 'Operacion Puerto' will clean up the Vuelta. Cycling is losing credibility [with the doping scandals - ed.] but there are also pros like Valverde and Mancebo who do not generate doubt.
"I have the feeling that the investigation has still not finished, that there is still more," he added. "And this increases the problem for the organisers, mainly for the Tour, which is next up." With regard to the Comunidad Valenciana team and their non-participation in the Tour de France, Ayuso said: "The Tour took that decision on the basis of the data it had at the time, but we can hope that once the secret of the investigation is lifted, we'll know the exact implication of Ignacio Labarta in the case, as well as if Comunidad Valenciana has failed to fulfil the ethical code. In this case, we will also retract our invitation."
As to the Würth team, whose new sponsor Astana still has to be confirmed by the UCI, and whose ProTour license has to be renewed, Ayuso said, "The ProTour License Commission will decide on Friday if it renews the license with its new sponsorship. My impression is that they are going to renew it, although I think that they must examine thoroughly if the arrest of Manuel Saiz by the Civil Guard was itself an infringement of the ethical code which governs this competition."
Courtesy of Antonio J. Salmerón
Cyclingnews' recent coverage of 'Operación Puerto'
May 18, 2009 - Valverde to start Catalunya
May 15, 2009 - Valverde not welcome in Denmark
May 14, 2009 - Spanish federation wants proof in Valverde case
May 13, 2009 - Spanish Olympic Committee defends Valverde
May 12, 2009 - Valverde responds to sanction
May 11, 2009 - Italian tribunal delivers Valverde two-year suspension
May 8, 2009 - Valverde case: Italian Olympic Committee defends Torri
May 7, 2009 - Valverde to take legal action against CONI prosecutor
May 5, 2009 - WADA and Spanish federation join CONI and UCI on Valverde
May 1, 2009 - International Cycling Union joins in on Valverde's hearing in Italy

Cyclingnews' complete coverage of Operación Puerto
Cancellara disappointed
After not getting selected to participate in this year's Tour de France, Team CSC's Fabian Cancellara was a little bit disappointed. Speaking to L'Equipe, the 2006 Paris-Roubaix winner said, "I didn't want to go to the Tour for a show but to serve the team. I've never raced as an individualist, without caring about the others. And I improved my form a lot during the Tour de Suisse."
Cancellara had aimed the second part of the season on the Tour de France, especially on the prologue in Strasbourg on July 1. "Now, Bjarne has made his choice, and I know it was hard for him to choose riders who perform better in the mountains than me," the Swiss continued. "It's a strategic choice, and I can only respect it. But I will need a few days to get over my disappointment."
Schmitz in hospital
T-Mobile's Bram Schmitz was taken to hospital in the Netherlands on Friday, June 16, where he is currently still kept under observation. The Dutch pro rider suffered severe diarrhoea, and will therefore not be able to start at his national championships this week-end.
"We found that Bram lost a lot of weight," said a T-Mobile spokesperson. "He couldn't keep anything in his body. That's why he was admitted to hospital. The precise reason for this is not yet known, not when he will be released."
(All rights reserved/Copyright Knapp Communications Pty Limited 2006)