First Edition Cycling News for June 21, 2006
Edited by John Stevenson & John Kenny
Roux denies accusing Jalabert
Laurent Jalabert: wrongly accused
Photo: © epicimages.us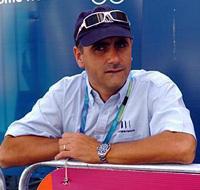 Former professional Laurent Roux has said that under no circumstances was Laurent Jalabert involved in initiating his younger brother Fabien into the use of the 'pot Belge' drug cocktail.
Speaking on French TV yesterday evening, Laurent Roux, who has been giving evidence in the "Cahors affair" trial, said that Fabien Roux had taken pot Belge at a party in 2001, but that Jalabert was not present, nor did he supply the drugs.
According to Laurent Roux, the story had been exaggerated by the French press for sensationalistic effect.
Cofidis announces Tour team
David Moncoutié and Rik Verbrugghe will lead the Cofidis team for this year's Tour de France, which starts in Strasbourg on July 1. Team manager Eric Boyer told AFP that he was relying on the duo to go for stage wins during the three-week race. "This is a team of warriors, of irregulars, who have already won at the highest level," he said of Moncoutié and Verbrugghe's previous stage victories in grand tours.
The Cofidis squad will contain the first British rider to start the Tour since 2003 as Bradley Wiggins goes for a win in the prologue. Sylvain Chavanel will also go for stage wins, but will not have any special ambition for the general classification.
Boyer explained that he had chosen not to field Leonardo Bertagnolli after the Italian pulled out of the Dauphine and the Giro earlier this year. "He is having trouble recovering," said Boyer. Stéphane Augé was chosen over Geoffroy Lequatre who will get his chance at a three-week Tour in the Vuelta a Espana in September, Boyer added.
The Cofidis team for the Tour de France will therefore be Stéphane Augé, Jimmy Casper, Sylvain Chavanel, Arnaud Coyot, David Moncoutié, Cristian Moreni, Ivan Parra, Rik Verbrugghe, and Bradley Wiggins.
AG2R aims for podium
The AG2R Prévoyance team has a simple aim for the Tour de France: a podium place for one of its riders. "The Tour will be more open this year," said Yvon Breton, general secretary of the team's sponsor. "The idea is that this is a chance for us to figure in the general classification. We therefore want to get one of your riders on the podiuim, and if we can also win a stage, that would be the cherry on the cake."
AG2R will be putting its weight behind Spanish rider Francisco Mancebo, who was fourth in 2005, and aiming to help him move up a place or two this year. Christophe Moreau, who finished second in the Dauphine Libere recently, will also be a major player for the team.
Iban Mayo to lead Euskaltel Euskadi in the Tour
By Antonio J. Salmerón
Iban Mayo's win in the mountainous Briançon-La Toussuire stage of the Dauphiné Liberé has made him confident of a final podium place in the Tour. Mayo will be backed by a strong squad in the Tour including: Iker Camano, Unaï Etxebarria, Aitor Hernandez, Iñaki Isasi, Iñigo Landaluze, David López, Gorka Verdugo and Haimar Zubeldia
Steegmans move not definite
"This news is premature," Gert Steegmans has told Belgian Sporza radio about his reported move to Quick.Step for next season. "On Sunday the national championship is on the menu. At the moment that's all I am busy with."
"Whatever I decide to do, I promised to speak to Marc Sergeant, Davitamon-Lotto team manager, first in any case. After that I will make a decision. The rest I will leave to my manager," said Steegmans.
Steegmans' manager, Paul de Geyter, said, "At the moment nothing has been decided. We are looking at several offers for Steegmans."
Quick.Step team manager Patrick Lefevere does not deny that he is interested in Steegmans, but said, "I have spoken to his manager, but first I want to see the Nuyens situation cleared up."
Several teams are interested in Nuyens but he has not yet made a decision about his 2007 team. "Will he extend his contract with Quick.Step or not? I must respect my budget," said Lefevere.
Lefevere said he was also waiting to see how the Spanish situation affected the former Liberty Seguros team, now known as Astana-Wurth. "If that team closes, it will put some quite interesting boys on the street," said Lefevere.
QuickStep-Innergetic announced for Halle-Ingooigem
The QuickStep-Innergetic team has announced its squad for the Halle-Ingooigem, today's Belgian one-day race. The riders will be: Serge Baguet, Wilfried Cretskens, Ad Engels, Kevin Hulsmans, Sebastien Rosseler, Jurgen Van De Walle, Kevin Van Impe and Wouter Weylandt. Quickstep's directeur sportif for the race will be Rik Van Slycke.
Spanish Professional Cycling Association supports Comunidad Valenciana
The president of the Spanish Professional Cycling Association, José Rodríguez, on Monday vowed to support the beleaguered Comunidad Valenciana team.
The team's wildcard entry to the Tour has been withdrawn due to doping allegations unearthed in "Operation Puerto".
Rodríguez pledged his commitment to fight doping, but said that individuals must not be sanctioned without proof of guilt, "[The Society de Tour de France] must ensure that only those who resort to prohibited practices are sanctioned and that [innocent] sportsmen are not harmed," he said. "I will do anything to help Comunidad Valenciana."
Cyclingnews' recent coverage of 'Operación Puerto'
May 18, 2009 - Valverde to start Catalunya
May 15, 2009 - Valverde not welcome in Denmark
May 14, 2009 - Spanish federation wants proof in Valverde case
May 13, 2009 - Spanish Olympic Committee defends Valverde
May 12, 2009 - Valverde responds to sanction
May 11, 2009 - Italian tribunal delivers Valverde two-year suspension
May 8, 2009 - Valverde case: Italian Olympic Committee defends Torri
May 7, 2009 - Valverde to take legal action against CONI prosecutor
May 5, 2009 - WADA and Spanish federation join CONI and UCI on Valverde
May 1, 2009 - International Cycling Union joins in on Valverde's hearing in Italy

Cyclingnews' complete coverage of Operación Puerto
Scarselli falls during training in Venezuela
Leonardo Scarselli had a fall during a training session with his team mate Josè Rujano in Venezuela on June 13.
The Quick Step-Innergetic rider injured his anterior tibial muscle of his right leg and underwent surgery to remove two pieces of wood that were lodged inside the wound.
"I fell at high speed," said Scarselli. "I cut my leg on some branches upon impact. At first I thought it was just a normal cut but after examination I discovered that there were two small splinters inside the leg muscle that needed to be surgically removed. Thankfully the small operation went well but I'll have to rest for a couple of weeks and I'll be taking antibiotics for about 12 days."
Scarselli will return to Italy on June 22 where he will undergo further treatment.
Fall rules Boucher out of French Championships
David Boucher (Unibet.com) yesterday fell off his bike while training, ruling him out of the French Championships. He sustained heavy bruising to his legs, arms, back and hands and will be out for two weeks.
Lehigh Madison Cup this weekend
This Friday, June 23, the Lehigh Valley Velodrome will host the Lehigh Valley Acura Honda Madison Cup presented by East Penn Bank, an internationally sanctioned race featuring Olympic and world championship medalists from all over the world.
The 16 teams competing for the Bob Rodale trophy will include Germany's Stefan Steinweg and Christian Grasmann and Australian duo Jeff Hopkins and Pete "Fitzy" Fitzpatrick. Representing the host nation will be Mike Friedman and Brad Huff and the pairing of Dave Clinger and Mike "Speedy" Beers. Argentina will be represented by Colavita Pro team's Guido Parma and Gabrielle Brizula.
For the women, world champion Sarah Uhl (USA) will be back in T-town to showcase her skill and speed, along with multiple world medalists including Kim Geist also from the USA.
Both a UCI and USA Cycling National Track Calendar (NTC) event, the Madison Cup is the longest running event at the Lehigh Valley Velodrome. Organisers say this year's field will be the strongest in years.
For more information see www.thevelodrome.com
Australian 24 hour fills up in five days
Last year it took a week; this year Australia's biggest 24-hour mountain bike event has filled up in just five days and two hours. Entries opened for the Scott Australian 24hr mountain bike championships on June 15, and after some initial teething troubles with a rather heavily-loaded server, entries closed today with over 2700 places filled.
However, because the event also hosts the official Australian solo 24-hour national championship, for which men's and women's Australian champion jerseys are awarded, entries will remain open in the solo categories.
(All rights reserved/Copyright Knapp Communications Pty Limited 2006)