First Edition Cycling News for June 19, 2006
Edited by Jeff Jones
Tour de Suisse stage 9 wrap-up
Ullrich takes second Tour de Suisse title
By Shane Stokes in Bern, with additional reporting from Anthony Tan
Jan Ullrich (T-Mobile)
Photo ©: AFP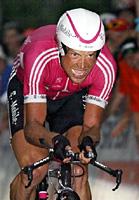 1997 Tour de France champion Jan Ullrich has posted a clear warning to his rivals that he is approaching top form with a winning ride in the Tour de Suisse. The T-Mobile leader took both the final stage and the general classification, battling through wet, slippery conditions to overhaul the 50 second overnight deficit to Koldo Gil Perez (Saunier Duval-Prodir) and repeat his 2004 win in the event.
Gil dug deep to try to hand on to his yellow jersey and at the first time check, 14 kilometres into the 30 .7 kilometre race against the clock, he was only 12 seconds back. However Ullrich drew further and further ahead after that point, opening the gap to 35 seconds by the second time check (21.4 km) and then erasing the gap between them soon afterwards. Much as he did in the Giro d'Italia, he continued to accelerate as the stage went on, finally finishing 1 minute and 14 seconds ahead of a disappointed Gil.
Ullrich's strong ride also saw him overhaul the provisional best time posted by Cadel Evans (Davitamon-Lotto). The Australian finished second in the TT, 23 seconds back, while stage 4 winner Angel Vicioso was a further eight seconds back in third. Jörg Jaksche, who had started the day second overall and was tipped by many as being in with a chance, had a disappointing race to finish tenth in the time trial. He consequently ended the race third overall, 1 minute and 3 seconds behind Ullrich and 39 seconds off the general classification time of Gil.
Ullrich's win will give the German increased motivation prior to the Tour start in Strasbourg in 13 days time. He will now concentrate on recovering from the event, paring another kilo or two off his increasingly-lean physique and hoping to stay in full health. When he last won the Tour de Suisse two years ago, he caught a cold prior to the Tour and performed below his usual high standards.
Click here for the full results, report and photos from stage 9.
Schleck loses a spot
Frank Schleck (CSC)
Photo ©: Sirotti

Perhaps 'easy come, easy go' is not the phrase that should be applied to CSC's Fränk Schleck, who moved up a GC spot on Saturday, only to lose it again in Sunday's time trial - it was anything but easy. Schleck finished 11th in the final time trial between Kerzers and Bern, battling the wind and the rain to be one of four CSC riders in the top 20. He was even quicker than early leader and teammate Fabian Cancellara, but it wasn't enough to stop Janez Brajkovic (Discovery) from moving past him to take fifth.
"Considering the fact that the weather was both rainy and windy, it actually went okay," said team director Dan Frost to team-csc.com. "We had four riders in the top 20 today, so we have every reason to be pleased.
"As Fränk said before today's stage, he would've been totally happy with this result a couple of years ago, but of course he wants to see some progress. But it's important to remember, that he wasn't meant to peak in this race at all – it was merely meant as preparation for the Tour."
Armstrong calls for Pound's exit
Lance Armstrong has come out swinging against the World Anti-Doping Agency (WADA) in the wake of Emile Vrijman's report on the L'Equipe allegations, published two weeks ago. The American, who was accused by L'Equipe of taking EPO at the 1999 Tour de France, claims that WADA acted improperly in its dealings with the French lab that was doing research on old urine samples. Some of those samples belonged to Armstrong, and it was alleged that they proved that he had used EPO to win the 1999 Tour.
In a letter to the International Olympic Committee, Armstrong said that WADA had pressured the lab into making an "improper report" that was subsequently leaked to L'Equipe, despite admitting that its research did not meet standards for drug testing. Armstrong has asked the IOC (as an overseer of WADA) to start a disciplinary investigation into WADA and Dick Pound, who he claims is behind the improper conduct because Armstrong has publicly criticised him in the past.
"Dick Pound is an IOC member and a high-ranking IOC official," Armstrong wrote in a statement following his IOC letter. "He holds his position with WADA because he was placed in that position by the IOC. WADA receives its authority because the IOC requires all international federations to adopt the WADA Code. WADA receives a substantial portion of its funding from the IOC. IOC President Jacques Rogge called for the independent investigation that revealed Pound's misconduct. It is now time for the IOC to enforce the rules, to bring closure, and to take action against all of those who were responsible for this unfortunate incident."
In his letter, Armstrong wrote, "If the individuals responsible do not accept responsibility and yield their positions voluntarily, those individuals must be suspended or expelled from the Olympic movement."
And again in his statement: "Dick Pound has already told the media that he does not acknowledge the authority of the IOC in this matter. That is the fundamental problem here. Until the IOC steps up and makes it clear that they are responsible for misconduct by IOC officials and all misconduct by sports officials, no athlete will be able to take seriously the rules and protections of athlete rights in the rules of sport. It is in that spirit that I ask you to read my letter.
Click here for the full statement and Lance Armstrong's letter to the IOC
June 27, 2006 - Carmichael defends Armstrong, Armstrong answers L'Equipe & LeMond
June 26, 2006 - LeMond: "Armstrong threatened my life"
June 19, 2006 - Armstrong calls for Pound's exit
June 18, 2006 - Lance Armstrong's open letter against Dick Pound
June 4, 2006 - UCI hits back at WADA
June 3, 2006 - WADA slams the Vrijman report
June 2, 2006 - L'Equipe stands by its story, UCI supports Vrijman's findings
June 1, 2006 - UCI, WADA and Armstrong react to Vrijman's report
May 31, 2006 - UCI lawyer asks for Armstrong's name to be cleared
May 14, 2006 - Two more weeks for Armstrong investigation
Comunidad Valenciana asks for Rafael Blanco's resignation
By Antonio J. Salmerón
Spanish sports newspaper AS has published on Sunday that the members of the Comunidad Valenciana team have requested the "immediate resignation" of Rafael Blanco, of the State Sports Council (CSD). Blanco's comments to AS yesterday over the expulsion of the team from the Tour de France prompted the request. "We are not going to do nothing," he said. "We cannot practice zero tolerance and soon support a team under suspicion."
The Spanish squad answered with a statement saying, "We deny the statements of Rafael Blanco where he links Comunidad Valenciana with doping practices...We ask that he present the evidence that supports the suspicion of doping before the institutions and the public opinion."
The call for Blanco's resignation is based on two main points: "Firstly, if those statements had been made based on data from the summary, the violation of the secret of the summary would have occurred, and secondly, if they had been made on data that are not in the summary, they must make it available to the antidoping commission or the Federation to initiate disciplinary proceedings."
Cyclingnews' recent coverage of 'Operación Puerto'
May 18, 2009 - Valverde to start Catalunya
May 15, 2009 - Valverde not welcome in Denmark
May 14, 2009 - Spanish federation wants proof in Valverde case
May 13, 2009 - Spanish Olympic Committee defends Valverde
May 12, 2009 - Valverde responds to sanction
May 11, 2009 - Italian tribunal delivers Valverde two-year suspension
May 8, 2009 - Valverde case: Italian Olympic Committee defends Torri
May 7, 2009 - Valverde to take legal action against CONI prosecutor
May 5, 2009 - WADA and Spanish federation join CONI and UCI on Valverde
May 1, 2009 - International Cycling Union joins in on Valverde's hearing in Italy

Cyclingnews' complete coverage of Operación Puerto
Phonak names Tour team
Alex Moos (Phonak)
Photo ©: Sirotti

At a press conference in Bern today, Phonak Hearing Systems named its roster for the Tour de France. The nine-man squad boasts 32 years of Tour de France experience, as well as featuring riders from nine different countries.
Floyd Landis will be the team captain, with support from Miguel Angel Perdiguero, Axel Merckx, Bert Grabsch, Koos Moerenhout, Nicolas Jalabert, Robert Hunter, and climbers Alexandre Moos and Victor Hugo Peña. "It was important to find a good balance between good climbers and pacesetters," said team manager John Lelangue, explaining his main focus when selecting the Tour de France team.
Phonak also underlined experience, with 33-year old Frenchman Nicolas Jalabert set to ride his eighth Tour, and Axel Merckx his seventh. Alex Moos will be in his second Tour, while Miguel Angel Perdiguero will be competing in the race for the first time.
South African sprinter Robert Hunter's nomination was uncertain after his a month ago at the Volta a Catalunya saw him undergo a shoulder operation. But his hand injury did not involve any broken bones, and he is now pain free. "Robert Hunter has shown what's possible with enormous willpower," said team doctor Denise Demir.
"We want to win the Tour," said Floyd Landis. "That has to be the goal. We will do everything we can to reach that goal."
Rabobank names Tour team
Michael Boogerd (Rabobank)
Photo ©: Sirotti

The Rabobank squad has confirmed its line up for the Tour de France, with Erik Erik Breukink and Frans Maassen taking the following nine riders: Dutchmen Michael Boogerd, Erik Dekker, Thomas Dekker, Joost Posthuma and Pieter Weening, with Juan Antonio Flecha and Oscar Freire (Spain), Denis Menchov (Russia) and Michael Rasmussen (Denmark). Bram de Groot (the Netherlands) and Pedro Horrillo (Spain) will be the team's reserves.
The squad has a total of 35 years of Tour de France experience, with Erik Dekker as the most experienced rider, starting in his 12th Tour. Michael Boogerd will be riding his 11th Tour, while Thomas Dekker will make his debut in the world's biggest cycling event.
The team also has a total of 10 stage wins in the Tour: Erik Dekker has four, Boogerd has two, and Flecha, Freire, Rasmussen and Weening all have one. Rasmussen also won the polka dot jersey last year, while Denis Menchov won the young rider classification in 2003. Menchov, the on again, off again winner of the 2005 Vuelta a España, will be the team's main GC rider.
Flanders wants 'Le Grand Départ'
The Flemish government is bidding to host the start of the Tour de France in 2010 or 2013. Flemish Prime Minister Yves Leterme discussed the plans last week with Le Tour's Christian Prudhomme, but realises that he will be up against some stiff competition. "Flanders is not the only one to have applied," said current Tour boss Jean-Marie Leblanc to HNB. "Utrecht, Rotterdam, Düsseldorf, Lugano, Monaco, Florence, Salzburg: all of them are candidates."
Although Belgium has hosted the start of the Tour three times, it has never begun in the Dutch speaking part of the country. Next year, the Tour will start in London, but will visit Flanders.
Tour of California Returning to San Jose
By Mark Zalewski, North American Editor
After hosting a stage finish and the all-important time trial for the inaugural Tour of California in 2006, the City of San Jose will once again host a stage finish, with the time trial moved to a new venue. According to the San Jose Mercury News, the organisers of the race, AEG, have asked for firm commitments from the host cities by July 1 in order to announce the full route during the Tour de France.
AEG would not comment about the details as they are trying to keep tight control over them. However, a line-item in the city budget revealed an approval to use city streets and $85,000, or about half of last year's expense, according to the report. The report also confirmed that the race will again be eight days long, start in San Francisco and and in Redondo Beach.
Fantasy Le Tour 2006 game ready to play!
Reynolds KOM carbon wheels
Photo ©: Reynolds

We are proud to present our fourth year of Fantasy Le Tour games! There's another brilliant range of prizes for what looks set to be the most exciting game yet here at Cyclingnews. Be a professional team manager for the 2006 Le Tour and create your own dream team from any of the real life riders in this year's Tour. Based on the live racing action, you will take up the challenge of using your knowledge and tactical skill as a race team manager to compete with other virtual managers from around the world. Follow the races live and use your skill and knowledge to win some great prizes. Register your teams now!
Prizes confirmed
The following prizes have been confirmed for this year's game. More prizes and details to follow shortly:
Fi'zi:k - 3 saddles - winners will have a choice of team replica saddles.
Speedplay - 3 sets of these fantastic pedals.
DedaTre - 10 pairs DedaTre RS Corsa clincher tyres / black-gumwall.
Dedaelementi - 1 pair of Dedaelementi Alanera Integrated full carbon fibre handlebars.
Reynolds - 1 pair of Reynolds KOM carbon wheels.
BBB Parts - Daily Stage Prize - 21 pairs of BSG-23 Winner Quickstep World Champion glasses.
Giro - 3 Giro Atmos Helmets - Winners will have a choice of three new edition helmets: Discovery Team Atmos, a Livestrong Atmos or a Polka Dots Atmos helmet.
Play for free in the Fantasy Le Tour 2006 game
Remember you can play for free for the first 5 stages! Try the game out and see how best to play. It's easy to play the Tour games - all you need to do is pick your dream team of 15 from the riders racing in this year's Le Tour start list. Then each day pick 9 riders to race for your fantasy team from these 15. You'll need a good combination of climbers, sprinters and general classification riders.
For more details go to the rules section of the site. There's also some great tips and tricks in the downloads and winners sections of the site. It's a great way to follow Le Tour 2006.
Good luck!
The Fantasy Cyclingnews Team
(All rights reserved/Copyright Knapp Communications Pty Limited 2006)