Latest Cycling News for July 20, 2006
Edited by Jeff Jones and Shane Stokes
Coming up on

Cyclingnews will cover the 60th edition of the Dauphiné Libéré live as of stage 4 on Wednesday, June 10, at approximately 15:00 local Europe time (CEST)/ 23:00 Australian time (CDT)/ 9:00 (USA East).

WAP-enabled mobile devices: http://live.cyclingnews.com/wap/

An interview with Cadel Evans
Seizing opportunities
Cadel Evans moved back into overall contention after his great ride to La Toussuire. Tomorrow's final stage in the Alps should suit him and the parcours could allow him to continue his rise up the GC. John Trevorrow caught up with Evans after his fourth place on stage 16.
Cadel Evans (Davitamon)
Photo ©: Sirotti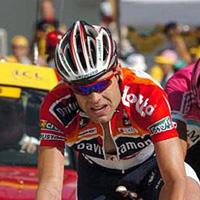 Cadel Evans was pleased to reverse his mediocre Alpe d'Huez form - by his standards - and gain some time back on most of his main rivals, "I'm slowly trying to improve. I've had a couple of time losses in the Tour so far and to have another day like today would be good. [I will] just try to keep picking time off the GC [and] take opportunities when they come and make some when they don't," he said.
Q: How did you feel today, Cadel?
Cadel Evans: Good, today was a much better race for me. Yesterday when we hit the bottom of the climb, you saw the size of the peloton. It wasn't a very hard race until that point, whereas today I think there were 30 guys at the start of the climb. That style of race suits me and my physiology much better. Obviously I can do a better climb when everyone else is half dead. That was one thing, and yeah, I think this climb suits me a bit better. I actually seem to have lost a bit on my climbing capacities because I have worked a lot on my time trialling but that has been a little bit to the detriment of my climbing.
Q: That could be to your benefit in two days time?
CE:It could be pretty important since they announced 117 kilometres of time trialling in this year's Tour I thought it would probably become pretty important.
Click here for the full interview
"Team leader" Kessler takes care of "Captain" Klöden
T-Mobile assumed that its captain this year at the Tour de France would be, of course, Jan Ullrich. His last-minute suspension changed all of that, forcing the captaincy on Andreas Klöden, who has now worked himself up to third place in the overall classification. But the "team leader" has turned out to be another - Matthias Kessler.
"I wasn't forced into this leadership position," he told www.fr-aktuell.de. "It was a long process, that I wanted. That it has become obvious to everyone during the Tour is only because Jan Ullrich is no longer here as the classic captain." It's not unusual for the team that the captain is not the team leader," he says. "Formerly, Christian Henn had this leader's position in the team. Now I'm the rider who may not win the big race, but instead stands back and controls things and tries to steer the team."
The position is not new to him, said Kessler, and he even told Jan Ullrich what to do in the past. "Of course I have talked with Jan about possible tactics and shared the racing control with him. It's just that nobody noticed it, because the focus concentrated totally on Ulle, and I didn't stand up and say that I told Jan what he should do...We discussed a lot, not just tactics but also over the preparations. It started in winter, as to where we should train. For example, I strongly pushed for training in South Africa."
But he has now transferred his loyalty to Klöden, his traditional roommate on the road. "I am a very close friend of Andreas'. Klödi has an enormous potential, in my opinion he is the greatest rider in German cycling behind Ullrich, when it comes to Grand Tours. His problem is that he gets too upset by other things, which isn't good for him."
Kessler tries to take care of those things for him, so that Klöden can concentrate on his riding. "It's things like discussions with the other riders or the directeurs sportif. Klödi tells me what he thinks, we discuss it, and then I give his opinion further. He doesn't have to do it, I take care of it for him."
Voigt: "Are they all crazy?"
It went Crash! Bang! Boom! in Wednesday's Alpine stage. "The liquidy, cheap asphalt on the narrow roads was bad. You literally stick to it," writes CSC's Jens Voigt on www.sport1.de. "And were there crashes! I couldn't believe it! It started right in the first curve on the descent from Galibier, Bennati slid away. Five curves later, Chavanel hit the ground. And both are good descenders. I thought, are they all crazy?
He noted that French TV gave the "official" explanation that Landis didn't have enough to eat and therefore lost so much time. "That is of course a terrible mistake, that no one should allow themselves to make in the Tour."
It was hard to find the right time to eat during the stage, though. "When you climb, you're at your limit, you don't want to have you mouth full of some sticky chocolate bar, and descending you have both hands on the handlebars, because you're afraid for your life. When you forget one time to eat, then it can have a terrible revenge on you."
Mixed fortunes for Lampre-Fondital
Daniele Bennati (Lampre-Fondital)
Photo ©: Roberto Bettini

Wednesday's second Alpine stage of the Tour de France saw an aggressive performance from Lampre's Tadej Valjavec, who went clear with Sandy Casar (Française Des Jeux) and eventual stage winner Michael Rasmussen (Rabobank) on the first climb of the day. The Slovenian rider was away for most of the stage and while he was caught before the line, he finished a solid 19th.
Also aggressive were Salvatore Commesso and Marzio Bruseghin, who were in a large chase group behind the leading three on the Galibier, and Damiano Cunego. The former Giro d'Italia winner was trying again after finishing second on l'Alpe d'Huez on Tuesday. He finished 14th on the stage, 4'21" behind Rasmussen, and is now 16th in the overall standings. Importantly, he is only 2'42" off the white jersey currently worn by Marcus Fothen (Gerolsteiner).
"It has been a tough stage," Cunego said afterwards. "I tried to be in some breakaways in the beginning, but there were no opportunities. So I stayed with the chasing bunch. On the last climb I worked hard and then I kept my place. Compliments to Rasmussen for the great ride. Tomorrow I will see what I can achieve."
Unfortunately, Lampre-Fondital also had some disappointment due to Daniele Bennati's withdrawal. The Italian sprinter started the day third in the points classification but then fell on the descent of the Galibier, pulling out due to an injured left leg. However a medical check revealed that the bone is not broken.
De Jongh is gone
Steven de Jongh pulled out of the race on stage 16. The Quick.Step rider fell in stage 15 and suffered a lot from headaches on Wednesday.
"It wasn't working out," he said. "I didn't want to give up but the team directors and the doctor said it would be better to do so. Actually there was really no point in continuing."
Fuentes and Merino in court on Thursday
In the latest development in the Operación Puerto case, Dr. Eufemiano Fuentes and Jose Luis Merino will appear today (Thursday) at court number 31 in Plaza de Castilla, Madrid. This follows on from their arrest in May of this year, relating to the investigation of a alleged doping network involving cyclists and other sportsmen.
Fuentes and Merino must appear in court at 10 am local time. Manolo Saiz, the then-Liberty Seguros team manager who was also arrested on May 23rd, has already been heard by the judge.
Also due to make an appearance this week are the former mountain bike rider Alberto Leon and former Comunidad Valenciana's assistant director Ignacio Labarta. These will appear in court on Friday. Each of the five men are suspected of involvement of the case, which is reported to concern up to 200 sportspeople. Amongst those implicated in the case – although not proven guilty as yet – are names such as Jan Ullrich and Oscar Sevilla (T-Mobile), Ivan Basso (CSC), Joseba Beloki, Jörg Jaksche (Astana team), Francisco Mancebo (AG2R) and others.
Earlier this month, Dr Fuentes confirmed that he had worked with sportspeople from other disciplines, including football, tennis, basketball and athletics. Although no names have yet emerged in this regard, the testimony from him and Jose Luis Merino could have far reaching consequences and extend beyond those in the peloton.
Courtesy of Hernan Alvarez and Antonio J. Salmerón
Aldag interview withdrawn
What did Rolf Aldag say or not say? www.sport1.de has withdrawn a controversial interview with the former T-Mobile rider concerning Jan Ullrich, which appeared on its website Wednesday, citing "misunderstandings."
"Certain statements by Mr. Aldag were not properly represented," said sport1, which apologized to both Aldag and to the readers. The interview contained statements concerning Ullrich's behaviour in hotel rooms after racing stages, and the possible role of Rudy Pevenage in the doping scandal.
Cyclingnews' recent coverage of 'Operación Puerto'
May 18, 2009 - Valverde to start Catalunya
May 15, 2009 - Valverde not welcome in Denmark
May 14, 2009 - Spanish federation wants proof in Valverde case
May 13, 2009 - Spanish Olympic Committee defends Valverde
May 12, 2009 - Valverde responds to sanction
May 11, 2009 - Italian tribunal delivers Valverde two-year suspension
May 8, 2009 - Valverde case: Italian Olympic Committee defends Torri
May 7, 2009 - Valverde to take legal action against CONI prosecutor
May 5, 2009 - WADA and Spanish federation join CONI and UCI on Valverde
May 1, 2009 - International Cycling Union joins in on Valverde's hearing in Italy

Cyclingnews' complete coverage of Operación Puerto
The Tour de France of give-aways and competitions
Don't miss out at Tour time!
Resident freebies expert, Rufus Staffordshire, sniffs out some competitions where over $600,000 in prizes are on offer as manufacturers clamber for your eyeballs. Woof!
Scratch - but don't sniff
Photo ©: Trek

The Tour de France is not only a reasonably popular bike race, ahem, it's also a great opportunity to win an incredible range of prizes and competitions on offer from manufacturers, publishers and distributors.
Many of our sponsors are offering Cyclingnews readers a schwag-fest of give-aways during the lap-around-France. The prizes on offer range from pedals and laptops through to trips to Paris for the 2007 TdF, as well as actual kit being ridden by top pros in the Tour - including top bikes from Trek, Blue, and Avanti.
So that you don't have to go hunting around the Internet for all these goodies, we've assembled the Cyclingnews complete guide to Tour freebies and competitions.
(All rights reserved/Copyright Knapp Communications Pty Limited 2006)