Latest Cycling News for July 11, 2006
Edited by Jeff Jones
Landis 'perfectly poised'
By Shane Stokes
Coming up on
Cyclingnews will cover the 60th edition of the Dauphiné Libéré live as of stage 4 on Wednesday, June 10, at approximately 15:00 local Europe time (CEST)/ 23:00 Australian time (CDT)/ 9:00 (USA East).

WAP-enabled mobile devices: http://live.cyclingnews.com/wap/

Floyd Landis' training advisor Allen Lim has told Cyclingnews that he believes the rider is in the perfect position as the race heads towards the first big mountain stage on Wednesday. The Phonak rider is currently second overall, 1 minute behind T-Mobile's race leader Serguei Gonchar, and while Lim says Landis was racing to win the TT, the fact that the pressure of race leadership is off him for now is a plus.
"You never go into a time trial aiming for that, planning on giving up time, and I think that if Floyd could have won he would have gone for it. But now that we are sitting in this position [2nd overall], it is a great situation to be in. This is certainly is an excellent scenario."
Lim was impressed with his performance in the time trial. "He had a little bit of a mishap, breaking his time trial bars and having to change his bike, but he is on track. Holy cow! If we factor in the mishap and if we factor in some of the aerodynamic changes that occurred with the bicycles [the bars were lower as per the UCI regulations], he is exactly where he should be. Had he not have those mishaps, I think he would only have been 22 or 23 seconds down on first place. That is within plus or minus 3 Watts of where we thought he should have been, so everything is great.
"That said, it is still bike racing and just because the engine is good, everything is good, it doesn't mean that it [winning the Tour] is going to be plain sailing. The Tour is going to be very tactical race, it is still going to be a lot about luck and consistency, so I guess we will just play it day by day."
Monday's rest day brought the shock news that Landis has been battling a degenerative hip condition for quite some time, the pain of this affecting him while on and off the bike. Lim is one of a select few who would have known about the problem and says that it has been an issue in his performances for some time.
"It is everything. The hip rules the day. If the hip is good, he can go well but if it is not so good, then it affects him. But the one thing I will say is that he is one tough dude. This injury has given him a whole lot of mental toughness; the pain of cycling is nothing compared to that. He is one strong character. He can get through the Tour okay…he has been through worse. This is fine."
A full interview with Allen Lim will follow soon on Cyclingnews.
Down, but not out: Team CSC
At the CSC press conference on the first of two rest days at the Tour de France, one got the impression that the a team was looking to get back on its feet after being deprived of its leader, Ivan Basso. The feeling even more so reigned as the squad had not shown itself much in the first week of racing, and as more unfortunate events (the crashes of Stuart O'Grady and Bobby Julich, who had to abandon) prevented the riders from refocusing on their new tasks ahead. Hedwig Kröner reports from Bordeaux.
Jens Voigt, CSC powerhouse
Photo ©: Jon Devich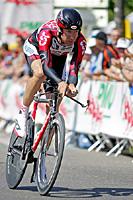 Jens Voigt, of course, was the first to defend his team's achievements. "We were not present in the race?," he asked back. "Well, it was rather smart of us that you didn't see us in this first week. What's the point in wasting your energy in some desperate breakaway which is not going to be successful anyway? If we go, we go for the win, and many of these stages were sure to end in a bunch sprint."
Sports director Kim Andersen, responding to the journalists' questions in the place of Bjarne Riis, who had taken "a day off" agreed with his rider, and said that the team's morale couldn't be better.
"We are here to work, and we work with the people who are here," he described the situation after having had to suspend the team leader, Tour de France favourite Ivan Basso, even before the race had started. "I think everybody is really motivated, we do the best we can and more we cannot do. The race start was difficult, and now we have to move on. We have Carlos Sastre to protect for the GC, and we can go for stage wins. I'm sure you will see good results from us before the end of the race."
Click here for the full feature.
The wheel turns for O'Grady
By Hedwig Kröner in Bordeaux
Having crashed heavily in stage 3 and fractured a lower back vertebrae, Stuart O'Grady is still hanging on to the peloton, but if was it not for his willpower, the Australian would have had a good reason to give up the race. First he had to refocus his racing goals as the team's leader, Ivan Basso, did not start, and then, due to the crash, O'Grady was unable to sprint and saw the green jersey points classification rocket up without being able to go for this objective himself.
"It's definitely been a tough start," he said on the Tour's first rest day in Bordeaux. "I was going to ride for Ivan, I was looking forward to the challenge and the new role and I was extremely focused on it. So I went into the prologue thinking throwing all my anger into the bike, and I was feeling good with the result. Unfortunately the crash was pretty heavy, and at the moment I'm just pretty lucky still to be here, I guess."
The sprinter, who came to CSC this year, made up his mind that he didn't want to drop out of the Tour. "The most important thing was to get through the first day [after the crash - ed.]," he continued. "I really wasn't sure about it, but then I did manage, and ever since, it's been getting better and better. But the stages have been flat, so it's been 'easy' - the real test is going to be the first mountain stage. If I can get to the top of that first mountain, then I will finish the Tour."
O'Grady is prepared to battle on, as there is still hope that there will be better days to come. "Nothing can be more painful than those first days when it was freshly broken," he said. "There are still two weeks of racing to do, so once the GC falls into bits, of course I'm going to take every opportunity I can to - if my body lets me - go up the road and try and win a stage, or at least do something. I could already ride once in the front, for the team, and that was already a little 'mission accomplished', just to be able to do that."
It's been "blow after blow" for the Australian's team, too, but O'Grady is hopeful that Team CSC can overcome its difficulties. "To pick itself up is one of the strengths of this team," he explained. "We are a really supportive group of riders, it's not just a bunch of foreigners at the dinner table. I think it's in times like these where the team will really show its true strengths. Now more than ever, we really have to use each other, and use our qualities. But we're as hungry as ever. We keep getting hit, and we keep getting up. One thing's for sure: the bad luck can't keep coming. The wheel always turns, and I'm sure you haven't seen the last of us yet."
USA Cycling awaits Operación Puerto information
By Mark Zalewski, North American Editor
Although Tyler Hamilton's name has been associated with Operacion Puerto, USA Cycling's CEO Steve Johnson says that the UCI has not yet communicated anything yet. "We haven't received any information about riders," Johnson told Cyclingnews as he was observing the national championships festival in Seven Springs, PA. "No specific information just that the UCI is preparing dossiers and will communicate with us."
Johnson says that if a U.S. rider is implicated that USAC will refer everything to the US Anti-doping Agency (USADA). "We will immediately forward to USADA. In our country, that is the organization that is investigates those accusations."
As for the life-long ban that UCI President Pat McQuaid referred to, Johnson replied, "Whatever USADA determines we would have to follow."
Cyclingnews' recent coverage of 'Operación Puerto'
May 18, 2009 - Valverde to start Catalunya
May 15, 2009 - Valverde not welcome in Denmark
May 14, 2009 - Spanish federation wants proof in Valverde case
May 13, 2009 - Spanish Olympic Committee defends Valverde
May 12, 2009 - Valverde responds to sanction
May 11, 2009 - Italian tribunal delivers Valverde two-year suspension
May 8, 2009 - Valverde case: Italian Olympic Committee defends Torri
May 7, 2009 - Valverde to take legal action against CONI prosecutor
May 5, 2009 - WADA and Spanish federation join CONI and UCI on Valverde
May 1, 2009 - International Cycling Union joins in on Valverde's hearing in Italy

Cyclingnews' complete coverage of Operación Puerto
Raisin aiming for pro return
By Shane Stokes
American rider Saul Raisin has taken an important step forward, completing some three hour training sessions while home in Dalton, Georgia. For now the Credit Agricole rider is using the home trainer, but he hopes to be back on the road soon.
"I think it will be a month or two, then I will be out road," he told Cyclingnews over the weekend. "Things are going very well thus far. I'm getting stronger every day, riding the trainer a lot. I am doing three hour rides and also getting in other exercise, such as swimming. I'm becoming stronger and getting well."
Raisin crashed hard during the opening stage of the Circuit de la Sarthe in France on April 4th, hitting his head when he fell. He was initially stable but then suffered a brain haemorrhage over a day later and almost died. Doctors operated in order to try to save his life and, after six days in a coma, he finally came around. However brain trauma meant that he was very weak and also lacked strength on the left hand side of his body. That muscular balance is returning, though.
"My left side was weaker because of my brain injury, but as my brain heals it should get better," he states. "My left side is almost back to where it should be; my arm is still weaker, I am doing a lot of exercises trying to build it back up. But other than that, my legs are almost back to normal. There has definitely been an improvement."
Raisin has had an emotional time of late, both in terms of leaving the rehab centre to return home and also in following the Tour de France on the television. "It was great to get home," he says. "There were a load of welcome home banners for me. In addition to that, I was really emotional when I was watching the Tour and I saw Thor [Husovd], Axel Merckx and all my teammates wearing my bracelets. That was very emotional for me, it is like my spirit is at the Tour. I would really like to be there now, but it really made me feel good to see those guys wearing them on the race."
Although Raisin's doctors have said that it is not guaranteed that he will be able to return to the pro peloton, his rapid recovery gives him much hope that this will be the case. For now it seems that Credit Agricole are keeping a place for him.
"I am getting great support from them," he stated. "The team likes me a lot, and like I said, the whole team are wearing the bracelets. As of now, I am going back in October to be in the team pictures for next season. So far things are good, so we will see how it works out."
A full Saul Raisin interview will follow soon on Cyclingnews.
Steegmans to Quick.Step
Gert Steegmans will ride for Quick.Step for the coming two seasons, reports De Telegraaf. The Flemish "TGV", who has led out Robbie McEwen to two of his three stage wins, will now perform the same role for Tom Boonen. Steegmans is also a good sprinter and classics rider in his own right, and has won five races so far this season.
De Telegraaf also reports that Rabobank was interested in signing Steegmans as a replacement for Oscar Freire, who has a big offer from Saunier Duval. However, Quick.Step beat the Dutch team to the mark.
(All rights reserved/Copyright Knapp Communications Pty Limited 2006)