Latest Cycling News for July 10, 2006
Edited by Jeff Jones, with assistance from Sabine Sunderland
Rest Day 1 wrap-up
Cream starting to rise to the top
Floyd Landis (Phonak)
Photo ©: Sirotti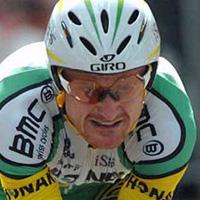 One week into this Tour the candidates for overall honours are yet to fully assert themselves. Saturday's time trial has sorted out the GC to an extent, but the Pyrenees and the Alps await. John Kenny looks at how the final GC order is slowly beginning to take shape.
The final two weeks of this Tour will have something that has been largely missing from recent editions: suspense. It was difficult enough to pick a winner before the withdrawal of the two short-odds favourites Jan Ullrich (T-Mobile) and Ivan Basso (CSC) but it was highly likely that one of these two would win, if form and the bookies are any guide. Tour podium candidates Alexandre Vinokourov (Würth) and Francisco Mancebo (AG2R) are also gone. With Lance Armstrong now retired, that's the top five riders from last year absent, opening up the opportunity for other talented riders to showcase their wares.
New race leader Serguei Gonchar finished second in the 2004 Giro d'Italia and has to be added to the list of possibles; the yellow jersey can be a powerful motivator. He's not a great climber, but he showed that he is no slouch either when he limited his losses to Damiano Cunego on the 2004 Giro's mountainous stage 16. The mountain stages are less severe than in previous Tour editions and he may survive long enough to reassert himself in the second long time trial.
Floyd Landis, Saturday's time trial runner-up, had a mechanical problem that cost him some time but he is still well placed going into the second week. He is exactly one minute behind Gonchar's. Landis' early season overall wins at Paris Nice and the tours of Georgia and California had already marked him as a favourite. He was hard to spot in the weeks leading up to the Tour, but his preparation has evidently been sound. His form makes a compelling case for favouritism.
Gonchar's performance has highlighted the comparative depth of talent of the teams. T-Mobile still has three possible GC contenders (Michael Rogers and Andreas Klöden are the others), despite the withdrawal of Ullrich. Triple world time trial champion Rogers did not get the ideal preparation at the Giro d'Italia due to problems with his teeth. He climbed well in the 2003 Tour in defence of Richard Virenque's polka dot jersey, but his climbing form has been patchy since. Klöden can climb, however, and has finished second overall in 2004. If he can stay upright, he is surely a threat to the overall.
Click here to read the full wrap-up
Landis to undergo surgery after Tour
Tour GC favourite Floyd Landis will have to undergo a hip replacement after the Tour de France, as a result of a degenerative bone condition that started when he broke his hip three and a half years ago. On Sunday, Landis told Sam Abt of the New York Times that he has been in pain since he broke his hip while on a training ride in California in January 2003.
"If I hadn't had a bicycle-racing career, I would have had the hip replaced two years ago because I don't really want to deal with the pain," Landis said. "It's bad, it's grinding, it's bone rubbing on bone. Sometimes it's a sharp pain. When I pedal and walk, it comes and goes, but mostly it's an ache, like an arthritis pain. It aches down my leg into my knee. The morning is the best time, it doesn't hurt too much. But when I walk it hurts, when I ride it hurts. Most of the time it doesn't keep me awake, but there are nights that it does."
Landis' condition is called avascular necrosis, which is common with this type of injury. "Scar tissue closes the blood vessels in the hip and the ball on the hip collapses," he explained, also confirming that he had an operation to ease the pain two years ago." He is permitted to take cortisone to help with the pain.
Although he kept it quiet from his team, Phonak has been aware of Landis' problem for some time now. "We knew about the condition and that was important," said team manager John Lelangue. "I know we're talking about hip surgery, but if it's done well and planned for a good moment, I'm confident he will return to training normally and there won't be any problem next season."
After the hip replacement, Landis hopes to compete again at full strength. His coach, Allen Lim, predicts that he will be much stronger when he comes back.
Sergeant: We're not going to chase
Marc Sergeant (manager Davitamon-Lotto) is not going to let his team ride to close gaps in the coming stages. Already on Sunday, Davitamon sent Wim Vansevenant up the road in a break, then Mario Aerts with the main attack of the day. After Aerts came back, it was too late to chase for a bunch sprint, and Davitamon's green gun Robbie McEwen was perfectly happy with fourth place.
"We already have three stage wins," Sergeant told HNB. "And Cadel Evans is coming up for his stages soon too, he rode an excellent TT and deserves total support from the team in his hunt for the podium. We won't be going all out to secure a sprint any more. I think there's enough teams left who'd like to win a stage."
Davitamon-Lotto is the biggest earner so far
The stage wins and placings, and the bonuses for the green jersey added to that are giving the Davitamon-Lotto riders some decent pocket money already in the first week. They top the prize winner's list, which is as follows
1. Davitamon €36,700; 2. T-Mobile 33,620; 3. AG2R 23,950; 4. Crédit Agricole 20,780; 5. Cofidis 17,930; 6. Quick Step 16,550; 7. Rabobank 15,810; 8. Française de Jeux 14,700; 9. Discovery 14,550; 10. Bouygues 14,180; 11. Liquigas 13,720; 12. Gerolsteiner 13,090; 13. Lampre 10,720; 14. Caisse d'Epargne 9,280; 15. Saunier Duval 9,020; 16. Milram 8,980; 17. CSC 8,880; 18. Phonak 5,700; 19. Euskaltel 5,540; 20. Agritubel 1,400.
Knaven's view on week 1
Even though he's not part of the Quick.Step team in the tour, Servais Knaven, team mate of Tom Boonen has got a clear view on what's happening in the Tour de France's peloton. "The first week there were few surprises: every day a small group got away and the peloton brought it back under the command of the sprinters' teams," Knaven wrote on wieleruitslagen.be. Now and again it was exciting to see, and it looked like the leaders would stay away, but from experience I know that the peloton knows exactly what they are doing."
The lack of a victory for his team is something he attributes to the absence of the Petacchi-train. "Tom Boonen was in yellow for four days, but fell short in the sprints. It's a real pity for Tom and the team; they certainly deserve a win as they did so much work, but things don't work like that.
"The finale is quite chaotic, the speed isn't high enough, and that's why riders can come and sprint from behind. If you're at the front at that moment, it's impossible to counter these men. According to me, the chaos is caused because there's no Petacchi train here. Those men can ride that fast in the last five km that there's not one rider able to move up any more. Now the peloton looks like a ball rolling to the finish line.
"The saddest thing during this first week was the heavy crash Erik Dekker had (and also the one of Tour favourite Valverde of course). Erik was riding his last Tour and to have to say goodbye in such a way leaves a sour taste. I had expected Erik to do really well in the last week and who knows, he might have been able to even win a stage. Luckily he's doing a bit better already and I believe he'll be racing again in a couple of weeks."
Knaven tipped Floyd Landis to win overall. "Because a few of the favourites were out before the Tour even started, it promises to be wide open. There's no real big favourite for the overall win in my eyes, but I do think that Floyd Landis has got a small advantage over the other candidates.
"Today is the first rest day in Bordeaux and on Tuesday the peloton rides from Bordeaux to Dax. Three years ago I won that stage, which went from Dax to Bordeaux then. It's quite strange not to be part of it," he concluded.
Valverde starts training
Alejandro Valverde has resumed training after breaking his collarbone in a crash in stage 3 of the Tour de France. Valverde had surgery last Thursday, and two days later he was able to ride on his home trainer: 10 minutes on Saturday, then half an hour on Sunday. He is being monitored by Dr Martínez Romero, who performed the operation, and is visiting him each day to check that everything is healing well.
Valverde expects to be back on the road in less than 10 days, and he will resume competition after that with the aim of starting in the Vuelta a Espańa on August 26. "I am feeling rather ok", said Valverde, "Even if I really suffer when I watch the Tour on TV. In fact that hurts me much more than my shoulder does!"
Luis León Sanchez wants to continue with Astana
By Antonio J. Salmerón
At the beginning of this week, Luis León Sánchez will travel to Italy, where he will meet with Alexander Vinokourov. León Sánchez wants to know about his professional future in Astaná, with his contract with Active Bay due to finish at the end of 2008. The Spanish rider is free to negotiate, and Discovery Channel, T-Mobile and Caisse d'Epargne have already showed their interest in him.
"I have freedom to negotiate my departure, or my continuity. I have still not decided," said the Spanish rider. "Astaná is not the only one interested in me, but it takes priority in my decision. Bruyneel spoke with me, but also T-Mobile and Caisse d'Epargne. The most interesting offer could be the Discovery Channel one, but I have to talk to Astaná before taking a decision.
"I am looking for an offer that convinces me. Without knowing the future of Astaná, I cannot decide on which offer is the best. I realise that the Astaná offer is very interesting for me, because it improves my current contract."
(All rights reserved/Copyright Knapp Communications Pty Limited 2006)