Recently on Cyclingnews.com
87th Giro d'Italia - Grand Tour
Italy, May 8-30, 2004
Map Stages Past winners Simoni's reactions
2004 Giro d'Italia revealed
A full house witnessed the unveiling of the 2004 Giro
Photo ©: Olympia Photo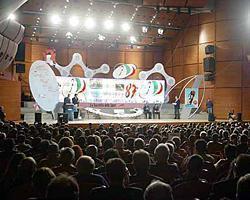 The route for the 2004 Giro d'Italia, the 87th edition of the Italian national tour, was unveiled today in Milan, Italy. Next year's race could be deceptively difficult, with a balanced yet apparently modest profile for the three weeks. However, the race technically features more climbing than 2003, and the average stage length is longer. The Giro will visit the city of Trieste, which celebrates the 50th anniversary of its return to Italy following World War II, and will make brief international incursions into Croatia and Slovenia.
The 2004 Giro will begin May 8 with a prologue time trial in Genova, designated a European City of Culture, and conclude with a traditional road stage into Milan. The total distance of the parcours is 3,435 kilometres, which is 50 km shorter than the 2003 Giro. However, with a prologue time trial and 20 stages, compared to 2003 which featured 21 stages but no prologue, the average stage length (171.75 km) will be longer than the previous edition.
After the Genova opener, the route heads to southern Italy until stage 9, which ends in Carovigno near the heel of Italy's 'boot'. A transfer back north will take the race to Porto Sant-Elpidio, halfway up, before hugging the eastern coast and venturing to Slovenia and Croatia. Looping back to the north and west, the Giro tackles the mountains before working its way to the finish in Milan.
Overall the 2004 Giro offers a typical mix of conditions for a grand tour: 12 flat stages, four rolling stages, three in the high mountains, and one individual time trial (besides the prologue), not to mention two rest days. The combined 59 kilometres against the clock is a notable drop from the previous two editions of the race which featured just over 80 km of time trials.
Although three stages in the high mountains doesn't appear too challenging, the 2004 Giro will include 18,500 metres of climbing vs. 17,300 metres in 2003. The inclusion of the famed Passo del Mortirolo on the penultimate stage, along with two other climbs, should keep the race exciting through the final, presumably decisive week.
Cyclingnews' European Editor Tim Maloney was on hand at the Giro presentation and will provide an in-depth review of the parcours, along with reactions from the riders who will hope to challenge for the 2004 maglia rosa.
The Stages
Prologue - May 8: Prologue ITT, 7 km
Stage 1 - May 9: Genova - Alba, 149 km
Stage 2 - May 10: Novi Ligure - Pontremoli, 183 km
Stage 3 - May 11: Pontremoli - Corno Alle Scale, 190 km
Stage 4 - May 12: Porretta Terme - Civitella in Val Di Chiana, 187 km
Stage 5 - May 13: Civitella in Val Di Chiana - Spoleto, 174 km
Stage 6 - May 14: Spoleto - Valmontone, 163 km
Stage 7 - May 15: Frosinone - Montevergine Di Mercogliano, 211 km
Stage 8 - May 16: Giffoni Valle Piana - Policoro, 234 km
Stage 9 - May 17: Policoro - Carovigno, 142 km
Rest Day - May 18
Stage 10 - May 19: Porto Sant'Elpidio - Ascoli Piceno, 145 km
Stage 11 - May 20: Porto Sant-Elpidio - Cesena, 229 km
Stage 12 - May 21: Cesena - Treviso, 216 km
Stage 13 - May 22: Trieste - Altopiano Carsico ITT, 52 km
Stage 14 - May 23: Trieste - Pula/Pola, 166 km
Stage 15 - May 24: Porec/Parenzo - San Vendemiano, 229 km
Stage 16 - May 25: San Vendemiano - Falzes, 215 km
Rest Day - May 26
Stage 17 - May 27: Brunico - Fondo Sarnonico, 158 km
Stage 18 - May 28: Cles Val di Non - Bormio 2000, 120 km
Stage 19 - May 29: Bormio - Presolana, 121 km
Stage 20 - May 30: Clusone - Milano, 144 km
Total distance: 3,435 km
Mountaintop finishes
Stage 3 - May 11: Pontremoli - Corno Alle Scale (12.8km, avg. 5.2%)
Stage 7 - May 15: Frosinone - Montevergine Di Mercogliano (17.1km, avg. 5.0%)
Stage 18 - May 28: Cles Val di Non - Bormio 2000, 120 km (9.9km, avg. 7.5%)
Past Winners
Year Maglia Rosa               Second                     Third
2003 Gilberto Simoni (Ita)     Stefano Garzelli (Ita)     Yaroslav Popovych (Ukr)
2002 Paolo Savoldelli (Ita)    Tyler Hamilton (USA)       Pietro Caucchioli (Ita)
2001 Gilberto Simoni (Ita)     Abraham Olano (Spa)        Unai Osa (Spa)
2000 Stefano Garzelli (Ita)    Francesco Casagrande (Ita) Gilberto Simoni (Ita)
1999 Ivan Gotti (Ita)          Paolo Savoldelli (Ita)     Gilberto Simoni (Ita)
1998 Marco Pantani (Ita)       Pavel Tonkov (Rus)         Giuseppe Guerini (Ita)
1997 Ivan Gotti (Ita)          Pavel Tonkov (Rus)         Giuseppe Guerini (Ita)
1996 Pavel Tonkov (Rus)        Enrico Zaina (Ita)         Abraham Olano (Spa)
1995 Tony Rominger (Swi)       Evgeni Berzin (Rus)        Piotr Ugrumov (Rus)
1994 Evgeni Berzin (Rus)       Marco Pantani (Ita)        Miguel Indurain (Spa)
1993 Miguel Indurain (Spa)     Piotr Ugrumov (Lat)        Claudio Chiappucci (Ita)
1992 Miguel Indurain (Spa)     Claudio Chiappucci (Ita)   Franco Chioccioli (Ita)
1991 Franco Chioccioli (Ita)   Claudio Chiappucci (Ita)   Massimiliano Lelli (Ita)
1990 Gianni Bugno (Ita)        Charles Mottet (Fra)       Marco Giovannetti (Ita)
1989 Laurent Fignon (Fra)      Flavio Giupponi (Ita)      Andrew Hampsten (USA)
1988 Andrew Hampsten (USA)     Erik Breukink (Ned)        Urs Zimmermann (Swi)
1987 Stephen Roche (Irl)       Robert Millar (Sco)        Erik Breukink (Ned)
1986 Roberto Visentini (Ita)   Giuseppe Saronni (Ita)     Francesco Moser (Ita)
1985 Bernard Hinault (Fra)     Francesco Moser (Ita)      Greg Lemond (USA)
1984 Francesco Moser (Ita)     Laurent Fignon (Fra)       Moreno Argentin (Ita)
1983 Giuseppe Saronni (Ita)    Roberto Visentini (Ita)    Alberto Fernandez (Spa)
1982 Bernard Hinault (Fra)     Tommy Prim (Swe)           Silvano Contini (Ita)
1981 Giovanni Battaglin (Ita)  Tommy Prim (Swe)           Giuseppe Saronni (Ita)
1980 Bernard Hinault (Fra)     Wladimiro Panizza (Ita)    Giovanni Battaglin (Ita)
1979 Giuseppe Saronni (Ita)    Francesco Moser (Ita)      Bernt Johansson (Swe)
1978 Johan De Muynck (Bel)     G. Baronchelli (Ita)       Francesco Moser (Ita)
1977 Michel Pollentier (Bel)   Francesco Moser (Ita)      G. Baronchelli (Ita)
1976 Felice Gimondi (Ita)      Johan De Muynck (Bel)      Fausto Bertoglio (Ita)
1975 Fausto Bertoglio (Ita)    Francisco Galdos (Spa)     Felice Gimondi (Ita)
1974 Eddy Merckx (Bel)         G. Baronchelli (Ita)       Felice Gimondi (Ita)
1973 Eddy Merckx (Bel)         Felice Gimondi (Ita)       Giovanni Battaglin (Ita)
1972 Eddy Merckx (Bel)         Jose Manuel Fuente (Spa)   Francisco Galdos (Spa)
1971 Gosta Pettersson (Swe)    Herman Van Springel (Bel)  Ugo Colombo (Ita)
1970 Eddy Merckx (Bel)         Felice Gimondi (Ita)       Martin Vandenbossche (Bel)
1969 Felice Gimondi (Ita)      Claudio Michelotto (Ita)   Italo Zilioli (Ita)
1968 Eddy Merckx (Bel)         Vittorio Adorni (Ita)      Felice Gimondi (Ita)
1967 Felice Gimondi (Ita)      Franco Balmamion (Ita)     Jacques Anquetil (Fra)
1966 Gianni Motta (Ita)        Italo Zilioli (Ita)        Jacques Anquetil (Fra)
1965 Vittorio Adorni (Ita)     Italo Zilioli (Ita)        Felice Gimondi (Ita)
1964 Jacques Anquetil (Fra)    Italo Zilioli (Ita)        Guido De Rosso (Ita)
1963 Franco Balmamion (Ita)    Vittorio Adorni (Ita)      Giorgio Zancanaro (Ita)
1962 Franco Balmamion (Ita)    Imerio Massignan (Ita)     Nino Defilippis (Ita)
1961 Arnaldo Pambianco (Ita)   Jacques Anquetil (Fra)     Antonio Suarez (Spa)
1960 Jacques Anquetil (Fra)    Gastone Nencini (Ita)      Charly Gaul (Lux)
1959 Charly Gaul (Lux)         Jacques Anquetil (Fra)     Diego Ronchini (Ita)
1958 Ercole Baldini (Ita)      Jean Brankart (Bel)        Charly Gaul (Lux)
1957 Gastone Nencini (Ita)     Louison Bobet (Fra)        Ercole Baldini (Ita)
1956 Charly Gaul (Lux)         Fiorenzo Magni (Ita)       Agostino Coletto (Ita)
1955 Fiorenzo Magni (Ita)      Fausto Coppi (Ita)         Gastone Nencini (Ita)
1954 Carlo Clerici (Swi)       Hugo Koblet (Swi)          Nino Assirelli (Ita)
1953 Fausto Coppi (Ita)        Hugo Koblet (Swi)          Pasquale Fornara (Ita)
1952 Fausto Coppi (Ita)        Fiorenzo Magni (Ita)       Ferdy Kubler (Swi)
1951 Fiorenzo Magni (Ita)      Rik Van Steenbergen (Bel)  Ferdy Kubler (Swo)
1950 Hugo Koblet (Swi)         Gino Bartali (Ita)         Alfredo Martini (Ita)
1949 Fausto Coppi (Ita)        Gino Bartali (Ita)         Giordano Cottur (Ita)
1948 Fiorenzo Magni (Ita)      Ezio Cecchi (Ita)          Giordano Cottur (Ita)
1947 Fausto Coppi (Ita)        Gino Bartali (Ita)         Giulio Bresci (Ita)
1946 Gino Bartali (Ita)        Fausto Coppi (Ita)         Vito Ortelli (Ita)
1940 Fausto Coppi (Ita)        Enrico Mollo (Ita)         Giordano Cottur (Ita)
1939 Giovanni Valetti (Ita)    Gino Bartali (Ita)         Mario Vicini (Ita)
1938 Giovanni Valetti (Ita)    Ezio Cecchi (Ita)          Severino Canavesi (Ita)
1937 Gino Bartali (Ita)        Giovanni Valetti (Ita)     Enrico Mollo (Ita)
1936 Gino Bartali (Ita)        Giuseppe Olmo (Ita)        Severino Canavesi (Ita)
1935 Vasco Bergamaschi (Ita)   Giuseppe Martano (Ita)     Giuseppe Olmo (Ita)
1934 Learco Guerra (Ita)       Francesco Camusso (Ita)    Giovanni Cazzulani (Ita)
1933 Alfredo Binda (Ita)       Jef Demuysere (Bel)        Domenico Piemontesi (Ita)
1932 Antonio Pesenti (Ita)     Jef Demuysere (Bel)        Remo Bertoni (Ita)
1931 Francesco Camusso (Ita)   Luigi Giacobbe (Ita)       Luigi Marchisio (Ita)
1930 Luigi Marchisio (Ita)     Luigi Giacobbe (Ita)       Allegro Grandi (Ita)
1929 Alfredo Binda (Ita)       Domenico Piemontesi (Ita)  Leonida Frascarelli (Ita)
1928 Alfredo Binda (Ita)       Giuseppe Pancera (Ita)     Bartolomeo Aymo (Ita)
1927 Alfredo Binda (Ita)       Giovanni Brunero (Ita)     Antonio Negrini (Ita)
1926 Giovanni Brunero (Ita)    Alfredo Binda (Ita)        Arturo Bresciani (Ita)
1925 Alfredo Binda (Ita)       Costante Girardengo (Ita)  Giovanni Brunero (Ita)
1924 Giuseppe Enrici (Ita)     Federico Gay (Ita)         Angiolo Gabrielli (Ita)
1923 Costante Girardengo (Ita) Giovanni Brunero (Ita)     Bartolomeo Aymo (Ita)
1922 Giovanni Brunero (Ita)    Bartolomeo Aymo (Ita)      Giuseppe Enrici (Ita)
1921 Giovanni Brunero (Ita)    Gaetano Belloni (Ita)      Bartolomeo Aymo (Ita)
1920 Gaetano Belloni (Ita)     Angelo Gremo (Ita)         Jean Alavoine (Fra)
1919 Costante Girardengo (Ita) Gaetano Belloni (Ita)      Marcel Buysse (Fra)
1914 Alfonso Calzolari (Ita)   Pierino Albini (Ita)       Luigi Lucotti (Ita)
1913 Carlo Oriani (Ita)        Eberardo Pavesi (Ita)      Giuseppe Azzini (Ita)
1912 Atala                     Peugeot                    Gerbi
1911 Carlo Galetti (Ita)       Giovanni Rossignoli (Ita)  Giovanni Gerbi (Ita)
1910 Carlo Galetti (Ita)       Eberardo Pavesi (Ita)      Luigi Ganna (Ita)
1909 Luigi Ganna (Ita)         Carlo Galetti (Ita)        Giovanni Rossignoli (Ita)